Why Grades Matter—The Essential Truth About Climbing Ratings
Heading out the door? Read this article on the new Outside+ app available now on iOS devices for members! Download the app.
This article is free. Sign up with an Outside+ membership and you get unlimited access to thousands of stories and articles on climbing.com and rockandice.com, plus you'll enjoy a print subscription to Climbing and receive our annual coffee-table edition of Ascent. Outside+ members also receive other valuable benefits including a  Gaia GPS Premium membership.  Join the Climbing team today. 
For one brief moment in 1988, I was the Best Climber in the World—or, at least, fancied myself soon becoming such. Only 16 years old and overflowing with stoke, newbie cluelessness, and aimless testosterone, I came home from toproping on the vertical tuff of Cochiti Mesa with the New Mexico Mountain Club (NMMC), spraying to my poor father and stepmother about my epic conquests that day. This was only one year into my climbing career, so please forgive me my trespasses.
"I climbed a route that was only two notches below the hardest climb in the world," I boasted in the kitchen that evening, shoveling licorice mix into my mouth. "And I've only been climbing for a year—I'm, like, gonna be the best climber ever!"
"That's nice," my father probably said. "Remember, you still have to go to school tomorrow."
This had all been precipitated by a mix-up in climbs as well as my novice and almost-willful incomprehension of the Yosemite Decimal System (YDS). The club hosted toproping outings every Sunday; lacking a car and still trying to connect with partners my own age, I'd join the trips, toproping and occasionally trying an easy lead with mentors double or triple my age. My early teachers were patient and kind, turning over the sharp end when they could see I was up for the challenge. They taught me how to give a soft catch, how to slot Hexentrics into constrictions, and how to place and evaluate cams. But, to that point, no one had really explained what happened to climbing ratings above 5.10—probably because NMMC members didn't climb much harder.
In an era with no Internet and when guidebooks and how-to books were scarce or rudimentary, knowledge was for the most part passed down orally. And I still hadn't, as further research would reveal, learned my As, Bs, Cs, and Ds.
In fact, there was no guidebook to Cochiti Mesa, so our only reference was the Basecamp section of Climbing, in which regional correspondents mailed in information about new climbs—a sort of horse-and-buggy Mountain Project. Navigating the edge of the volcanic plateau in the Jemez Mountains with a couple of torn-out, stapled-together magazine pages, we dropped ropes down what, as best we could discern, were the Mesa's more approachable climbs. Cochiti was one of New Mexico's first sport areas, and the lines followed smooth, vertical faces and sweeping arêtes, sport climbs in the old-school vein. The grades ranged from 5.10 to 5.12, with one 5.13a project, Touch Monkey, which a French ex-pat named Jean De Lataillade was trying and which would become the state's first 5.13. The area has since been devastated by a forest fire, but back then it was a quiet, peaceful sanctuary shaded by tall Ponderosas and lush with cactus and sage.
That day, we hoped to try 5.10s and 5.11s—our outer limits, and on toprope since this was a club outing. In the afternoon, we put a rope on a 100-foot vertical face up the cliff's highest rampart, midway along the escarpment. Tying two cords together, we TR'ed a smooth, lightly pocketed red-brown wall that gave way, in its upper half, to friable potholes. I don't recall if I did the climb first try or second, but it was certainly the first time I found the flow state while climbing. The route demanded precise, sustained sequencing, stabbing your feet into three- and four-finger pockets as you hunted through the porous veneer for the next inset hole. Eventually, the pockets gave way to huecos and the difficulties were over. I danced from hold to hold, breathing hard, strategically resting at the larger holds to drain the lactic acid from my arms before I segued into the next sequence. I felt like such a hero. Until then, most of the harder climbs I'd done had been blue-collar basalt cracks; now, here, finally was athletic, pleasurable face climbing. And as best we could guess from Climbing's Basecamp report, the climb was Path of the Doughnut Man, rated 5.12b.
Now what that pesky little "b" meant I did not know. Maybe "bold" or "badass" or even "bold-badass-bro," which is certainly how I viewed myself after climbing my "first 5.12." In any case, I didn't think to ask any of my fellow NMMC members about the "b," content to take the big tick and head home to spray. At the time, the hardest route in America—commensurate with the other hardest routes in the world—was To Bolt or Not To Be at Smith Rock, a 5.14. This much I knew from reading the mags. Therefore, by climbing 5.12, I had, in my estimation, come within two notches of the hardest climb in the country.
This climbing shit is easy, I remember thinking. I've got this—I'm super-talented, God's gift to rock climbing. I'll just do a 5.13 next and then a 5.14—boom, bam, snap! It hadn't been so difficult to go from 5.8 to 5.9, and then 5.9 to 5.10—and then of course my prodigy-level success on a 5.12, completely skipping 5.11. So why not just bump it up to 5.13 and then 5.14? I'd likely be the world's best rock climber after just two more toprope outings.
I'd found my calling!
In the ensuing weeks, it emerged from talking to a few Cochiti locals that we hadn't been on Path of the Doughnut Man at all but instead on a neighboring route called Boya from La Jolla Who Stepped on a Cholla, named for a big patch of cholla cactus below the wall. I also learned that that pesky little "b" after the 5.12 grade denoted a subdivision—a, b, c, and d—of all ratings above 5.10. And I learned that Boya was 5.11a—the easiest type of 5.11. So, while I had done my first 5.11, which was nice, instead of climbing a route two notches below America's hardest, I had in fact done one that was 12 notches below, with lots of As, Bs, Cs, and Ds standing between me and greatness. (I'd also come to see that it's much harder to make gains at the top of the scale, but this would take years to understand—it wasn't exactly 12 evenly spaced increments you could just leapfrog across.)
My self-esteem plummeted. I was worthless, a poseur, just some dumb kid toproping in a too-large pair of Mariachers while wearing a bike helmet, clad in an Alpine Bod harness adorned with sad prussiks he barely knew how to use.
This climbing shit is hard, I thought. I have a long way to go….
* * *
I would also, 12 years later in 1999, come to be the Worst Climber in the World, this time at the Buttermilks during a spring-break trip with my friend Josh. It was our first day at the 'Milks, and the lore at the time centered on the problems' near-free-solo height and sandbagged grades. So we'd arrived ready to be intimidated—and the boulders delivered.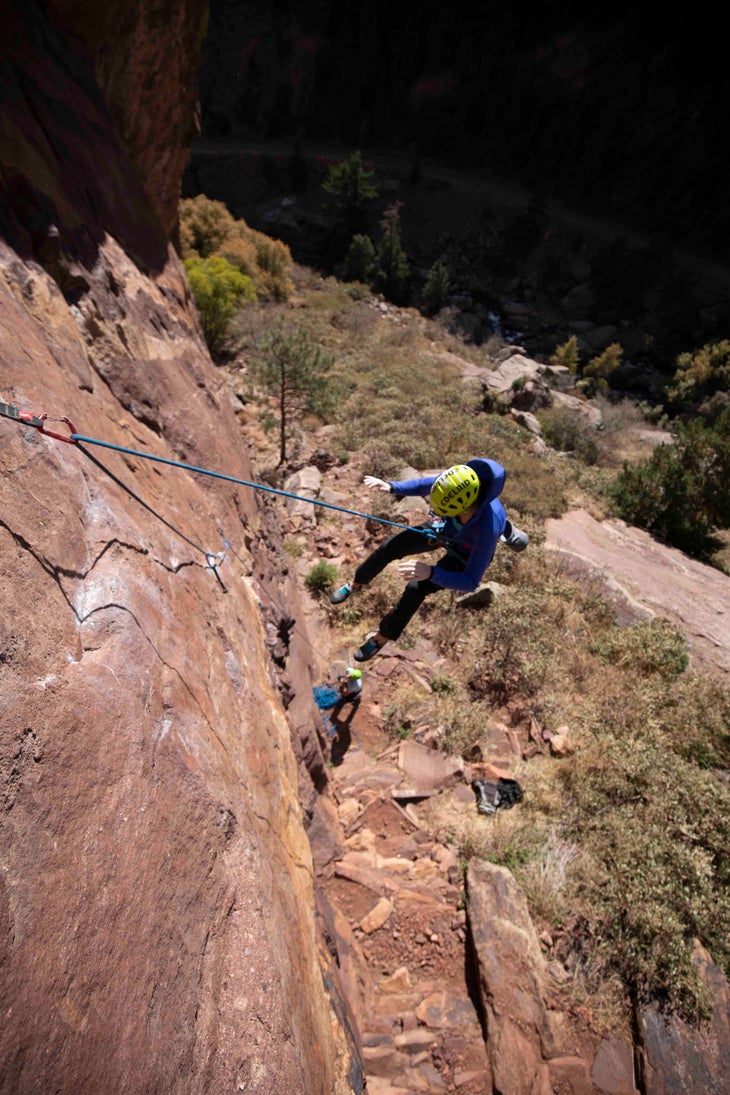 Using an old guidebook—I think it was SoCal Select—we stumbled from rock to rock under the warm March sun, inhaling the fresh scent of sagebrush and staring up at the massive snow-clad peaks of the Eastern Sierra. The boulders were mostly empty save Josh and I and some friends who'd also come out from Colorado. We tried lines like the bald, slappy arête of Pope's Prow (a stout V6 highball) that in the book were given grades like "5.10+" or "5.11d" in that ridiculous way of pre-V-Scale California ratings, probably relics of early Yosemite hardmen like Dale Bard and John Bachar hanging at the 'Milks. Humbling, yes, and out of sheer stubbornness I willed my way up these sandbaggy old blocs because to fail on 5.10 or 5.11 would have been too damaging to my fragile ego.
Then we went to the Peabody Boulders, again taking the old guidebook at face value as we tried to sort out the lines. As afternoon turned to evening, I took my shoes off and looked down at my pink, rock-worn tips. It was time to call it, if I wanted to climb any more that week and not just bleed everywhere. Guidebook in hand, I circled the two massive eggs, scoping out prospective lines to try the next day. On the east face of Grandpa Peabody, the book showed a "V7," an attractive, difficult-enough-to-be-sexy grade for a short trip. As I came around the corner, a towering 50-foot wall, gently overhanging, varnished golden-brown, and featured with miniscule crimps, came into view. It had not a bit of chalk on it, and was as tall or taller than many of the sport climbs back in Boulder. It looked both way too high and way too difficult for me to ever climb.
Jesus Christ, I thought. This is V7?! WTF is going on here? These California dudes are hardcore. I suuuuccckkk….
Without even pulling on or grabbing the starting holds, I slipped immediately into a maelstrom of self-loathing. I'd barely been able to get up the "5.10+'s" and "5.11d's" all day, which was bad enough. But now, here in front of me, was a V7—a grade I'd climbed plenty of times at other areas—that I could never, ever do or certainly would never, ever do. In taking the guidebook—which I'd later learn was erroneous—at face value, I now had to discount my entire climbing career. Because if this savage line was V7, then I'd never even climbed V5. Or V3. Or V1….Or anything of note, for that matter.
I felt worthless, weak, like a poseur, stupid. This climbing shit is wayyy too hard, I thought. Maybe I should just quit. I'm so light duty.
This "V7," it turns out, was the line that would later come to be known as Ambrosia, first ascended at V11 X by Kevin Jorgeson in 2009 when he was at the top of his bouldering prowess, and after roped rehearsal. It was originally a toprope problem of Tommy Herbert's, so perhaps some confusion over what had or hadn't been climbed on the face, or how difficult it was, led to this now-legendary double-digit super-highball being labeled "V7." Who knows? I certainly didn't, and in failing to think critically about the rock in front of me—to see it for what it really was with my own eyes—I'd fallen into a shame spiral that clouded how I felt about myself for the rest of the trip, even as I continued to flash "5.11d's" that would be given V6 or V7 in subsequent guides and which I should have been ecstatic to tick.
I'd fallen into the Ratings Trap, basing how I felt about myself and the sport on arbitrary numbers—scribblings, really, on a page. In both cases—being the Best Climber in the World and being the Worst Climber in the World—I'd set aside the joy of the experience and the majesty of these places and unique allure of these routes to instead immerse myself in a microcosm ruled by fuzzy mathematics and ego. And ego, as we all know, is a dirty trickster who will lead you into dark thoughts, jealousy, and ruination.
Still, ego aside, these scribblings did have meaning and do so for all of us, no matter how reluctant we are to admit it or how often we fall back on the old canard that "Ratings don't matter." Because they do—even if we just agree to call them "guidelines," they are still the guidelines we have chosen and they are still the way we measure progress both at the cutting edge and in our own climbing arc. They let us know where we're at in our climbing, they help with goal-setting, and they can even be part of a healthy climbing process. Grades, in a word, are essential.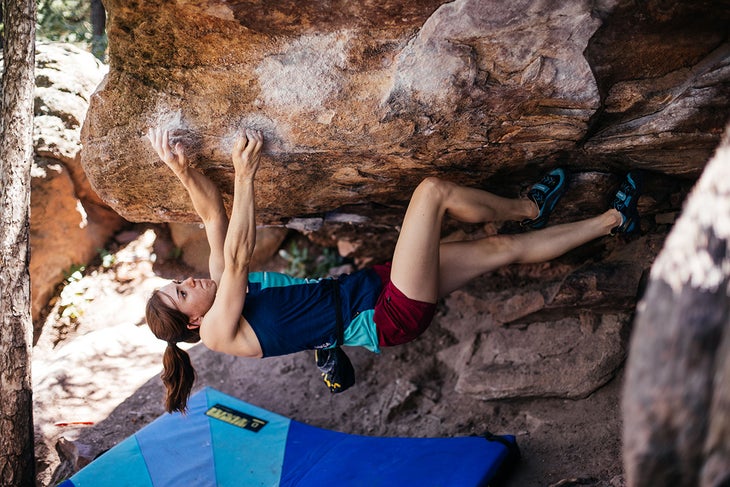 To get my head around this complex, ever-evolving subject of endless debate, I reached out to a host of friends and diehard climbers, both professional and recreational alike. Like me, many of my friends and peers have also done the "ratings dance," and have many of the same conflicted and even conflicting feelings about grades. But sharper minds than my own have also grasped some essential truths, framing the discussion in ways I never considered. The results have been both ambiguous and thought provoking—grades are subjective, and even thoughts on grades could be said to be so as well.
Want to know the 9 Essential Truths About Climbing Ratings? Then sign up for an Active Pass today!