Fish Out of Ice: A Beginner Takes on the Ice Climbing World Cup
Ever wish you could wake up as an elite competitive athlete? For one ice climber, that wish came true.
Heading out the door? Read this article on the new Outside+ app available now on iOS devices for members! Download the app.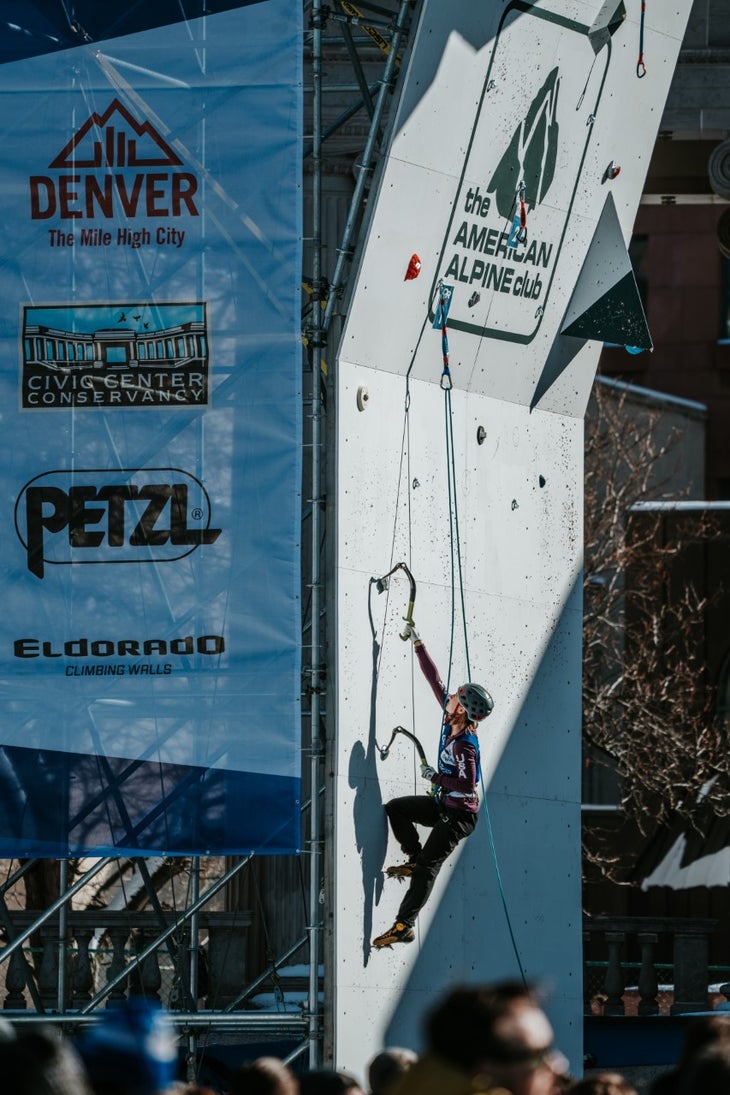 Chalk clouded the air like smoke in a billiards bar. A slackline pulsed with the pounding house music. Shirtless bros dynoed all around the room. It's hard not to be self-conscious at The Spot, especially when management has told you to stay in the corner and wear a helmet at all times.
In the fall of 2018, I started going to the Boulder, Colorado, bouldering gym two nights a week. It was the only gym within 90-miles that permitted training for competitive drytooling. Don't worry if you haven't heard of it—the sport has a small following in the U.S. Most people aren't interested in climbing plastic holds with ice tools and crampons. Surprising, right?
But competitive drytooling is popular in countries like Russia and Korea. While traditional competition climbing tends to be fast and dynamic, drytooling is a game of grace and slow motion, superhuman strength and control. Competition holds often have metal plates pocked with dimples no bigger than those of a golf ball. You set your pick into those dimples and pray it stays there. Let your body tension fall slack by an inch, and you'll explode off the hold, tools and crampon points flying. Many gyms view this as a liability. Even The Spot was hesitant to open its doors to the handful of Boulder drytoolers. (We're persistent, and armed.)
There were rules, though. We could only climb on the ancient treadwall, where we'd affixed drytooling holds. Helmets always. Crampons never. No tools on the mats. No tools during peak hours. Due to the size of the treadwall, we could only climb one at a time. The rest of us squeezed onto the one bench in a neat row, wearing our helmets, holding our tools, and waiting while the peeling wooden planks creaked round and round.
"At least we don't have to wear long sleeves. In the World Cup you have to wear long sleeves," said one of the guys.
"Why's that?" I asked. He put the handle of one tool in his mouth to free up his right hand between reaches. Someone told him to pick up his feet. The dingy green wood near the bottom the treadwall groaned like it was about to splinter. The climber danced up the wall and grabbed the tool from his teeth.
"It's bad press if the crowd sees blood."
This was the day I decided to enter the UIAA Ice Climbing World Cup.
It wasn't due to the talk of blood, or even the mention of someone backsplatting onto a tool and puncturing a lung at a different Boulder gym. I decided to enter because all my friends were. I wanted to be part of the club.
In late October I got an email: "The American Alpine Club is pleased to offer you a place on the 2019 USA World Cup Ice Climbing Team."
I read the message three times.
Sure, I'd spent the season hanging out in chossy caves, train tunnels, and the back corner of The Spot—anywhere I could climb with tools. But I had friends who competed in World Cup competitions. They could climb 5.13 and do one-armed pull-ups and figure-fours with crampons on. This was only my second season of mixed climbing. The last thing I'd really competed in was a cross-country race, and even then my coach had told me I wasn't an athlete. "Athletes don't trip over tree roots," he'd said.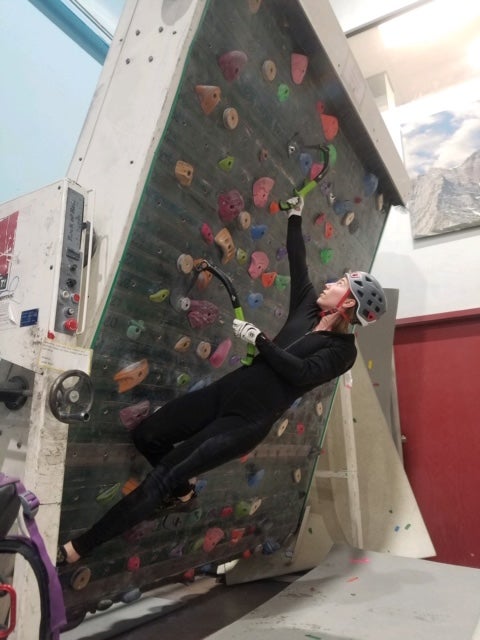 I almost emailed the American Alpine Club a dozen times to inform them of their obvious and hilarious mistake. But, on the other hand…
I'd never been an athlete—not even close.
As a child, my parents called me a klutz. As a teenager, I'd trained hard and raced the 5k for years, but always finished in the middle of the pack. I projected climbs, but movements always took a long time for me to master. Route-reading never came intuitively. I could never remember beta.
When other kids dreamed of waking up with X-ray vision, or the ability to fly, I dreamed of waking up with hand-eye coordination and a lightning-fast reaction time. Of waking up an athlete.
And now, suddenly, I had. I'd be representing the US, competing on the same routes as some of the best mixed climbers in the world. Somehow, I'd become one of them.
* * *
I had no idea how many women applied. There were 30 on the national rankings, and only eight made the team. Maybe I was better at this than I thought. Maybe I could even be good.
I started doing things I've never done. I drove two hours every weekend to the "local" drytooling crag. I started climbing in golf gloves to improve my grip. I purchased protein powder. I climbed in snow. I climbed in rain. And—worse—I scratched around on choss when the weather was perfect for rock climbing.
Meanwhile, I watched the ragtag traveling contingent of the American team as they flew to Italy, China, Switzerland, and France to face up against the might of fully-fielded Korean and Russian teams. When Kevin Lindlau of Bozeman, Montana, became the first American to make it to lead finals, my chest swelled with pride. I'd never felt more patriotic.
I went to the gym a lot more, which meant I did things like laundry and morning dental hygiene a lot less. This led some of my friends to say that they liked me better when I thought I was bad at climbing.
But I had a training schedule to keep. After all, I was an elite athlete now.  
* * *
Like all illusions of grandeur, it was only a matter of time before this one shattered.
I was in Estes Park, Colorado, sitting on a porch in the dark, shivering while another competitor ranted to me on the phone. He was complaining about how underfunded the sport was in the U.S.
"I mean, we didn't even have enough competitors applying this year!" he nearly shouted. "There were only a couple men cut from the team. And no women!" I pressed the phone closer to my ear, under all my hoods, and asked for clarification.
"Yeah, every woman who applied got a spot on the team, either in lead or speed," he said.
I blinked.
Every woman who applied got in.
The pride that had been growing behind my sternum for the past few months crumpled into dust. I wasn't an athlete after all. I was just a warm body who could fill out a uniform. I was a fraud.
* * *
Between my disillusionment and an overuse-related shoulder injury, I all but stopped training.
Then, a few things happened. I competed in the Ouray Mixed Climbing Competition, because I had already signed up for it. Against all expectations, I placed third, and ice climbing legend Sarah Hueniken told me that I "climbed very well." My head almost exploded.
Then, about a week later I got a box in the mail. In it was a very new, very official-looking uniform from adidas: pants, baselayers, midlayer, and a jacket that said "USA Ice Climbing" in huge letters across the back. I put it on and looked in the mirror. In poor light, you could have mistaken me for an Olympian.
Maybe I can do this, after all. I thought.
* * *
The World Cup was a blur. The pre-competition athlete meeting was a catered, white-tablecloth affair in a downtown Denver hotel. The represented countries were announced one at a time. Korea. Russia. Poland. Finland. France. Canada. Azerbaijan. Mongolia. The United States of America.
The following morning, I saw the competition structure for the first time. It was enormous, painted crisp white and blue, roofed with an obstacle course of long clips and free-hanging boxes. It stood in the midst of the Grecian columns and porticos of Denver's regal Civic Center Park, and it didn't seem a bit out of place. Man, I thought. We've come a long way from The Spot treadwall.
* * *
Qualifiers. Men would climb first, followed by the women on the same two routes, redpoint style, which meant we were allowed to watch each other climb. Between cheering and milling about, I tried to memorize the beta, but a nauseous, nervous fog kept my brain from doing much of anything.
I joked to spectating friends that my only goal was to get off the ground. Eyeing the route, I wondered if I would.
I looked at my watch. One hour before I had to tie in, in front of everyone I knew. My stomach churned. I felt like I had swallowed a live rat.
I walked across the lawn to the athletes' building.
As I did, I braced myself for the looks I was sure to get when I pulled out my bright orange PT band. (I needed to warm up my still-injured rotator cuff.) I'm going to look like such a nerd, I thought.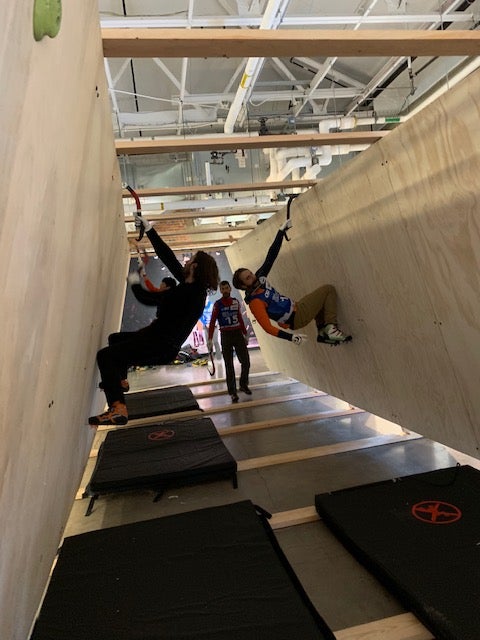 The warm-up wall was filled with Russians. They did pullups and stabbed at the plywood with frontpoints sharpened into needles. The rest of the room housed straight-faced athletes, each doing weird shoulder exercises with their own brightly colored PT bands. It was like I'd joined a ribbon dancer flash performance. I felt better.
* * *
Warmed up, I wandered down to the structure and found the crowd had swelled since morning. Later estimates placed it around 11,000 people.
A woman with a clipboard ducked into the athlete tent. "You're up," she said.
I walked out into the light, into the cold morning air and tied in, put my picks on the start hold, and left the ground.
Nervous, I moved up. My right tool stuttered on the plastic. I collected myself and kept going, moving laterally to the second hold, trying to get into the weird, percussive rhythm of kicking into plywood. Breathe. Reach. Find tension. Kick, kick. Reach.
About five holds up, as soon as I started to find that rhythm, I blew it, shearing off a hold and whipping back to the start.
In qualifiers, if you fall below the first bolt, you get another try. On the ground, I tried to regain my breath and swallow my pride. "Redemption," whispered my belayer as I set my picks once again.
This time, I made it to the second clip. Then the third, where the wall reared back in an intimidating overhang. I wound up for a massive reach, and the crowd swelled with me. I tried the move three times before I fell, this time near the top of the wall. On the way down, I gave a massive whoop of joy, and the crowd exploded.
If this was a sports movie, this would be the bottom of the third act, when everything turns around. You'd see a montage of me taking down my second qualifying route in great style, then blurry footage as I passed in a joyful daze through a crowd of friends and admirers.
But this isn't a sports movie. I was the last person to climb the second route, and I fell early. I tried again and fell even lower. The quiet crowd dispersed. I untied with shaking hands.
Back in the tent I refreshed the live results on my phone. All those months of training, dreaming, fighting to recover from injury, and now my name was at the bottom of the list. I'd failed.
I sat on that plastic folding chair for a long time. When I emerged, the speed climbers were getting ready, pulling on knee pads and switching out front points. Another competitor, Angela, approached me. I'd met Angela while training just a few weeks prior and had liked her immediately. We'd become friends.
"I came in last," she said to me. I did a double-take. She explained that the results had just been updated.
"How do you feel?" I asked.
I didn't know what else to say. I had been upset that I'd come in last, but I hadn't. My friend had. The thought that she was dealing with the grief I'd just felt just made me sadder.
She shrugged and smiled. "I'm OK with it."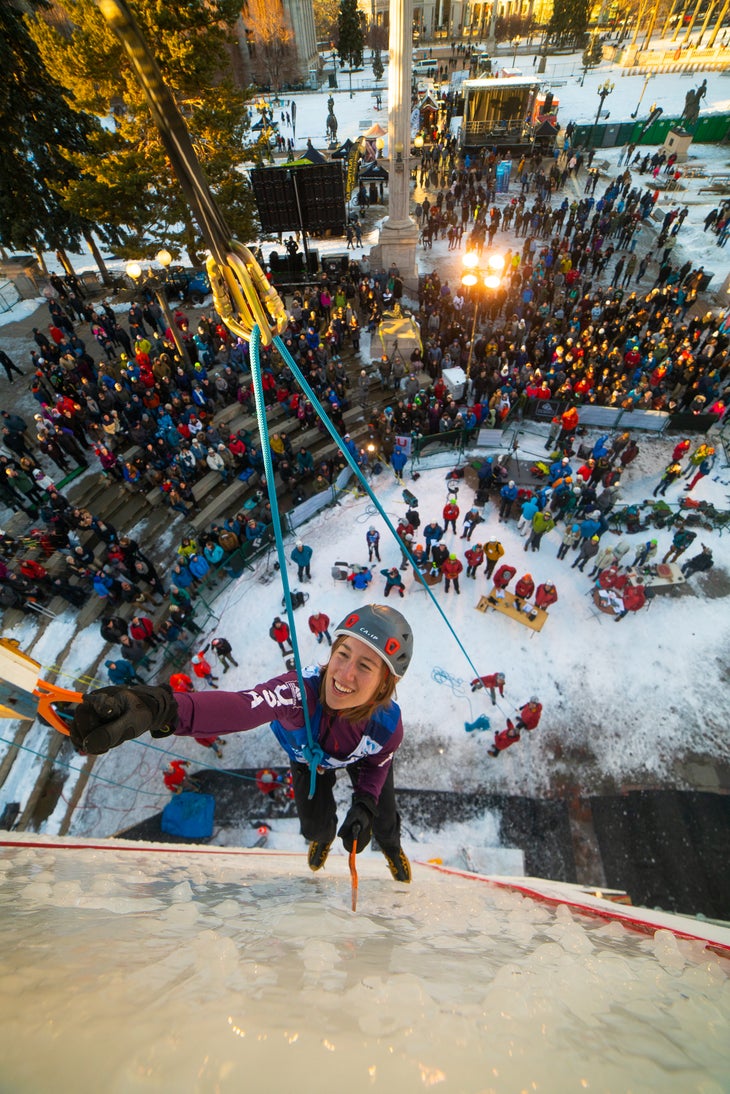 I'd been so worried about embarrassing myself, and now, I realized I had. Not by losing, but by losing sight of what mattered.
If you compete in anything, no matter how good you are, you'll always dream of the day when you lower off of a competition route in front of a sell-out crowd and feel satisfied by your performance. But that day will never come. That's part of competing. That's part of being an athlete, at any level. No matter how well you do, you'll climb the route again in your head when you fall asleep at night, and you'll always wish you had climbed one hold higher, or a few seconds faster, or moved a little more efficiently. And no matter what transpired on the wall under the lights, you'll feel robbed.
Some finishers earn gift certificates, or plastic-wrapped dry-ropes, or even medals. But at the end of the day, they're all victories, and they're all defeats.
Competing made me realize that growth is just a parade of failures strung together by often minute and immeasurable progress. That's the beauty of it, though. The greater the defeat, the more you learn: About your climbing, about yourself, and about your own resilience.
Reading the results in the athlete tent, I'd told myself I was done competing. But the day after the World Cup, I bought plane tickets to a competition I'd just heard about in Michigan, where the route-setters use Russian holds. It's in March. There's a good chance I'll come in last. I almost hope I do.
Author's note: I did not come in last. I placed second for women. Angela placed third. The emotional roller coaster, though, featured approximately the same total vert.