Highs and Lows: IFSC Toulouse Combined Olympic Qualifier
Heading out the door? Read this article on the new Outside+ app available now on iOS devices for members! Download the app.
When the most recent Olympic qualification event concluded in Toulouse, France, last weekend, not only were Combined champions crowned (Japan's Kokoro Fujii in the men's division and Futaba Ito in the women's division), but another batch of competitors qualified for the Tokyo 2020 Olympics. Here's the list of athletes who were awarded provisional berths to Olympics:
Men
Nathaniel Coleman (USA)
Adam Ondra (CZE)
Bassa Mawem (FRA)
YuFei Pan (CHN)
Alberto Ginés López (ESP)
Jan Hojer (GER)
Women
Kyra Condie (USA)
Mia Krampl (SLO)
Laura Rogora (ITA)
Julia Chanourdie (FRA)
Luliia Kaplina (RUS)
YiLing Song (CHN)
The national federations of those competitors must accept forthcoming invites from the IFSC to make the Olympic berths official. In terms of the greater roster for the Tokyo 2020 Games, the competitors join a list of athletes who already earned Olympic berths at the World Championships in Hachioji over the summer.
Gallery: 20 Photos From the Toulouse Olympic Qualifying Event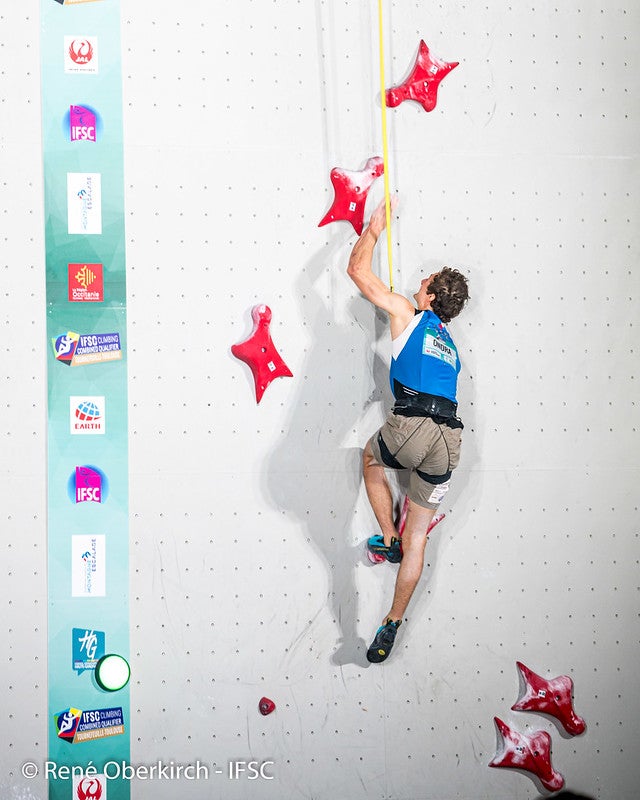 The Czech Republic's Adam Ondra has been improving his run times in speed climbing over the course of the year. At Toulouse, he clocked 7.464 seconds in the qualification round. It was a strong time for a competitor who is not a speed specialist, and the run put him in good standing as he headed into the remaining disciplines.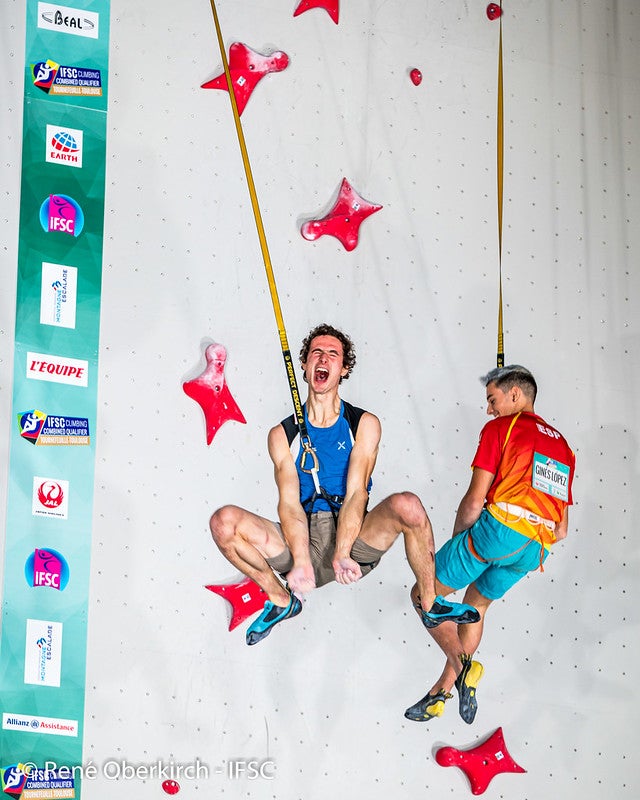 Ondra was looking to earn an Olympic berth at Toulouse, and it happened at the end of the qualification round. He looked strong for the remainder of the event and eventually earned second place behind Japan's Kokoro Fujii.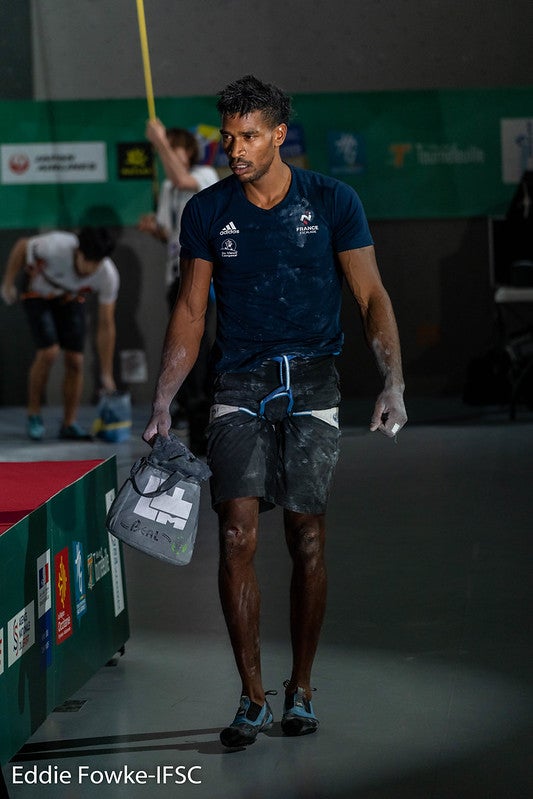 France's Bassa Mawem finished the competition at Toulouse in fourth place and earned an Olympic berth. His brother, Mickael, already earned an Olympic invitation at the World Championships. Thus, France has filled its two competitor quota in the men's division for the Tokyo 2020 Olympics.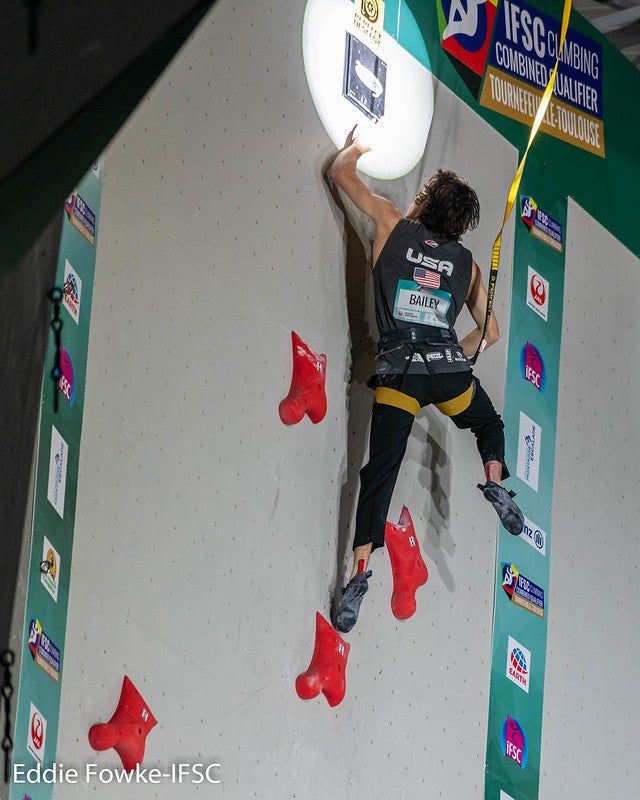 American Sean Bailey placed ninth at Toulouse—barely missing a spot in the event's finals, and also narrowly missing another Olympic invitation for Team USA. Still, Bailey had some good moments at Toulouse, including a sixth place finish in the bouldering qualification portion (with three tops) and a fifth place finish in the lead qualification portion.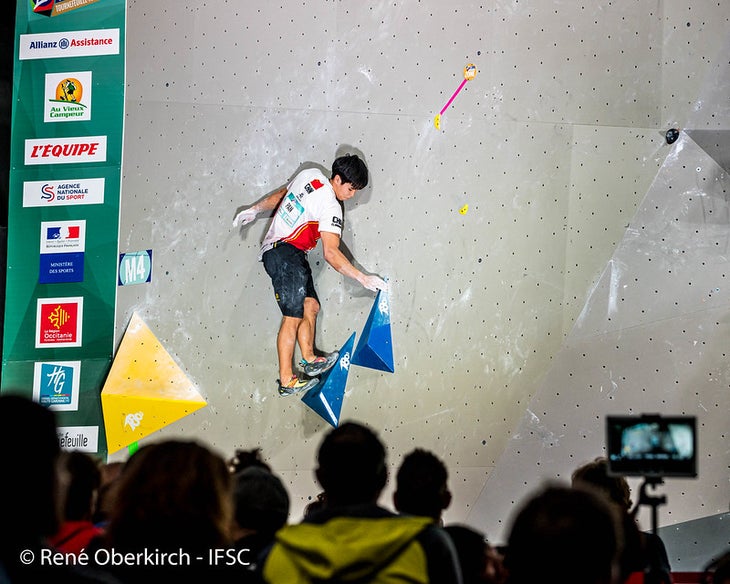 YuFei Pan became the first climber from China to claim an Olympic spot. The 19-year-old finished the competition in sixth place. (His compatriot, YiLong Song, soon claimed China's second Olympic spot by earning a berth in the women's division.)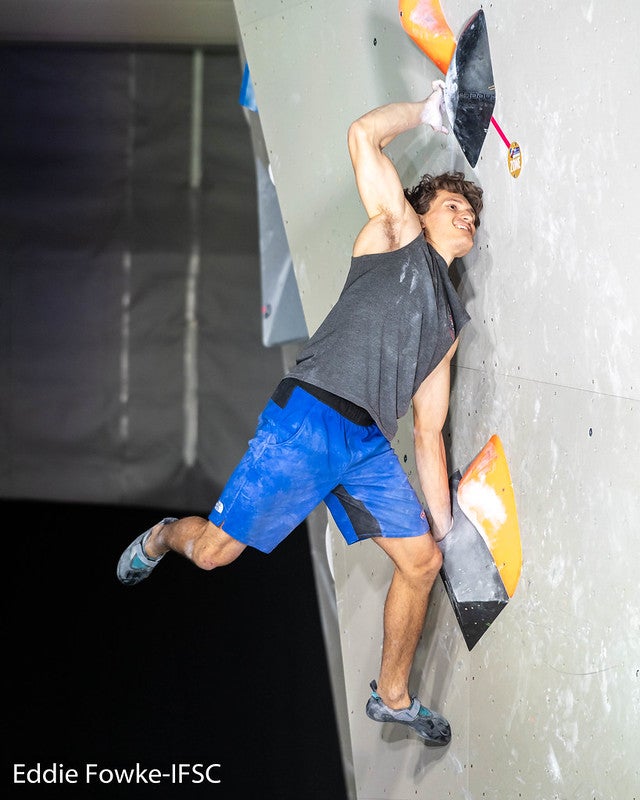 American Nathaniel Coleman kicked off his weekend at Toulouse with a fast speed time (6.728 seconds). He stayed consistent by placing fifth in the men's bouldering qualification portion. A 15th place finish in the lead qualification portion placed him in the middle of the pack for that discipline, but his overall performance was still strong enough to earn an Olympic berth.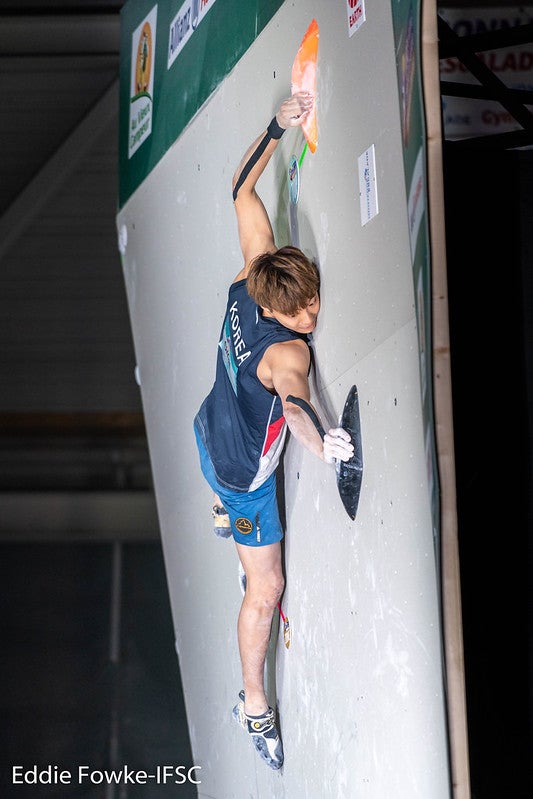 South Korea's Jongwon Chon was fighting to earn the country's first Olympic berth. Chon's eventual finish of 17th in the men's division was not good enough to do so; he will likely continue his Olympic push at the Asia Continental Championship.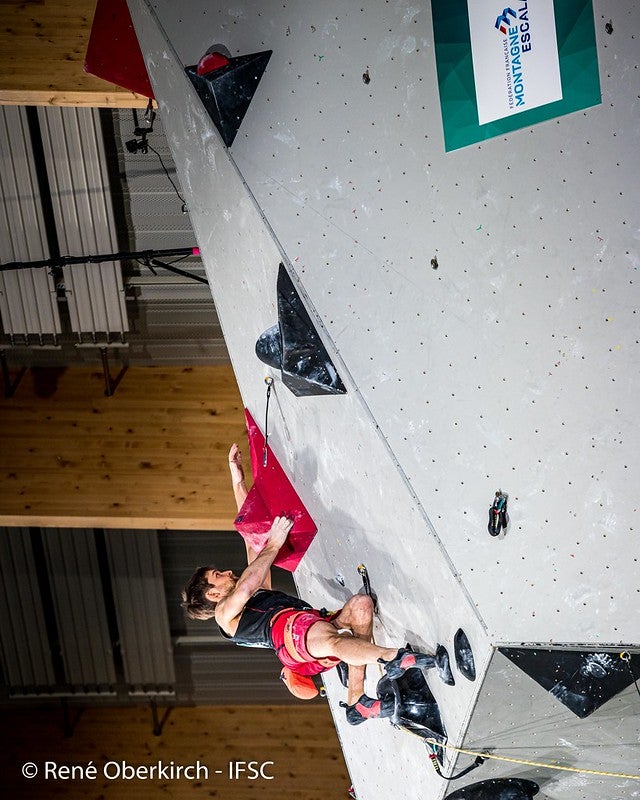 Germany's Jan Hojer earned an Olympic berth at Toulouse and now joins his compatriot, Alex Megos, in being bound for the Tokyo 2020 Games. Germany has reached its Olympic quota for male competitors, but no German woman has yet earned an Olympic invite.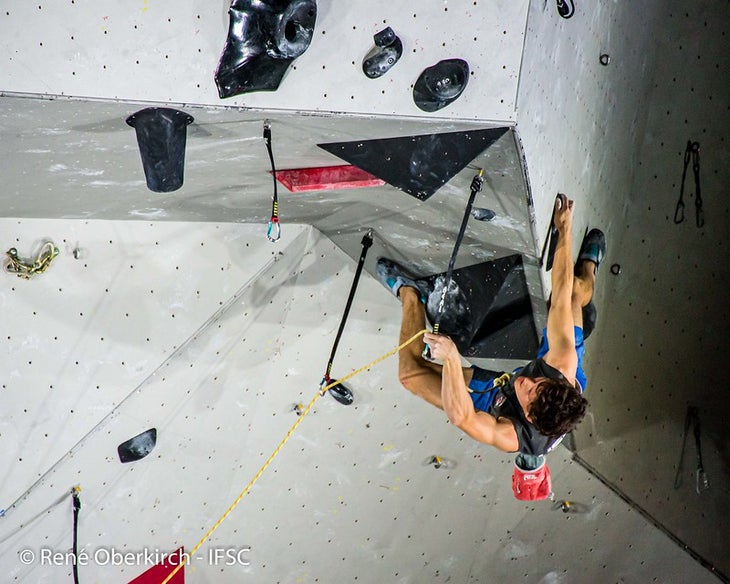 American Nathaniel Coleman, shown here clipping the chains during the lead portion, is traditionally a boulderer. But his eighth place finish at Toulouse and his second place finish at the American Combined Invitational earlier this year prove he is adapting well to the Combined format.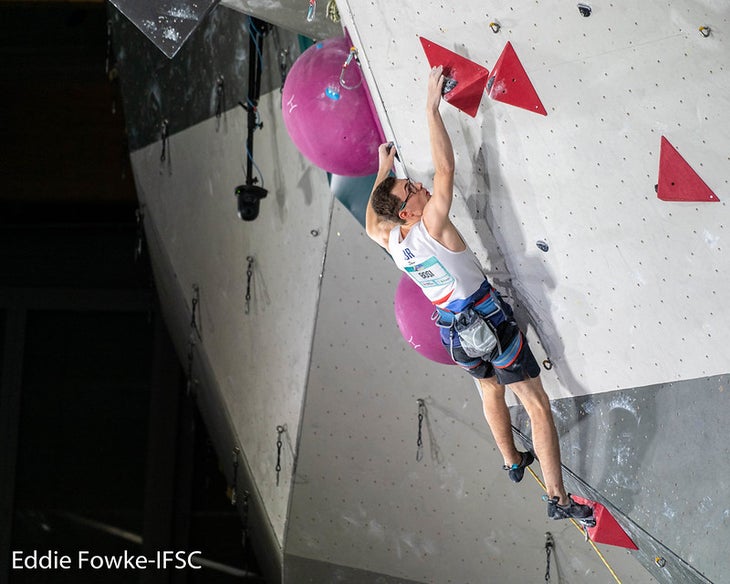 At Toulouse, Great Britain's Will Bosi was hoping to join his compatriot Shauna Coxsey as the owner of an Olympic invite. (Coxsey earned her berth at the World Championships.) Bosi finished 14th at Toulouse, so his quest will continue in the coming months as he trains for Europe's Continental Championship. The event will take place in Russia beginning on April 16, 2020.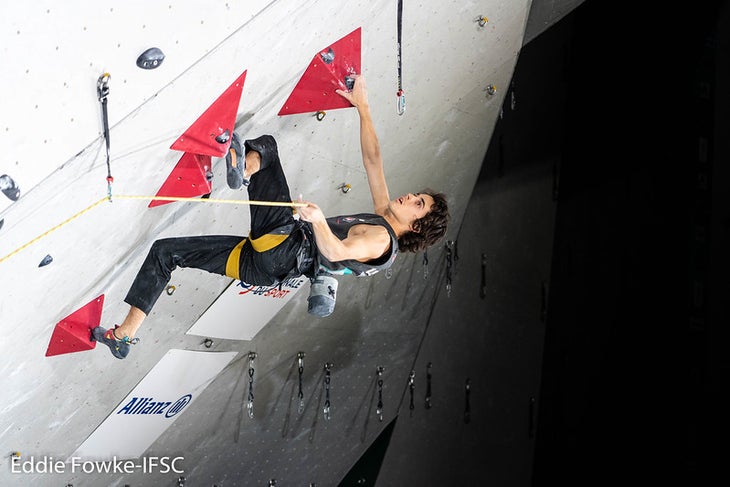 With Coleman's Olympic berth, one Olympic spot remains unclaimed for Team USA. Sean Bailey (pictured here) will look to snag it at the Pan-American Continental Championship taking place at Sender One on February 27, 2020.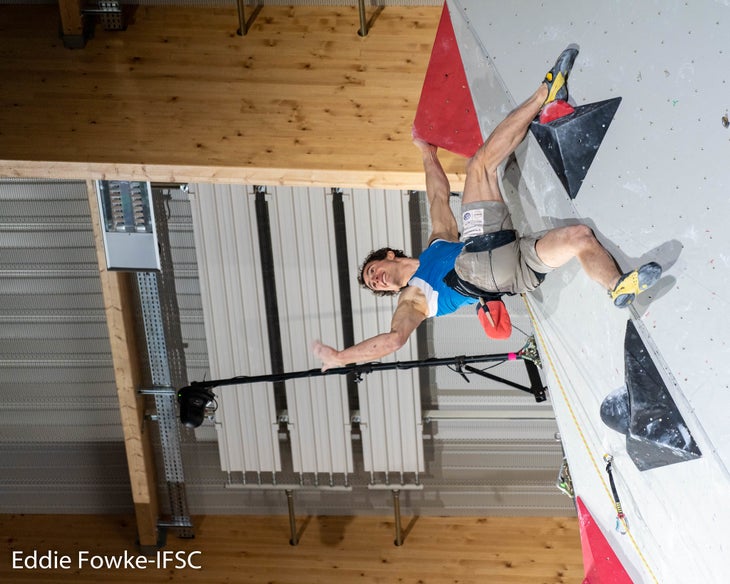 For competitors like Ondra (pictured here), Jan Hojer, Nathaniel Coleman and others who have earned Olympic invites and recently finished a long World Cup season, the coming weeks will likely see some downtime, rest, and recuperation before more focused Olympic training begins early in the new year.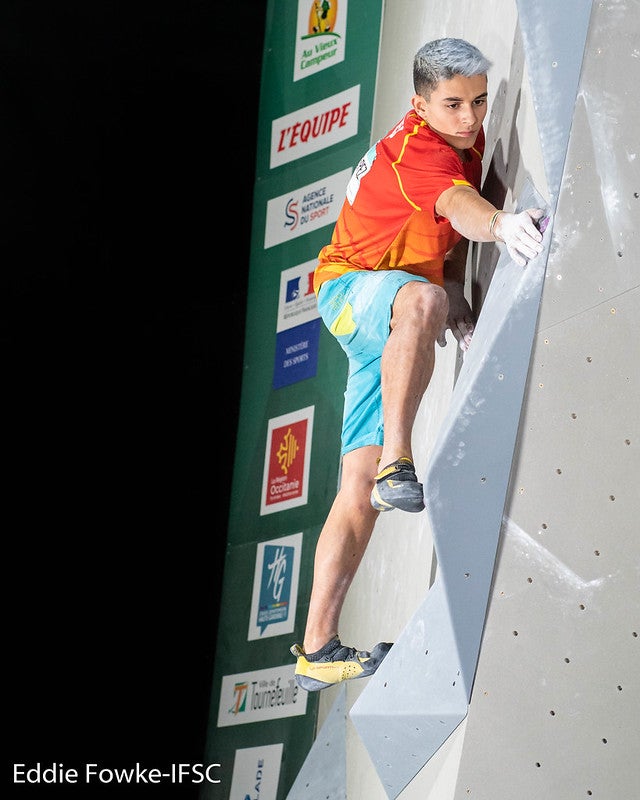 One of the breakout stars of the World Cup season was Spain's Alberto Ginés López. His season highlights included a second-place finish at a lead World Cup event in Inzai, Japan, and a third-place finish at a lead World Cup event in Kranj, Slovenia. Now he can add an Olympic berth to accolades earned in 2019.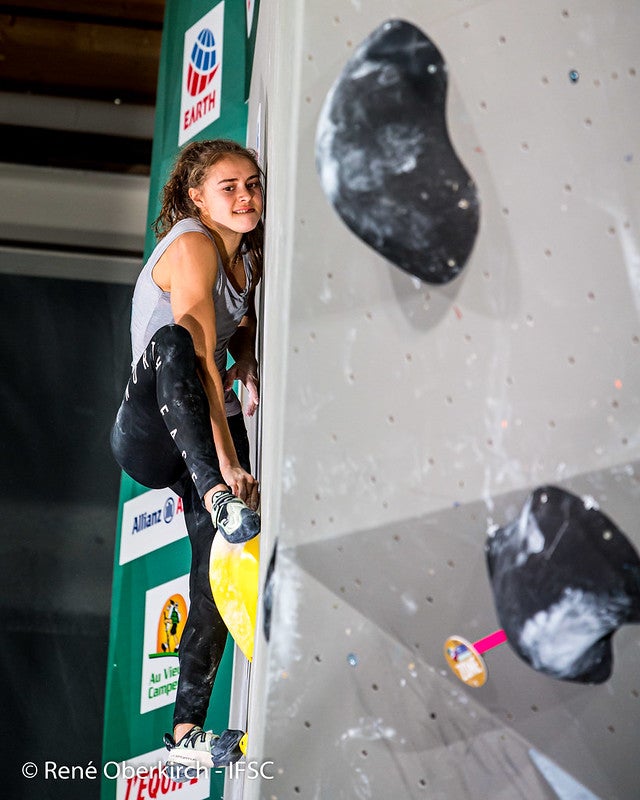 Fans knew that it would likely be a competitive scrap between Americans Margo Hayes (pictured here), Ashima Shiraishi, and Kyra Condie for the country's one remaining women's Olympic spot. Although good friends, the three competitors seemed equally capable of claiming the berth on any given day. Hayes came extremely close. Her strong performance over the weekend included topping two boulders and scoring 43+ on the lead route in the women's qualification round.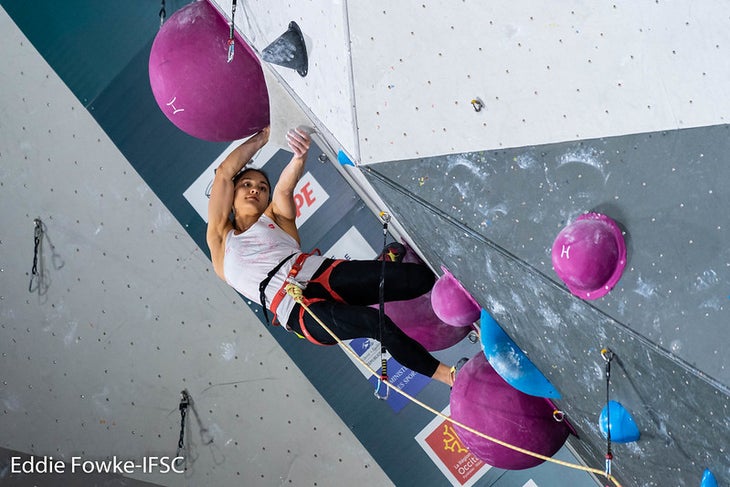 Canada's Alannah Yip came close to earning an Olympic invite in her own right, clocking under 10 seconds in a qualification speed run, topping three boulders, and scoring 37+ on the round's lead route. Yip finished the event in 13th place. There is yet to be a Canadian woman with an Olympic invite, so Yip will likely set her sights on a Continental Championship like many other competitors.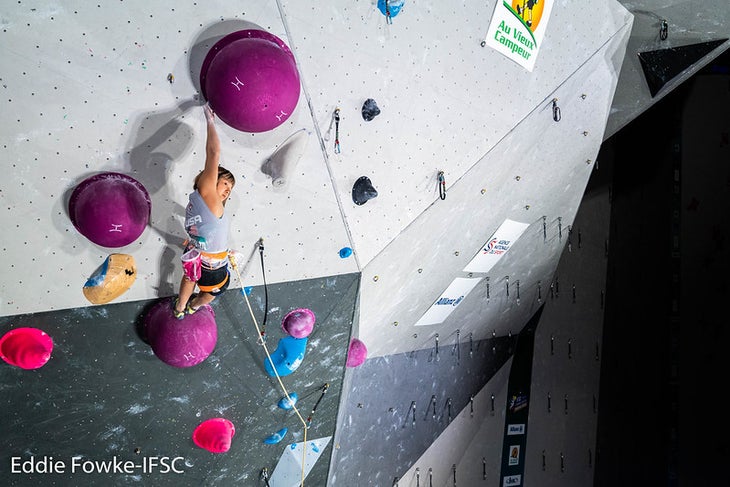 American Ashima Shiraishi extends for a big spherical volume—labeled a "grape" on commentary—during the lead route in the qualification round. Shiraishi finished the competition at Toulouse in 22nd place.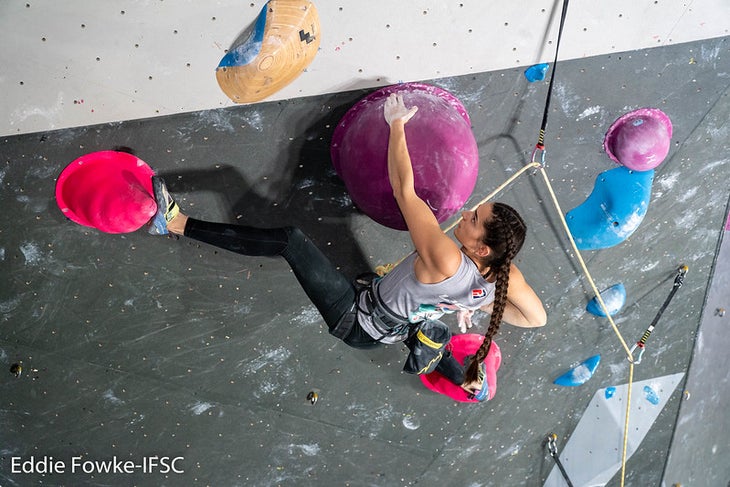 Shiraishi's American compatriot, Kyra Condie (pictured here), had been vocal for more than a year that her goal was to qualify for the Olympics. After finishing the event at Toulouse in seventh place, Condie could rest easy. Mission accomplished.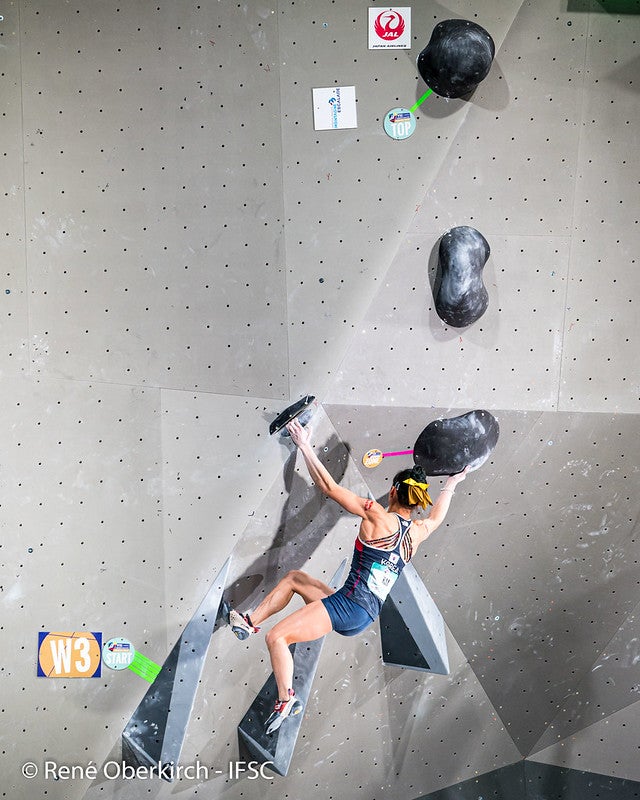 South Korea's Jain Kim had a rocky 2019 season. Her World Cup ambitions and Olympic training were both derailed for a time by a finger injury. She was back in peak form at Toulouse—and managed to clock an impressive speed run of 10.463 seconds. She did not earn an Olympic invite, but she will be one of South Korea's biggest Olympic hopefuls at the Asia Continental Championship to be held in Morioka, Japan, on May 18—24.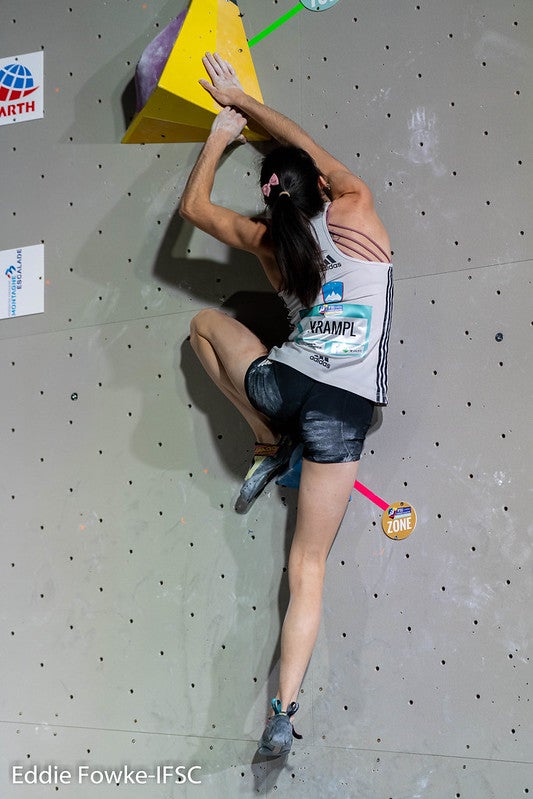 The back-and-forth action between Slovenia's Lucka Rakovec and Mia Krampl (pictured here) in the finals of the women's division at Toulouse was, in many ways, the highlight of the round. The two women placed sixth and seventh, respectively, in the speed climbing portion. Rakovec placed higher in the bouldering portion, but Krampl placed higher in the lead portion. As such, when the discipline's scores were multiplied, Krampl was the competitor earning the Olympic berth for Slovenia.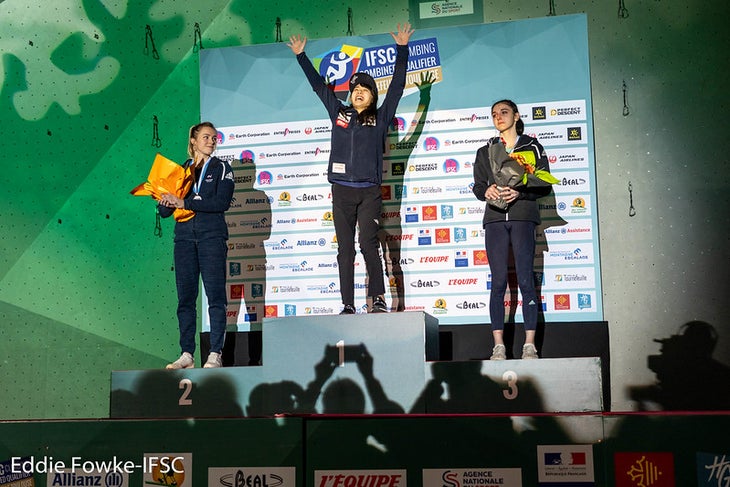 Japan once again showed its team depth over the weekend. Kokoro Fujii won the men's division; Meichi Narasaki placed third. Ai Mori wowed the crowd with a top of the lead qualification route in the women's division. And, in the end, Futaba Ito (center) stood highest atop the women's podium as the victor. Earning second place was France's Julia Chanourdie (left). Slovenia's Mia Krampl (right) placed third.
A big story for much of the lead-up to Toulouse was the messiness of the Olympic qualification pathway, specifically as it related to Japan's athlete quota. The confusion wasn't totally gone by the end of the weekend at Toulouse; it was glaringly odd and a little humorous that the winners—Fujii and Ito—at an event titled the "Olympic Qualifier" did not actually qualify for the Olympics (because Japan had already filled its Olympic quota but was still allowed to participate).
Luckily there was plenty of thrilling action that outshined that ongoing quota muddle. Highlights of the weekend included a battle between Slovenia's Mia Krampl and Lucka Rakovec for that country's remaining women's Olympic spot (since Janja Garnbret had already earned the other available spot). Krampl emerged as the competitor earning that berth after she won the lead portion of the finals in the women's division (3:04.23 in the livestream for Krampl's high point). And in the men's division, 17-year-old Alberto Ginés López of Spain became the youngest Olympic qualifier thus far for the sport. 
There are plenty of other storylines to talk about, so let's take a closer look at the good and the bad from the weekend's action.
Highs
Ondra Does It
The Czech Republic's Adam Ondra is an athlete whose popularity transcends the competition niche, so it is safe to say that many eyes of the climbing world were squarely on him last weekend. If his technical blunder at the summer's World Championships marked a low-point in his career, his performance at Toulouse must be considered a high point.
In Toulouse's qualification round, Ondra managed to finish in the middle of the pack (14th) in the speed climbing portion—a solid placement considering his past struggles in the discipline. He followed that up by topping three out of four qualification boulders, and then topped the qualification lead route. It was good enough to earn an Olympic berth before the finals had even begun. Despite feeling sick in the final round, he performed extremely well; he topped a boulder, he climbed the highest of anyone on the lead route, and he received the silver medal for the event on the whole. In many ways, this was the assertive performance that most fans expected to see from Ondra at the Combined portion of the World Championships. And with his Olympic qualification now out of the way, Ondra can finally start—officially—down his "Road to Tokyo."
Coleman Makes History
When Brooke Rouboutou became the first American climber to qualify for the Olympics, I felt it necessary to notify international readers that I was about to gush given Climbing's American homebase. I'll do the same thing here. Coleman became the first American male climber in history to earn an Olympic spot, and it was exciting to watch on an American holiday weekend. A greater story going forward might be how Coleman is getting much better in the Combined format. He is a multi-time bouldering national champion, so his ability in that discipline will never be in question. In fact, his fight on the burly second men's boulder in the finals at Toulouse (1:52.12 in the livestream) endeared him to the French crowd even though it did not result in a top. But during the weekend, Coleman also clocked a personal best speed climbing time and finished in fourth place in the lead climbing portion of the finals—less than two points lower than Ondra, the winner. If Coleman can continue to improve at those disciplines that are not traditionally his specialty areas, he could become more of a favorite for a podium spot by the time the Tokyo Games roll around.
Condie Punches Her Ticket
At one point shortly after Nathaniel Coleman earned his provisional Olympic berth, commentator Charlie Boscoe noted, "It has already been a good trip to France for Team USA; it could be an absolutely spectacular trip if they also get Kyra Condie through [to the Olympics], and this is what it all comes down to." Condie then took to the women's qualification lead route and fought hard before falling as she launched over the lip to the headwall (1:15.51 in the livestream). Her eventual score of 36+ was good enough to get her into the finals at Toulouse, and it also indeed got her through to the Tokyo Olympics.
Mere weeks ago, before she had even qualified for the Olympics, Condie left her home in the Midwest and moved to Salt Lake City to be closer to USA Climbing's headquarters and National Team Training Center. In hindsight, that bold relocation seems like less of a gamble and more of a clairvoyant masterstroke. She now has better access to the entire Olympic preparation machine, and rightly so. Along with Raboutou and Coleman, Condie will be one of the faces of the organization as climbing nudges further into American mainstream sports outlets and the Tokyo Games draw nearer.
Lows
Anticlimactic Finals
As the men's qualification round concluded, eight competitors earned advancements into the final round—but two of those competitors hailed from a country (Japan) that had already filled its Olympic quota. This meant that those six men not on Team Japan were, by default, the recipients of the six Olympic berths. Most viewers tuned into the Toulouse livestream to see which competitors would earn the coveted Olympic spots, but suddenly there was no reason to watch the men's final round at all—the Olympic berths had already been determined. Technically speaking, the ensuing finals were still important because they would help decide the Olympic seeding, but that probably wasn't a big enough deal to sustain a large portion of the viewers.
The women's final round had a little more intrigue with Slovenia's Krampl and Rakovec vying for a single Olympic invite. But still, the five other women's Olympic spots had already been determined in the qualification round.
There was not an easy solution to this dilemma; resolving the ongoing issues between the IFSC and Team Japan (regarding athlete participation and quotas) would have been the ideal fix. Eliminating the finals altogether and just having a single round to determine the Olympic berths and the Olympic seeding would have been another possibility, but that would have been a drastic measure. Regardless, if climbing continues in Olympics beyond 2020, the powers-that-be need to put their heads together to come up with a qualification event format that does not see the big highlight—Olympic berths—occurring midway through the competition.
Kazbekova Struggles
On the first boulder in the women's qualification round, the Ukraine's Ievgeniia Kazbekova tweaked her left knee and limped off stage; she rallied to come out and top the second boulder, but she was wincing and still limping. She eventually finished that round by topping the last boulder and then placed 15th in the lead portion. In light of the injury, it is remarkable that she ended up placing 20th—rather than last—in the overall score at Toulouse. Her fight through the injury could be seen as an impressive display of grit. But at the end of the day, by no fault of her own, Kazbekova was not 100 percent for much of the event and that is a shame for all involved. Here's hoping that she makes a full, speedy recovery. She is one of the best competitors on the Ukrainian team, and one of the best competitors currently not holding an Olympic invitation.
Olympic Dreams Fade
Eddie Fowke said it best on commentary at Toulouse when he opined, "The real heartbreak…is guys like [Germany's] Yannick Flohé and [France's] Manuel Cornu, who have seen their national quotas filled and that opportunity has been swept away for them." The "opportunity" that Fowke was referring to was the chance to earn an Olympic berth, which is now an impossibility for an increasing number of competitors since the Tokyo Olympic maximum of two competitors (per gender) has been reached by their respective countries. Many athletes from Team Japan are in this boat. Americans Margo Hayes and Ashima Shiraishi could be added to such a list as well, since Condie and Raboutou have filled the American women's quota. (Hayes and Shiraishi each had solid moments throughout the weekend at Toulouse and finished 11th and 22nd, respectively.)
Like all competitors who now find themselves "quota-ed out" and without any chance of participating in the Tokyo Olympics, Hayes and Shiraishi are left to formulate new or altered goals. Simply, it is unfortunate and sad that there are not more Olympic berths available per country. The silver lining is that Hayes, Shiraishi, Flohé, Cornu, and others have proven that they are capable of incredible feats. There is no reason to believe they won't bounce back with remarkable climbing accomplishments in years to come—at future Olympics or elsewhere—and it has been a pleasure to cover their 2020 Olympic journeys over the past year.
Neither
Kruder Crushes
I'll put the breaking of a volume by Slovenia's Jernej Kruder (12:42 in the livestream) here, neither a high nor a low but nonetheless a major talking point of the weekend. It happened midway up the wall during the men's lead qualification portion. Let's all be most thankful that Kruder and the belayer were not injured. And fortunately the volume got repaired relatively quickly and the action didn't stall for too long. But let's also hope that something like this doesn't ever happen again—especially at the Olympics when far more eyes will be watching.
Results
Men
Kokoro Fujii (JPN)
Adam Ondra (CZE)
Meichi Narasaki (JPN)
Bassa Mawem (FRA)
Jan Hojer (GER)
YuFei Pan (CHN)
Alberto Ginés López (ESP)
Nathaniel Coleman (USA)
Women
Futaba Ito (JPN)
Julia Chanourdie (FRA)
Mia Krampl (SLO)
Lucka Rakovec (SLO)
Ai Mori (JPN)
Iuliia Kaplina (RUS)
Kyra Condie (USA)
Laura Rogora (ITA)
John Burgman is the author of High Drama: The Rise, Fall, and Rebirth of American Competition Climbing, which chronicles the history of American competition climbing. Available March 3, 2020.