Climbing Went Olympic. What Just Happened, Really?
Now that climbing has been viewed by millions, what are the ramifications? How did it stack up against other sports?
Heading out the door? Read this article on the new Outside+ app available now on iOS devices for members! Download the app.
Remember a few years ago, when it was first announced that climbing was going to the Olympics? Well, let me remind you–a shitstorm ensued. More than a few top climbers expressed dismay, publicly, which is telling … A few prominent community members said competition climbing wasn't real climbing, which, by extension, implied that comp climbers weren't real climbers. 
True, there's a long and rich history of outdoor, as opposed to indoor, climbing, but can you imagine a trail runner saying the 100-meter sprinter Usain Bolt isn't a "real" runner? No, that would be ridiculous. 
The dust has settled. We now have some answers. 
Competition climbers have always been climbers, of course, but because of the exposure of climbing in Tokyo to millions of eyeballs, when the American public thinks of a climber, it might just be of Nathaniel Coleman or Brooke Raboutou, and not Alex Honnold or Lynn Hill. 
In Europe, the culture of competition climbing is more mature, and hence the divide between those on plastic or real rock isn't as intense. We can thank the Olympics for potentially healing a divide in the climbing community, about who is and who isn't a real climber, or what counts as real climbing. Hopefully, as a result, the tent gets wider for others who are already, or surely will soon, enter our sport. One study by the Sports Fitness & Industry Association shows that participation can rise by around 5-12% after a sport appears in the summer Olympics, and so, in the middle of what is already a massive growth spurt–fed largely by the proliferation of climbing gyms across the country in the past five years–we are going to have another. Consider this screen shot from Google Trends that lists the uptick in the world plugging in "sport climbing" into their search bars over the past 7 days. That spike, towards the end, is Aug 3. That's today.

In terms of watching the debut event, which so far has been only the men's qualifiers, I thought the announcers were decent, with the requisite amount of blunders. The scoring system was presented in a way that was easy to understand, and, as I know from talks with the IFSC myself about this, it is no small feat to make bouldering rankings intuitive. 
What the audience is seeing on the screen, in terms of making the scoring understandable for non-climbers, is literally the result of hundreds of hours of work. Moreso than the scoring presentation, the IFSC deserves a lot of credit for what the world just witnessed. 
What came into stark relief was how intimate climbing is. By contrast, I watched the 400-meter hurdle finals the other day. It was great, but also formal. The athletes entered the arena in front of a giant placard; they had to stand there for a required period of time for the cameras, about 8-10 seconds, for television and photos, I presume. They were stonefaced until after the race. Contrast this with Alex Megos and Nathaniel Coleman entering the stage for Speed laughing and joking, in shorts.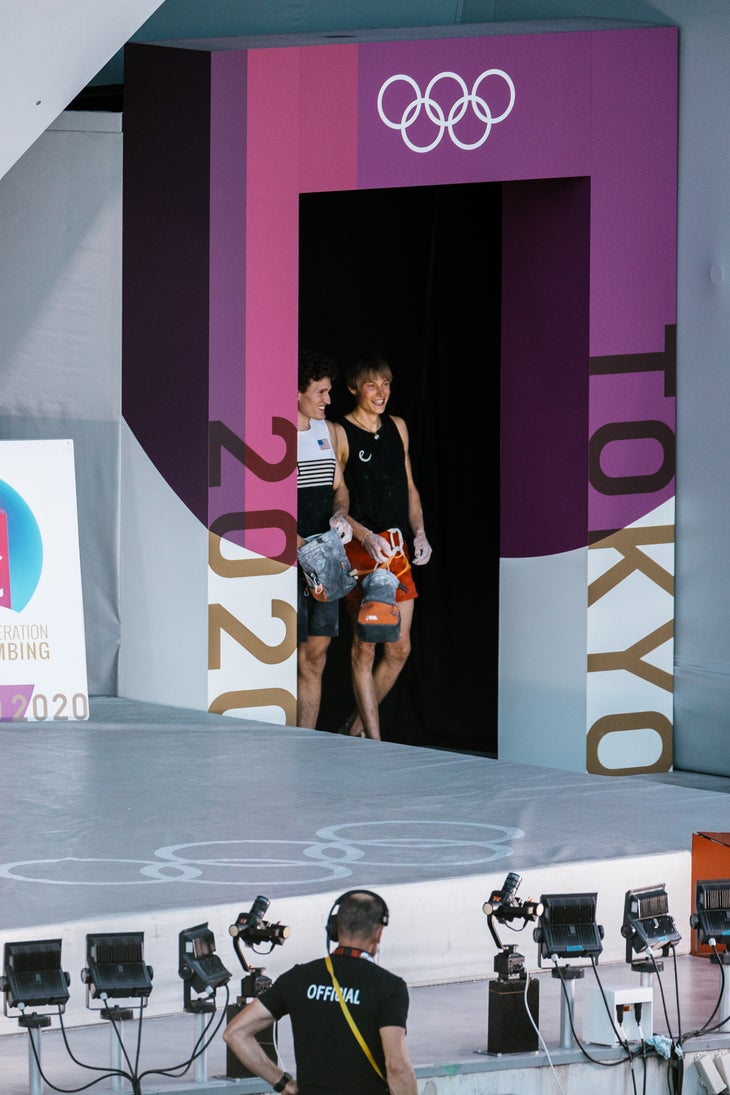 Also in bouldering, you get to see athletes express frustration, like gymnasts, except climbers get another try, which means you can see creative process not usually visible in other sports. Because our sport is onsight (or rather, the first try in bouldering is, and lead always is), it's like handing a shot putter a microwave and saying "have at it." They give it a go, learn something about the weight distribution of the microwave, then refine their technique. Because of the way our events are structured, you can see how athletes think. Do they fret when the clock ticks down? Do they have the courage to try new beta when they have one attempt left? Are they affected by a previous bad attempt? This part of our sport is excellent viewing. I do wish, however, viewers were privy to more team interaction, the way gymnasts after a routine return to hugs and high fives from teammates and the coach. We should figure out a way to incorporate that element.
Appearing in the Olympics means more money will pour into our sport. Nathaniel Coleman, for instance, gave a shout to Prudential on his Insta. Most climbers don't even know what Prudential is. I didn't. Their Insta profile reads: "We solve Investment, Insurance and Retirement challenges." If Nathaniel keeps climbing the way he is, he sure is going to need their services. He just qualified for finals. This isn't a dig on Nathaniel at all. He is one of the most thoughtful and authentic climbers I have met. 
More investment means climbers will be able to make a living off climbing, which is great. Down the line, as younger comp climbers turn to outdoor projects, a fully sponsored life of climbing is going to mean the level of performance in the coming decade will increase. In short, this crop of climbers is going to raise the bar for the rest of us. It's already happening. Drew Ruana, Sean Bailey, Nathaniel Coleman, Brooke Raboutou, Ashima Shiriashi–are all pushing outdoor standards. For the record, if Prudential approached me, I'd sign.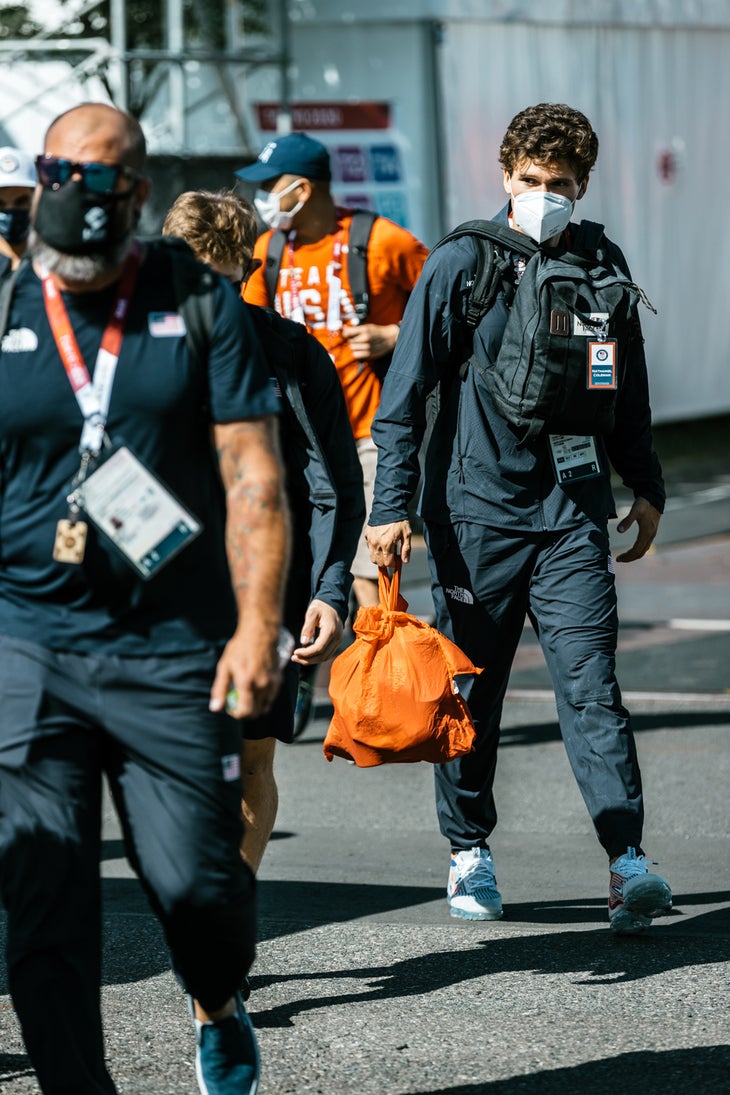 When I first started climbing, my only gym was at the end of a dark alley in Baltimore City. It was in a mostly vacant railroad-manufacturing plant, the lead wall pasted to the exposed beams like an impromptu carnival, the sketchy kind. A new wall appeared in the back after a few years. It was for this thing coming into its own, called bouldering. The "mats" were locally sourced shredded car tires. A lot of the climbers refused to use the bouldering wall because it wasn't "real" climbing. They actually said that.
Concerning the very real realness of comp climbing, how about the calm heads of Team USA? Amazing.
This past winter, I interviewed Meg Coyne, the National Teams Manager and Assistant Coach for Team USA. She told me that the data analysts at the US Olympic and Paralympic Committee (USOPC) gave Team USA a .001 chance of medaling. The number is called "medal expectancy." That number was based on past successes on the World Cup circuit, among other inputs. But, what that tells me is that, at this point alone, we have won. I want all of Team USA athletes to know that. Remove all the pressure you can. Simone Biles' recent withdrawal from some gymnastic events is a clarion call for expectation management. We have already won.
More to come soon as the dust continues to settle.
---
–Francis Sanzaro is the Editor-in-Chief of Gym Climber and Ascent.