Olympic Wildcard Colin Duffy May Be the Youngest Climbing Competitor—and the Spoiler
Heading out the door? Read this article on the new Outside+ app available now on iOS devices for members! Download the app.
This article was first published in the summer edition of Gym Climber. It is on climbing.com for free. Sign up with an Outside+ membership and you get unlimited access to thousands of stories and articles on climbing.com and rockandice.com, plus you'll enjoy a print subscription to Climbing and receive our annual coffee-table edition of Ascent. Outside+ members also receive other valuable benefits including a Gaia GPS Premium membership, and more. Please join the Climbing team today. 
At 16 years old, with no experience in the adult circuit, Colin Duffy claimed the sole remaining spot on the U.S. Olympic Team. To many, his debut was a surprise. But Colin was no dark horse.
There's no getting around it. The vibe in the gym was weird, given what a seminal moment it was.
Colin Duffy, 16, lowered slowly into the crowd. He had just topped the men's final lead route, putting him in first place by six points, not an insignificant margin, and securing his ticket to the 2020 Tokyo Olympics. It was the sole remaining spot on the men's US Team. There would be an award ceremony and interviews and photoshoots to come. The Washington Post would call him up. He'd go on Channel 9News. People online would profile him. Sponsorship contracts would be reworked. The high schooler would endure a school assembly in his honor.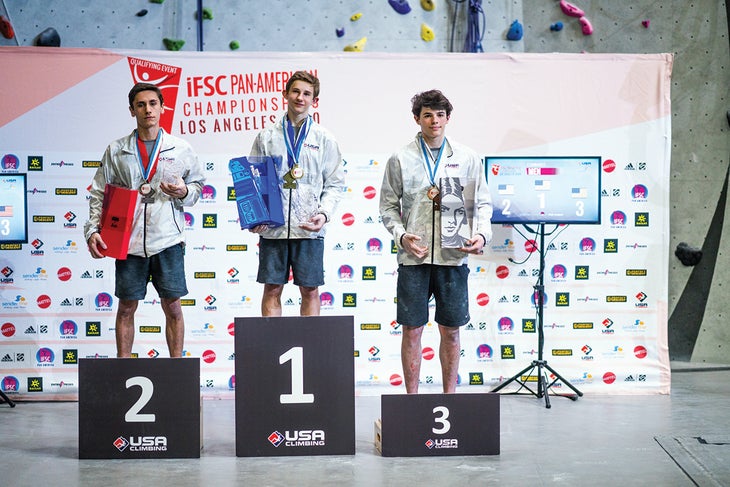 But in the meantime, Colin sat below the lead wall and un-velcroed his shoes. He hugged his coach, he talked to his teammates. He stood with his shoulders slightly hunched. While Colin went through a series of mechanical, quotidian motions, nothing on his face showed any indication of registration. It was an emblemless, frisson-less moment, in which his life changed forever, and absolutely nothing seemed to change at all. Some liminal spaces are just too big to immediately occupy.
Perhaps, if he had at least cracked a smile, the onlooking crowd might have been able to breathe some sort of sigh of relief and joy. Or perhaps if it all didn't come at such a stark contrast from the night before, when Canada's Alannah Yip secured her own ticket to the Games. The 28-year-old had clawed her way through 21 World Cups and Championships in 2019 alone to get to where she was. While lowering from the final lead route, Yip was breathless—all shakes and sobs while trying to untie her knot, kiss her boyfriend and hug her coaches. Her victory had been clinched by the tiniest of margins, a consummate fight, and there wasn't a dry eye in the  gym.
None of that seemed to happen when Colin realized he'd won. Don't get me wrong—there were the hugs and the applause. But overall the crowd held its breath, eyes whisking in their sockets from one person to the next, waiting for whatever it was that was supposed to happen but wouldn't. A moment inwrought with meaning, or was it?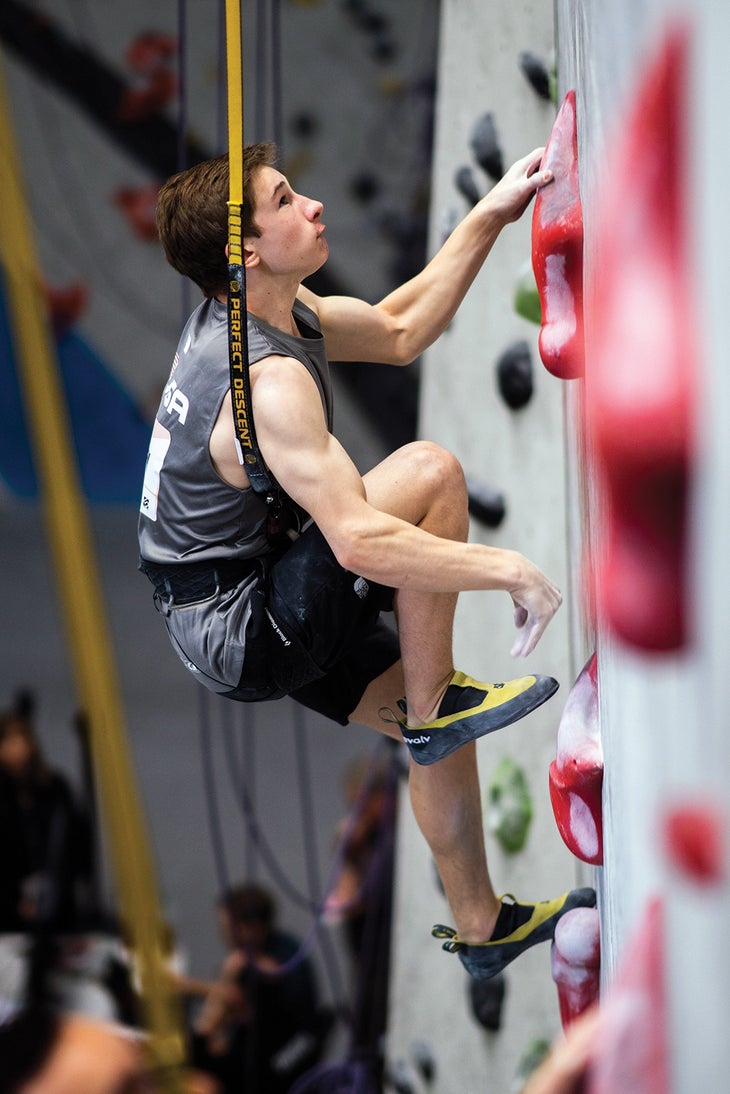 Perhaps it was shock. That's what Colin would say in an interview with IFSC, and then directly to me less than an hour later. Sure, shock. There was that in the crowd, too. Shock that the kid with the least adult competition experience—in fact, make that zero adult experience in the international circuit—the one who had been tailing his American teammates all weekend and had, as it turned out, been glued to the toilet, arms around the bowl and sweat leaking out of his pores while an unfortunate and ill-timed case of the flu ravaged his body, was the one standing at the top of the podium shaking the IFSC President Marco Scolaris's hand. The unreality of it all was pronounced. Colin still had a growth spurt or two left in him.
"We don't view comps the same way as other parents," Nancy Duffy, Colin's mother, would say later. A different outlook on the whole thing, nurtured from the beginning, rendering Colin unwilling or unable to see what a very big deal the whole thing was? Perhaps that was it.
"We're boring," or "We're just a regular family." Those phrases came up over and over again from both Nancy and, Colin's dad, Eric Duffy, underplaying, underscoring the whole thing.
Shock? An insouciant attitude towards comps? Humility? Maybe that last is what it was. Because any of the men in finals that day could have done it—you don't get an Olympian without runners-up—and Colin was friends with all of the athletes he had just bested.
Whatever the reason for the lack of punctuation upon his qualification is beside the point. Because it happened, and he earned it. Colin Duffy had just become the youngest athlete to qualify for Sport Climbing in the Tokyo 2020 Olympics. So the more interesting question was how. Which brings us to, who the hell is this young talent?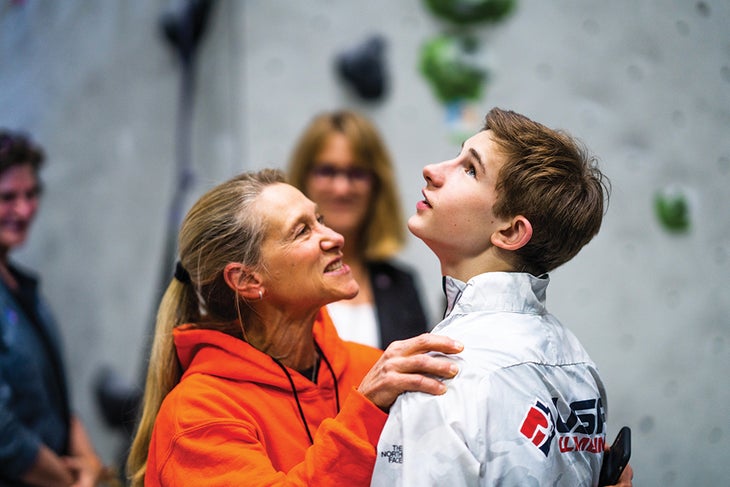 Colin started climbing at age 3 at a local rec center in Boulder, Colorado. When he was 5, he upgraded to a Lifetime Fitness wall. By 8, his parents signed him up for a class at ROCK'n & JAM'n, and he was lead climbing a few months later. Next up: a summer camp at ABC Kids Climbing, arguably the most famous gym in the U.S., where none other than Brooke Raboutou, today alos one of the other three Olympic-qualified athletes, trained as well under the direction of, if not equally-famous competition climber, Robyn Erbesfield Raboutou. Folks, it really doesn't get better than that. And somewhere deep down, I have to imagine, young Colin knew.
"He wanted ABC. Even though he went to Boulder Rock Club and tried somewhere else, he always wanted to go to ABC," remarked Nancy. Evidently, the 8-year-old felt his calling.
And Erbesfield Raboutou, of course, being a four-time World Cup Champion, and, nowadays, the "Queen Bee" at ABC, knew as well.
"I first heard about Colin, over the summer when I was actually in Europe, with the junior team,"  she said. "He had signed up for a summer camp through ABC. And the instructor, Adam Brink, sent me a text, saying 'I just experienced seeing one of the strongest climbers I've ever seen.' … And Adam doesn't say those kinds of things very often."
Erbesfield Raboutou described Colin's natural "frogginess," as she put it. His ability to know and to execute. He's had that since day one, she noted.
Funny, if you didn't know what to look for, you wouldn't realize just how good Colin is. He can be quiet, unassuming, at times. He just makes it look so easy. And when he's around his friends on Team ABC, make that, when he's around the friends that also happen to be like-minded 16- or 17-year-old boys, he'll crack a smile and roll his eyes at words like "poop" (after one boy wrote it on a board in lights using the 'set' feature). He'll goof off. He'll play.
And maybe that's the thing about Colin. The fact that he plays. In fact, he can't get enough of climbing. He'll clean a gym out—sending every last boulder and route—and then make up his own. He'll send something one way and then send it again another. He falls. He tries again. He falls. He tries again. He falls … Colin Duffy does not leave a boulder unfinished.
"He's a fighter, you know, I mean, like, I've seen him readjust on a hold more times than I thought were possible, and just biting and digging into it to get something out of it," said Ryan Arment, the head coach and head setter of ABC. Arment has been working with Colin since day one. Nowadays, he's the architect of Colin's training program.
"He's extremely coachable," said Arment. "I think one of the most coachable kids I've worked with. He wants to be the best he can be. And he recognizes that his coaches can help him achieve that."
What do you get when talent meets hard work? Results. Since Colin entered the international stage, he's won the Youth Lead World Championships. Twice. And let's not forget his 10 Youth National titles: six in Lead, three in Bouldering, and one in Speed.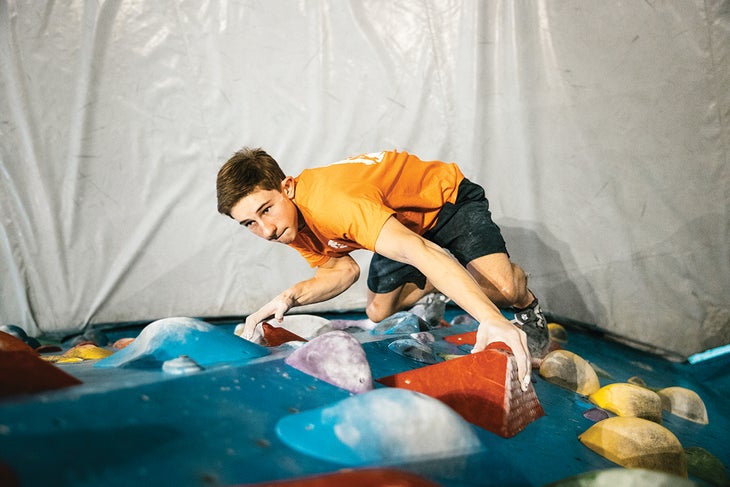 Colin has always been a high achiever. He tested into Stargate Charter School in Thornton, Colorado, a public school for the gifted and talented. Google it. According to one site, the school is ranked number two in the state. With fewer than 1,400 students total in grades K-12, classes are intimate and competitive.
"It's a super competitive environment with the smartest people that I know… It's just a good challenge," said Colin. Letters, sounds, words, and competition. It all started at age 5.
Colin likes math and science. He sees himself being some sort of engineer when he's older. After finishing up at Stargate in spring 2022, he wants to go to college, somewhere local, like Colorado University. Taking a gap year is detrimental for some students, he said, so he won't be deferring.
His home life might surprise you; it's typical for a teenage boy (or at least a teenage boy who does sports). With classes currently being online, he'll wake up 15 minutes before his first lecture. Go through the motions, get through the day, zone out on phone (or nap) before leaving for practice. Come home, do homework and chat with friends. Repeat.
"We are not like many parents, we do not force him to do things," said Nancy. "And we have a very laid-back approach. People often ask us, what do we do? They think we're gonna have this whole regime, with food and training and all these things. We don't have that. I think that's maybe the secret sauce—that his parents aren't climbers. We have no agenda. Colin has the agenda."
Colin's agenda, as it is with Tokyo 2020 kicking off in fewer than 100 days, consists of four to five days a week in the gym, three hours per session. He's a lead climber at heart, but power and competition-style boulders are his daily bread and butter. Sprinkle in weight training and speed climbing as well. Having access to so many gyms on the Front Range, Colin likes to mix up his venue as often as possible on the weekends. The weekdays, of course, are for practice at ABC with his teammates. He's looking forward to getting outside more after Tokyo.
While his workload and training schedule are heavy, Colin handles things well. And his parents do what they can to help. His mom taught him positive affirmations (although she wouldn't specify what they were). They help manage media requests. If Colin needs a belayer on the weekends, Eric is available. At Pan-Ams, they had a family trip to Disneyland planned for after the competition.
"We didn't care if he won," said Nancy. The extra trip was a must, for balance, she stressed.
Variety, plus structure. Sport, plus magic. Olympian, plus, routine family life. Balance is often a fine line between two extremes. And in his attitude toward both training and competing, Colin walks the line.
Standing on the grey mats at ABC last March, Colin shuffled away from his friends to a boulder in the corner of the gym, the sole remaining one for him to work on. He took a deep breath, he chalked up, he pulled on. Bad feet, slippery, dual-text crimps in a dihedral: not exactly his strong suit. He peeled off after a few moves. Undeterred, he quickly tried again, this time with alternative beta, leading with the other hand and going for a match. Close, but no cigar. A fire was building. Colin tried again and fell in the same spot for the third time—WHACK. He slapped the wall with both hands, and then he leaned against the freshly imprinted surface, an undercurrent of passion turning to rage overtaking him.
One minute, laughing at "poop," the next, boiling. Where the hell did that come from? This was no longer climbing; it was pugilistic, and, of course, not uncommon in climbers.
"He's very, very deeply passionate, unlike maybe anyone that I've ever seen," said Erbesfield-Raboutou.
An idiopathic trait; simultaneously fueling and burning him. Physical age and experience matter a whole lot less when you possess that kind of intensity.
Passion. Oh yes, it's there. At times, seemingly all-consuming. Because you don't get passion without intensity. Colin has been known to do worse than slapping the wall. He'll let curse words fly, along with his chalk bag. Robyn and Ryan have both tried their hands at tempering his recalcitrant behavior, but with a light touch.
"I have to say that I don't love it. But I do love it, because it's what makes him who he is," said Erbesfield Raboutou. "As coaches, we really have to ride that fine line between never wanting to take away from that fire that he has, that makes him awesome. But at the same time, we don't want him to get kicked out of the competition."
An idiopathic trait; simultaneously fueling and burning him. Physical age and experience matter a whole lot less when you possess that kind of intensity.
"I don't … I don't give up easily on a boulder," said Colin the next day. "And even if something seems out of reach at first, I will just push myself past the point of enjoyment. To do it… I don't really know." He struggled to put it into words.
That night at practice, he was off balance. But I thought back to when he had navigated through the buzzsaw of his emotions perfectly: at Pan-Ams. On the outside, his face had been blank as a basketball. "I was so focused in that moment that I don't really remember much," said Colin.
Arment added his own observation: "He does go into a different place. He kind of becomes a slightly different person when he's at an intense competition. It's violent, it's intense. I got the chills just thinking about it…"
Maybe the problem wasn't Colin at all, but the crowd's expectations.
For better and worse, Colin wrestles with something deep inside himself. "He's always been a kid who wants to please coaches and wants to be friends with his teammates, but that doesn't mean that he doesn't struggle," said Erbesfield Raboutou. "I would say 100 percent of the times that he gets pissed or angry when he's climbing, he throws a little bit of a hissy fit. And he's done it since he was little. He does it less now that he's older, but he still does it. And some of his teammates don't think that's cool. They're like, really? Why does he get so mad, you know? But it's the fire that he has, and it's why he's going to the Olympics, and they're not."
Back to that moment when Colin qualified. Maybe the problem wasn't Colin at all, but the crowd's expectations. Because for us, having been standing around all weekend, carrying all this anticipation of the biggest, most often told story-arc in sports, where an athlete is expected to fight, to win, to achieve everything they ever wanted and by extension everything we ever wanted … We were asking too much of a competitor that both deserved the spot and had yet to dream. We expected a clear-cut climax, the tears and, at a minimum, some fist bumps. At best, we got a smile.
But we didn't know to look inside; to see the sobs of pure relief that were building, the ones that wouldn't be released until later that night when Colin stepped off that tightrope and back into himself, in the quiet, safe solitude of the hotel-bound car with his parents.
Fast forward a year and some change later. I sat across from Colin, a cup of coffee and a bacon-and-egg bagel in between in a small booth in a Panera, in Boulder, Colorado. As I dug into the why questions, the ones that go beyond sport, he looked dumbfounded. What makes you so confident? Why do you have to try hard? Why are you so hard on yourself? Where do you go?! Like asking a fish what water is.
Still, as he answered the best he could, he spoke softly, thoughtfully. He'd grown—2 inches by his own estimate. The kid sitting across from me had filled out. The youngest competitor to qualify for the Olympics, and the one who had certainly benefited the most from the year-long delay. Here was a future Olympian that no one saw coming, and whose future is wide open.
For the latest in competition news and indoor happenings, visit gymclimber.com