Emma Hunt Proves She's Our Best Ever in Speed, Sets New American Record. Slippery Wall Stymies at Speed World Cup.
Heading out the door? Read this article on the new Outside+ app available now on iOS devices for members! Download the app.
The biggest question heading into this weekend's Speed World Cup in Villars, Switzerland, was whether Indonesia's Kiromal Katibin and Veddriq Leonardo would be able to capture the magic they had at Salt Lake City's Speed World Cup back in May. (As a reminder, or for those unaware, the duo soared to an all-Indonesia final round there, smashed the men's world record, and basically put on a clinic for all who were in attendance at the wall and in the stands).
At Villars, Katibin and Leonardo did end up having some tight competition in the men's division. To kick off the finals, Katibin narrowly beat Russia's Sergei Rukin before advancing through ensuing heats and eventually losing a race against Rukin's Russian compatriot, Dmitrii Timofeev. Leonardo was more consistent. He beat American star John Brosler to begin the finals, then beat qualified Olympian Rishat Khaibullin of Kazakhstan and Russia's Vladislav Deulin to meet Timofeev in the big final. It didn't end up being much of a big final race, with Timofeev slipping low on the wall … but it did give Leonardo his second gold medal in a row for the 2021 season. Timofeev went away with the silver, and Katibin took the bronze.
In the women's division, Russia's Ekaterina Barashchuk worked her way through the finals with wins over Italy's Giulia Randi, Indonesia's Rajiah Sallsabillah, and Poland's Patrycja Chuziak before beating current world-record holder Iuliia Kaplina in the big final to win the gold medal. Barashchuk's winning time of 7.30 seconds was also slightly faster than the time (7.37 seconds) that she posted to win the European Continental Championships approximately a half year ago—which indicates that she will likely continue to get faster as the season progresses. Behind Barashchuk in the scores were Kaplina earning the silver and Chuziak getting the bronze.
The podium places are at the bottom of this article. Here are some other big moments and takeaways from Villars' speed spectacle.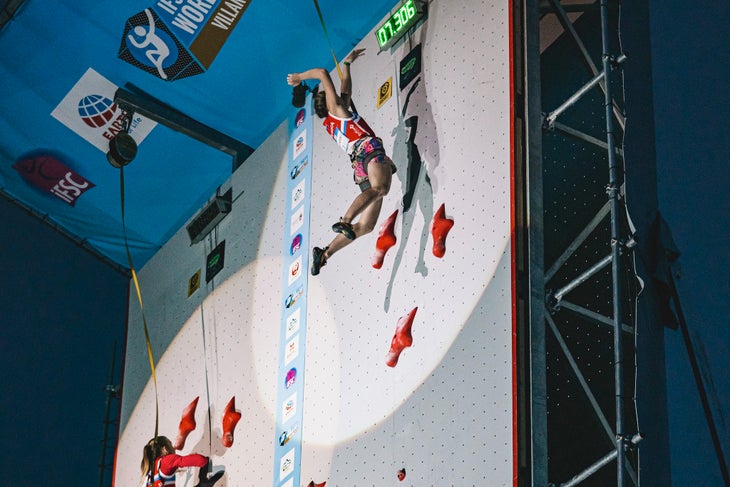 HIGHS
A new (new) American record: I'm running out of witty phrases and intros for news of Emma Hunt breaking her own American record in the women's division. By my calculation, she has now done it more than a dozen times—two of which came here at Villars. First, she clocked a run of 7.43 seconds in a race against Poland's Anna Brozek in the finals, and then she clocked 7.19 seconds in a neck-and-neck race against Iuliia Kaplina. It literally feels like Hunt gets better with every big-time event. In fact, I think I've actually typed that same phrase before, but like I said, there's just no fresh way to spin this. She's America's best ever, period.
More than just the duo: Much of the buzz and speculation this season has been about the depth of the Indonesian team; fans have been wondering how many other incredible speed specialists there are on Indonesia's squad (in addition to Katibin and Leonardo). Their coach—Hendra Basir—hinted at Salt Lake City that there were a lot, but Villars was the irrefutable proof. In the men's division, Alfian Muhammad Fajri finished in seventh place, and Aspar Aspar finished in ninth. In the women's division, Desak Made Rita Kusuma Dewi finished in fourth, and Rajiah Sallsabillah in eighth. It goes without saying that they are all competitors worth watching closely in the future, as any of them could end up on a podium at some point this season.
Reza returns: How easy it is to forget that prior to Katibin and Leonardo bursting onto the scene in 2021, the biggest name in men's speed climbing was Iran's Reza Alipour Shenazandifard. He was not present at this year's season opener at Salt Lake City, and as stated his world record (which had stood for five years) got smashed at that event. But he returned to the speed scene at Villars and showed everyone that he is still a force to be reckoned with. He clocked a run of 5.54 seconds in qualification. He ultimately lost in a finals heat against Russia's Vladislav Deulin, but don't think for a second that Reza Alipour Shenazandifard is not capable of setting a world record again.
Noah Bratschi, ladies and gentlemen: In case you thought Noah Bratschi rocketing to second place at Sport and Speed Nationals two years ago (behind national record holder John Brosler) was some sort of fluke, look at Bratschi's results from Villars: 13th place after the men's qualification round (actually ahead of Brosler by two spots), and a 14th place finish in the finals. Brosler is still Team USA's speed king, but it's clear that Bratschi is eyeing the crown.
Olympians post solid times: The trend seems to be universal at this point of qualified Olympians improving their speed times at practically every big event. It continued at Villars. For example, on Team USA, Nathaniel Coleman and Colin Duffy notched blazing runs of 6.92 seconds and 6.46 seconds, respectively. On Slovenia's team, Mia Krampl clocked a personal best time of 9.43 seconds. And Krampl's compatriot, Janja Garnbret, broke the 8-second barrier (7.91 seconds, to be exact) in the women's qualification round and advanced to the finals (and finished in 13th place). Garnbret, in particular, should be thrilled—last weekend she won the Bouldering and Lead World Cups at Innsbruck, and this weekend she set a personal best speed time. There could be no greater confidence boost heading into the Olympics and its peculiar combined format.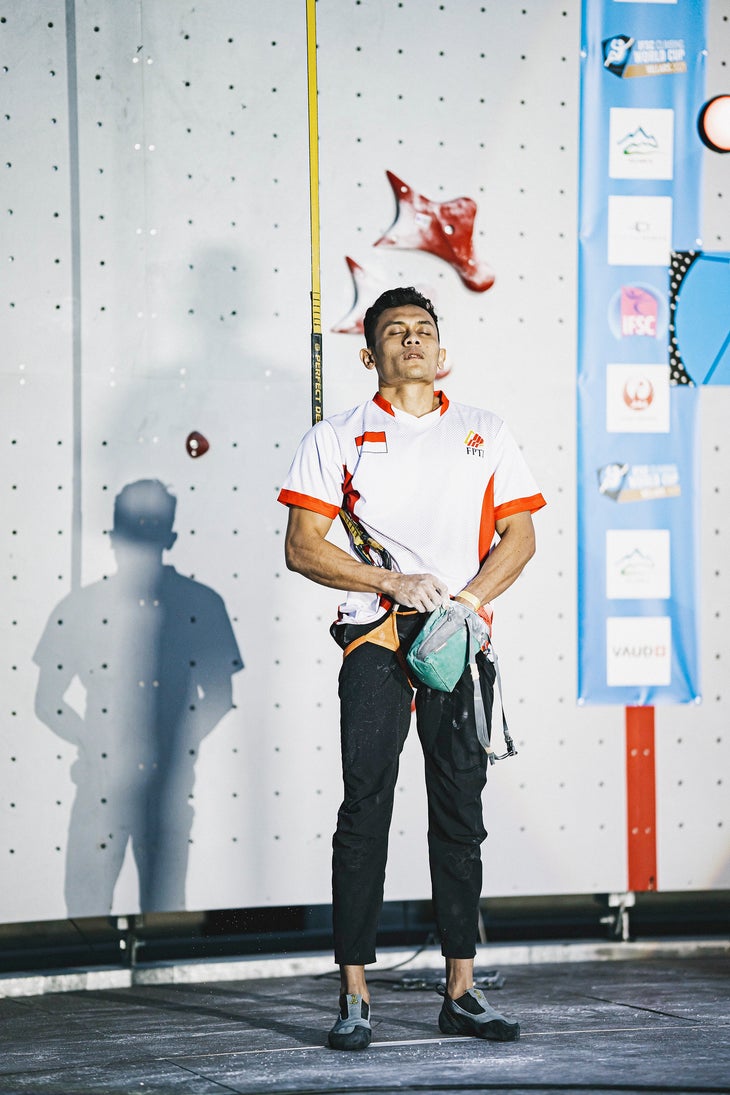 LOWS
Slippery finals: With so much anticipation heading into this Speed World Cup at Villars, and with how great the qualification rounds turned out to be in the men's and women's divisions, it was unfortunate that both big final races ended in slips. First, Dmitrii Timofeev slipped low on the wall in the race for men's gold against Veddriq Leonardo, and then Iuliia Kaplina slipped—twice—in the big final run against Ekaterina Barashchuk. The calamitous slips weren't enough to make the whole event a dud; it just felt like we had been served an incredible meal that ended up having a disappointing main course.
That's two in a row: I can't talk about unfortunate slips without noting Indonesia's Desak Made Rita Kusuma Dewi's two costly bumbles— in a semi-final race against Iuliia Kaplina, and in a small final race against Patrycja Chuziak. On commentary about the slips, Matt Groom said Desak Made Rita Kusuma Dewi "had it all to lose—and she did." Well, it wasn't all bad—she still finished in fourth place, the highest of any of the Indonesian women. And if she can avoid costly slips in the future, she'll likely start challenging the world record.
Slightly off the mark: Indonesia's Rajiah Sallsabillah was winning her finals race against Ekaterina Barashchuk by a good arm's length … but missed the buzzer when dynoing for the finish at the top of the wall. It was a heartbreaker for Sallsabillah and the whole Indonesian squad, but that's part of the game.
Missing Song: I don't like to ever judge a competition by who was not there, but gosh darn I wish China's YiLing Song had taken part in this event at Villars, don't you? The same could be said about Indonesia's Aries Susanti Rahayu—also absent at Villars—as both women held the world record in 2019. If there's a bright side, it's that any future event that gets YiLing Song, Ekaterina Barashchuk, Iuliia Kaplina, and Susanti Rahayu on the same homologated speed wall will be nothing short of spectacular.
Wait for it: Admittedly, this is an odd summer for competition scheduling given the Olympic whirl and the return from the long pandemic shutdown. But the Salt Lake City Speed World Cup and this one at Villars have given the speed discipline arguably more hype and momentum than ever before. So, it's too bad that we have to wait nearly three months for the next Speed World Cup. Still, mark your calendars now; that next big Speed event will occur from September 15-22 in Moscow, and we'll be covering all the action.
MISCELLANEOUS
In my opinion, the race of the night was Dmitrii Timofeev's win over Iran's Mehdi Alipour Shenazandifard midway through the men's final round. Both men were side-by-side with their respective ascents, and it was only in the air—amid the buzzer-hitting dyno—that Timofeev gained the slightest edge. The ending times were 5.64 seconds compared to 5.68 seconds … wow! That's as close as they come in speed climbing.
I've mentioned a number of Americans already. Here's the full rundown of how Team USA athletes placed: In the men's division, John Brosler was 13th, Noah Bratschi 14th, Joe Goodacre 34th, Colin Duffy 37th, and Nathaniel Coleman 45th. In the women's division, Emma Hunt was fifth, Callie Close was 19th, Kyra Condie was 26th, Julia Duffy was 37th, and Isabel Gifford was 38th.
RESULTS
Men's
Veddriq Leonardo (INA)
Dmitrii Timofeev (RUS)
Kiromal Katibin (INA)
Women's
Ekaterina Barashchuk (RUS)
Iuliia Kaplina (RUS)
Patrycja Chudziak (POL)