Janja Garnbret Wins Olympic Sport Climbing Gold
Heading out the door? Read this article on the new Outside+ app available now on iOS devices for members! Download the app.
Janja Garnbret has won the first Olympic gold for women in sport climbing.
And with that, the Olympics have now concluded, for both men and women. The women's combined finals, ending just now with the lead portion, was the last event. We have our winners. At the bottom of the recap is a list of Sport Climbing's first women medalists and the final combined results, followed by the Lead portion results.
As a climber old enough to remember the first international lead competition on American Soil—Snowbird 1988—I've long had a fondness for the lead event. With a greater, more continuous volume of climbing than bouldering or speed and more opportunities for multiple solutions to the beta, it feels like the best showcase for each competitor's individual style. There's more room for interpretation of sequences, for flair, for try-hard white-knuckle battles to the anchors—for the struggle and drama that make competition climbing its most watchable.
The taller walls—at the Tokyo Games, 15-plus meters of vertical rise on an overhanging wall at the Aomi Urban Sports Park—also give the route-setters a larger tabula rasa. The style on these routes is invariably resistance: hard move after hard move after hard move, without rest and with the occasional dynamic throw mixed in, with the goal of filtering competitors out due to fatigue.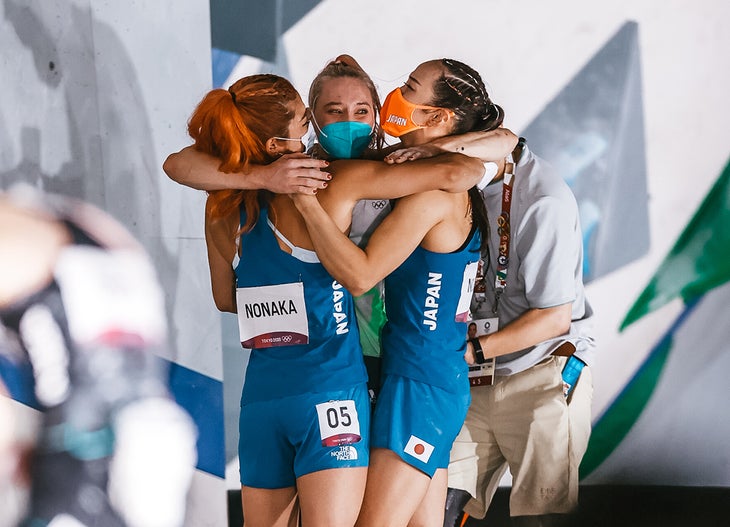 As we saw with the Men's Lead Finals on Thursday, the setters did a bang-up job, filtering most of the competitors out at holds in the 30s and 40s and with only one top, by Jakob Schubert. With a stacked women's field that included some of the best Lead competitors in recent memory, they'd need to do the same with Friday's event. To wit: Janja Garnbret (Slovenia), a preternaturally dominant force in Bouldering and Lead events who in 2019 swept the entire Bouldering World Cup; Seo Chaehyun, at 17 the second-youngest Olympian climber, known for her artful sequencing and for medaling in six lead events in 2019, her first year on the World Cup circuit; Miho Nonaka (Japan), a solid, veteran all-around competitor and powerhouse boulderer; Akiyo Noguchi (Japan), winning World Cup events in Lead and Bouldering since 2007 and who, at age 32, will be retiring from competition after these Games; Brooke Raboutou (USA), who climbed her first 5.14b at age 11 and spent last year, when the Games were delayed, polishing off seldom-ticked V14s in the Colorado high country; and Jessica Pilz (Austria), who took second in lead in the qualifying round at Tokyo and in 2018 even dethroned Queen Janja in lead at a World Championship. The other two competitors, Alexandra Miroslaw (Poland) and Anouck Jaubert (France), were both speed specialists (Miroslaw clocked a run of 6.97 seconds, one-hundredth of a second off the then world record, in the qualifying round) who'd need to step up their game in Bouldering and Lead in order to give serious contention for medaling.
Perhaps predictably, Miroslaw won the Speed Finals, setting a new world record time of 6.84 seconds, with Jaubert coming in second. And the two Japanese climbers, Nonaka and Noguchi, set themselves up well for medaling with third and fourth place finishes, respectively, with Garnbret in fifth.
Then in Bouldering—no surprise here—Garnbret won, with Raboutou coming in second, Nonaka in third, and Noguchi in fourth. With all these competitors neck-and-neck points wise, Lead was going to be a nail-biter.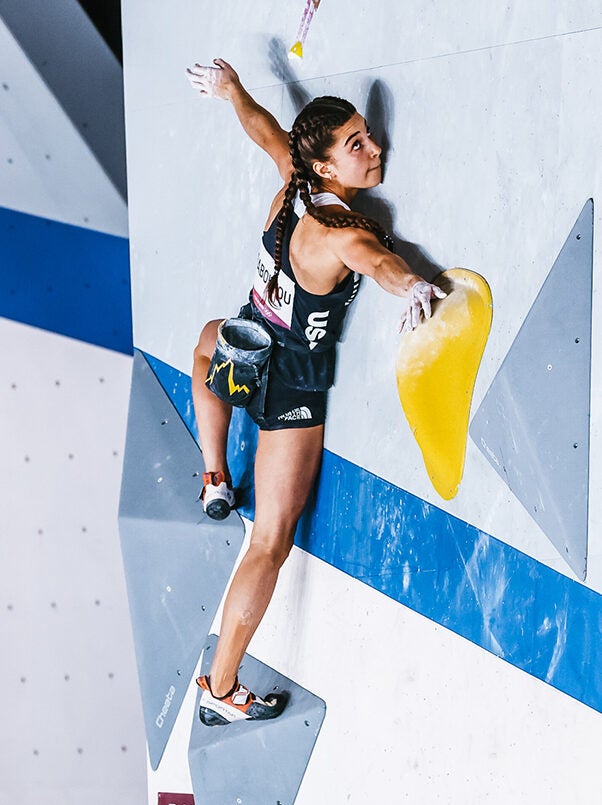 Dealing with an air temperature of 82 degrees and sticky summer-evening humidity, the competitors came out on stage and spent their six minutes evaluating the route with binoculars. The bottom began with a scattering of flat and sloping cuboid, rhomboid, "Pac-Man," and rectangular yellow holds before moving onto a massive pyramidal volume feature with complex, multitiered green and yellow volcano holds and slopers. At the top, the grips shrank radically in size, with tiny crimps tucked in, hidden, around a series of gray volumes. The route was going to require good strategy, savvy pacing, and careful sequencing.
Miroslaw came out first. She climbed powerfully if not a bit uncertainly, resetting frequently on the lower holds and falling low, after nine moves, setting up to reach for a hidden crimp around a yellow volume. She raised her arms in a big shrug, smiling, as if to say, "Hey, I tried—this isn't my jam."
Jaubert was up next. She stuck the move Miroslaw fell on and powered up onto the next set of volumes, falling 13 moves in (hold 13-plus). That was it for the speed climbers.
Representing America was Brooke Raboutou, moving confidently and fluidly, in contrast to the speed specialists, cranking casually through the moves that had spit Miroslaw and Jaubert off, shaking out before a leftward traverse to the massive volume. Raboutou nailed a sideways jump on the traverse only to stick, then slip out of, a bidoigt 20 moves up (hold 20-plus), lowering off visibly disappointed with her performance.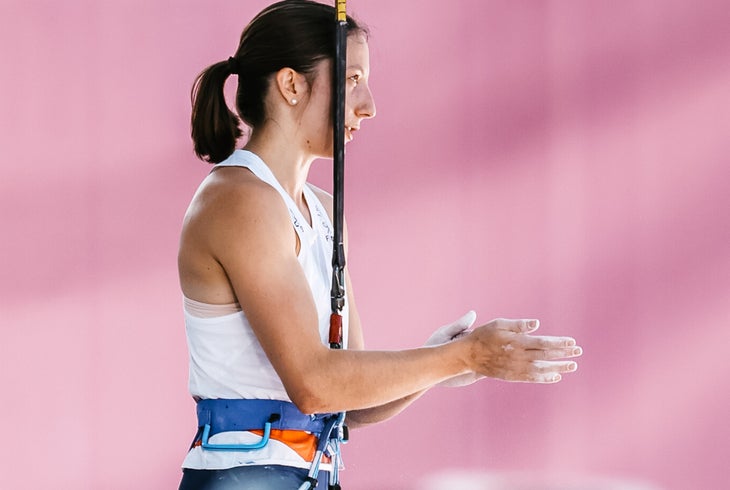 Noguchi, in the final international competition event of her life, climbed smoothly and powerfully up to the traverse, sticking the lunge and cutting then resetting her feet, sticking the bidoigt off which Raboutou slipped. She cranked up into the series of green volumes, finding micro-shakes on their sloping pockets. Some 28 moves up, Noguchi was visibly pumped, pulling up rope for a clip, dropping it, setting up for a lunge, then falling. (One clip lower, the rope had gotten tangled up in her hair during an attempted clip, also costing her energy.) It was a heroic performance: full try-hard, a perfect culmination to a long career.
Then was Garnbret, who'd need to get to hold 29-plus to move into pole position.
All focus and confidence and power, Garnbret surged up the wall, looking barely pumped as she cruised the traverse. On the green volumes she continued to shake out, setting and resetting her hands on the slopers as if glued to the wall, breathing deeply. With two minutes to go she was 32 moves up, facing the final series of crimps on the upper headwall, fighting to recover at a stance on three big green blobs then at a higher stance tucked into the grey volumes. She camped here as the clock dropped below one minute then, finally, moved up into a ticky-tacky sequence on micro-crimps, falling at move 37, totally throttled, to take a significant lead over the field. It was epic, and perhaps enough to earn Garnbret the gold. But with Nonaka up next, and in a well-seeded position, the top medal was still an unknown.
Nonaka would need to get to hold 37-plus in 5:40 to take the lead from Garnbret. With her explosive boulderer's strength, Nonaka crushed the traverse, shaking out at the end of the yellow volumes, sticking the bidoigt that had spat off Raboutou, putting her feet up in an elegant bicycle move on a volcano out right, matching on the bidoigt, looking solid, then…falling! At only hold 21.
And so, with no one left to dethrone Garnbret, the Slovenian would be winning gold. As the cameras panned to Garnbret sitting beside the wall, you could see the elation on her face.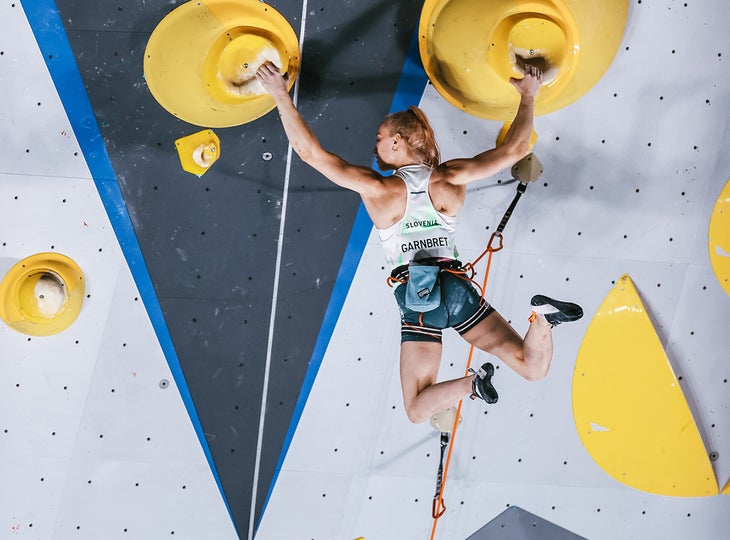 Climbing well and with marked control, Pilz floated the traverse and looked to be resting well before the move to the bidoigt. She moved up into the green volumes, still looking solid where Noguchi had fallen, resting on a heel hook as she moved to end of the volumes. At 34-plus holds up, Pilz finally succumbed to the pump, coming closer than any other competitor so far to Garnbret's high point, having given a masterful effort.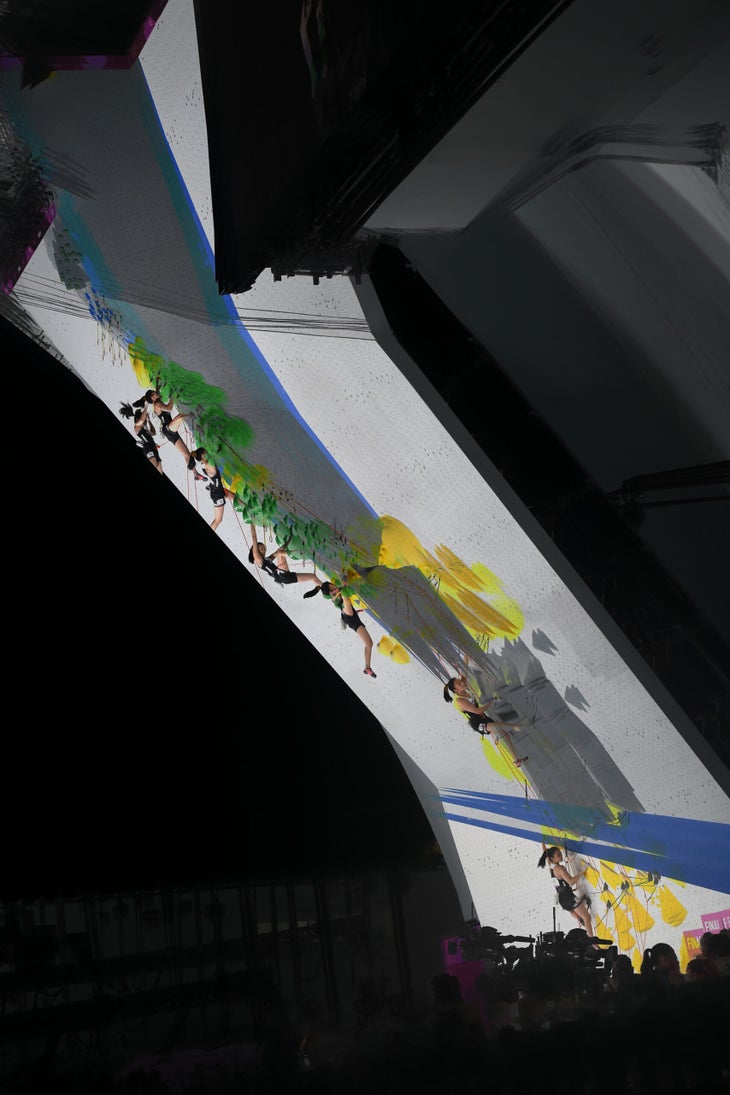 Chaehyun was last. Light on her feet, making the stout moves look seemly effortless, she moved up to the traverse, penduluming her feet through. She windmilled up to the bidoigt after discarding alternate beta and powered into the green volumes, gunning for the bronze medal, which she'd earn if she could surpass Garnbret's high point. Chaehyun came to the same stance on the three green blobs where Garnbret had camped and recovered on a heel hook, only to fall one move higher at hold 35. Again, super impressive.
The winners were now clear: Garnbret for the gold, Nonaka for silver, and Noguchi for bronze.
Sobbing with joy, the three climbers shared a hug. Queen Janja had won, just as everyone predicted. It was a perfect ending to climbing's debut at the Olympics, almost as if scripted—sport climbing, as an Olympic discipline, had been a success. Hell, even an old cruster like me teared up at the spectacle, or maybe it was just sleep deprivation from staying up two nights straight to watch the Games.
Anyway, see you in Paris in 2024…
WOMEN'S SPORT CLIMBING OVERALL FINAL RESULTS
Janja Garnbret (Slovenia) GOLD
Miho Nonaka (Japan) Silver
Akiyo Noguchi (Japan) Bronze
Aleksandra Miroslaw (Poland)
Brooke Raboutou (USA)
Anouck Jaubert (France)
Jessica Pilz (Austria)
Seo Chae-hyun (South Korea)
Women's Final Lead Portion Results:
Janja Garnbret (Slovenia)
Seo Chaehyun (South Korea)
Jessica Pilz (Austria)
Akiyo Noguchi (Japan)
Miho Nonaka (Japan)
Brooke Raboutou (USA)
Anouck Jaubert (France)
Aleksandra Miroslaw (Poland)
MEET THE WOMEN'S SPORT CLIMBING OLYMPIC COMPETITORS
Janja Garnbret (Slovenia)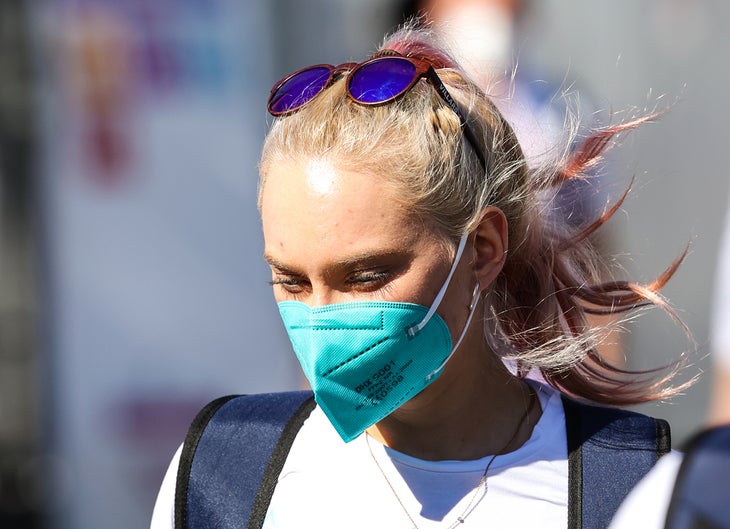 Though just 22 years old, Janja Garnbret is already one of the most pedigreed competition climbers of all time. Since her first appearance on the adult World Cup circuit in 2015, the Slovenian has been the competitor to beat in both lead and bouldering. In 2019, she swept the bouldering World Cup series and won the World Championships in both bouldering and lead.
In this week's qualifying rounds, Garnbret—who is not a speed specialist—climbed somewhat sloppily in both speed heats, leading the announcers to speculate whether the pressure of the Olympic stage was getting to her. Those theories were thoroughly debunked in the bouldering round, where Garnbret was dominant, flashing all four problems with evident ease. (No other competitor even topped all four.) In finals in Tokyo, she topped two boulders, easily winning there.
Seo Chae-hyun (South Korea)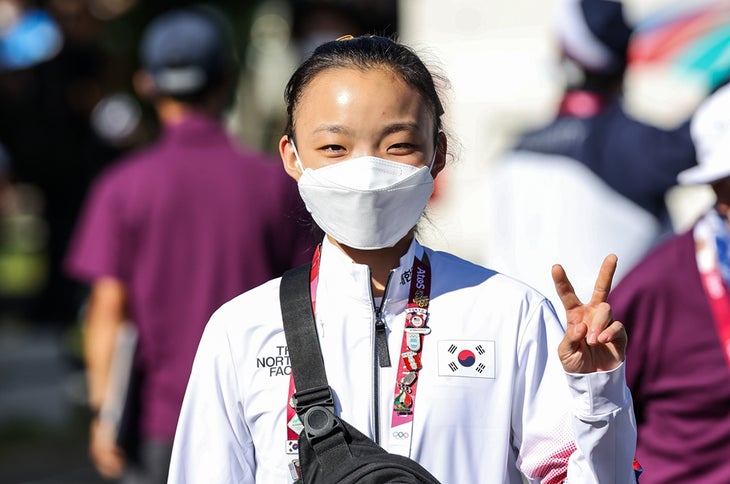 At 17, Seo Chae-hyun is one of climbing's youngest Olympians (though not the youngest: she's got a month on Colin Duffy). Because of her age and her limited exposure to competitions over the last 18 months, many people were unsure what to expect from Chae-hyun in the Olympics. She is recognized as a gifted lead climber—in 2019, her first season on the adult circuit, she medaled in six lead events, taking four golds, one silver, and one bronze—but until Tuesday's qualifying round, her bouldering and speed capabilities remained largely untested on the international stage.
What did we learn during the qualifiers? We learned that speed isn't her forte (she placed 17th) but that she's a dang strong boulderer. Her 5th place finish on the boulders set her up nicely for her main event, lead, which she won with style, finding elegant beta through burly sequences that stymied many of the world's strongest competitors.
(Fun fact: Chae-hyun doesn't just climb inside; when she was 14, she took a trip to Colorado and took down one of Rifle's hardest routes: Bad Girls Club, 5.14d.
Miho Nonaka (Japan)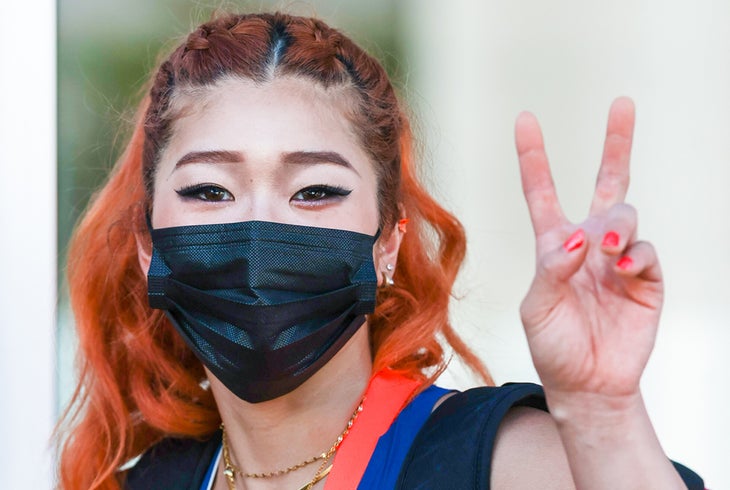 Born in Tokyo in 1997, Miho Nonaka started climbing at the age of eight; according to her website, her main motivation to improve was her desire to out-perform her two older sisters. She succeeded. She competed in her first World Cups in 2014, won her first boulder World Cup in 2016, and for the next few years racked up a hefty collection of medals, eventually winning the overall Bouldering World Championship in 2018. Known as an adept all-arounder, Nonaka clearly demonstrated her medal-potential during the qualification round, placing 4th in speed, 8th in bouldering, and 3rd in lead.
Akiyo Noguchi (Japan)
Born in Tokyo in 1989, Noguchi started climbing at the age of 11—training mostly on a home wall her father built on their family's cattle farm. At age 32, she's a seasoned competitor. She began winning World Cup medals in 2007 and won at least three each year after that until COVID-19 disrupted the 2020 season. In her home country, Noguchi is something of an elder statesmen; she won nine consecutive Bouldering Japan Cups, from 2005 to 2014.
Like Adam Ondra, Noguchi is has traditionally performed far better in bouldering and lead climbing than in speed, a disadvantage in the combined format. But evidently she's been training: during the qualification round she managed a respectable 9th place (compared to Ondra's 18th). This took some of the pressure off the bouldering and lead rounds, in which she placed 3rd and 6th, respectively. Noguchi has said that she will retire from competition climbing at the end of these Games.
Brooke Raboutou (U.S.)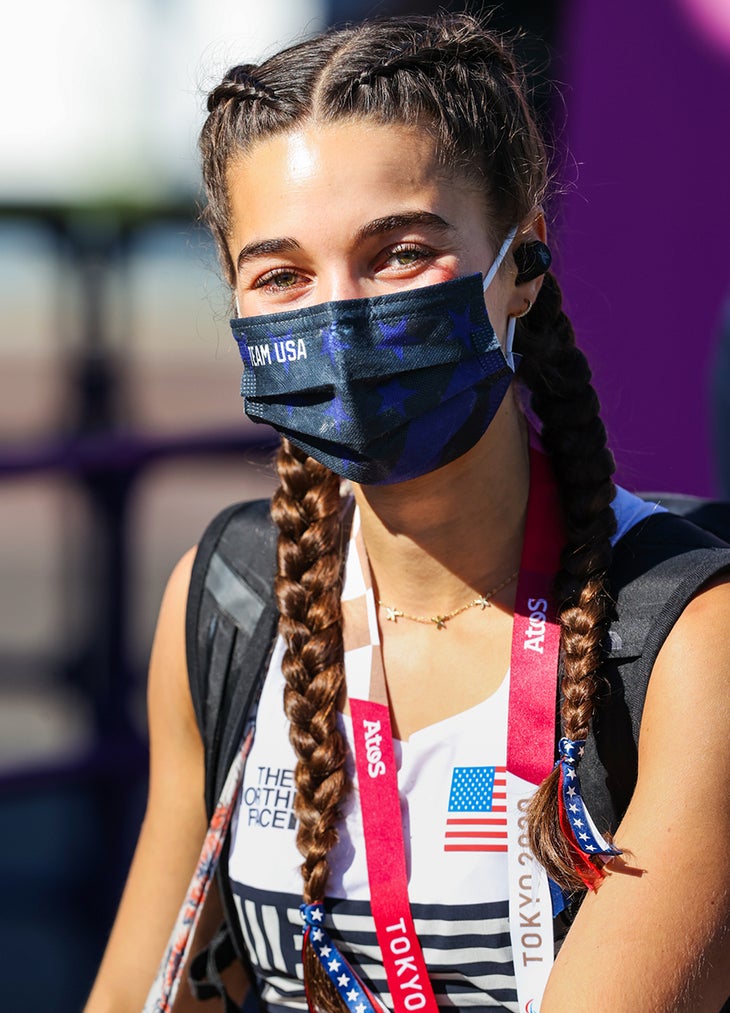 Brooke Raboutou was born in 2001 to a climbing family. Her parents were leading competitors during the 90s and are the masterminds behind ABC Kids Climbing—a program that also produced fellow Olympian Colin Duffy—and her younger brother is currently one of the world's strongest outdoor boulderers. Raboutou was climbing V10 and 5.13b by age nine; she sent her first 5.14b at age eleven; last year, when the Olympics were postponed, she sent two V14 boulder problems, Muscle Car and Jade, both in Colorado. Earlier this year, in preparation for the Olympics, she took a semester off from college—she's a marketing major at the University of San Diego—and focused on training. It seems to have paid off. During Olympic qualifiers, she placed 12th in speed, then absolutely crushed it on the boulders, gaining three tops (two of them flashes) and a zone. Her 2nd place finish in bouldering took some pressure of lead, where she placed 8th.
Jessica Pilz (Austria)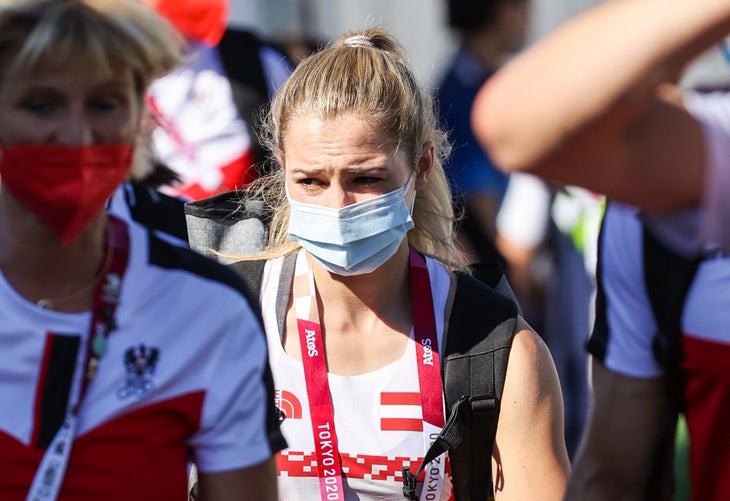 Hailing from Haag, Austria, Jessica Pilz started climbing when she was just nine years old. Now 24, she's one of the most accomplished lead climbers in the women's field, and she has also made finals in six Bouldering World Cups. In 2018, she won the Lead Climbing World Championship—beating Janja Garnbret on time. Like Raboutou, Pilz is both a university student and a professional athlete, and she "aims to become a role model for the next generation of climbers." Unfortunately, Pilz fully ruptured her A-4 pulley at a Bouldering World Cup in Salt Lake City in late May—an injury that has undoubtedly forced her to balance the requirements of recovery with those of training.  But it seems to have worked. She had tape on her finger during qualifiers, but climbed well, especially in lead where she finished 2nd. She was 11th and 9th in speed and bouldering.
Aleksanda Miroslaw (Poland)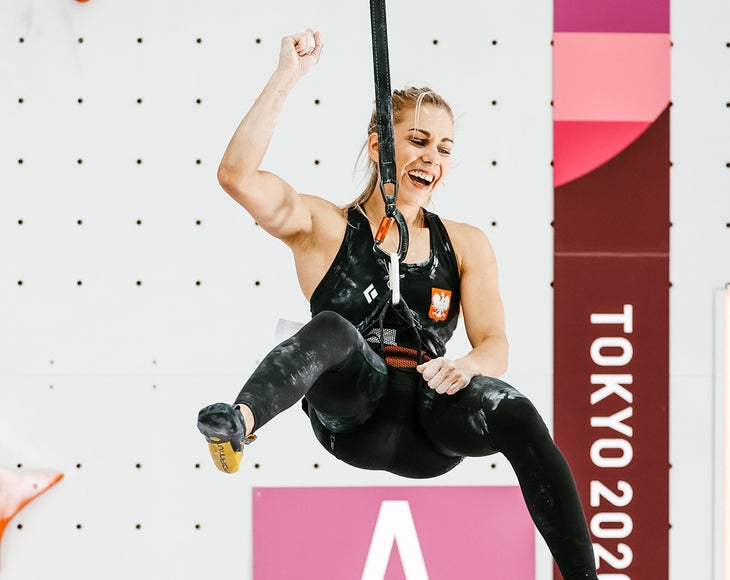 Aleksanda Miroslaw is the reigning women's speed-climbing World Champion, and winner of the Olympic Speed Finals, where she also set a new world record.  And she is obviously fast. During her best heat during qualifiers, she came short of the women's speed world record by just .01 seconds. She'd have liked that 1/100th of a second, but even without it she won first in speed, which has carried her to the final. Miroslaw is the quintessential speed specialist, but doesn't perform at the same level on the boulders (20th in qualifiers) and the lead wall (19th). To medal, she'll need to win speed, which she did, and then make some gains in the non-speed events.
Anouck Jaubert (France)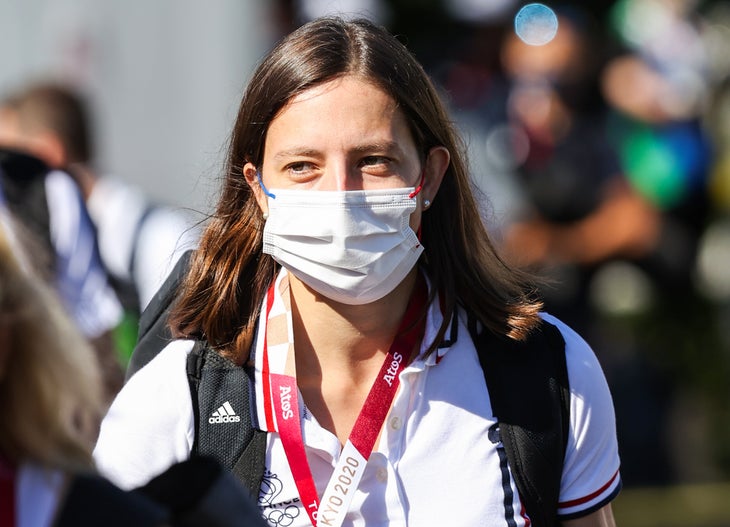 Anouck Jaubert is a 27-year-old speed specialist from Grenoble, France. She has appeared on dozens of World Cup podiums as a speed climber, and she earned her spot on the French team after an 11th place finish in the combined event at the 2019 World Championships in Hachioji, China. In the speed round of the Olympic qualifier, Jaubert posted a time of 7.12 seconds, second only to Miroslaw. Jaubert followed up this strong speed performance by placing 13th in bouldering and 15th in lead. We'll expedted a battle between Miroslaw and Jaubert for the speed title in finals—and with it the chance to podium—and that's how it played out, with Jaubert taking second and Miroslaw first.