Let's Celebrate Brooke Raboutou, She Rocked Olympic Sport Climbing
Brooke Raboutou didn't medal, but she gave an OIympic performance, and is worthy of being on a podium by herself.
Photo: Jess Talley, Jon Glassberg/Louder Than 11
Heading out the door? Read this article on the new Outside+ app available now on iOS devices for members! Download the app.
My alarm went off at 3 a.m. and I shuffled around making coffee and toast. Badger, my dog, woke up and joined me in the kitchen, yawning. We'd done this before, of course. He knew all about alpine starts. Obviously, we were climbing a mountain, or an icicle, or hiking to a crag that gets morning shade. By the time I had my coffee in hand, Badge was awake and ready to roll. He looked confused, however, when I flipped on the computer and sat down. It was, by far, the earliest I'd ever gotten up to watch TV and Badger soon bailed back to his nest in the dirty clothes and started to snore.
There was nothing in this for crag dogs, but so much at stake for our sport. Climbing was in the Olympics and today was the last event—the women's finals. The 20-year-old American Brooke Raboutou had qualified and I—along with seemingly everybody else—was all in. Sport Climbing, according to a Tweet from Google Trends, had been the top trending Olympic sport on August 3, and the eyes of the world were watching.
The men's final the night before had been electrifying with the medalists determined only after the last competitor of the night, the veteran Austrian Jakob Schubert, topped out the lead wall. Scoring in the combined was apparently so complex that nobody actually knew the rankings until experts at IBM fed the data into a Tokyo super computer named D.A.T.A. and determined that the world's best sport climber, Adam Ondra, didn't medal! (See climbing.com for the latest coverage).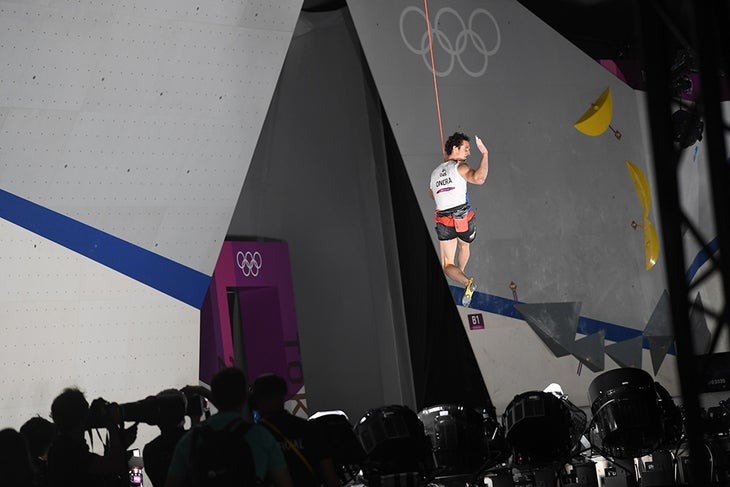 It was weird and some (like Ondra and American Colin Duffy who beat all the medalists in two out of three events) might argue dumb, that climbing's bastard child—speed climbing—would determine the winner of climbing's first Olympic gold medal, but what evs. Next time, in Paris in 2024, Speed Climbing will be a separate event with its own medal, thank God. 
Regardless of the strange format, I was coffee-ed up and ready to see the women throw down. 
First up was Speed, an event where climbers charge up a sequence set in 2004 by the legendary boulderer and world-cup forerunner Jacky Godoffe.  
Say what you will about speed climbing—that it doesn't remotely reflect what we do at the crags, that it's specialized and contrived and silly and a gimmick—and I would say, "OK, agreed." But it sure is fun to watch, and many people will remember only one thing about then women's sport climbing Olympic debut: Iuliia Kaplina crying after slipping in the speed climbing semis. But those of us who remember anything else will remember Aleksandra Miroslaw's world record dash up the speed wall in the Women's Finals. The coordinated, leaping and scrambling is way more exciting than Track and Field sprinting and this 6.84 seconds could be the highlight not only of sport climbing but the Olympics so far.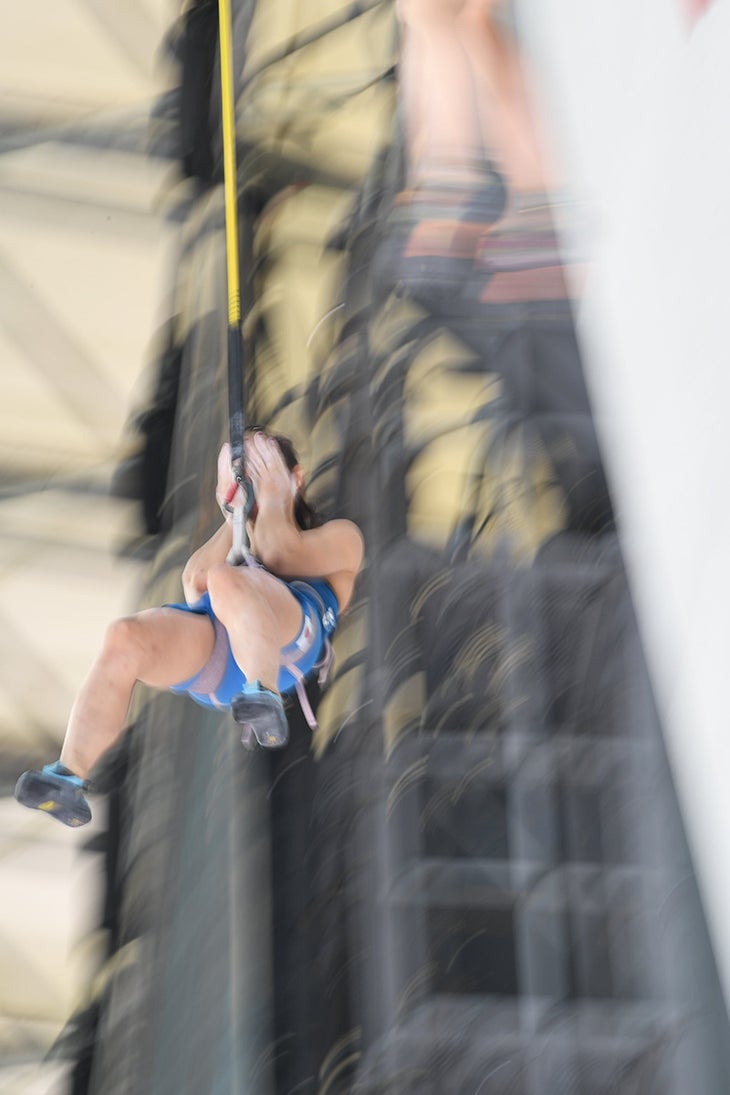 So take that haters. I can't wait to watch more speed climbing.
Next up was bouldering. As a red-white-and-blue-blooded 'merican the only athlete I really cared about was Brooke Raboutou. Her mom, World Cup champion Robyn Erbesfeld Raboutou and her dad, World Cup champion and French rock-grimping legend Didier Raboutou had come together in Boulder, Colorado and founded a school for gifted mutants called ABC (Always Be Climbing). Both Brooke and Colin Duffy (see above) were graduates. It seemed fated that Brooke would medal. 
Speed climbing was not, as the British voice coming out of my computer put it, Brooke's strongest discipline. She fell in round one, lost to the overall World Cup champ Janja Garnbret in round two and then beat the South Korean Chaehyun Seo in the last round, finishing seventh out of eight competitors which, given the arcane scoring, meant absolutely nothing, as far as I could conjure. 
Bouldering, on the other hand, was Brooke's steez—she'd been crushing the Front Range backcountry with sends of V14, and she came out swinging. From my spot in the peanut gallery, Brooke looked worked after multiple days of climbing 15 meters as fast as she could, solving super-hard, cryptic, power problems and getting as pumped as humanly possible while onsighting a power-endurance route expressly built to stop the world's best. Her hair was back in braids which ended in red, white and blue ribbons, I think. (My eyes don't work too well that early in the morning.) She looked great, but had a scrape on her face and a determined, almost harried, look.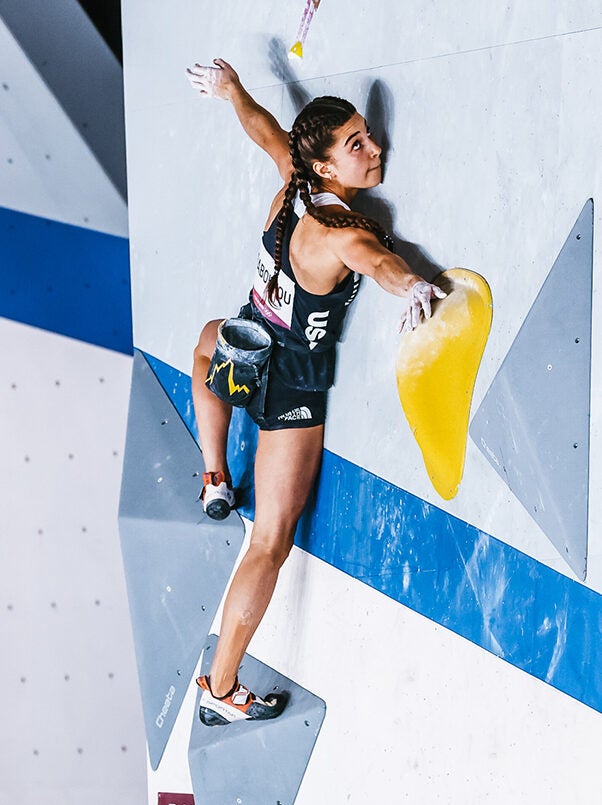 To fully appreciate what Raboutou had just been through, you must imagine the refrigerated coolness of a high-country Colorado summer—60 degrees, 5 mph zephyr wafting through the conifer forest, drier than talc. Now contrast that with the August 6th evening in Tokyo, Japan, where it was 86 degrees and wetter than a fat man's neck folds. All the problems looked horribly slopey, and I ask you, rhetorically, is there anything worse than climbing hot gym slopers?
It wasn't just Brooke—all the athletes looked worn out. The night before, American silver medalist Nathaniel Coleman's hand looked like it had been caught in a blender. Yet, despite the heinous conditions and physical beatdown, Raboutou came out strong.
The first problem was one of those run-and-jump, momentum problems that you try once or twice at your local gym and then look around to see if anybody is watching before you shake your head, whisper a little curse on the setter, and slink away. Unfortunately for Aleksandra Miroslaw, Anouck Jaubert, Jessica Pilz, Miho Nonaka, Chaehyun Seo, and Akiyo Noguchi—all of whom didn't reach the first Zone hold—this was the Olympics and you can't slink away; you must fall off the first moves for five full minutes before smiling big, waving to the fans and trotting away, whispering your curse. Raboutou was the seventh climber and she fell and fell just like the others until, unexpectedly, she stuck the Zone hold and romped to the top. With both hands on the vertical yellow volume, her foot slipped off the dual-tex bulge and she fell. She had the top with both hands, but the judges couldn't count it since she hadn't "secured" both hands which means, as I came to find out, that you must lay both hands on the final hold, then bang the hold and shake your fist and hoot while looking out at the crowd.
Janja Garnbret was last to climb and she dialed the tricky crux and sent second go. Garnbret was clearly the best boulderer in the field—the most dominant women's comp climber since Lynn Hill—but Brooke was holding her own. After Boulder One she was in third place overall according to D.A.T.A. 
Boulder Two was another puzzle and nobody got close to topping it until Raboutou who put up one of the best performances of the entire event—comparable to Schubert's inspiring send of the lead route and Miroslaw's world-record sprint. She started by using her hand to lift her foot onto a smear, a move only Legolas the elf has been able to do until now. She popped off, then somehow got back into the magical stem. Popped off again, battled a little higher and slipped. It was a fight but Raboutou wouldn't give up. Astonishingly, with seconds to go, she got the Zone hold and arrived at the last move, a dyno. With five, four, three seconds to go she jumped and tagged the final jug just a millimeter short of the lip. Drat!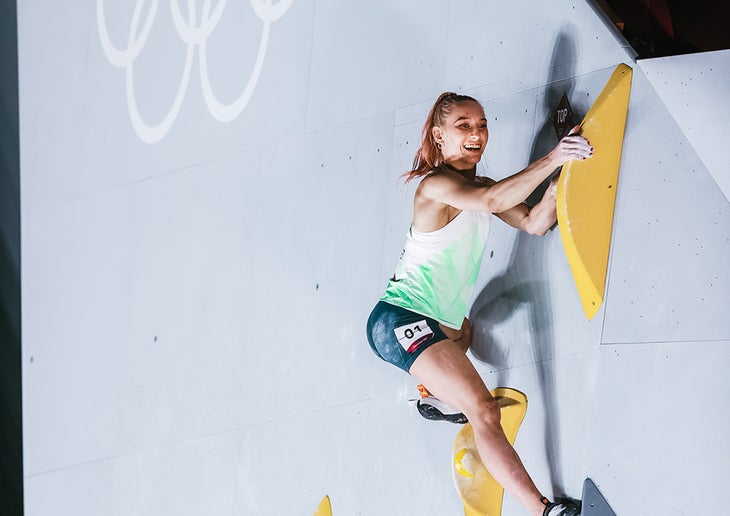 Garnbret flashed the problem, but Raboutou with her effort on Boulder Two, secured second place in the first Olympic bouldering round, and delivered a lesson on tenacity and skill. While I can't relate to speed climbing, I know that what Raboutou did on this problem at the end of two days of world-class climbing in all styles is legendary.