Mickael Mawem Puts on Superb Showing, Wins Olympic Boulder Qualifier. Colin Duffy Takes Fifth. Results Here.
Heading out the door? Read this article on the new Outside+ app available now on iOS devices for members! Download the app.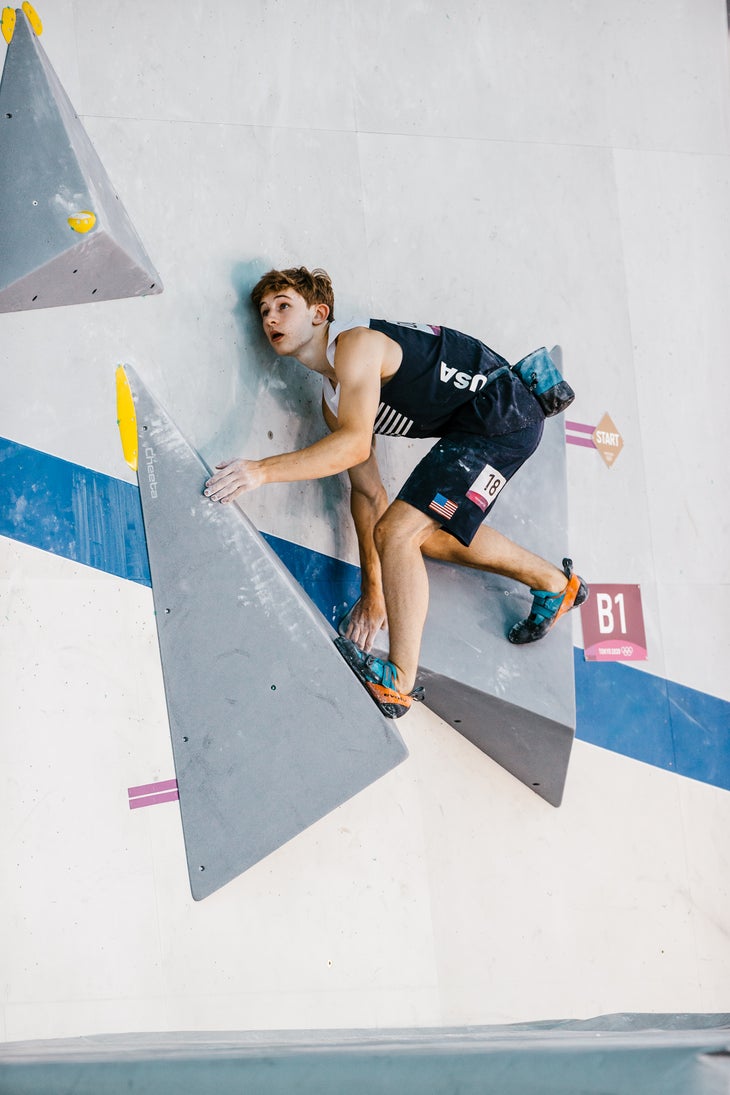 As the sun set over the Aomi Urban Sports Park, the athletes rolled out onto the Bouldering mats for the subsequent round in Sport Climbing's Olympic debut. It was 32 degrees (90 degrees Fahrenheit) according to some commentator, with 75% humidity…. Yikes! But you wouldn't have guessed it by watching the action. 
The most exciting climber of the round was Mickael Mawem, who snagged three tops. The 31-year-old Frenchman, a Bouldering specialist who placed seventh in the 2019 Combined Hachioji World Championships, was on another level. After his Speed performance (third place), and first place in Bouldering, it's clear this time around he's a real podium contender. He climbed through both powerful and technical sequences with more bravado and grace than anyone else in the queue. 
The other star of the show was 17-year-old Colin Duffy, from the US. Like Mickael, Duffy also had a stellar Speed round, punching his personal record to place sixth. He carried that momentum forward and finished the Bouldering round in fifth, giving him a Combined ranking of fourth. And did we mention Duffy is a Lead specialist? His best discipline is yet to come. 
The boulders themselves deserve a mention. From a delicate slab with slippery feet to a heinous shouldery palm-press (actually, make that two of 'em, one on boulder two and another on three), to a triple clutch dyno. Let's not forget the hand jam, created by volumes set four centimeters apart. The skills each boulder demanded were varied and intricate, and they created a perfect separation. 
Check below for the complete Bouldering and Combined results. And stay tuned for Lead results.
Bouldering Results
Mickael Mawem  (France) t3z4

Narasaki Tomoa (Japan) t2z4

Adam Ondra (Czech Republic) t2z3

Aleksey Rubtsov (Russia) t2z2

Colin Duffy

(USA) t2z2

Alexander Megos (Germany) t1z4

Jakob Schubert (Austria) t1z3

Pan Yufei (China) t1z3

Jan Hojer (Germany) t1z3

Jongwon Chon (South Korea) t1z3

Nathaniel Coleman

(USA) t1z3

Kai Harada (Japan) t1z2

Michael Piccolruaz (Italy) t1z2

Albert Gines Lopez (Spain) t1z1

Sean McColl (Canada) t0z2

Christopher Cosser (Republic of South Africa) t0z2

Rishat Khaibullin (Kaz)t0z1

Bassa Mawem (France) t0z1

Ludovico Fossali  (Italy) 00

Tom O'Halloran (Australia) 00 (tie with Fossali)
Combined Results
Mickael MAWEM (FRA)

Tomoa NARASAKI (JPN)

Bassa MAWEM (FRA)

Colin DUFFY (USA)

Jongwon CHON (KOR)

Adam ONDRA (CZE)

Aleksei RUBTSOV (RUS)

Rishat KHAIBULLIN (KAZ)

Jakob SCHUBERT (AUT)

Alberto GINÉS LÓPEZ (ESP)

Jan HOJER (GER)

Michael PICCOLRUAZ (ITA)

Nathaniel COLEMAN (USA)

Alexander MEGOS (GER)

Christopher COSSER (RSA)

YuFei PAN (CHN)

Kai HARADA (JPN)

Sean MCCOLL (CAN)

Ludovico FOSSALI (ITA)

Tom O'HALLORAN (AUS)




Nathaniel Coleman (USA) was just edged out of the top 10, finishing men's Boulder qualifier in 11th place, but still poised to make the cut if he does well in Lead.

Photo: Jess Talley, Jon Glassberg/Louder Than 11

World's best rock climber, Adam Ondra, didn't let the pressure of a low finish in Speed hamper his Boulder performance. He finished in third.

Photo: Jess Talley, Jon Glassberg/Louder Than 11