Briancon Threatens to Crush Team USA Under the Weight of Medals
Great performances by world-class competitors in the final World Cup before the Olympics.
Heading out the door? Read this article on the new Outside+ app available now on iOS devices for members! Download the app.
The Czech Republic's 20-year-old star Eliska Adamovska has given us highlights and spectacular moments at previous World Cups (see her phenomenal poise while down climbing at Chamonix). But at this weekend's Lead World Cup in Briançon, France, she took things to a whole new level. Situated comfortably in the women's Top 10 after the qualification round, she was one of the five competitors to reach the top of the women's semi-final route—which commentator Oscar Baudrand called "great redemption" for getting a top at the previous weekend's World Cup negated when it was determined that Adamovska had timed out.)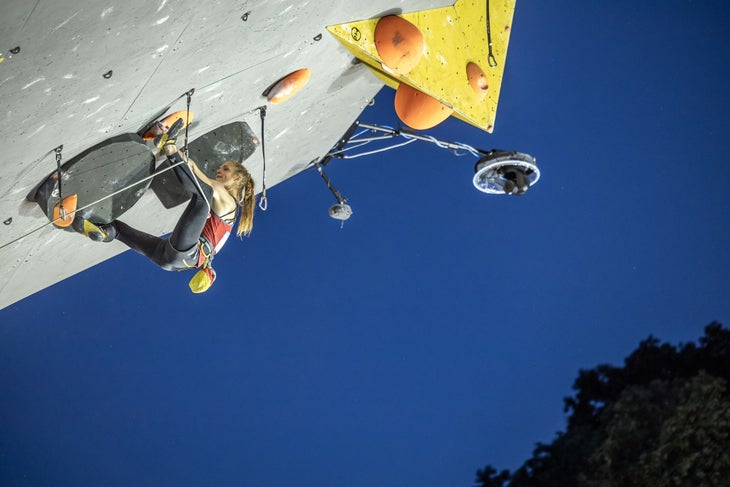 But the redemption in Briançon wasn't over. In the women's final round, Adamovska smoothly surpassed previous high points set by Slovenia's Lana Skusek, Team USA's Ashima Shiraishi, and Slovenia's Vita Lukan. Adamovska also cleverly found a kneebar halfway up the route, which allowed her to recharge and work through a section of strenuous crimps on the headwall. When Adamovska eventually fell just a few moves shy from the top (with a score of 36), commentator Matt Groom praised the performance as "a bit of a masterclass." Indeed, it was…so masterful, in fact, that it would eventually earn Adamovska a gold medal (her first-ever on the World Cup circuit).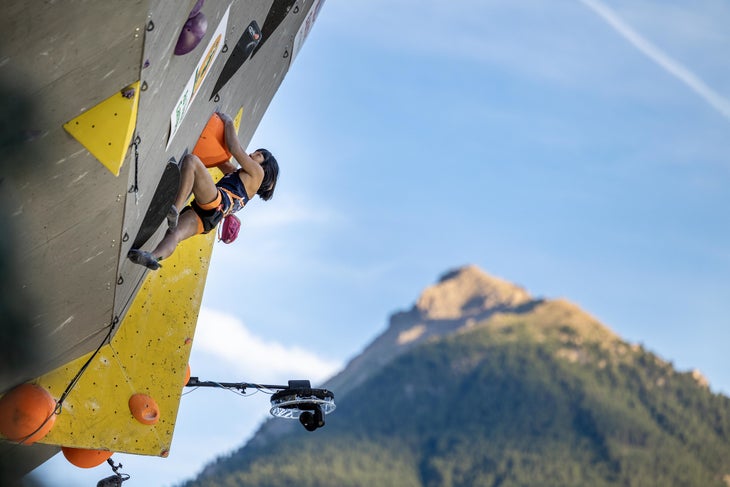 Team USA's Natalia Grossman climbed last in the final round and had a chance to surpass Adamovska's high point. However, Grossman fell while trying to latch onto a left-hand crimp that Adamovska had secured more firmly and convincingly. Grossman settled for a score of 35+ and a silver medal—more hardware from 2021 for her personal collection (which also includes a bronze from Meiringen, two golds from the pair of World Cups at Salt Lake City, a silver from Innsbruck, and a bronze from Villars). Slovenia's Vita Lukan earned the bronze to round out the podium at Briançon.
At least in preamble, the men's division was highlighted by Team USA's Sean Bailey attempting to three-peat, having won lead climbing gold at Villars and Chamonix earlier this month. Ultimately it wasn't to be for Bailey, although he came away from Briançon having advanced to the finals, having masterfully worked through the feet-first overhanging crux in those finals, and having earned a solid fourth-place finish.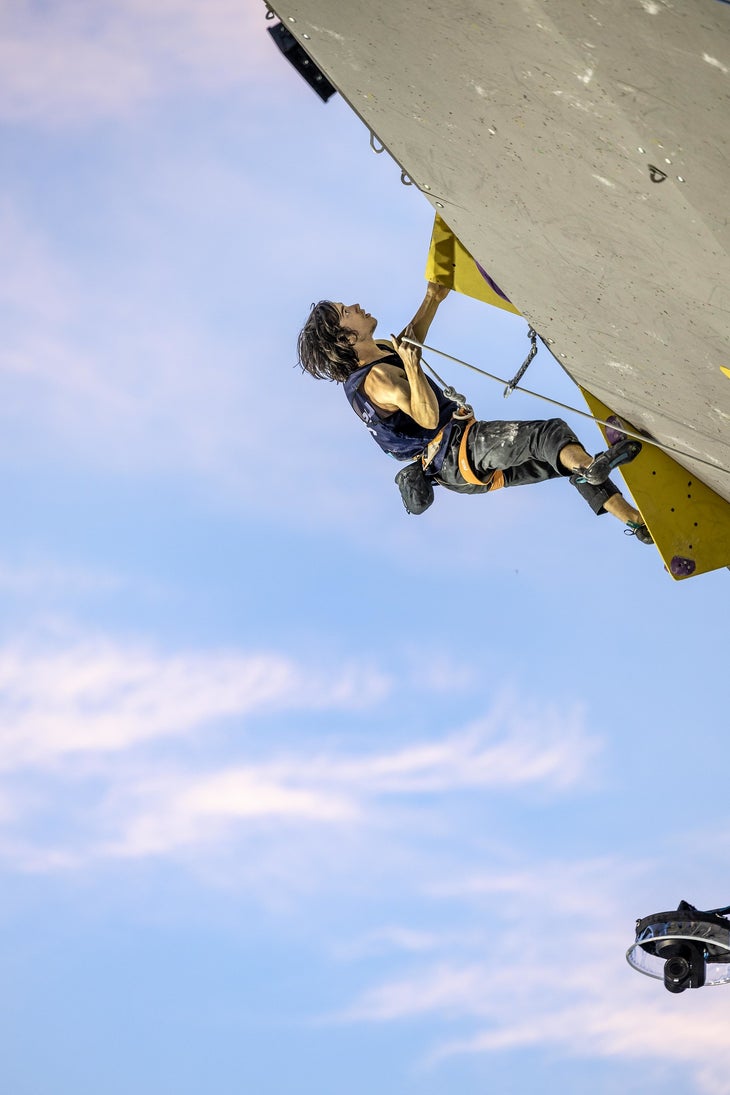 The victory in the men's division eventually went to Italy's Stefano Ghisolfi, who also cruised through the feet-first crux on tube-shaped Kando volumes, found what commentator Groom called "intelligent rests" along the way, and even saved what would have been a surprising fall on a large feature volume near the headwall. Ghisolfi fell higher on the headwall and finished with a score of 42+. Russia's Dmitrii Fakirianov and the Czech Republic's Martin Stranik fell slightly lower to claim the silver and bronze medals, respectively.
There's a lot more to discuss, so here are some other highs and lows from all the rainy rounds at Briançon.
HIGH
Grossman is so good: You know we're talking about a truly special climber when a silver medal almost doesn't do justice to how good her season is going. But that's Grossman. And there were a lot of great moments from her throughout the weekend at Briançon. I particularly liked the instance in the semi-finals when the rope was caught on a jib and she had the presence of mind to flick it loose with her left foot (2:51:03 in the semi-finals livestream). Keep in mind this was very high on the wall, in the maelstrom of the cruxy feature, all while pumping out. Grossman's poise and prowess in that moment, subtle as it was, should be studied by team kids everywhere. 
Two play to the crowd: Did you notice in the men's final when both Martin Stranik and Dmitrii Fakirianov showed little flashes of showmanship? Stranik nodded cheekily to the crowd as he was approaching a new high point on the route, and Fakirianov took time to wave to the crowd from a similar position. Such an outward expression of joy was particularly impressive from Fakirianov because he never looked fully smooth or comfortable anywhere else on the route. But maybe the crowd enlivened him after that big wave because he managed to continue climbing…all the way to a silver medal.  
Stranik defies the odds: While we're on the subject of Martin Stranik, let's give him credit for making a men's podium (for the second World Cup in a row) at age 31. So many storylines this season have revolved around young phenoms—Canada's Victor Baudrand and France's Paul Jenft being 18 years old, Slovenia's Luka Potocar being 19, etc. So let's also celebrate when a veteran like Stranik is finally getting his due after years of hard work and dedication on the circuit. 
Harrison foots the bill: Campbell Harrison was the only Australian taking part in Briançon, and it was also mentioned on commentary that he is self-funding his entire time on the circuit. (There was a time not that long ago when Americans like Alex Johnson and Alex Puccio were basically in the same boat.) Harrison looked solid in the qualification round, but he had an unfortunate foot slip during the semi-finals and finished in 25th place. That's still a good result, and let's hope it gets Harrison one step closer to some additional funding from sources other than his own pocket. 
LOWS
López preps for Tokyo: I really wanted to put Spain's Alberto Ginés López in the Highs. On the one hand, he was the sole qualified Olympian who took part at Briançon, and there's something really admirable about that. On the other hand, he fell low on the finals route, and commentator Sebastian Halenke noted that Ginés López has looked really tired recently—likely from trying to do so many World Cups while still preparing for the Olympics. Ginés López is a fan-favorite, and even though several of his World Cup results this season have been lower than expected, there's plenty of reason to believe he could make magic in Tokyo. 
Clipping is a crux: There were a number of women in the semi-finals who worked into wedged positions on the wall and found themselves having to reach a hand awkwardly across their body to clip into the quickdraw. France's Fanny Gibert and Oriane Bertone were just a couple of competitors who ultimately fell, bested by this tricky cross-body clipping position. It was a neat little crux, but it also created a bottleneck at the 27+ scoring mark.
Tops are scarce: This was a weekend devoid of tops in the men's division. That's a shame because the finals' route, in particular, appeared to have a really funky, outward angled tube volume as the finishing feature. It would have been fun to watch competitors try to stick a big climactic move to it, but nobody ever progressed to that point. In the men's semi-finals as well, both Sean Bailey and Stefano Ghisolfi dynoed for a top ledge but couldn't stick the move. Oh well, it's probably better to have a lack of tops in a division rather than a surplus (like we saw last weekend in the women's semi-finals). 
See you in September: We'll be covering the Olympics extensively, so be sure to tune in for updates and exclusives. But in terms of World Cup action, the circuit will now take a break until early September. That's a bummer because it has been such a fun rollercoaster ride these last few months—in some cases having World Cups multiple weekends in a row. If Team USA can pick up right where they left off, this fall's portion of the World Cup circuit will be packed with more historic moments that you won't want to miss. 
AMERICAN MISCELLANEOUS 
As stated, Grossman secured the silver in the women's division, and Ashima Shiraishi finished in fourth place. Other American results were: Maya Madere in 33rd place, Julia Duffy in 50th place, and Cloe Coscoy in 51st. In the men's division, below Bailey's fourth-place finish were: Ross Fulkerson in 22nd, Ellis Ernsberger tied for 37th, and Timothy Kang in 39th.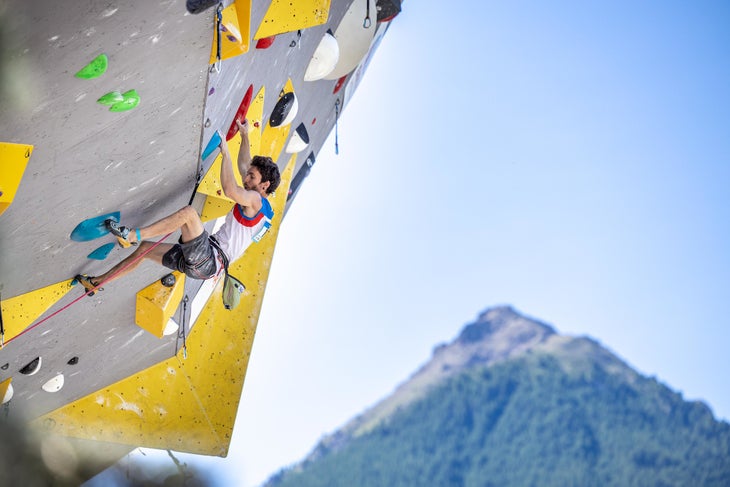 RESULTS
Women
Eliska Adamovska (CZE) 

Natalia Grossman (USA) 

Vita Lukan (SLO) 

Ashima Shiraishi (USA)

Ryu Nakagawa (JPN)

Lucka Rakovec (SLO)

Lana Skusek (SLO)

Aleksandra Totkova (BUL)
Men
Stefano Ghisolfi (ITA) 

Dmitrii Fakirianov (RUS) 

Martin Stranik (CZE) 

Sean Bailey (USA)

Sascha Lehmann (SUI)

Fedir Semoilov (UKR)

Alberto Ginés López (ESP)

Luka Potocar (SLO)