Post-Olympic Interview with U.S. Athlete Colin Duffy, A Men's Combined Finalist
Colin Duffy gives a breakdown on what it was like to compete in Sport Climbing's first Olympic event.
Heading out the door? Read this article on the new Outside+ app available now on iOS devices for members! Download the app.
This article is free and is part of our comprehensive Olympic coverage. Sign up with a Climbing membership, now just $2 a month, and you get unlimited access to all of our Olympic news and analysis, plus you'll enjoy a print subscription to Climbing. Please join the Climbing team today and don't miss a single move.
**The following transcript was obtained from the Mixed Zone after the Men's combined finals. Thank you to Kelly Feilke, of USA Climbing, for helping facilitate the questions and answers.
Interviewer: It must be amazing to be in the finals in the first Olympic games. How does it feel?
It feels great. It did not go the way I wanted. But it leaves me hungry for more in the future. Yeah. I mean, I'm only 17, so I have a lot of time.
Interviewer: Tell me about the day? What are you thinking and feeling right now?
Colin: I think the scoring is…it's not the best that could be, especially today with only seven athletes in finals. The first place finishes really, really benefit, but 2024 is a different format. So hopefully it'll work out a little better. But I mean, we knew the scoring and that's how it goes…I think it's fair. I mean, we all know the rules, but it is crazy when I think of the three podium finishers, I beat them in two of the three disciplines. They earned it. They climbed amazingly, and everyone in this field is world class and such strong athletes, so just to be in the finals is amazing.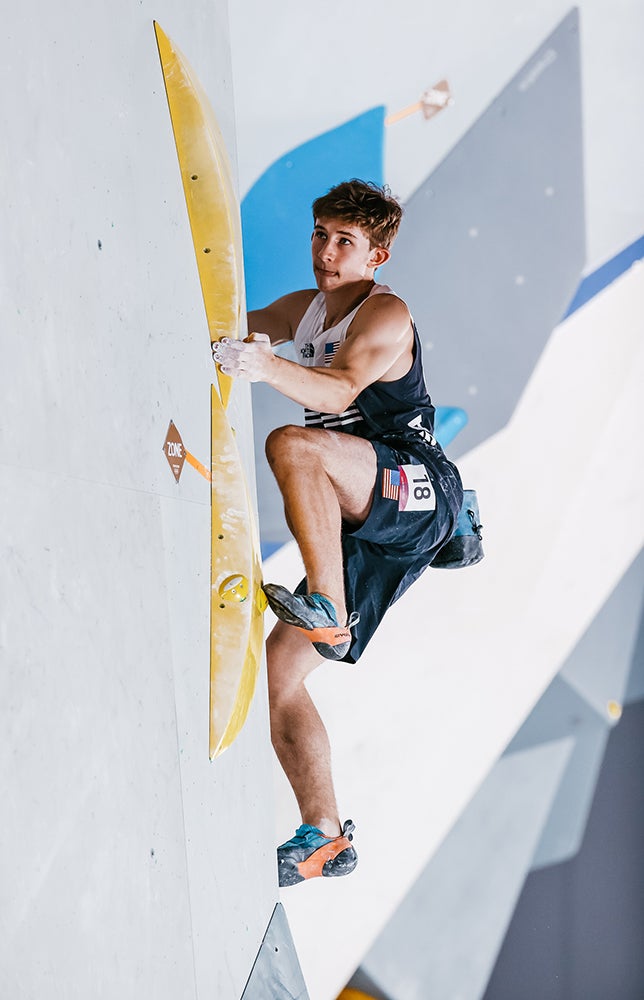 Interviewer: What was it like going up against Nathaniel in the Speed round?
Colin: I am super excited that I got to race a teammate. I mean, while it wasn't the race that I necessarily wanted to be in, it was good to be up there with Nathaniel and I was glad I was able to handle to the pressure, and after a rough start throw down a good time.
Interviewer: It looked like you had a good idea of what you wanted to do on lead. What happened at the end?
Colin: I mean, really hard lead route. Again. Probably the two best competition lead climbers of all time that beat me, and I put up a good fight and I'm happy with that. I think some of the clipping like at the top there, my right arm was like maybe a little more tired than it needed to be, but I'm pretty satisfied with that performance.
Interviewer: What do you think about 2024?
Colin: Yes. That's definitely, Olympic wise, the next goal and hopefully do better the next time.
Interviewer: It was a difficult start there in Speed. What happened there?
Colin: Probably a little bit of the nerves and just excitement, but time goes so slow when you're in competition, it felt like a really slow start. So I guess the time feeling really slow. I mean, it was .0005 of a second away from a legal start. I can't really, just unlucky.
Interviewer: What are you feeling right now?
Colin: I mean, yeah, I'm upset, but I'm still happy. Like, as time goes on, I'll be able to appreciate what today was.