Ryan Arment Coaches Team USA Climbers Through Failure—and Success
He's worked with Olympic climbers Colin Duffy and Brooke Raboutou since they were kids.
Photo: Jess Talley/Louder Than 11
Heading out the door? Read this article on the new Outside+ app available now on iOS devices for members! Download the app.
This article was published in the summer edition of Gym Climber. For continued Olympic coverage please join us with an Outside+ membership. Sign up and you'll also receive a year of Climbing magazine in print, and our annual coffee-table edition of Ascent.
The general public doesn't know much about Ryan Arment, but that needs to change. Arment has been coaching Colin Duffy and Brooke Raboutou since they were kids. In case you are not good at math, that's 50% of the U.S. Olympic-qualified team. — Gym Climber editor Francis Sanzaro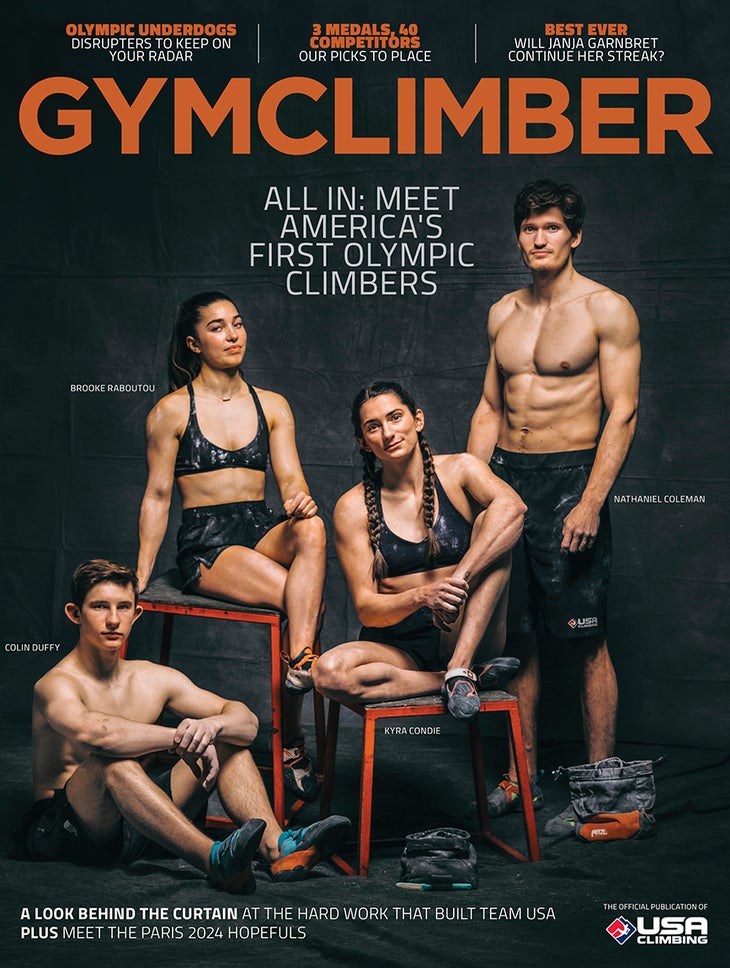 FS: What's your official title?
Ryan Arment: Head coach, head setter, head guide. It's bizarre to take the three hats but, yeah, that's the title. 
FS: What is your relationship to Olympic-qualified athletes Colin Duffy and Brooke Raboutou? 
RA: I have coached both Colin and Brooke since they were kids. I've climbed with them all over America and Europe. And yeah, it's been awesome. … I wasn't always the head coach when I was coaching them. But I've been their coach for that long. I manage Colin's coaching directly and I'm part of Brooke's coaching team. 
FS: What first got you into coaching? 
RA: I've always liked working with kids as far back as high school. I was a babysitter, and that's not typical, I think. I lived in Breckenridge for a while, and while I was there, I got this part-time job coaching like five kids at the Rec Center on their little climbing wall and really dug it. When I moved to Boulder, I was looking for work and had a bunch of experience as a carpenter and ended up working building the [ABC] gym. And then as I met Brooke and Shawn [Raboutou], through their father Didier, I started being more and more psyched to work with them. Once we were done building I stuck around … [Coaching] wasn't the kind of thing that I set out to do. I have a Bachelor of Science in Geography. It's so powerful coaching, and it's so much fun. It's hard to feel like it's a job. Most of the time I'm just having fun.
FS: What are the top three traits of successful coaches?
RA: Presence, patience and perseverance.
You've got to be there. The foundation of all relationships is presence. You're there for every practice. You're not coaching from the back seat; you're front and center. It's important to me the coach is the first person the athlete sees when they're done with a competition. And maybe the first person they see when they enter the building.
Patience is key because it's a trial-and-error process. As a coach, you're always trying to find the right thing to say at the right moment to get a change out of the athlete. I make a lot of mistakes with my athletes, and as long as those don't lead to injury, it's just learning from that and then doing better with the next athlete, or learning from the experience with that specific athlete. 
And then perseverance is important because you can't quit. You have to just keep carrying on no matter what, through losses, through injuries, through frustrations, whether it's with an organization, or a facility or another coach. Just being able to keep the positivity high and carry on. We get stronger as we overcome obstacles and conflict and I think persevering through that adversity is where we get growth and then we get stronger.
FS: Tell me about your coaching style?
RA: I'm pretty loud, pretty high energy. There's a little purpose behind most of the things I do. And one of the purposes I have for being so loud, even in a low-key session, is that my athletes have comfort; then at a larger format situation where they hear my voice in the crowd so they're like, "oh he's yelling the same things he does every time." And I think there's a lot of value to that, especially in a sport like climbing. 
I think trust is the foundation of any good coach-athlete relationship…and so I try to just be as open as I can about my own process.
FS: How do you coach someone through failure? How do you coach them through success? 
RA: I like to encourage an immediate and complete processing of the experience. So, for example, if an athlete has a really great competition and comes out better than they ever expected, I celebrate them. And then it's over, it's back to practice, it's back to normal and the same goes for the opposite. Somebody has a horrible session. It's like, "You know, this is what you could have done differently. Now we're moving on." And so I like to encourage the athletes to be present in the moment and whatever that presence is, is OK, we can make it better in the future, and we can learn from it after, but there's no need to drag any of that stuff out.
FS: How do you coach around resistance from athletes? 
RA: I certainly have resistance from athletes … I think trust is the foundation of a good coach-athlete relationship. I also try to be really open with my athletes. … If a workout routine isn't working, then I'll just be like, "Hey, look, I tried this, the schedule doesn't work, we're changing it." And so I try to just be as open as I can about my own process. 
FS: Tell me about training and getting stronger.
RA: Typically if you can build up a weakness, you'll find that your grade will follow. And I think that also helps your process. So rather than looking for a way to get stronger, just look for a way to improve yourself, and then there's no goal. It's not like you have to climb this route. Or you have to do this thing, because what happens when you send the climb? It's over. The joy of sending or winning is so short. It is the shortest thing that you're going to do. And so the process is where the joy has to come from. And if the joy comes from the process, then you're going to improve the rest of your life. There's no reason you'll stop getting better. And that'll also lead to curiosity. You'll find yourself thinking, "Oh, that's cool. What else could I do? Like, what's my kneebar-game like?"
FS: How has your job changed since the Olympics?
RA: I don't think it's changed much for me, honestly. It's just another comp. And the process is so much more important than the result. I'm excited at the opportunity to see these athletes get to compete on that stage. And I'm proud of them for being there. But as far as my job, or my day-to-day coaching, how I treat Colin and Brooke relative to other athletes, I don't think it's changed anything.