Team Crush: Behind the Curtain at Slovenia's Success Factory
The country might be small, but its climbing team is mighty and includes the best of all time
Heading out the door? Read this article on the new Outside+ app available now on iOS devices for members! Download the app.
This article was published in the summer edition of Gym Climber, available at your local climbing gym. Sign up with an Outside+ membership and you get unlimited access to thousands of stories and articles by world-class authors on climbing.com and rockandice.com, plus you'll enjoy a print subscription to Climbing and receive our annual coffee-table edition of Ascent. Outside+ members also receive other valuable benefits including a Gaia GPS Premium membership. Please join the Climbing team today.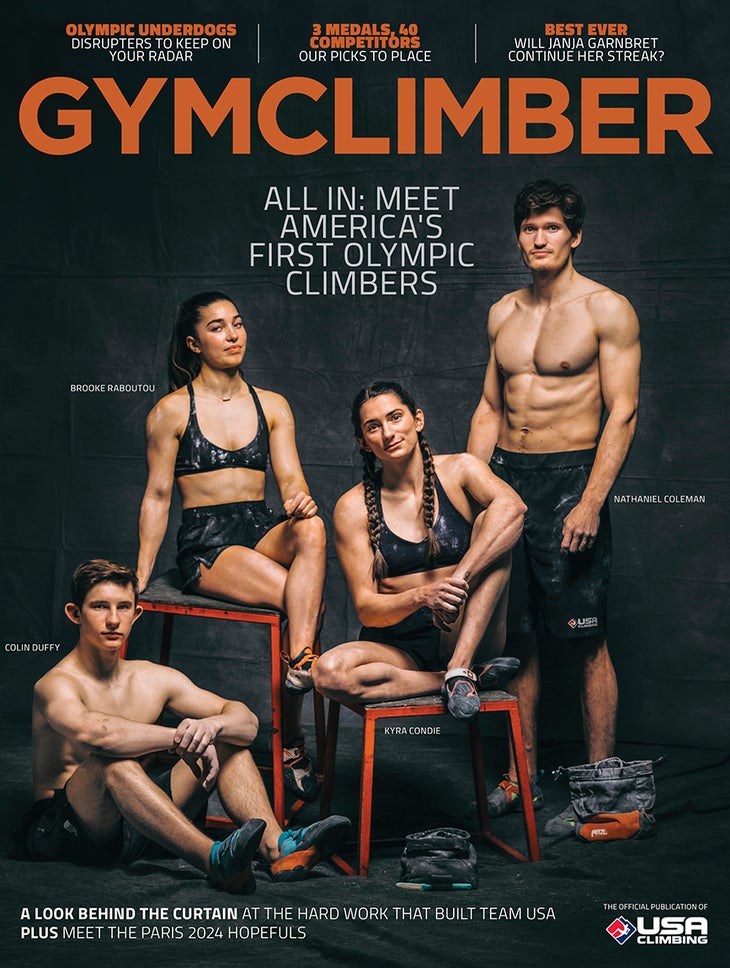 Here's a fun fact: Slovenia is the size of New Jersey, America's fifth-smallest state. If you lived in Slovenia instead of the U.S., on average you'd live a little over a year longer, and be 44 percent less likely to be obese, according to a random comparison site on the internet.
Slovenia is doing something right and is also home to some of the best climbers in the world. Janja Garnbret, for one, more World Cup victories than any climber, in history, ever. Her teammates Mia Krampl, Lučka Rakovec, Vita Lukan, Jernej Kruder, Gregor Vezonik, and Domen Škofic all make regular appearances in the final rounds of World Cups. And let's not forget about Mina Markovič and Maja Vidmar, both retired, some of the world's best while they were still in action.
READ GARNBRET AND GROSSMAN BATTLE, BROADCASTER APOLOGIZES FOR SEXUALIZING COVERAGE
Lucka Rakovec, at the same practice.

Photo: Jan Virt

Luka Potocar snatching a sloper at the 2020 comp simulation practice.

Photo: Jan Virt

Lucka Rakovec captured during an elegant dismount off the top of a boulder problem.

Photo: Jan Virt

Domen Svab, Team Coach

Photo: Jan Virt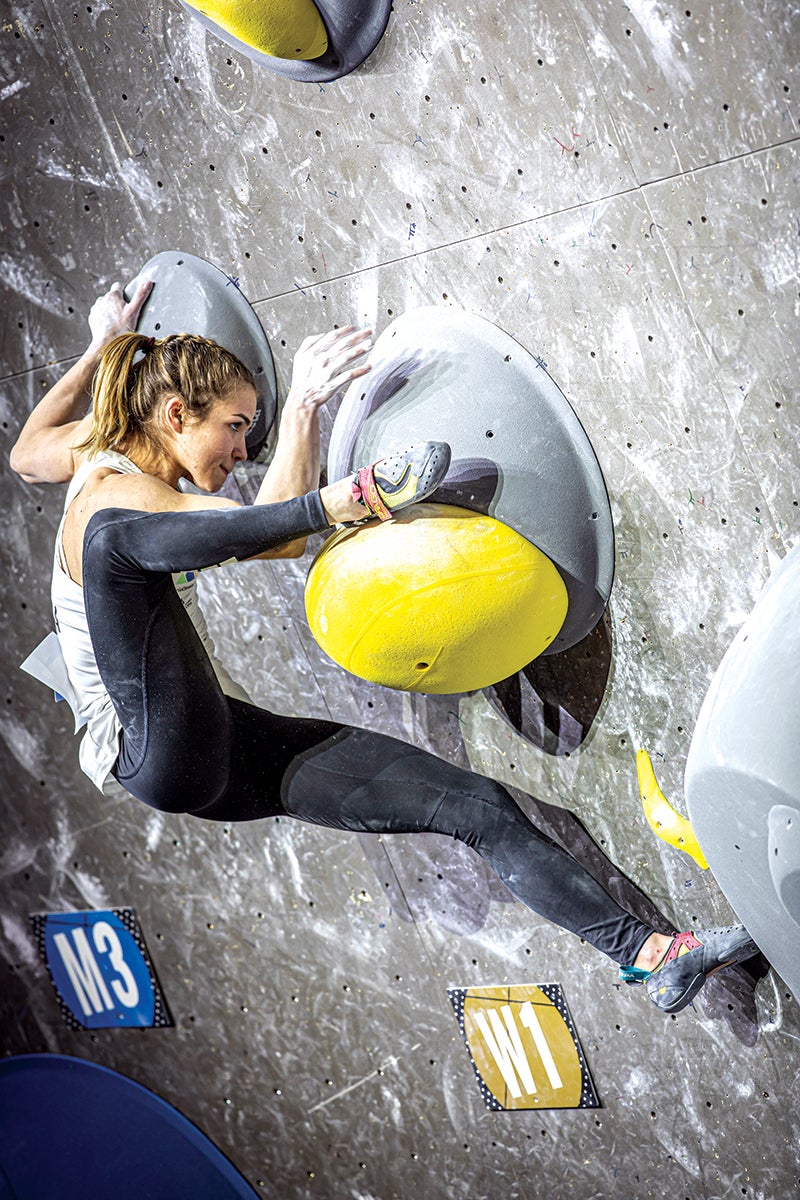 A Forced Rivalry
A forced rivalry—that's what you get when you have two teammates and only one Olympic spot. Since their fellow Slovenian Janja Garnbret had already qualified for the Olympics, Lucka Rakovec  and Mia Krampl, both 18 at the time, went head to head for Slovenia's other spot in the final round of the Toulouse Olympic Qualifier. It was both a heartbreaking and inspirational showdown between two friends and closely-matched competitors.
Rakovec looked poised to win after placing sixth in Speed and third in Bouldering, while Krampl was seventh in both disciplines. To win the Olympic invitation, Krampl needed to place first in Lead, and Rakovec had to finish third or lower. The final lead route, an endurance fest up a series of volumes and crimps, culminated in a difficult move out of a roof and to a volume. The top five lead climbers ultimately fell on the same move, except that Krampl alone stuck the hold before falling. Krampl placed first and Rakovec third based on time. Krampl was awarded the Olympic invitation for a final score just five points less than Rakovec's (lowest score wins). The teammates could be seen hugging each other following the event, each flushed with tears, but still cracking smiles.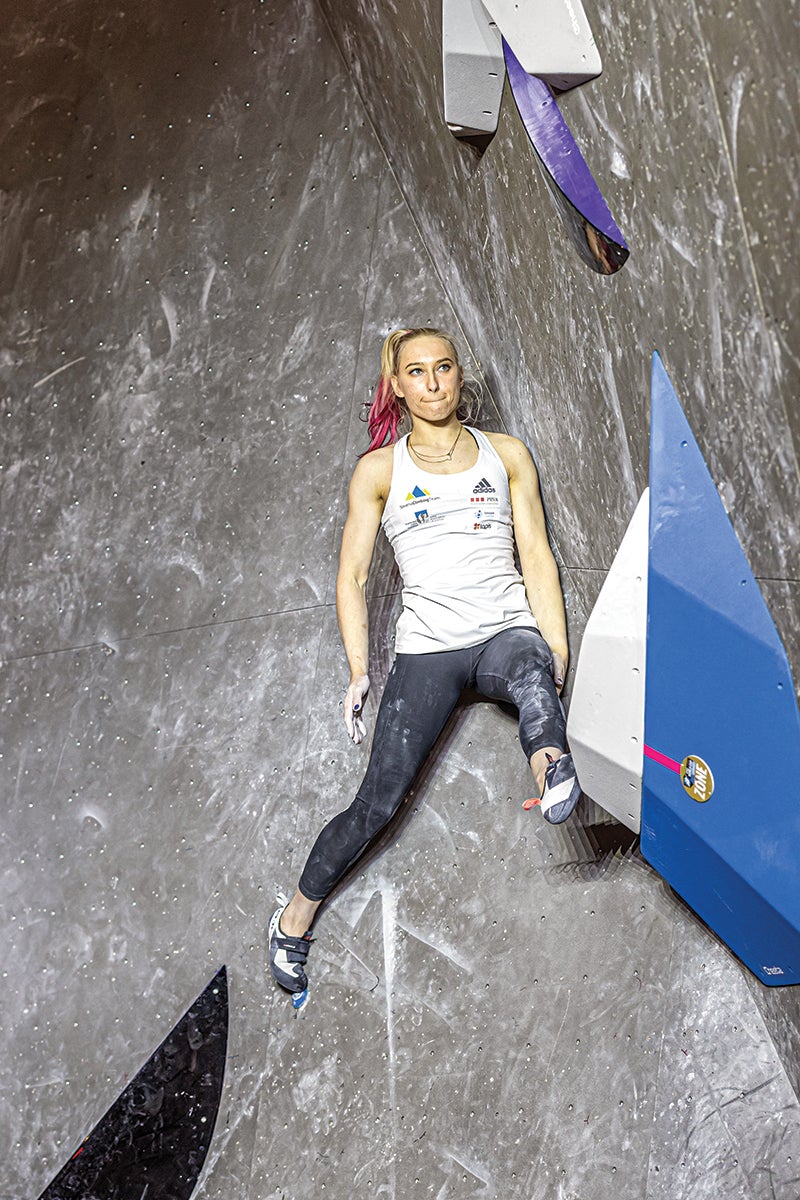 Rakovec later spoke with Gym Climber on results: "Bad results are really hard to cope with, but bad results don't always reflect how prepared you are. Sometimes you make mistakes, and the best thing you can get from 'bad' competitions is to learn from your mistakes. If you try to see it from a positive point of view, you can see your weak points and [the] stuff you have to work on, so one day everything will click together, and the results you want will come too."
READ ABOUT JANJA GARNBRET CLIMBING 1,000-FOOT-HIGH SMOKESTACK