Surprises Abound as Climbing Makes History in the Olympics
The night was full of twists and turns, with underdogs giving top-dog performance, and the eight climbers advancing to the finals were only half expected.
Heading out the door? Read this article on the new Outside+ app available now on iOS devices for members! Download the app.
It's a historic day, as climbing is now officially underway at the Tokyo Olympics. The men's qualification portion was held early this morning in American time zones, and there's a heckuva lot to talk about. Check out all the results from the Speed, Boulder, and Lead rounds if you haven't already. And if you'd like to take a deeper dive into the action, here are some Highs, Lows, and Miscellany from the thrilling round.  
HIGHS
Mickael Puts on a Masterclass: I consumed a lot of Olympic-related hype leading up to these Games, and I had countless conversations with friends, fellow climbers, and media colleagues—and, amid all that, no one predicted that France's Mickael Mawem would be the winner of the qualification round. His seventh-place finish at the 2019 World Championships (where he earned his Olympic berth) certainly gave no hint or indication that he was destined for such superstardom. Yet, his masterwork in this opening Olympic round was undeniable: third place in Speed, first place in Boulder, and 11th place in Lead for a multiplied winning score of 33. With that, Mawem not only wrecked most people's Olympic predictions, but he also has to now be considered one of the favorites for a gold medal heading into the finals. This qualification round also happened to fall on his birthday, and it's hard to think of a better celebratory gift than cruising to the top of the leaderboard on climbing's biggest stage.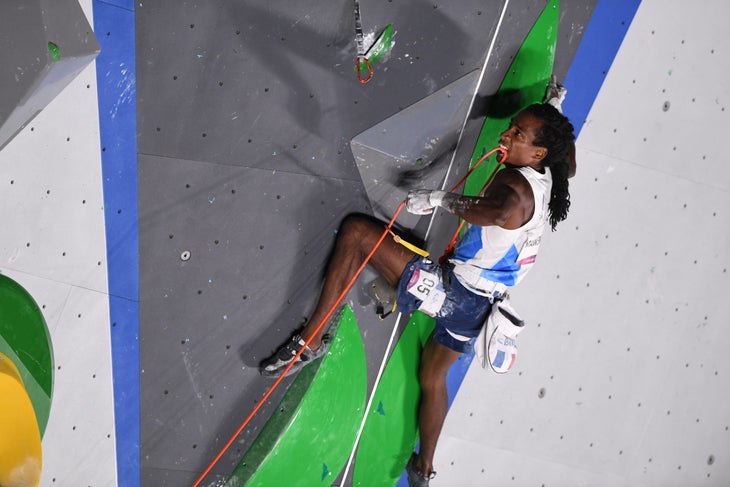 Ondra Fights 'til the End: If there was a figurative opposite to the authority of Mickael Mawem's performance, it was the unending trouble of the Czech Republic's Adam Ondra. Instead of cruising to a spot in the finals, Ondra had to claw and scrap for every inch within his eventual fifth place finish. The woes started in Speed, as Ondra had the misfortune of being paired against Speed standout Tomoa Narasaki of Japan. Ondra finished the round in 18th place. Next, Ondra struggled on the middle problems in the Boulder portion, resulting in a nail-biting must-top situation on the fourth boulder. He did top it, but he still found himself in a hole caused by that low rank in the Speed portion. Even Ondra's eventual score of 39+ on the Lead wall didn't propel him immediately and securely to the finals. He, along with fans watching around the world, had to wait and see how the other competitors performed. Undoubtedly, it all made for great drama, and the upcoming final round will be a clean slate for Ondra.
Cosser Shows His Mettle: There were a lot of questions about the ability level of South Africa's Christopher Cosser heading into these Olympics. Cosser earned his Olympic berth by winning the Africa Continental Championship in December 2020, but that event didn't exactly feature an incredibly deep or continentally representative field. (There were only a total of 14 participants in the men's division at that competition, and all but one of them hailed from South Africa.) But at these Olympics, Cosser silenced any doubters. His ninth place finish in Speed was much higher than the places of several other big names, including those of Germany's Jan Hojer, Austria's Jakob Schubert, and even Italy's Speed specialist Ludovico Fossali. (Cosser also set a new personal best Speed time of 6.48 seconds in the round). Cosser followed up the Speed portion by placing 16th in Boulder—not ideal by any means—but then rallied to place 10th in Lead. In the end, he finished 16th overall. Cosser is only 20 years old, so something tells me we will see him making a big push for the Olympics in 2024.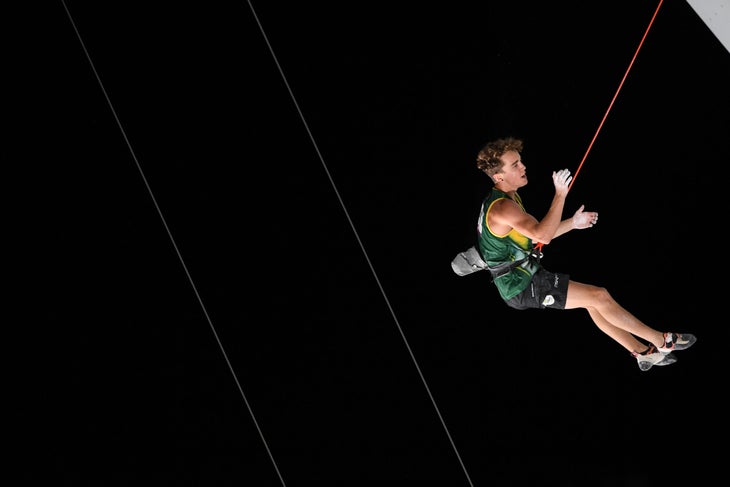 Personal Best Times Abound: While we're talking about Cosser setting a new personal best Speed time, let's also mention Canada's Sean McColl doing the same thing (clocking 6.93 seconds)…Germany's Alex Megos too (6.51 seconds)…and Spain's Alberto Ginés López…and France's Bassa Mawem (5.45-seconds, which also became the men's Olympic record). Even Ondra came very close to setting a new personal best when he clocked 7.46 seconds in a run against Narasaki. I don't know whether all the fast times were due to every competitor's heightened nerves getting channeled into extra-quick reaction time, or the fact that all the climbers have been training Speed for a couple of years now. Perhaps it was a combination of factors. Whatever the case, it was great to see so much quick, fluid Speed climbing—and it will all look great in the many Olympics' highlight video packages that are sure to come.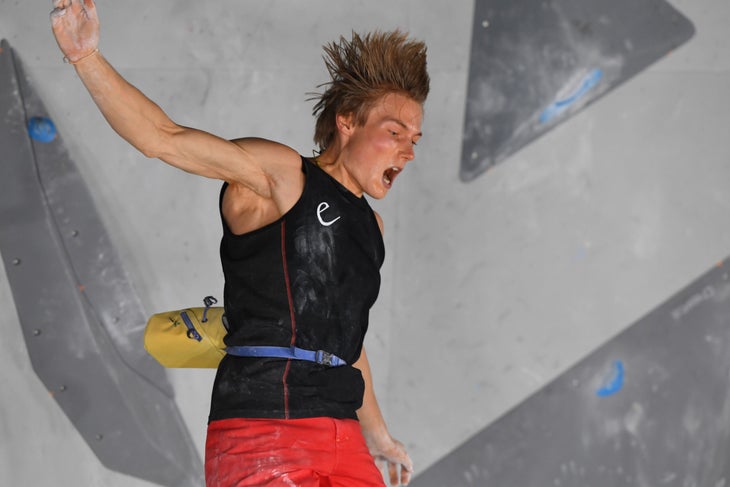 Americans Shine: I've tried to distill the performances of Team USA's Colin Duffy and Nathaniel Coleman down to the most clutch moments, but the fact is they were both superb throughout all the disciplines. Duffy was among the first to unlock the beta on the third men's boulder, a big swing into a burly undercling press for the top. The top on that boulder was key; Duffy had already topped the first men's boulder, so everyone else was now chasing him in the scores. He led in the scores for most of the Lead round too—falling just two moves shy from the top—and finished in third place overall heading into the final round. Coleman's clutch moments were different—he set a personal best during his inaugural Speed heat, but struggled on the first couple of boulders. His eventual top of the third boulder undoubtedly kept him alive in the scores, but the fourth boulder proved to be a tempest; its requisite hand jam bloodied his hand, and Coleman was visibly frustrated when he wasn't able to reach the top. Yet, the exasperation didn't fully derail Coleman—perhaps the Boulder struggles even motivated him. He climbed relentlessly in Lead, grunting and panting loud and clear through the wall's microphone, and finished overall in eight place. The fact that Duffy and Coleman are both headed for the final round at the Olympics is an extension of the success that Team USA has had on the World Cup circuit this season; and that success itself is an extension of the work that USA Climbing has been doing for these past of couple of years to grow and foster elite American talent.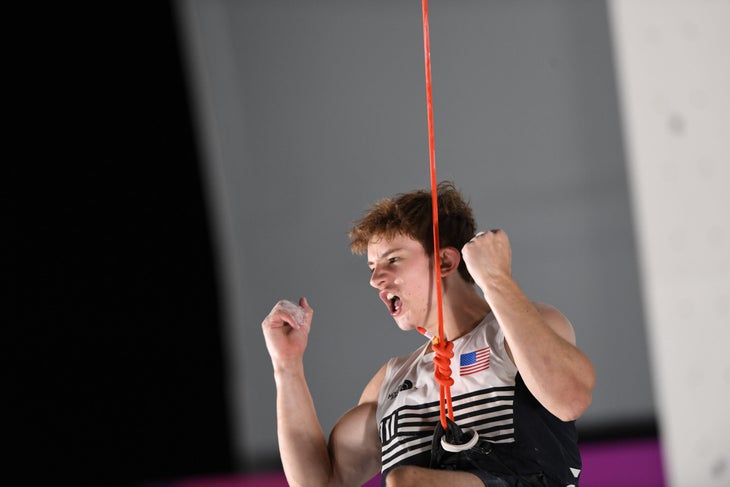 LOWS
Bassa Tweaks a Bicep: It's a weird and cruel twist of fate that Mickael Mawem had the round of his life, while the round of his brother, Bassa, ended in total anguish. Before we get into Bassa's injury, though, it's worth highlighting the greatness that preceded it. He won the Speed portion, set that blazing Olympic record, and even earned points for zone on the first boulder. But then, while gripping the seventh hold on the Lead route, something happened to Bassa Mawem's bicep. The extent of the injury is not known at the time of this writing. In slow-motion video, his bicep can be seen coiling up beneath the skin—which could indicate muscle or tendon damage. It's also uncertain whether or not he will be able to continue climbing in the Olympics, as his place at the end of the qualification round—even with the low Lead score from the injury—was high enough to advance into the finals. For now, the entire climbing world is waiting for an update while collectively rallying for Bassa and hoping the injury might end up just being a bad cramp. 
Chon Runs Out of Time: South Korea's Jongwon Chon is a fan favorite and he came close to earning a spot in the finals—ultimately finishing in 10th place with a multiplied score of 800. It's futile to play the What If game, but I can't help but wonder whether the scores might have looked different if Chon had topped the fourth boulder. He came darn close, with one hand jammed securely in the boulder's four-centimeter crack and the other hand set to reach up for the last hold…but the clock ticked down and eventually the buzzer sounded. Securing that top would have vaulted Chon into the top-6 for the Boulder round and totally reconfigured his multiplied outcome when all was said and done. There are plenty of other hypothetical situations that fans can volley around today, but this was the top that came closest to happening.
Media Options Overload Fans: At the risk of sounding like a luddite, I know I'm not the only one who feels like there is an overabundance of media and media options with these Olympics. I can't tell you how many times in the past week people asked me how, and where, they can watch the Olympic climbing. NBC television network? USA Network? The Olympic Channel? NBC's Peacock streaming service? NBCOlympics.com? NBCSports.com? Olympics.com? The many Olympic-related Instagram feeds? YouTube TV? Hulu? DirectTV? Whew…take a breath. Sure, the surplus of platforms was meant to make viewing as easy as possible, but I think a tipping point was reached and the glut of options ended up making a lot of climber-viewers confused and stressed out in the lead-up.
Commentary Causes Confusion: There were a lot of great aspects to the production. For example, the lighting on the stage was excellent and helped created some really memorable visuals of climbers miming beta within a sparkling cloud of chalk particles. The routesetting was also generally good and caused adequate separation in the scores. But there were some absolute head-scratchers when it came to phrases uttered on commentary. Saying that "mere mortals wouldn't be able to get up three of [the Speed holds]" was kind of a dig on the thousands (millions?) of people around the world who enjoy climbing—and would be perfectly capable of climbing up the Speed route. Also, calling the belayer on the lead route an "autobelay volunteer" just doesn't make any sense. I could go on, but I don't see any reason to dwell on the negatives. Overall, the round—even with some occasionally odd commentary notes—has to be considered a fantastic Olympic debut for the sport. Most importantly, there were plenty of spectacular performances on the wall that will likely hook new fans. 
MISCELLANY
Speaking of commentary, on the bright side, it is great to know that many television networks and Olympic affiliates around the world utilized climbers for on-air analysis. I heard that both Jain Kim and Sol Sa added some commentary in South Korea. Apparently Great Britain's Molly Thompson-Smith did analysis for her home country. Meagan Martin did Olympic analysis here in the United States (on Peacock TV) on Tokyo Tonight. I'm sure there are plenty of other examples. It's comforting to know that the sport is being presented to the public by knowledgeable and experienced experts in most cases.