Team USA's Body Tweaker Is a Busy Guy
Zack DiCristino, the National and Olympic Team physical therapist and medical manager helps keep Team USA healthy and cranking.
Heading out the door? Read this article on the new Outside+ app available now on iOS devices for members! Download the app.
This article was published in the summer edition of Gym Climber.  For the latest in Olympic news join us with an Outside+ membership. Sign up and you'll enjoy a print subscription to Climbing and receive our annual coffee-table edition of Ascent. Please join the Climbing team today.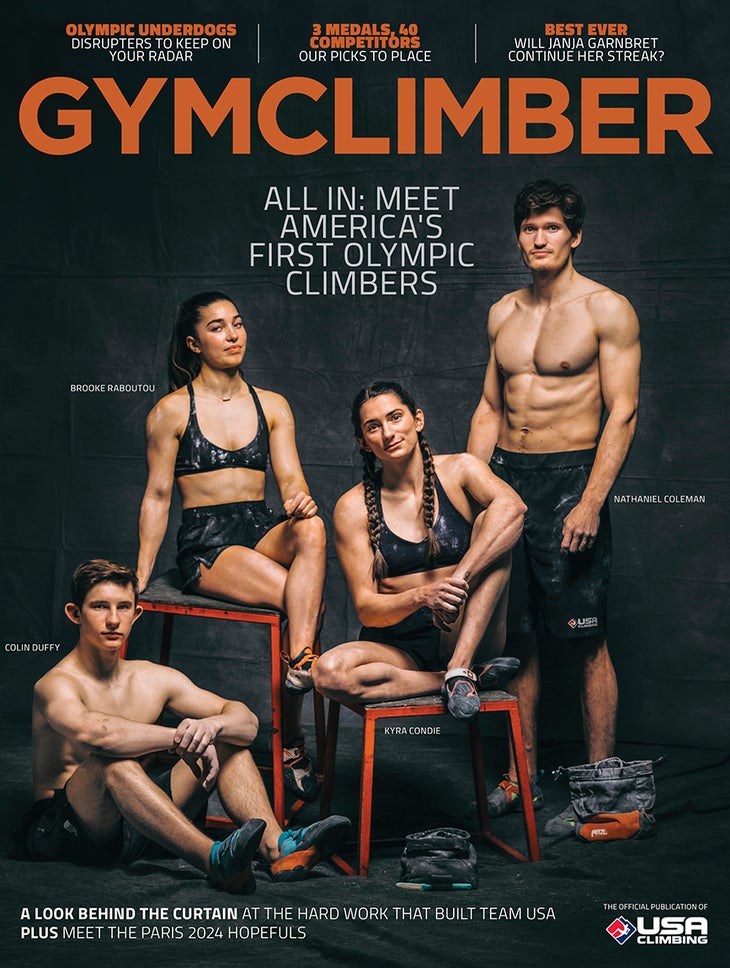 Sitting beside Josh Larson in a white plastic folding chair, Zack DiCristino observed the present band of athletes making their rounds from one boulder to another. He watched their movements, offered up the occasional cheers of encouragement, and waited. It doesn't take long. Suddenly, he walked back to his table, an athlete in tow, in order to massage, tweak, probe or adjust whatever ailment is in need of his attention.
Be it an injury, a muscle imbalance, or general weak link, DiCristino is the team's go-to man. Officially the National and Olympic Team physical therapist and medical manager, DiCristino assists head coach Josh Larson in designing athlete protocols to address imbalances and promote athlete health and longevity. DiCristino has been practicing physical therapy since 2003, working with professional and Olympic athletes from over 30 sports—primarily runners, skiers, snowboarders, and, of course, climbers. He draws on that base of knowledge, along with ongoing education, in his everyday practice with the USA Climbing Team.
To manage athlete needs, DiCristino has a white board pinned to the wall above his table. Time slots are demarcated and filled in with athletes' initials. In between bookings and athlete sessions, DiCristino works from his laptop. He's corresponding with strength and conditioning coaches from the United States Olympic & Paralympic Committee. Although not familiar with climbing, those coaches make training recommendations based on needs and the climber archetype as described by DiCristino. With those coaches, plus Larson, he has detailed macro and micro plans for the athletes, including on- and off-the-wall training. Heavy lifts are among the new training integrations.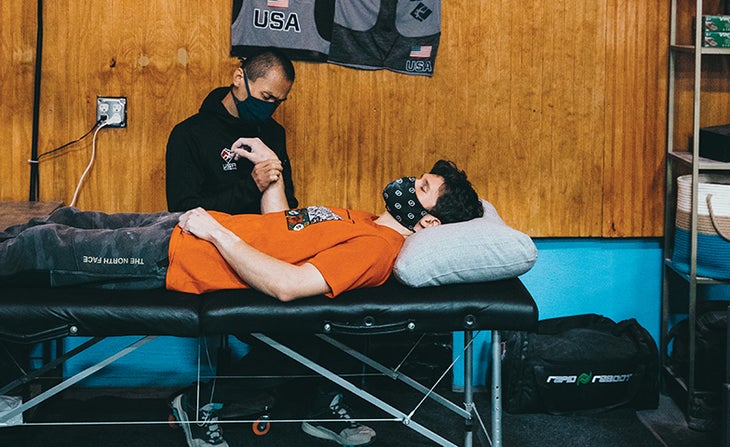 "For some of these climbers, it was the first time they tried a back squat or first time doing a bench press," said DiCristino. "So it's been a lot of instruction, making sure their form is good. Telling them, 'This is why you want to do this exercise at this time and with this amount of reps and sets.'" Kyra Condie and Nathaniel Coleman are both Olympic-qualified athletes living in Salt Lake City. DiCristino noted how since implementing these training programs, speed times are down, and overall performance is up.
It's all a learning process. Already an APTA board-certified orthopedic and sports clinical specialist, DiCristino is currently getting a strength and conditioning certification as well.