Team USA Rocks, Seven Advance to Lead Semis in World Cup
A great showing as three Olympians move to the next round
Heading out the door? Read this article on the new Outside+ app available now on iOS devices for members! Download the app.
The second Lead World Cup of the season began this morning in Villars, Switzerland. Leading the packs are Janja Garnbret (SLO) and Stefano Ghisolfi (ITA). Seven Americans will advance to semis: Natalia Grossman, Kyra Condie, Cloe Coscoy, Julia Duffy, Colin Duffy, Sean Bailey, and Nathaniel Coleman.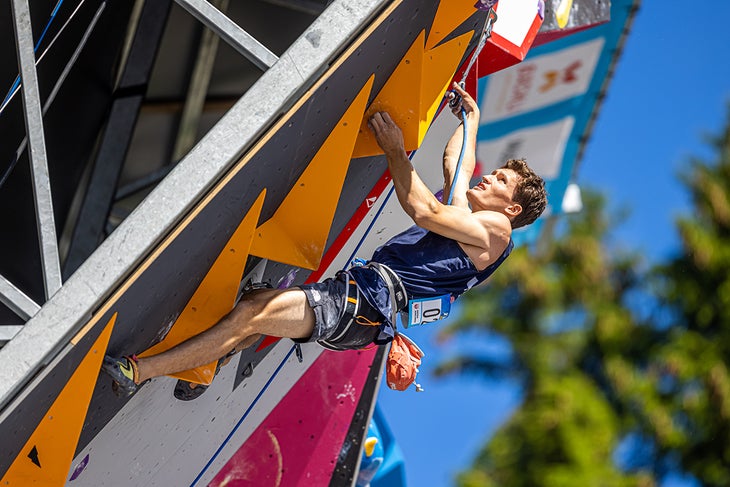 Results, schedule and links to the livestreams are below.
Women
1. Janja Garnbret (SLO)
2. Momoko Abe (JPN)
3. Lucka Rakovec (SLO)
4. Natalia Grossman (USA)
5. Mia Krampl (SLO)
6. Laura Rogora (ITA)
7. Aleksandra Totkova (BUL)
8. Dinara Fakhritdinova (RUS)
9. Salome Romain (FRA)
1o. Julia Chanourdie (FRA)
11. Tjasa Slemensek (SLO)
11. Vita Lukan (SLO)
13. Eva Maria Hammel Muller (AUT)
14. Kyra Condie (USA)
15. Fanny Gibert (FRA)
16. Lana Skusek (SLO)
17. Andrea Kumin (SUI)
18. Futaba Ito (JPN)
19. Miu Kakizaki (JPN)
19. Oriane Bertone (FRA)
21. Kathe Atkins (GER)
22. Julia Duffy (USA)
23. Julia Fiser (AUT)
24. Martina Demmel (GER)
25. Cloe Coscoy (USA)
26. Lucija Tarkus (SLO)
Men
1.Stefano Ghisolfi (ITA)
2. Alexander Megos (GER)
3. Sascha Lehmann (SUI)
4. Colin Duffy (USA)
5. Martin Bergant (SLO)
6. Paul Jenft (FRA)
7. Domen Skofic (SLO)
7. Kokoro Fujii (JPN)
7. Luka Potocar (SLO)
7. Sean Bailey (USA)
11. Satone Yoshida (JPN)
12. Alberto Gines Lopez (ESP)
13. Mathias Posch (AUT)
14. Dmitrii Fakirianov (RUS)
15. Hannes Puman (SWE)
15. Zento Murashita (JPN)
17. Nimrod Marcus (ISR)
18. Sohta Amagasa (JPN
19. Alberto Gotta (ITA)
19. Masahiro Higuchi (JPN)
19. Shuta Tanka (JPN)
19. Sebastian Halenke (GER)
23. Marcello Bombardi (ITA)
24. Victor Baudrand (CAN)
25. Nathaniel Coleman (USA)
26. Nicolas Collin (BEL)
Other U.S. placements: Maya Madere 39th, Ellis Ernsberger 32nd, and Timothy Kang 51st.
Schedule
Friday 2 July
1:00 am – 9:00 am Men's and Women's Lead qualifications
1:00 pm Men's and Women's Speed finals
2:00 pm Award Ceremony
Saturday 3 July
2:00 am – 4:30 am Men's and Women's Lead semi-finals
12:00 pm Men's Lead final
1:00 pm Women's Lead final
2:00 pm Award Ceremony