The Olympics So Far: Adam Ondra's Rare  Underdog Moment
Heading out the door? Read this article on the new Outside+ app available now on iOS devices for members! Download the app.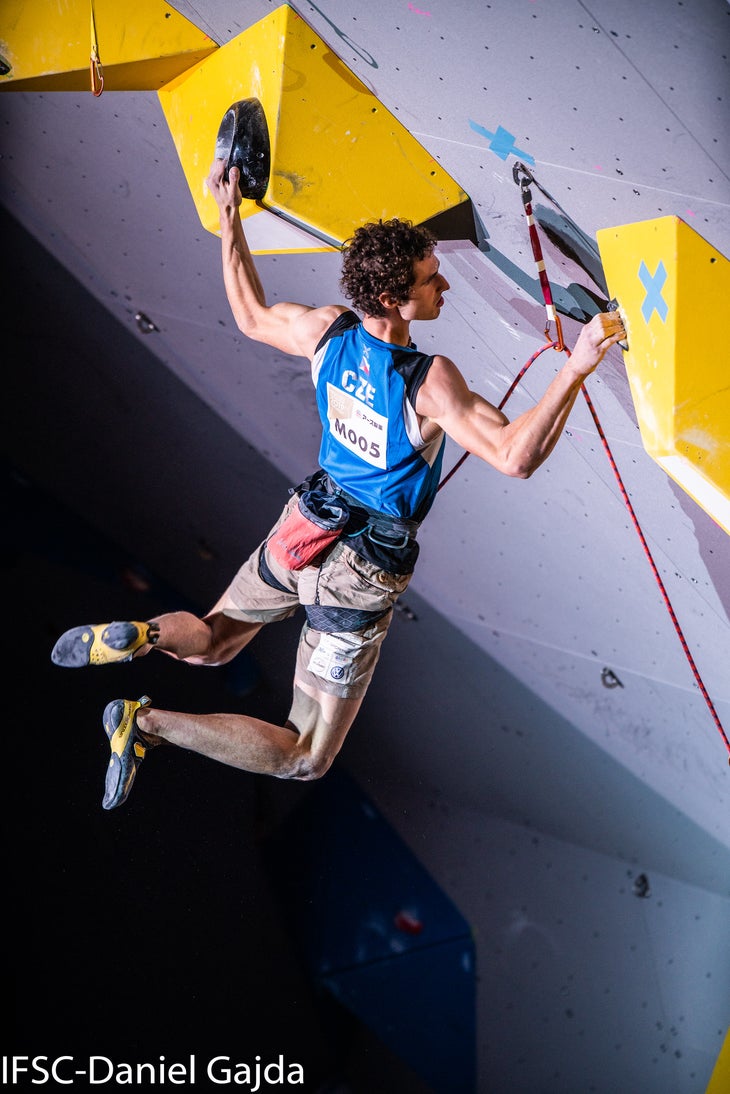 Even now, when rewatching Ondra's infamous lead attempt at the 2019 Hachoiji World Championships, it feels like the outcome might be different, like history will be rewritten: Ondra, climbing second-to-last, steps on a bolt with his right foot just a few meters off the ground (1:32.19 in the livestream). In the heat of the action, he was wrapped around an enormous, yellow, half-sphere volume and oblivious to the foul. It happened so fast that the livestream's commentators, Charlie Boscoe and Mike Langley, did not note the infraction and were ironically in the midst of a conversation about the logistics of Olympic qualification. "If Adam Ondra does really well on this route … he could be booking his place next year," Langley said shortly thereafter, adding, "It's a lot of ifs."
But in order to get the full story of Adam Ondra's prolonged Olympic qualification journey, we first have to travel back to 2016, when climbing was announced as an Olympic sport.
From the onset, Ondra, representing his home country of the Czech Republic, was thrust into the conversation as pundits clamored for his opinion on the Olympics' unique combined format. Ondra was forthcoming with his opinion that speed climbing, in particular, was "contrived," saying that the requisite repetitive training "doesn't have a lot in common with the climbing philosophy." He even suggested that he might boycott the 2020 Olympics.
That boycott did not happen and Ondra committed to Olympic training, despite feeling that "anything would be better than this combination [of disciplines]." In hindsight, his disdain for the format foreshadowed an inharmonious relationship that would follow him throughout the Olympic qualification pathway.
Ondra's negative sentiment did not stop many people from citing him as an Olympic favorite. "Speed climbing would likely be the only event standing between [Ondra] and an Olympic medal," this very magazine wrote back in 2016. That same year, Ondra won the gold medal in the lead discipline—and earned the silver medal in the bouldering discipline—at the IFSC World Championships, so it was hard to argue that Ondra would not be Olympic bound.
The following year, 2017, Ondra climbed the hardest outdoor route in history, a 5.15d line with a V15 megacrux called Silence, in Flatanger, Norway. Never mind that competition climbing and hard outdoor sends are, in some ways, apples and oranges; it was still Ondra climbing epically. The fact was, Adam Ondra was the best rock climber in the world and possibly the best climber ever. He then added to his credentials by placing second in the newfangled combined discipline at the IFSC World Championships in 2018—a discipline that included speed climbing, as a preparatory measure for the looming 2020 Olympics.
Despite disliking speed climbing, Ondra was following the course that many expected he would. He even worked to improve at speed climbing by getting personal lessons from former speed world record holder and Czech national team coach Libor Hroza.
Ondra, the top dog of climbing, was seemingly doing everything right; he was on track for the Olympics.
Then the World Championships happened. Even Ondra's performance in early portions of the event is fascinating in hindsight, perhaps predictive too. He placed sixth in the bouldering qualification segment of the combined discipline, fairly low by his elite standards. Worse, he placed 20th in the speed climbing qualification segment, a performance that Boscoe aptly called "an absolute disaster."
At the conclusion of the event, those results and the micro-mistakes therein amalgamated to create an outcome many fans had not yet considered: Adam Ondra did not qualify for the Olympics.
The unstoppable Ondra was quickly recast by the media—including his own YouTube channel—as vulnerable. "It sucks—I have to change the plans completely," he revealed in his Road to Tokyo episode following Hachioji. "There are so many different factors in the competitions in our sport which can go wrong, and obviously [at the World Championships] it did go really wrong." In that video, Ondra is crestfallen, even teary-eyed as he is forced to come to grips with his Olympic qualification failure.
Ondra's emotional reveal coincided with a swerve in his own narrative. Rather than sitting comfortably—even expectedly—with an Olympic berth, he had to eye the next Olympic qualification opportunity, to be held in Toulouse, France, approximately three months later. Even now, with more distance, Ondra admits, "I was definitely devastated [after Hachioji], and it took a very long time to actually swallow that it actually happened and that I actually really had to go to Toulouse and get ready for [another Olympic qualification event]."
Another opportunity meant added expectations for Ondra—self-imposed or otherwise. He'd have to turn the World Championships' negative into a positive. "The pressure was so much higher for Toulouse compared to Hachioji," he recalls. "Everybody in Hachioji thought, 'Yeah, if it doesn't work out, I can have a second chance in Toulouse.' But in Toulouse, it was like the game was on—and all the pressure was on me. In some way, if I didn't get qualified, it would be embarrassing, and that was a kind of pressure that might even be higher than the Olympics itself—which, I think, is why I see it as almost a positive thing."
Ondra was feeling better than ever when the Toulouse competition finally arrived, but mentally he knew it would offer a unique challenge. He would later admit that the goal there was not necessarily to win, but just to climb "good enough" to qualify for the Olympics. "In other words, all I had to do was not mess up," he would say. "And it was more important to arrive in Toulouse relaxed more than in top physical shape. I still think that I arrived in Toulouse in really, really good physical shape—especially for lead—but I arrived nervous."
Ondra experienced additional woes in Toulouse in the form of physical sickness. The night before the competition's second day he experienced a bad stomach ache, headache, and back pain, calling it "probably some kind of flu." As the other athletes warmed up in isolation the next morning, he reclined on a mattress. "I was pretty sure I would not compete," he said. "I could barely get out of my bed, but there was a still a little doubt if eighth place in the finals would be enough [to qualify for the Olympics]. Nobody could really confirm me that."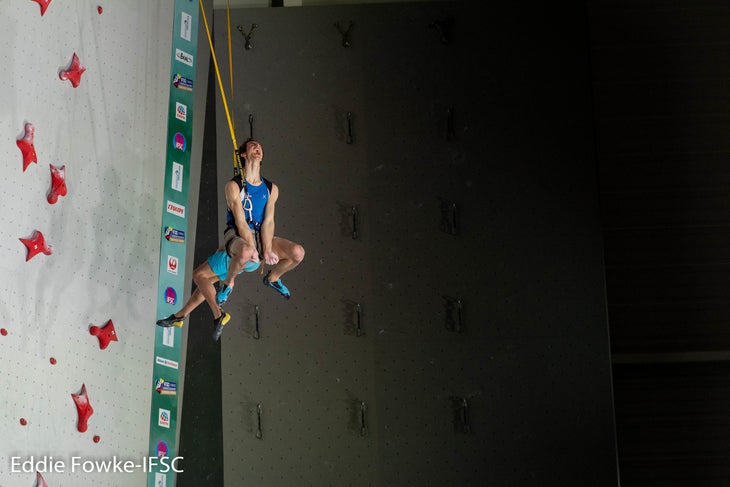 Not being sure whether he had already clinched an Olympic berth with his performance the previous day, Ondra mustered the strength to take part in one speed climbing run in the finals—but did not even record a time. He then withdrew from the discipline to conserve energy. He rallied in the other disciplines, placing third in the bouldering portion and winning the lead portion—all while sick.
Once the scores for all disciplines were multiplied, Ondra earned second place overall at Toulouse—good enough to secure that coveted Olympic berth that had alluded him, all predicated on a combined Olympic format that had exasperated him for the better part of four years.
A greater story than his Olympic qualification, however, was the new version of Ondra that came to light along the way. Formerly a force of nature, we were now allowed to consider Ondra as a protagonist who had been nearly overcome by the weight of his own quest. The chronicle of competitive climbing had acted as a myth, and Ondra's plight through continual frustration, a costly foul, nervousness, and untimely illness had been a hero's journey. It is only now, in reflection, that we can appreciate the roadblocks.
That is not to imply that Ondra, himself, is reflective. For instance, he does not rank Olympic qualification very high on his list of personal accomplishments: "It's more like I did my duty," he says matter-of-factly. "It's a huge relief. But now it's time to look forward."
But in looking forward, we can accept that Ondra's Olympic qualification might very well be a career-defining achievement, precisely because it entailed getting shut down and then fighting back.
Who knew that Ondra, the world's best climber on a wall, would be even more compelling on the ground?
John Burgman is the author of High Drama: The Rise, Fall, and Rebirth of American Competition Climbing, which chronicles the history of American competition climbing and will be available March 3, 2020.