What's It's Like: A Day Behind the Curtain With Team USA.
A day in the USAC Training Center
Photo: Jess Talley/Louder Than 11
Heading out the door? Read this article on the new Outside+ app available now on iOS devices for members! Download the app.
This article is free and was published in the summer edition of Gym Climber. For the latest Olympic coverage and news, join us with with an Outside+ membership and you you'll enjoy a print subscription to Climbing and receive our annual coffee-table edition of Ascent. Please join the Climbing team today.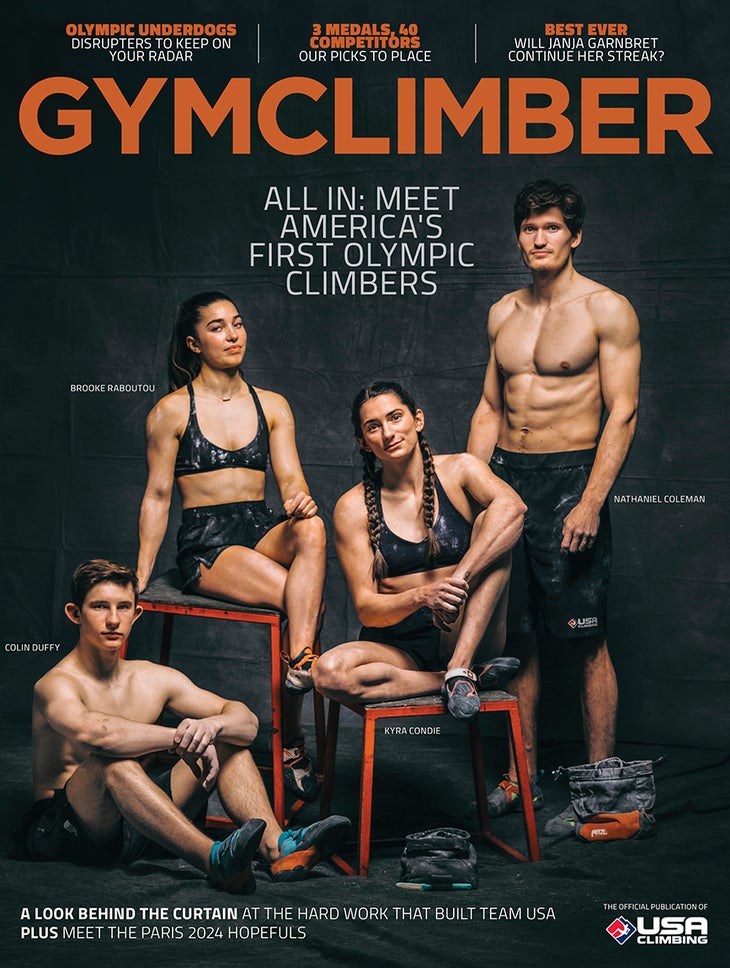 A typical day at the Team USA training center in Salt Lake City includes two sessions: morning and afternoon. The first session is from 9 to noon. During Gym Climber's visit, it being the era of Covid, everyone had to get a temperature reading, sanitize their hands and sign the logbook.
The morning session, like the afternoon session, can include everything from speed work, cross training, bouldering, or lead/speed climbing at Momentum. Because the training center doesn't have a lead or full speed wall, local gyms kindly allow the team to use their facilities. In fact, Gym Climber associate editor and former comp climber Delaney Miller and I arrived on a Sunday afternoon and beelined straight to Momentum for a quick sesh. We ran into John Brosler, the current U.S. Speed record holder, and Allison Vest, hard at work. Both are training center (TC)  regulars.
Around noon the athletes go home, eat lunch, play video games, study for exams, or, if you are Sienna Kopf, do some software coding. Kopf writes software for her job.
In the morning, Josh Larson, Zack DiCristino, and Meg Coyne arrive before the athletes, sip coffee, check email, and discuss the day's plan.  Someone takes a call and escapes around a corner. There is a lot of business to be had—meetings with the USPOC, Zoom chats, other media, etc. A long, farmhouse-style table corrals the group. The table is littered with charger cords, coffee cups, and protein-bar wrappers. I think I remember seeing an empty box of pastries from a local French cafe, but I could have been hallucinating. Adjacent the table is a massage chair, the kind you see in airports, except this is the deluxe edition. The chair is black and must have NASA technology. It's so good you have to hide the smile when it does its thing.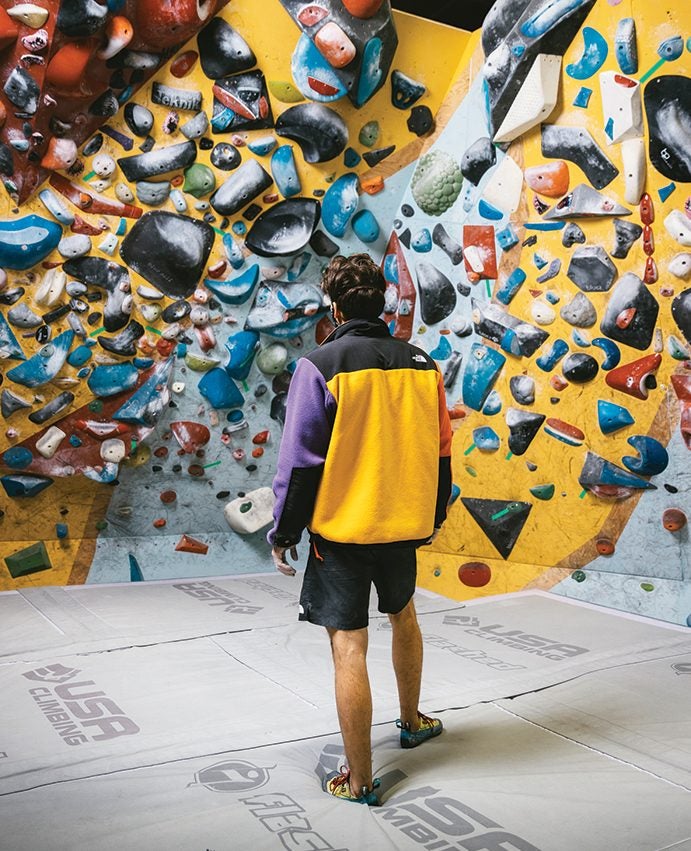 Despite the TC being surrounded on all sides by construction and industrial warehouses, it's quiet. When the athletes show up, they know what to do—start warming up. For that, they use the spray wall, a bouldering wall smattered with medium to forget-about-it-tiny holds. The athletes put down their bags, stretch, do some problems, check their phones. Slowly, the place comes alive with clanging metal and bodies hitting the mats. Josh gets asked to make up a problem for someone, which he does in seconds. Zack works on a sore shoulder. Meg hops on a call. When the athletes leave, the coaches and staff either continue to work there or escape for a sec to get some food. Nearby food is abundant and good. A favorite is a Japanese market with lunchtime sushi, which unfortunately was sold out by the time I got there. However, when visiting Japanese climber and bouldering World Cup champion Miho Nonaka came through town, she visited the market and her and the owner hit it off. Apparently, the owner can now identify climbers by their chalky hands, and climbers give her no small amount of business.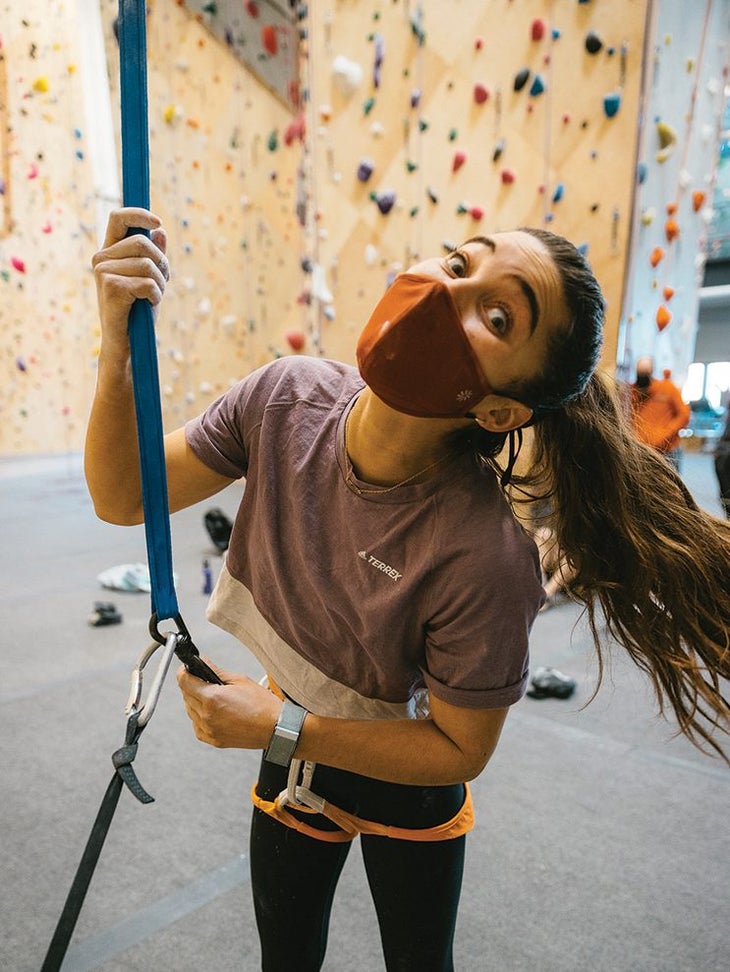 The second session is from 4 to 7. On one day, Condie and Coleman did their benchmark testing in the morning, which was full-on max exertion—one arms, deadhangs on crimps, etc., and then partook in a mock bouldering comp at night. Any one of those sessions by itself would have had me angling for the hot tub and masseuse.
For the mock competition, the music was loud, the problems hard, and some people who were not there in the morning showed up. Kai Lightner, for instance, came through and chalked up. The setters hung around, likely to watch the suitors solve their puzzles, and puzzles they were. One problem that gave the best of the best real trouble had a giant round volume, measuring about 4-by-4 feet. You had to do some tech to get there, but once you were on the volume, it was pure heinous topout, except it was vertical, which meant you had to press the giant blob with horrible sloping feet. Sean Bailey, Nathaniel Coleman, Ben Hanna—everyone repeatedly hit the mats on this one. I heard it did get topped, but I never saw it done.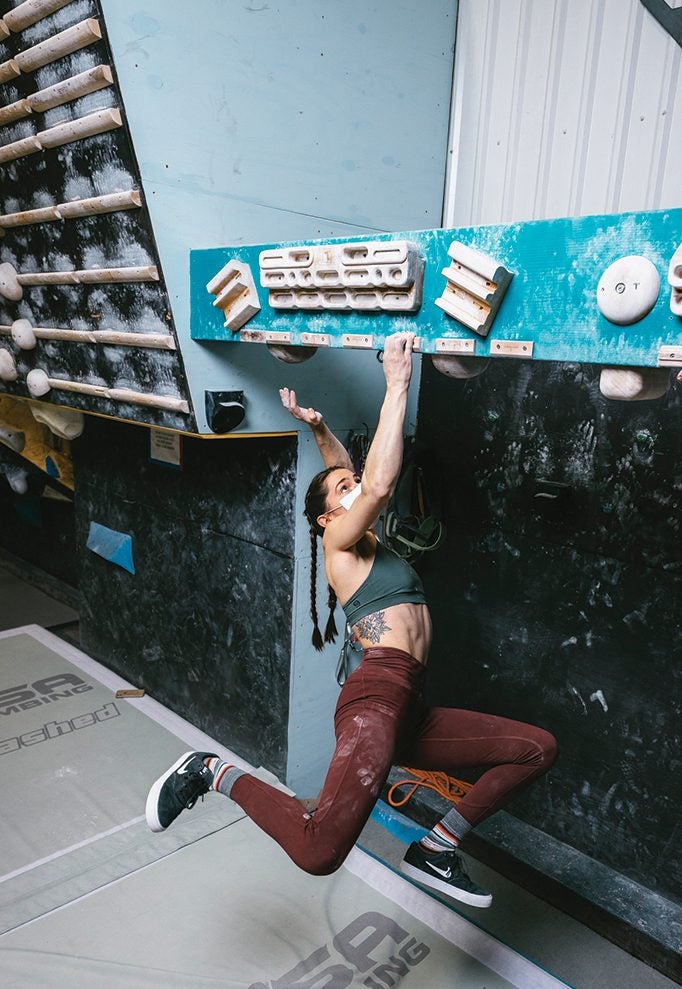 Since only two of the four qualified Olympians live in Salt Lake, I was told the full team gets together every six weeks or so, depending on increasingly hectic schedules, to train as a group. On one such occasion, Larson, Condie and Coleman traveled to ABC to train with Duffy and Raboutou. Larson compared notes with Ryan Arment—who spearheads Colin Duffy's training directly and is part of Brooke's coaching—and Chris Danielson, who also works with Brooke and was that day having the four Olympians move through an agility and balance workout. Danielson has 20-plus years experience as a route setter, and is an IFSC International Chief Routesetter. Like many of those helping train current and next-gen competitive athletes, a background in setting and coaching is proving essential. During the session at ABC, we—meaning the staff at Gym Climber—annoyed the Olympians with an extended photo shoot (see current cover) and kept them from lunch. I think I heard some complaints about being "starving." That made me happy. They had the right priorities.