Unreal—Another Gold for Sean Bailey, That's Two In a Row
Yet another powerhouse performance from Team USA, with the usual stars shining and Ashima Shiraishi proving she has the stuff for World Cups.
Heading out the door? Read this article on the new Outside+ app available now on iOS devices for members! Download the app.
Team USA continued its dream season at this weekend's Lead World Cup event in Chamonix, France. In the men's division, Sean Bailey cruised into the semi-final round below some heavy-hitters in the scores: Slovenia's Domen Skofic, Spain's Alberto Ginés López, and qualification leader Yoshida Satone of Japan, to name a few. Bailey steadily worked up the rankings throughout the semi-finals—ultimately surpassing Skofic, Ginés López, and Satone in the scores to advance to the finals in fifth place. 
The finals route, described by commentator Hamish McArthur as "an absolute beast," did not feature any gimme sections: France's Paul Jenft fell fairly low from a foot slip; Canada's Victor Baudrand climbed well (in his first lead final, no less) but eventually sloughed off while compressed in an undercling crux a little farther up. 
But Bailey seemed unfazed by the route's tricky lower and mid-sections. He eventually progressed through a higher crux—a blocked edge on which he incredibly managed to employ a precarious kneebar—before falling just shy of the headwall (for a final score of 34+). It was enough to earn the gold medal—Bailey's second in a row. Below Bailey in the scores were Italy's Stefano Ghisolfi with the silver medal and the Czech Republic's Martin Stranik with the bronze—both of whom fell at that kneebar crux.   
In the women's division, Bailey's American compatriot Natalia Grossman had a fantastic weekend as well. She topped one of the qualification routes, topped the semi-finals route (to finish that round in first place), and came close to topping the finals route too. On the headwall in the finals, Grossman had to work particularly hard to clip one of the quickdraws; she eventually downclimbed a bit to clip from a lower angle. The degree to which such downclimbing might have zapped Grossman of some energy will be a fun aspect for fans to discuss this week. But in the end, Grossman fell reaching for the 42nd hold, shortly after successfully making the awkward clip, and only two moves from the finishing hold. The effort earned Grossman a silver medal.  
The women's winner was Italy's Laura Rogora, who not only advanced beyond the clipping point that troubled Grossman, but also managed to land the route's dynamic final move. This event in Chamonix was Rogora's last competition before the Olympics, so the victory likely gives her some confidence as she prepares to head to Tokyo. Rounding out the women's podium was Bulgaria's Aleksandra Totkova with the bronze medal.  
There's a lot more to talk about, so here are some additional highs and lows from the World Cup at Chamonix. Results are listed at the bottom of the article. 
HIGHS
Shiraishi shines: With all the Olympic hype and the recent gold medals for Sean Bailey and Natalia Grossman, it's easy to lose sight of the fact that Team USA's Ashima Shiraishi is having a great year in her own right. She had an exceptional performance at the National Team Trials at the end of March—where she narrowly missed a spot on a podium—and finished in seventh place at Chamonix. She has not been as active on the lead World Cup circuit (thus far) as other Americans this year, but her performance this weekend proves she is certainly in top form. 
Totkova gets better and better: I'm beginning to sound like a broken record with my repeated praise of Bulgaria's Aleksandra Totkova, but that's just because she continues to improve with each event, literally: 18th place at Innsbruck, then sixth place at Villars, and now a podium (third place) in Chamonix. Looking at those statistics, it seems only a matter of time until she wins at a World Cup. 
Welcome, Van Essen: The Netherlands' Sabina Van Essen is only 15 years old, but she managed to advance through the qualification round and finish in 15th place at Chamonix. Some people are speculating that she might be the next prodigy…phenom…whatever verbiage you want to use. That remains to be seen, but she showed at this competition that she can hang with (and beat) many competitors with far more experience.  
Power screams galore: The Czech Republic's Adam Ondra has received a lot of attention for his epic power screams over the years. He wasn't present at Chamonix, but plenty of competitors were happy to take up the mantle. Switzerland's Michelle Hulliger kicked off the women's semi-finals with some fantastic bellowing; Germany's Christoph Hanke gave some epic screams of his own moments later on the men's route, and other competitors—Hannes Puman of Sweden, for instance—continued the screaming trend throughout the weekend. I don't know if the microphones around the wall were situated differently or something, but the shouts were more noticeable compared to previous World Cups. All the vocal try-hard really enhanced each round. 
Adamovska downclimbs, no problem: It's worth mentioning another instance of downclimbing, which occurred in the semi-finals. The Czech Republic's Eliska Adamovska worked up to a slim crimp beneath the headwall, but decided to downclimb several moves to find a good resting position. On commentary, Campbell Harrison noted that Adamovska was "making a decision to climb backwards—which is fairly taboo in competition climbing." Harrison was right; it should have led to pumpy doom for Adamovska, but she rested as planned and eventually cruised to the top (yet timed out on the 54th hold). Adamovska made the downclimb work for her, and isn't that ultimately what climbing movement is all about?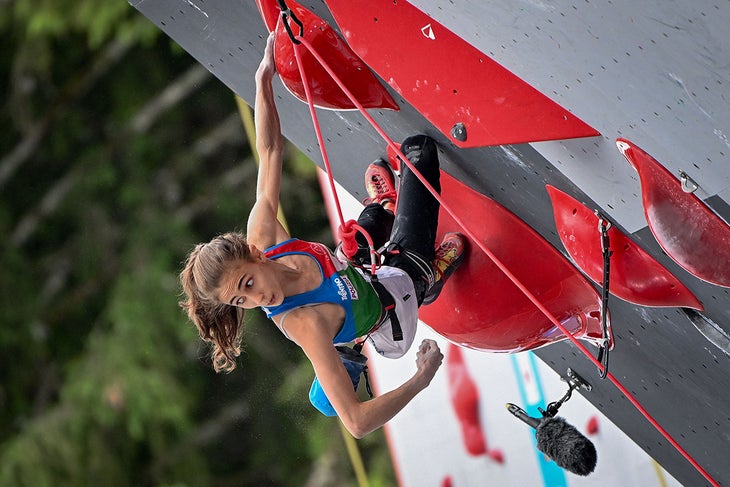 LOWS
Too many tops: The men's and women's finals routes created perfect separation, but the women's semi-finals route was a totally different story. All eight women who advanced to the finals topped the semi-finals route. I've praised the routesetting frequently this World Cup season, but let's call the women's semi-finals route at Chamonix what it was: grossly undercooked. 
Sorry, Arc: To that point, spare a thought for France's Nolwenn Arc, who also topped the women's semi-finals route—but finished in ninth place, thus not advancing to the finals. 
Bad streams: This was the second World Cup in a row that has had major issues with its livestream. Viewers watching YouTube missed out on seeing the entire attempt by Russia's Dinara Fakhritdinova in the women's final. That was really unfortunate because Fakhritdinova is a veteran with a sizable fan base. Sure, the weather has been bad at the respective venues during the recent World Cup events—and that has likely contributed to the stream woes. But let's hope the rest of the season isn't plagued by such abrupt and prolonged drops of the livestream. New fans and potential fans alike probably won't have the patience to put up with such a thing.  
The bolt bug strikes: There were several moments in which it looked as if competitors had stepped on bolts during their climbs. The most costly instance would have been that of Laura Rogora; fans speculated that she might have toed a bolt as she progressed to the top of the women's finals route. It was ultimately decided that she had not. But Australia's Campbell Harrison found himself with a different fate, as it was determined that he had inadvertently stepped on a bolt on one of the men's qualification routes. "This is the first time in almost 10 years of international competition that this has happened to me," he reflected on Instagram. It all adds to the hope that officials can decide on an effective bolt cover and make such covers standard on all routes at some point soon. 
AMERICAN MISCELLANEOUS
Bailey, Grossman, and Shiraishi were the members of Team USA that shined in the final rounds, but other Americans had solid weekends too. The full results for members of Team USA are as follows: In the women's division below Grossman and Shiraishi (second place and seventh place, respectively), Julia Duffy placed 41st, Cloe Coscoy placed 55th, and Maya Madere placed 60th. In the men's division below Bailey in first place, Ellis Ernsberger placed 21st, Ross Fulkerson placed 27th, and Timothy Kang placed 49th. 
Results 
Women
Laura Rogora (ITA)

Natalia Grossman (USA)

Aleksandra Totkova (BUL)

Vita Lukan (SLO)

Natsuki Tanii (JPN)

Julia Chanourdie (FRA)

Ashima Shiraishi (USA)

Dinara Fakhritdinova (RUS)
Men
Sean Bailey (USA)

Stefano Ghisolfi (ITA)

Martin Stranik (CZE)

Sascha Lehmann (SUI)

Victor Baudrand (CAN)

Marcello Bombardi (ITA)

Luka Potocar (SLO)

Paul Jenft