What It's Like Being the Coach of Team USA. A Day With Josh Larson
Photo: Jess Talley / Louder Than 11
Heading out the door? Read this article on the new Outside+ app available now on iOS devices for members! Download the app.
This article was published in the summer edition of Gym Climber, available for free at your local climbing gym.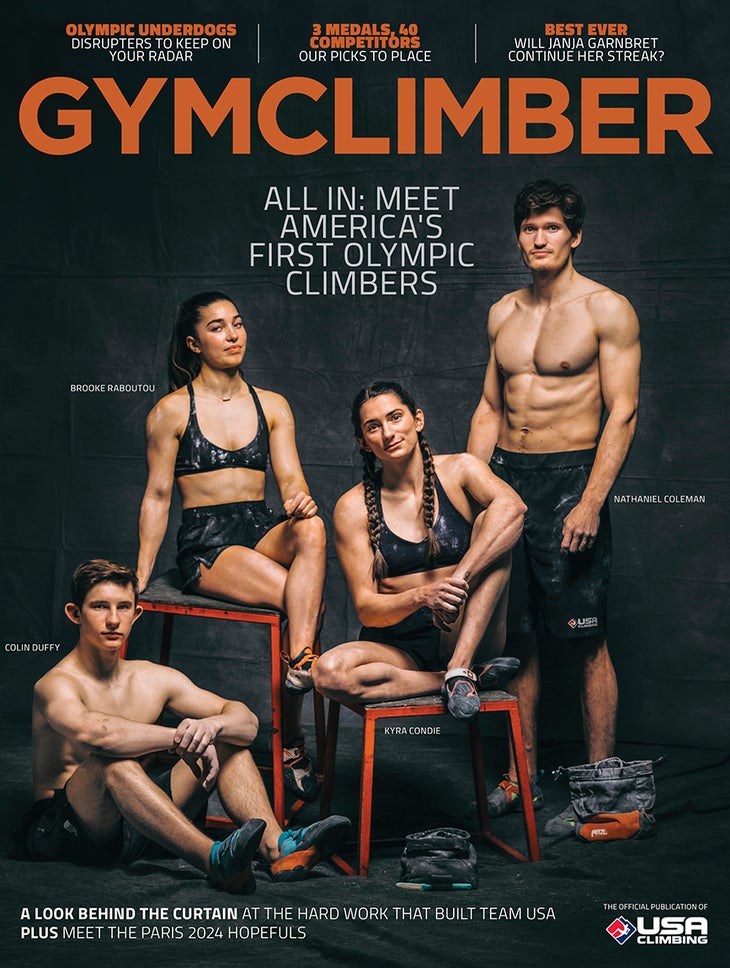 It is said a good sculptor looks five times and strikes once. Mistakes are costly in stone. Mistakes are also costly when you are coaching first-time Olympians.
It seems no person knows that better than Team USA head coach Josh Larson. Most might think an Olympic head coach would be a gray-haired, whistle-toting, clipboard-afficionado who paces in front of athletes like someone who is trying hard to impart something the athletes don't know. Who yells semi-frequently. Who says with no mincing of words what athletes are doing wrong. You know, the coach in the movies. Larson doesn't do that. And it's working.
Larson is directly responsible for training qualified Olympians, Nathaniel Coleman and Kyra Condie, both of whom live in Salt Lake. Brooke Raboutou and Colin Duffy, the two other qualified Olympians, train under Ryan Arment and Chris Danielson, among others, at ABC Kids Climbing in Boulder, Colorado.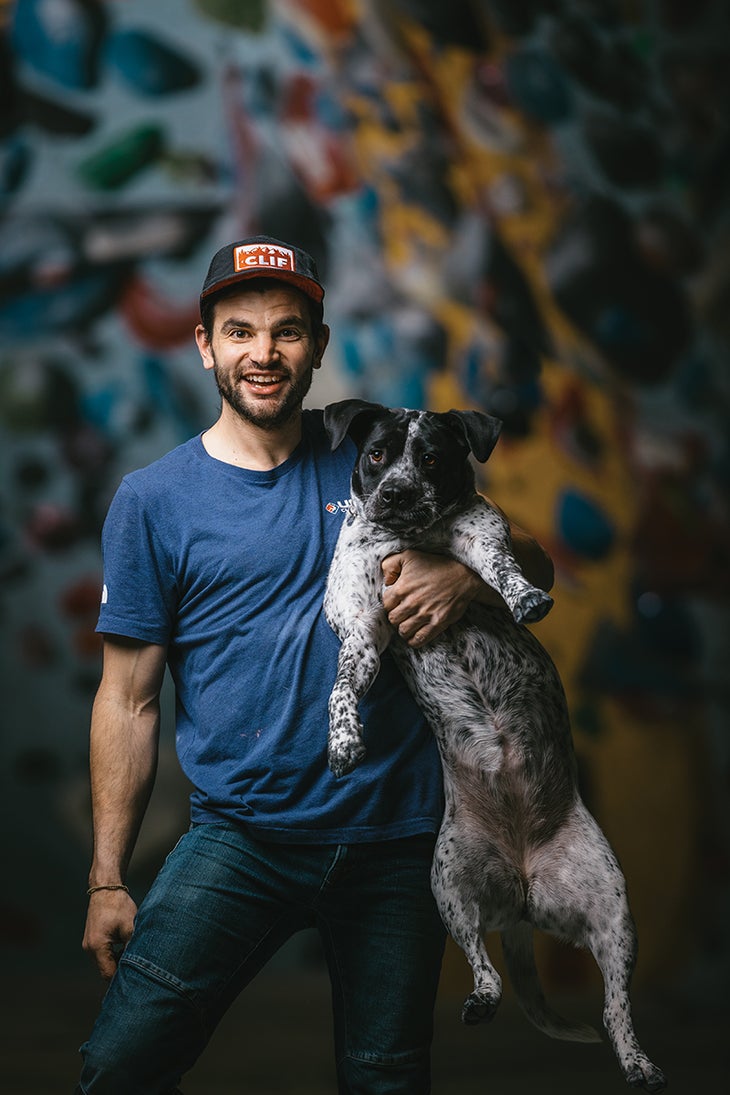 When I asked Nathaniel Coleman about Larson, Coleman didn't miss a beat: "Josh is a hard worker. He is committed to being our coach. He puts in a lot of hours, just hanging out being there for us, while we are training. And then he puts in more hours when we are at home resting to set new boulders. Josh and Zack have been a great duo in coming up with my training plan. It's been nice to let them handle it. I trust that they know how to train me, how to make me stronger. And that gives me the ability to come to every session confident that what I am doing is right, which is something that is harder to do if you are making your own training plan."
I spent two days watching Larson coach not just qualified Olympians, but potential 2024 competitors and individual team members: Ben Hanna, Quinn Mason, Natalia Grossman, Cloe Coscoy, Thea Wulff, Maya Madere. Others came and went as well.
He was also showing them that the training was working.
Like all successful coaches, Larson is effective on a lot of levels, all for different reasons. Larson coaches with nudges, hints, pats on the back, suggestions, a keen eye, good timing and, being an excellent climber himself, first-hand knowledge of the sport. Coaching or at dinner, he chooses his words carefully. His presence is neither heavy nor light. He sits down next to athletes. He looks them in the eyes. He makes them laugh. They return the gesture. He has their respect. Larson is serious, but quick to laugh.
Larson looks tired, but who wouldn't be. The difficulty of creating a tight-knit community of climbers who train, cheer and compete against each other is no easy task. That he is starting, along with assistant coach Meg Coyne and Zack DiCristino, and Team USA and USAC staff, an Olympic program from scratch should not be forgotten either.
For the time being, Larson is living and breathing his job. He lives down the street with his wife, Charlotte Durif, also a former competitor and crusher, in a cozy neighborhood. His home is cozy and spacious, a large countertop anchoring the kitchen. Larson is at the TC six days a week.
One morning, Larson had the athletes do some benchmark strength testing: one-arm pull-ups, one-arm deadhangs, squats, bench, etc. The two athletes he was testing—Condie and Coleman—were at the beginning of a training cycle, and the benchmarks would show progress. Coleman cranked out 7.5 one-arms, for instance, to his fellow teammates cheering him on. Condie did one-arm deadhangs on what I think was an 8 or 10 mil edge. I never had such an intense feeling of finger-strength envy.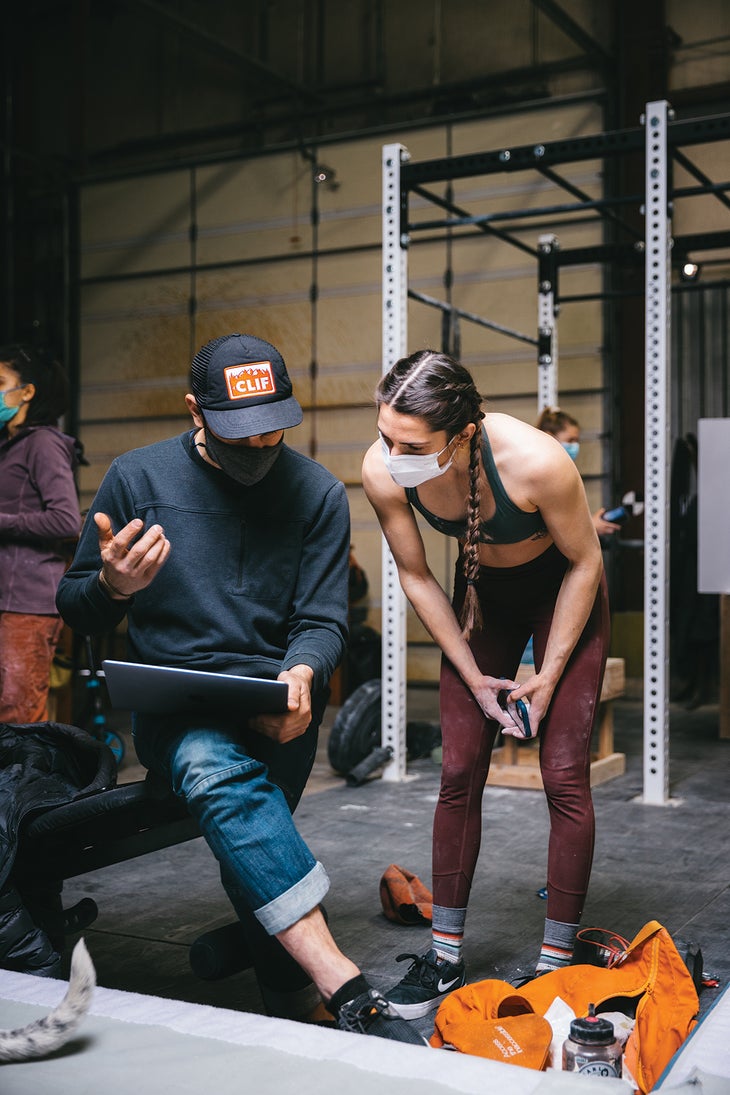 MacBook in hand, Larson sat down on the mats and pointed out their progress. The point of clueing them into the process was subtle—he wanted the athletes to be invested in their training, to see the progress like he did. He was also showing them that the training was working. The latter purpose shouldn't be overlooked, as Coleman and Condie are relatively new to Larson.
According to Larson, their program was part of what seemed to be a semi-standardized USOPC training protocol he and DiCristino were implementing into the climbing program, i.e., workouts and benchmarks shared across all U.S. Olympians. The interface between the USOPC and USA Climbing is just starting to gather complexity. The climbing Olympic program is in its infancy, and if Larson, like many of the USAC staff, is experiencing what we can call growing pains, he is handling them with class.