(Almost) Spring Break
10 Must-Have Items for Desert Cragging at Red Rock Canyon, Nevada
Deep in the doldrums of February, it's hard to believe in the possibility of warm, recreational cragging—at least not anywhere that doesn't end in the word "gym." Winter has dragged on forever, and you've started to wonder, Will the sun ever come out again?
Fortunately, there is a sunny oasis in the American Southwest where you can get a reliable late-winter/early-spring cragging fix: Red Rock Canyon National Conservation Area (aka Red Rock, aka Red Rocks) just west of Las Vegas, Nevada. Vegas only sees 4.13 inches of rain a year—and the occasional snowstorm—but the best part is, the average high in February is a pleasant 67 degrees, with loads of sunny days. Climbing temps are perfect, and the red, brown, black, white, and orange Aztec sandstone crags are relatively empty ahead of the spring-break rush.
Red Rock is home to some of America's original overhanging sport climbs, such as the crowd-pleaser jug haul Fear and Loathing, which went up in the late 1980s and showed just how climbable featured rock at that angle actually was. The showcase area is certainly the Gallery/Wall of Confusion, with 30 south-facing climbs from 5.10 to 5.13 on incut, finger-friendly edges up overhanging swells. But there are tons of similar and similarly excellent cragging options—sport, trad, and mixed—spread throughout the Calico Hills, such as the introductory leads at the popular Panty Wall, the rope-stretching 5.11+ crimpfests on the iron rock of the Running Man Area, the perpetually busy face climbs of the Black Corridor, and the bouldery bulges of the Trophy Wall and Sunny and Steep. Red Rock is also known, of course, for its brilliant multi-pitch climbs and bouldering, most of which are in season in February save the north-facing walls high in the canyons.
More than just the climbing, though, Red Rock is a great hang. As you stroll through the cool shade of its wind- and water-hewn canyons, marveling at the multihued, psychedelically sculpted boulders strewn amidst hearty desert cacti and succulents, you can't help but decompress. You can't see or hear the city, the air is warm, life is good, and there's sunny rock up ahead to climb—what more could you ask for in a late-winter destination? (For more sport-climbing gear, visit Backcountry.com.)
Trango Beta Stick Compact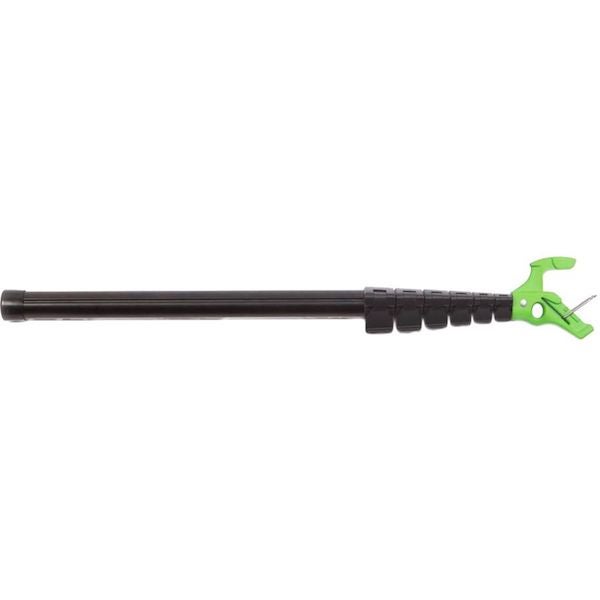 First bolts can be high at Red Rock, a relic of thrifty 1980s and '90s bolting. And the starts can be undercut and in your face—you'll want a stick clip to rig your rope through the first bolt or two. The Beta Stick is a collapsible/telescoping stick that, in the Compact version, shrinks down to 2.2 feet to lash easily to your pack or clip to your harness, and then extends out to 9 feet, plenty of length for tagging those high opening bolts at the Gallery. (The Standard version collapses to 2.75 feet and extends to 12.) The head lets you easily clip a draw onto a bolt, drop your rope into a pre-hung draw, or even clean out-of-reach holds with an M16 brush.
Black Diamond Creek 35L Backpack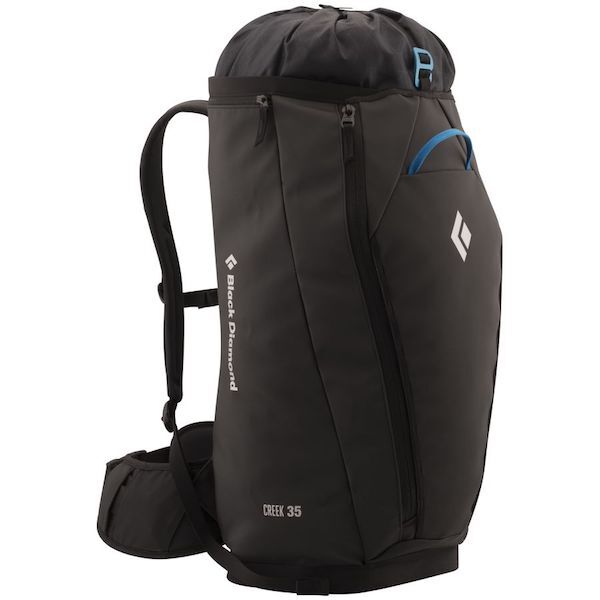 Approaches at Red Rock aren't that long, but they can be rough, threading through sand traps, patches of thorny desert shrub, and tight, boulder-filled corridors. You want a comfy, hardy crag pack that can stand up to abuse without scuffing or tearing—and that's also big enough to carry your kit. At 35 liters, the top-loading Creek 35L—which also has an easy-access, full-length front/side zipper and a zippered front flap with organizer pockets for sundries—handily carries harness, draws, chalk bag, rack, water, extra clothes, and snacks/guidebook, with a lash-down strap for rope carry and stowable rain hood for rain protection/helmet carry up top. Meanwhile, the body of this 3-pound, 11-ounce bag is made of 1200 polyester with TPU coating—haulbag toughness for those rugged approaches.
Black Diamond Creek 35L Backpack
Evolv Cruzer Psyche Approach Shoe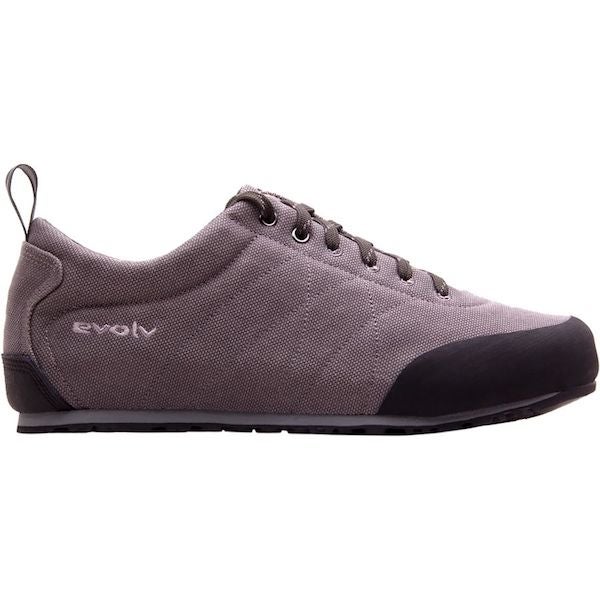 Getting to the crags at Red Rock usually involves more agility than slogging—sticking to grainy slabs, stemming across gaps, downclimbing through slots, etc. Your go-to should be a light, grippy pair of approachers like the Cruzer Psyche (only 8.4 ounces per shoe for women's size 7). With an airy cotton-canvas upper, waffle-pattern Trax Enduro outsole, and a sticky-rubber toecap for jamming and piggy protection, these skate-shoe-style lace-ups are made for technical terrain. You also get a touch of support with the soft, porous EVA foam midsole, plus heel-tab clip-off loops to use the Cruzer Psyches as multi-pitch descent shoes. The shoes come in men's and women's versions.
Evolv Cruzer Psyche Approach Shoe
Edelrid Boa Eco Climbing Rope – 9.8mm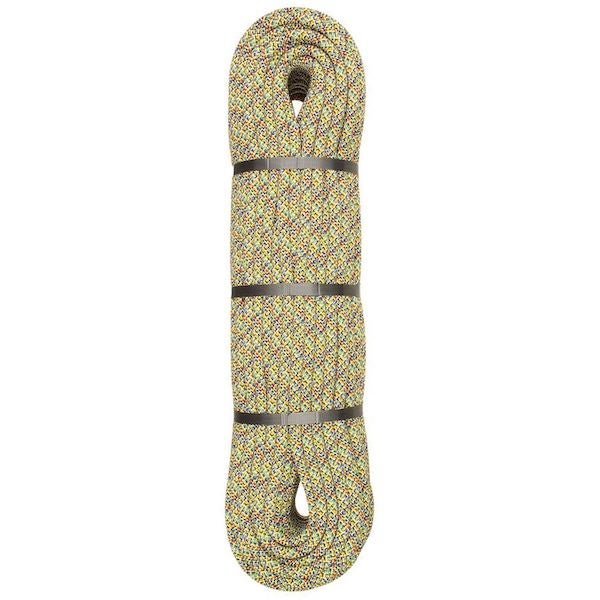 Few brands do "green" with as much dedication as Edelrid, who have built a bomber, reliable sport- and trad-climbing rope, the Boa Eco, made solely with yarns leftover from rope manufacture, meaning each Eco you buy also has its own unique color scheme. At 9.8mm, the Boa Eco is a perfect diameter for cragging—not too fat but not so skinny you'll worry about abrasion on Red Rock's grainy sandstone. The rope has a supple hand and feeds great through all devices, with a nice, soft catch (32 percent dynamic elongation) when you pump out on those iron-rock crimps. The Boa Eco weighs 62 g/m.
Metolius Bravo Keylock Quickdraw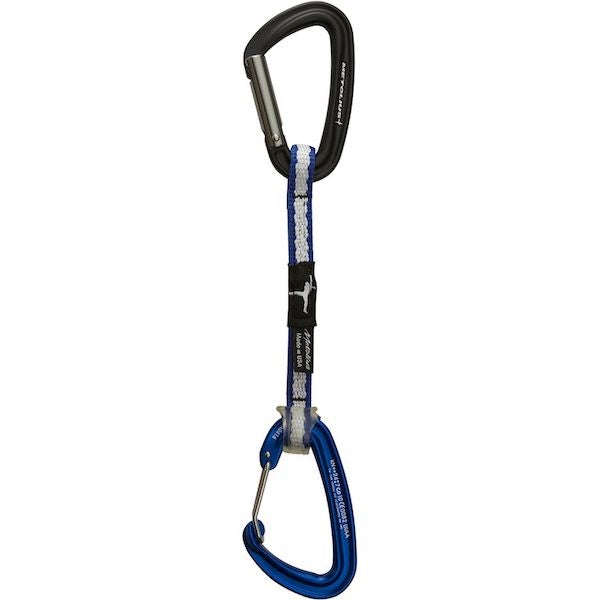 You'll want a workhorse draw at Red Rock, something overbuilt so it can withstand the grainy rock and windblown sand that seems to get everywhere and can gum-up climbing gear. The Bravo Keylock ticks that box, with a beefy Bravo keylock top biner designed for snag-free clipping, hard-wearing, double-layered 14mm dogbone, and a quick-snapping wiregate rope-side 'biner with a flared nose so your cord drops in smoothly and the gate stays shut. The draw is rated to an impressive 22 kN, but still only weighs 3.1 ounces. A rack of 10–12 of these bad boys will get you up most sport pitches in the Calico Hills.
Metolius Bravo Keylock Quickdraw
Five Ten Anasazi VCS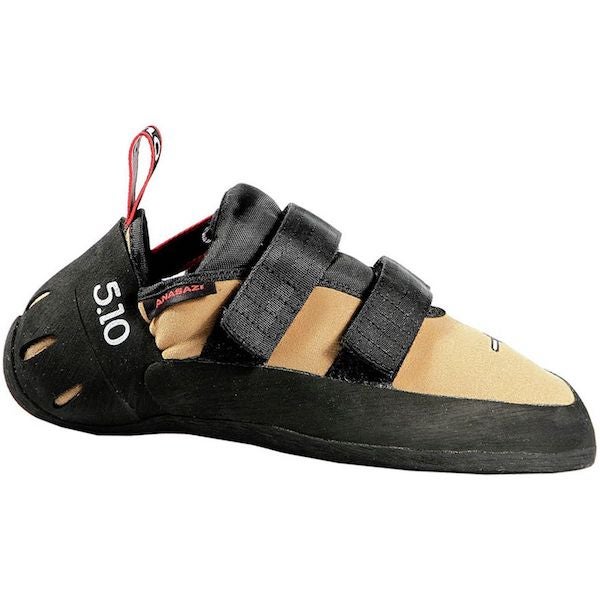 Red Rock will throw everything at you—splitter cracks up varnished corners, iron-rock slabs and vert faces on crimps and nubbins, cavey climbs up rounded jugs on white-and-tan sandstone, and the area's famous über-steep, toe-in-or-fall incut-crimp lines on, well, red rock (e.g., The Gift). Save space in your pack by bringing a performance shoe that can do it all, like the medium-stiff, mildly downturned Anasazi VCS. Made with a synthetic Cowdura upper, the VCS has a low-stretch, low-key, ergonomic last that adheres to your foot, with the Anasazi's classic pointy toe for small-hold precision. Coupled with the Onyxx outsole (think: edging compound) and double hook-and-loop closures that let you custom-ratchet fit, this spells performance across all the flavors of Red Rock stone, but particularly for the edging that's a staple here.
Petzl Grigri Belay Device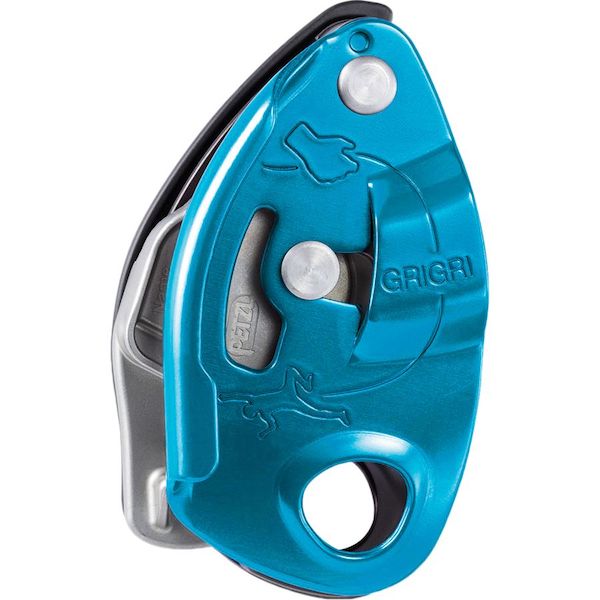 An assisted belay is a bomber belay, and the gold standard in assisted-braking belay devices for 30 years now has been the Petzl Grigri, which pioneered the genre. Compatible with ropes from 8.5mm to 11mm, the lightweight (175g) Grigri uses an internal cam to block the rope in a fall—simply jump up and in to give your climber a soft catch. Meanwhile, the ergonomic lowering handle lets you get him or her back on the ground in a safe, controlled fashion. Having heard of some sketchy, gumby belays at Red Rock—like the climber at the Gallery who told his partner, "I've got you on a nice, tight brake, bubba!" before he promptly dropped him to the deck—we can't recommend the Grigri and its magical, life-saving camming action enough.
Outdoor Research Astroman Sun Hoodie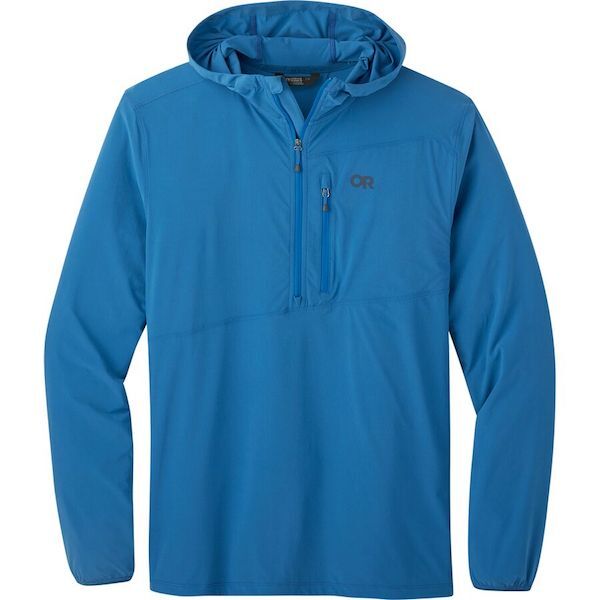 Shade is a rarity at Red Rock, and most of the best crags face due south—you need sun protection as well as a versatile layer that keeps you warm between pitches. The "movement-mirroring" stretch (84 percent nylon, 16 percent spandex), UPF 50+ Astroman is the ideal midlayer here, offering a svelte profile that fits easily under a harness and helmet, a three-panel, drawcord-adjustable hood to keep your head warm and neck shielded, and a half-length torso zip so you can circulate air while gunning for the chains on that sunny pitch. Other climber-friendly touches include low-profile elastic cuffs, thumb loops, and a zippable chest pocket with an interior loop for your keys. Comes in men's and women's versions.
Outdoor Research Astroman Sun Hoodie
Mammut Togir Chalk Bag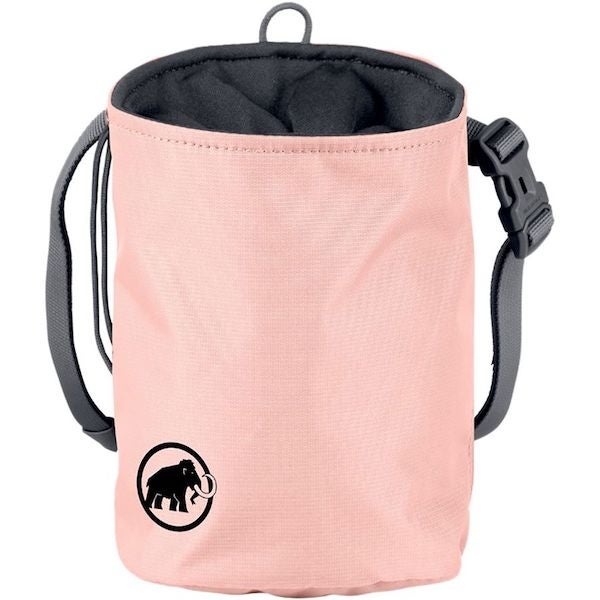 One of the best sport pitches at Red Rock is the radically steep jug haul Keep Your Powder Dry (5.12b) at the Trophy Wall. So in order to do precisely that with your precious chalk—and hopefully also send the climb—what better vessel than the stylish Mammut Togir? This bomber little bag has a wide, shape-retaining mouth and deep, fleece-lined reservoir, perfect for drying your hands on a strenuous climb like Powder. The Togir also has a zippered stash pocket, brush holder, clip-off loop, and an included waistbelt. The Togir comes in two colors: Candy and Olive.
Prana Pilot Rock Pant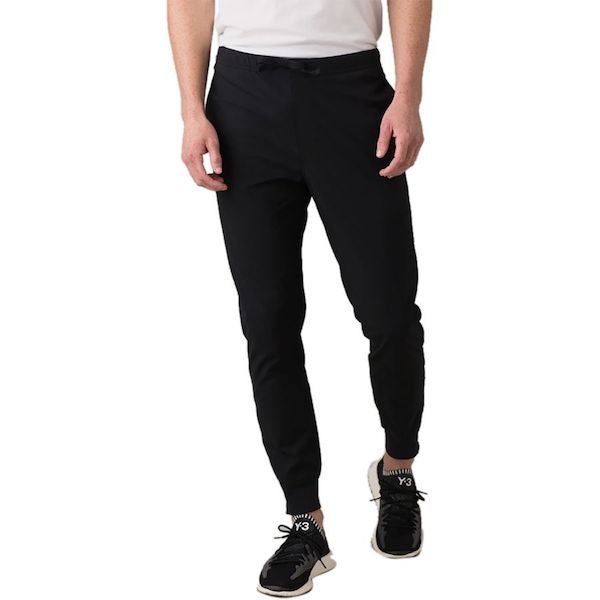 On a warm day you can climb at Red Rock in shorts, but there's also the wind—that pesky, persistent Mojave wind. Give your legs some warmth, protection, and plenty of leeway to highstep with the stretchy (cotton-nylon-spandex blend) Pilot Rock Pant. With their slim, straight fit, the Pilots have a touch of style for post-climb wear, but they bring it on the stone with mobility-promoting features like an elastic waistbelt with drawstring and elastic leg cuffs with zip gussets. You also get plenty of pockets for stashing, say, your car keys, phone, or that Xerox'ed guidebook page, including dual back pockets that seal up with a hook-and-loop closure.