2009 Shoe Review – August 2009
Heading out the door? Read this article on the new Outside+ app available now on iOS devices for members! Download the app.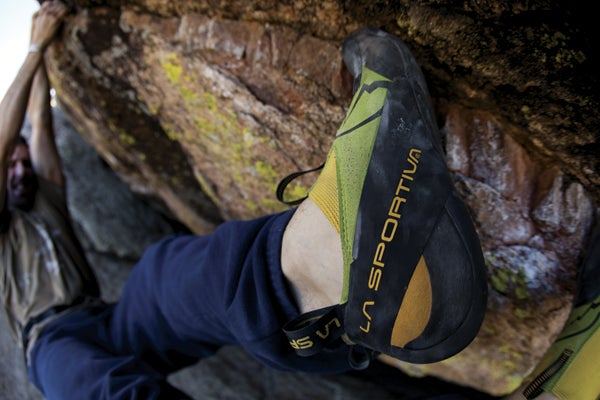 A bumper crop of sport, trad, and approach rigs
Shoe designers still find ways to tempt those of us who need the perfect shoe for a specific climb. So, as with last year, we asked them to send us their flagship high-performance sport/bouldering model and then a traddie version of the same. We recruited 15 testers with as many different foot shapes and ability levels, showing no mercy to our kicks on rock (and plastic) from coast to coast.
All shoes reviewed — save the Acopa JB and Mammut Goblin — are new for 2009. There were also four standout innovations: the Slide-Rail Velcro closure on the Edelrid Tornado, hemp lining in Mad Rock's Mugen Tech, BOA lacing system on Millet's Boa 1st, and the ultra-thin soles on shoes from Five Ten and La Sportiva. As with past reviews, extraordinary models win Climbing's Editor's Choice Award.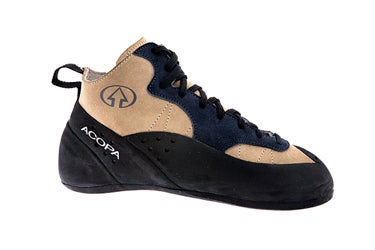 Acopa JB
$155, acopausa.comThe JB fills a niche (high-top trad) semi-ignored since the 1980s. It's made on a straight, slip last (read: comfy and quite stiff), with padded tongue and canvas-lined upper good for all-day use. The laces extend down to the toe box, making for easy loosening (cracks) and tightening (dime edges). Testers found the shoe plenty stiff for micro-edging, sticky for smearing (4.2mm RS rubber), and suited for jamming, with a full rand and extra toe rubber. For long routes, size close to your street shoe.Ideal Uses: Crack/face. All-day or multi-pitch.Bottom Line: Comfortable high-top. Excellent for edging and jamming.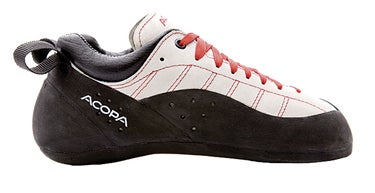 Acopa Legend
$159.90, acopausa.comYosemite's long routes dish everything from minute smears and edges, to flared foot jams, to offwidths; the Legend is built for this kind of versatility. With a symmetric, flat last, this low-top shoe sports a notably stiff midsole (giving it superior edging), canvas lining, and padded leather collar to keep feet comfortable and protected. The 4.2mm Acopa RS Rubber is both durable and very sticky. Because of the lining, the Legend won't stretch much, so size comfortably. The Acopa Legend was designed for performance trad of all types, and it delivers.Ideal Uses: All-around trad, beginner to expert.Bottom Line: Stiff, solid shoe for cracks/edging.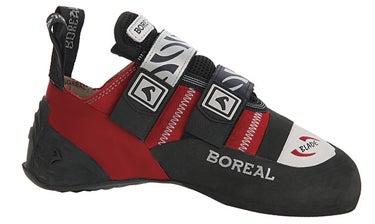 Boreal Blade
$139, e-boreal.comBoreal's new flagship Velcro is a master at edges and pockets. It has an asymmetric, slightly downturned last, FS QUATTRO rubber, and leather upper with padded mesh tongue and canvas lining. Testers noticed the sole (ostensibly 4 to 4.6mm, though I measured it at 6mm-plus) was initially a tad clunky. But after break-in, the Blade, slip lasted with a stiff midsole, danced on tiny edges (e.g., granite credit cards). Also, the vacuum-tight heel cup is one of the review's best. Don't fit too snugly —the Blades don't stretch much, and smearing will suffer. Also, the two Velcro straps, high on the shoe, allow minimal toe-box adjustment.Ideal Uses: Vertical faces to super steeps.Bottom Line: Excellent edging/tech-face shoe, especially once broken in.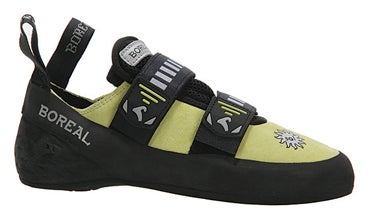 Boreal Sol
$99, e-boreal.com The Sol is designed as a comfortable women's (narrow, lowvolume) shoe. It sports a flat, asymmetric last, leather upper, 4 to 4.6mm FS QUATTRO, and stiff midsole. The upper's PU Air Net lining ventilates ably, and the padded heel is the final brushstroke of comfort. Testers found the Sol best at edging, cracks, and multi-pitch, but one made it her primary bouldering shoe, citing the cushioned heel and easy Velcro (two straps) entry. Rather than super- high performance, you can expect the Sol to do any job well. Ideal for narrow, low-volume feet.Ideal Uses: Multi-pitch, all-day comfort. Cracks, edging.Bottom Line: Above average on slabby to slightly overhanging rock. Comfortable.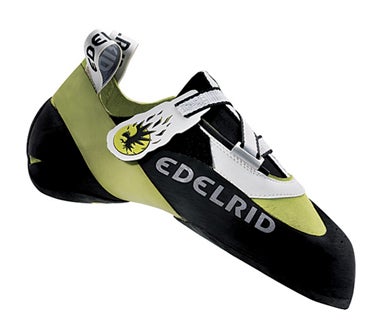 Edelrid Raven
$130, edelridna.comThe Germans have bulging, pocketed rock (think, the Frankenjura), so it's no surprise that Edelrid, hitting the shoe market for the first time this September, has designed a performance Velcro, the Raven, that excels on steeps. Using an asymmetrical, highly downturned slip last, these unlined shoes went on with what one tester described as an auspicious "suction-cup tightness." Also notable is Edelrid's new Slide-Rail Velcro fastening system, which lets you tweak fit on the Raven by sliding (or even removing) the front-to-back strap over the midfoot. Testers noted a bomber heel, highly precise toebox, and the 4mm Vibram XS Grip sole, saying the "domineering" downturn equaled major power/grab on overhangs. The only drawback noted was possible cramping on vertical terrain.Ideal Uses: Hard redpoints, super steeps.Bottom Line: Subtle performer with an adjustable, new-school closure.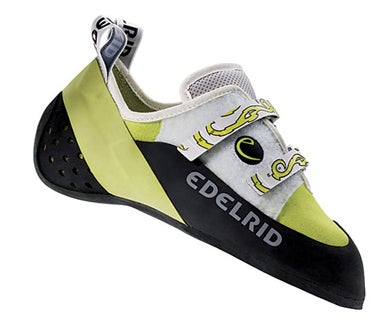 Edelrid Tornado
$110, edelridna.com The Tornado spins onto the market this autumn with an iteration of the Slide-Rail system (in this case, the straps hook anywhere along the large Velcro patch across the tongue) that testers appreciated for its control. For an only slightly down-cambered but asymmetrical shoe, the unlined, slip-lasted Tornado performed ably on steeps, with Vibram XS Grip (4mm) one tester labelled "extremely sticky." But the Tornado shined most on edging, where it was notably solid and sensitive. Another plus was the snug heelcup, part of the "high-tension" heel created by the green heel strap wrapping the back of the boot. The shoes had a comfortable fit for mid-sized feet, with little stretch noted.Ideal Uses: Faces and edging, from slab to just past vertical.Bottom Line: Performance all-arounder with a Euro flair.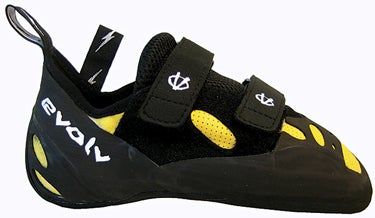 Evolv Optimus Prime
$125, evolvsports.comThe Optimus Prime* comes with a deep, stiff heel cup about which testers resoundingly raved. With its asymmetric, heavily downturned last, the Optimus Prime is perfect for steeps. The synthetic upper — combined with a cotton-fiber lining in the heel cup and toe box, plus, generous top rubber — minimized stretch. Size them snugly, because the two Velcro closures don't allow for precision forefoot tightening. Unlike most aggressive shoes, the Optimus Prime has a full-length midsole — good for edging — with a 4.2mm TRAX XT-5 rubber sole. Our testers' only lament was the rounded toe box, not entirely fluent in small pockets. (*This is one of Evolv's XY customizable shoes.)Ideal Uses: Every angle from vertical to horizontal, on rock and plastic.Bottom Line: Excellent heel and toe hooking. Vacuum fit for wide, high-volume feet.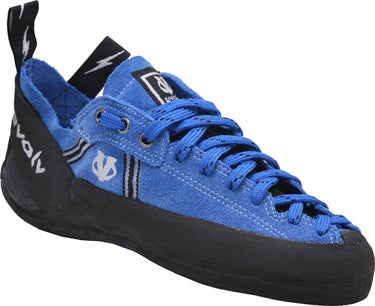 Evolv Royale
$79, evolvsports.comWe give the Royale a thumbs-up as the review's most affordable shoe. It's a sturdy, well-built novice boot, designed with a hefty 5mm TRAX XT-5 sole and double toe rand. For toe-dragging beginners, these features will translate to durability, though more advanced climbers might find the fit a tad clunky. That said, the Royale is very comfortable: it has a leather upper (lined in front, not in back), a 2mm, stiff, full-length midsole, and a flat, symmetric last.Ideal Uses: Beginners, all-day comfort, moderate multi-pitch.Bottom Line: Great price for a starter shoe. Not performance oriented.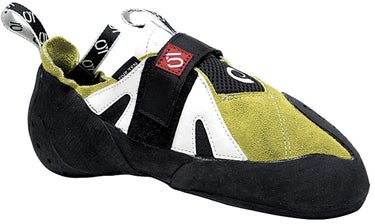 Five Ten Project
$144.95, fiveten.comFor a hypersensitive shoe, try the Project , which testers likened to "a rubber-coated sock." Designed for overhanging rock, the Project features new Stealth Mystique that's a mere 2mm thick. Two testers found the rubber slick, but others praised the shoe's extreme sensitivity and "grab": its asymmetric, downturned last lets your toes grip like fingers. Size tightly, because the unlined leather upper will stretch a half-size-plus, and the single Velcro closure is too far back to ratchet toe fit. Testers found the shoe a bit soft for face climbing.Ideal Uses: Super-steeps, boulders, gym.Bottom Line: Exceptionally sensitive steep specialist. Too soft for face climbs.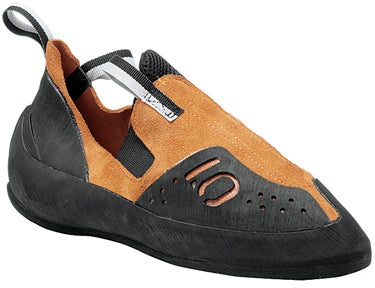 Five Ten Copperhead
$124.95, fiveten.comI used to have a cobbler glue a patch of Stealth atop my crack shoes, since I wore through the uppers so quickly. Now Five Ten has produced a crack shoe with a similar patch, for jamming and durability. Like the company's popular crack slipper the Moccasym, the Copperhead is made of unlined leather, has a low-profile toe, and a flat, asymmetric last beefed up by a stiffer midsole and innovative lacing system. (The side laces, mostly protected by the uppers, allow you to loosen for comfort and cinch down for precision.) Testers found the sole (3.5mm Stealth Onyxx) a bit clunky for face moves until they'd broken in.Ideal Uses: Cracks — all shapes/sizes, trad.Bottom Line: Premium crack-specific shoe, average at everything else.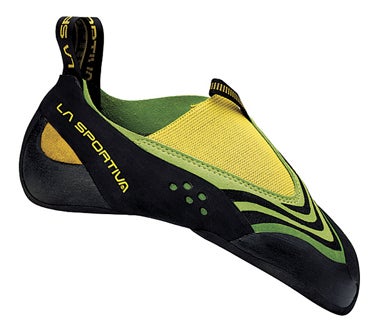 La Sportiva Speedster
$132, sportiva.comTesters unanimously loved the colorful Speedster, La Sportiva's latest slipper. The unique sole wraps a fourinch swath of rubber back up over the forefoot — a design testers initially found baffling but then praised for its amazing "grab." You won't be edging much in these, but the sensitivity and second-skin feel of the ultra-thin 3mm XS Grip rubber crush steep rock. The Speedster has an asymmetric, downturned last and an unlined, suede/synthetic upper; most testers wore these about a half-size smaller than other La Sportivas.Ideal Uses: Steep bouldering, cavey sport, gym.Bottom Line: Extremely sensitive slipper for high-end overhanging climbs.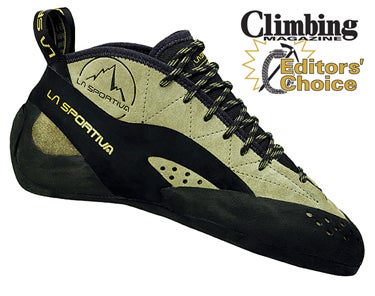 La Sportiva TC Pro
$170, sportiva.comThe asymmetric, flat last and leather midtop upper of La Sportiva's new trad shoe offer incredible crack and edging/frontpointing prowess. The TC Pro sports 4mm Vibram XS Edge rubber, a new compound designed to stick to micro-edges, while the P3 midsole ensures a stiff platform to prevent foot fatigue. All our testers considered it the best, most durable shoe for granite. The only drawback was the tongue, which rolled somewhat toward the toe box during foot entry. The TC Pro is designed for high-end, all-day trad, and no shoe out there is both as stiff and precise.Ideal Uses: Granite and trad of all kinds.Bottom Line: High-performance trad shoe that excels at edging and cracks.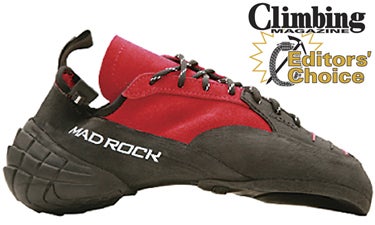 Mad Rock Con-Cept
$99.95, madrockclimbing.comMad Rock is known for inventive shoes, but the lace-up Con-Cept is their best yet. Testers reported that the 4mm Science Friction 2.2 rubber (on its unique concave sole) was the stickiest they'd used. Other praise included "Does everything well" and "Excels at edging." The only drawback noted was the toe rubber's forward (not flush or backward) bevel, which tended to deform on micro-edges. (One tester filed it down.) Like most high-performance shoes, the Con-Cept is built on an asymmetric, downturned last with a leather upper. It earned high marks for comfort, edging, and heel hooking, and kudos for price. Size tightly for best results; they'll stretch up to a half-size.Ideal Uses: Technical faces, steep routes, boulders, plastic — nearly everything.Bottom Line: Comfortable, high-performance shoe at a great price.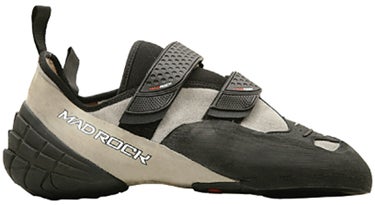 Mad Rock Mugen Tech
$89.95, madrockclimbing.comAs with Mad Rock's other 2009 entry, testers touted the Mugen Tech's 4mm Science Friction 2.2 rubber as extremely sticky, though some noted it wore more quickly than expected. With its stiff midsole and slightly asymmetric, slightly downturned last, the Mugen Tech is geared toward edging and tech face. This two-strap Velcro retained shape with its synthetic upper and new, eco-friendly hemp lining. The ribbed heel's fit also made it one of the review's best heelhookers, and testers praised edging ability. Also, the price is appealing compared to most high-end shoes. It won't stretch much, so size comfortably.Ideal Uses: Technical face, edging, steeps.Bottom Line: Precise on small footholds, excellent heel cup, inexpensive.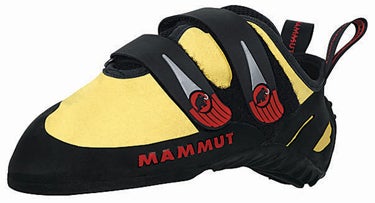 Mammut Goblin
$129.95, mammut.chMammut's high-performance Velcro shoe has an asymmetric, downturned last for steep bouldering and sport. The toe has the review's sharpest point, making it an expert on pockets and miniscule footholds, while the cotton-lined synthetic upper stretched less than a half-size, offering an enduring fit. The sole is made of notably sticky 4mm Vibram XSV, and the heel is slightly ribbed for secure hooking. Like most Velcros, the two straps didn't dial toe fit perfectly, so size tightly (testers noticed comfort even when skin-tight).Ideal Uses: Steep bouldering, sport, gym.Bottom Line: High-performing Velcro for steep, hard climbing.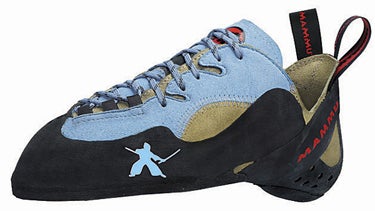 Mammut Samurai
$139.95, mammut.chMammut's high-end lace-up has a radically asymmetric, downturned last for grabbing. Testers found the Samurai durable and comfortable once broken in, and one of this review's most sensitive lace-ups (4mm Vibram XSV sole). The upper blends unlined leather and synthetic material; expect the shoe to stretch a half-size. Because of its shape and vacuum fit, the Samurai excels at heel and toe hooking, while offering a moderately stiff edge and pointy toe for edging and pockets. Our testers' only grumble was the shortness of the laces, though it's easy to swap in longer ones.Ideal Uses: Technical face to severe overhangs, bouldering, and sport.Bottom Line: Excellent performance shoe for the vertical and beyond.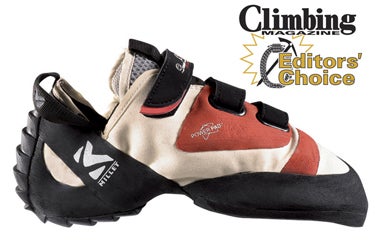 Millet D. Dulac Pro Model
$119.90, milletusa.comMillet's new high-end shoe excels at everything vertical and steeper. Its stiff forefoot and 4.5mm 4PointGrip rubber stick to dimes, while its asymmetric, slightly downturned last grips the steeps. The molded heel cup is ribbed for precise, super-secure hooking, with support via a thick rubber rand that locks over your Achilles tendon. Although the synthetic upper and lining minimized stretch, size these snugly for precision steering. Three thin Velcro straps make them almost as adjustable as a lace-up.Ideal Uses: Precision footwork on vertical to very steep rock/gym terrain.Bottom Line: High-performance Velcro for extreme climbing.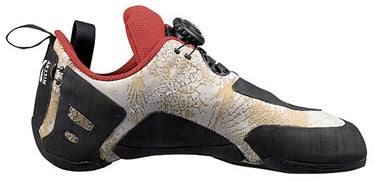 Millet Boa 1st
$104.90, milletusa.comMillet's Boa 1st has a slightly asymmetric, downturned last, giving a performance feel without sacrificing comfort. Meanwhile, the suede-leather upper offers a generously padded tongue and a roomy fit, and the shoe has a soft, antibacterial linen lining. The sole has the same 4mm 4PointGrip rubber as Millet's high-performance shoes. The Boa 1st's most notable aspect is the fragile-looking (but durable) BOA system — an innovative dial you turn to tighten and pop up to loosen. This made it easy to adjust mid-route, and points to a new potential trend.Ideal Uses: Comfort and all-around use.Bottom Line: Solid midlevel all-arounder, comfortable.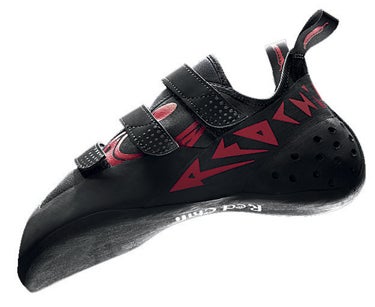 Red Chili Matador
$125, redchili.deThe Matador is Red Chili's top-end shoe for bouldering and sport. The low-stretch synthetic upper keeps its shape, while the three Velcro closures allow you to fine-tune fit nicely. Our testers loved the asymmetric, downturned last and pointy toe profile — it fit into small pockets and edged with equal aplomb. The Matador, equipped with 4.2mm RX1 rubber, offers a rare blend of high-performance versatility and relative comfort in a shoe adept at everything from thin faces, to roofs.Ideal Uses: Face climbing, bouldering, gym climbing, steeps.Bottom Line: All-around high performance with a knack for steep stuff.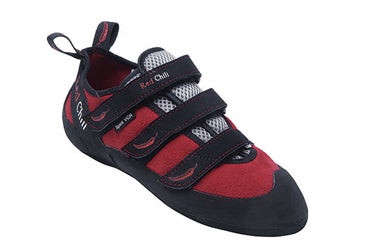 Red Chili Spirit IZ VCR
$109, redchili.deRed Chili's Spirit IZ VCR has a flat, slightly asymmetric last for comfort and all-day use. The shock-absorbing Impact Zone heel (a soft heel wedge) is a bonus for bouldering, multipitch routes, and belay stations. Testers found performance sound for most applications, and the shoe's excellent for heel hooking (thanks to the vacuum fit) and edging, with able smearing (4.2mm RX1 rubber) after break-in. Three Velcro closures offer custom tightening, and the split tongue eases entry. The Spirit IZ VCR is a great match for wide, high-volume feet.Ideal Uses: Multi-pitch comfort, face climbing, edging, bouldering.Bottom Line: Comfy all-purposer for intermediate climbers or all-day wear.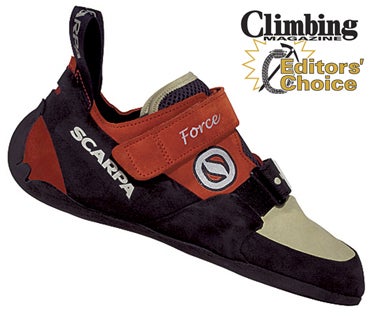 Scarpa Force
$125, scarpa.comThe Force is designed for comfort, durability, and all-around performance; our testers agreed that the shoe, with a symmetric, flat last, lined suede/synthetic upper, and 4mm Vibram XS Grip sole, delivers. One tester wore them at Indian Creek, finding the narrow toe made the Force his thin-crack favorite; another tester sized them large for moderate bouldering at Hueco Tanks; and yet another wore them with socks for long routes in Eldorado Canyon. Our only complaint was the two Velcro straps not reaching quite far enough down the toe box.Ideal Uses: Moderates, multi-pitch, cracks.Bottom Line: Above average at everything but the super-steeps. Remarkable versatility and comfort.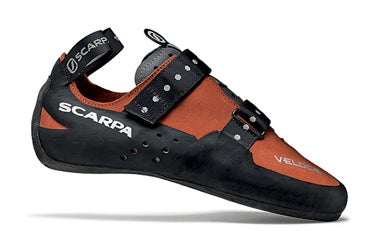 Scarpa Veloce
$109, scarpa.comThe Veloce is a comfortable two-strap Velcro with a flat, symmetric last and durable 5mm Vibram XS Grip sole. (This thicker-than-average width was a bit clunky until after break-in, when the Veloce became a solid edger.) With a cozy, unlined suede upper that stretches generously, the Veloce is geared toward novice/ intermediate climbers, though the straps are sited too far from the toe box for performance tightening. No matter — the Veloce is meant as an all-day comfortable kick, where pampering is key.Ideal Uses: Multi-pitch climbs, beginning/intermediate climbers.Bottom Line: Comfortable, durable, middle-ofthe- road shoe.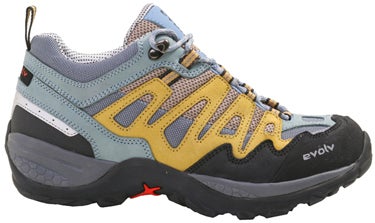 2009 Approach Shoes
Acopa Scrambler, $110 The best pure climber in the review, the Scrambler comes with a flat sole, little cushioning or support, and a retro look. Great for short trails and miles of rock. Think Flatirons, J-Tree, Red Rocks, etc.
Boreal Flyers, $109 The latest Flyers have an aggressive hiking tread under most of the shoe, and a smoother sole near the forefoot for scrambling. Testers found the Flyer stable and supportive while approaching, average for easy climbing, and great for cruising downtown. There's also a narrower women's version.
Evolv Reactor, $95 This attractive, well-built shoe is supportive and comfy while hiking, rock-hopping, or strolling. Climbing isn't the Reactor's best bag, but its sticky sole/rand takes you where mere walking shoes won't.
Evolv Serpico, $99 The Serpico is a perfect mix of stable, sturdy hiker and confident climber. It's on the bulky side for harness- clipping, but excels at comfort.
Five Ten Women's Guide Tennie, $104.95 Good news: Five Ten has produced the super-popular Guide Tennie in a women's version (narrow, lower-volume fit). It's stiff and supportive for approaches. Plus, the lightly textured Stealth sole puts this among the review's best climbers.
La Sportiva Exum Pro, $95 La Sportiva combined a running-shoe's cushion with sticky rubber, creating a versatile shoe flexible for solid smearing and comfortable for rough trails. This was a fave for all but the longest approaches.
Mammut Borah DLX, $119 With aggressive tread and a stiff, supportive Vibram sole, the Borah DLX is the perfect choice for long, rough approaches. It's more of a hiker than a climber, but edges and jams ably.
Mammut Mt. Nebo GTX, $139 This shoe is similar to the Borah DLX but more heavy duty and built with a Gore-Tex membrane. It's great for tough terrain in all conditions, including soggy weather. Although not designed specifically for climbing, this is a solid edging shoe.
Millet Radikal Speed, $145 This is a well-built, attractive hiker designed for tech approaches, via ferratas, and moderates. It utilizes the BOA tightening system with two settings: one for foot-top tightening, the other for toe cinching. It's one of the stiffest approach shoes reviewed and comes with an aggressive Vibram tread.
Scarpa Expresso, $99 Built on a modified rock-shoe last and with a narrow toe profile, the Expresso excels at smearing, edging, and jamming. It's also stiff and supportive enough for all but the most grueling approaches. With solid construction and few bells and whistles, the Expresso was a tester fave. —CW