Heading out the door? Read this article on the new Outside+ app available now on iOS devices for members! Download the app.
Stoic Welded Haul Duffel $129; stoicgear.com
Durable, spacious, and simple—this duffel is well suited to road tripping and plane flights alike. One tester packed all his clothing for a three-week bouldering trip in the size large (85L), plus some extras, and praised the wide-opening access for bulky items. The body of the duffel is soft, allowing the bag to be packed easily into a car, and "in spite of the rubbery outside, this duffel even functioned well as a pillow when filled with soft items," the tester said. The zipper seemed stiff at first but softened up after a couple of days. The exterior of the bag is very tough, and, said our tester, "While I would not want to fully submerge this duffel in a pond, I did trust it to protect my belongings when we encountered a bit of rain or snow. The zippers are water-resistant and very well sealed." A favorite feature was the padded backpack straps for comfortable portages between car and tent.
Category: Bouldering/Sport/Trad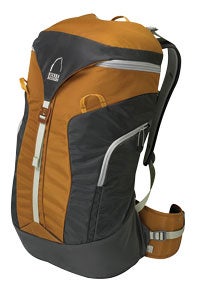 Sierra Designs Prophecy 35 $160; sierradesigns.com
Bopping from climb to climb can quickly turn into an exercise in gear organization, lest you forget your chalk bag at the base of the last route. The folks at Sierra Designs created the Prophecy 35 with such frenetic climbing days in mind, and it shows. The pack is blessed with two side pockets and a top pocket that allow you to keep track of small items, while an interior daisy chain allows you to clip crucial gear like the Grigri and your climbing shoes securely in place. The pack's long front zipper supported lightning-fast packing and unpacking. A 35-liter capacity means it can handle a full winter day's worth of gear (think sport climbing gear plus lots of layers and food), and the zippers and fabric stood up to 40 days of testing in Spain and another few weeks of traveling around the States' premier sport climbing hotspots. And when your day at the crags starts with a one-hour approach, know that the Prophecy 35's padded shoulder straps and waist belt will be easy on your body.
Category: Sport/Trad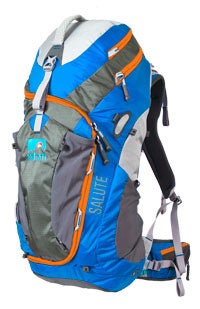 Mile High Mountaineering Salute $215; mhmgear.com
As climbing tech heads, many of us don't get too excited about a backpack—after all, isn't it only a vessel for carrying climbing paraphernalia to and fro? Moreover, this pack's tester seldom gives rave reviews, which makes the rest of this paragraph a rarity—he's actually excited about the Mile High Mountaineering Salute. With a burly S-zipper that runs the entire length of the pack, the Salute can lay completely flat on the ground and act as a sort of rope tarp or space to rack. (Of course you'll have to find somewhere to put your other gear.) Compression straps and ice axe loops have their own pockets to tuck into, so you don't have extraneous doodads hanging off your pack to catch on trees and such. The waist belt is separated into two parts that move independently of each other, which means maximum comfort on the trail. A tuckable and removable rain cover, pockets on the hip belt, and a thick handle on the very top of the pack for easy moving round out the package. All those nifty extras add up (3.5 lbs), but you'll certainly find a use for everything on this 34L pack.
Category: Sport/Trad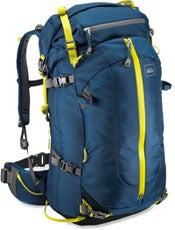 GREAT VALUE REI Pinnacle 35 $129; rei.com
With just enough straps and pockets to 70m lengths. serve your needs, but with nothing extraneous, the Pinnacle is built for any sport that involves ascent. With this 35L pack, you get the benefits of a roll-top (easy compression and closure as well as added weather protection) with a full side zip for access from top to bottom. "That access zipper was my absolute favorite feature," our tester said. "It made pulling the rack out from the bottom of the pack an absolute snap in Eldorado Canyon." Testers also loved the large front pocket, which was perfect for keeping chalk off of everything else (or climbing shoes from infecting other stuff with stank), and also was burly enough and perfectly sized for crampons. Removable top straps let you fasten a rope to the top of the pack and really crank down to secure it. Skiers will appreciate the ski-specific loops on the sides of the pack. Extra-awesome, super-cool bonus: This pack was comfy from the moment we put it on, and fit everyone 6' and under. (We didn't test on anyone taller.) Comes in a 50L version for you overpackers.
Category: Alpine/Sport/Trad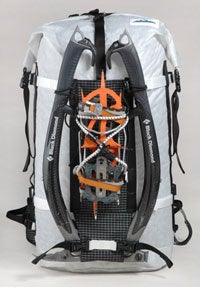 Hyperlite Mountain Gear Ice Pack $255; hyperlitemountaingear.com
We just gotta say it: The HMG Ice Pack is sexy. At about 39L, it will hold everything you need for a day of multi-pitch ice climbing, and be light enough (26.5 oz.) that you'll barely feel it. Be warned, though, this pack isn't for everyone. The fabric is Cuben Fiber, which was developed in the 1990s for high-end sailing, and is known for its incredibly high strengthto- weight ratio. Downsides to this fabric: the crinkly noise and the price tag. Emphasizing function and simplicity, the HMG Ice Pack has tool holders, a roll-top closure, just enough compression straps, and basic but comfortable shoulder straps and hip belt. It has a minimalist frame and padding; the frame sits right up against your back, so expect to sweat a bit. While durable for its weight class, it is far from indestructible, but for those Ueli Steck–style ascents, this could be your pack.
Category: Alpine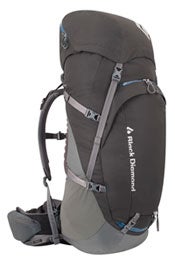 Black Diamond Mercury $240–$280; blackdiamondequipment.com
Don't be fooled by this pack's "backpacking" classification; it works phenomenally as a climber's pack, too. It excelled in the mountains of the Northwest on glacier crossings and easy multi-pitch rock routes alike, thanks to a suspension system—BD calls it the ergoActiv XP—that allows the waist belt to move with your hips. Our tester with chronic back pain said this was the first pack that didn't give her any trouble, even after 25,000 feet gained and lost. The swing of the pack takes a bit of getting used to, particularly on steep snow climbs, but once you nail it, you can boulder hop and cross streams with no worries. The large, reverse-C zipper gives you easy access to the entire pack, while the top-loading option is still available when you need to pack things tight. Although this pack doesn't sport an ice axe loop, a shock-cord trekking pole system will stretch to fit axes up to 60cm, and various straps on the outside can hold crampons. Get the 55L version (the women's is called the Onyx) for overnights or long day trips, the 65L version for multi-night outings, and the 75L for serious expeditions. The lid of the pack is easily removable on all versions when you leave base camp for the day.
Category: Alpine/Sport/Trad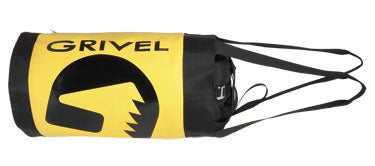 SNEAK PEAK Grivel Haul Bags $140–$200; grivel.com
The Italian company best known for its cutting-edge ice tools and crampons is now making haul bags. We took a look at these at the winter trade show but have yet to drag them up a wall—they look stout, though. The line includes a 25L haul pack with tuck-away shoulder straps and a lid pocket ($160) and three sizes of haul bags: 30L, 60L, and 90L with removable waistbelt and shoulder straps. At $140 to $200, the bags are more expensive than comparable models from U.S. manufacturers. We'll let you know if they're worth the extra bucks after we test them.
Category: Aid/Trad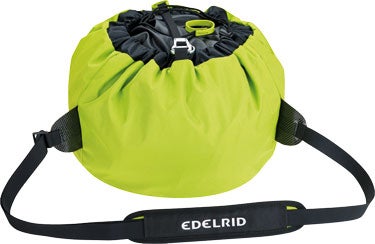 EDITORS' CHOICE Edelrid Caddy $45; edelridna.com
Show the Edelrid Caddy to your friends and you'll get looks of envy—and not just for the neon-and-black styling. Its disc-like shape when packed makes for easy carrying without that "elbow out the window" feeling. And the generous tarp features cut-out grab loops at each corner that allow you to transport the Caddy easily between climbs without folding it away—no more dropping a corner and having your rope spill into the dirt. The Caddy's standout feature is the kangaroo pouch sewn into the middle of the tarp. Grab the corner loops, give a brisk snap, and the rope instantly buries itself into the pouch. Fold in the tarp corners, cinch down the drawstring, and be on your way. The only downside is that you pay for that packing convenience during the unpacking: You have to milk the pouch off the rope when you open it up to climb. But we'll take it.
Category: Sport/Trad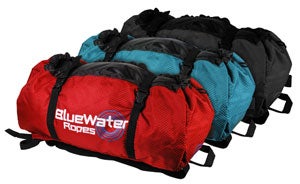 GREAT VALUE BlueWater Rope Backpack $30; bluewaterropes.com
Most rope bags can barely fit the mammoth 70-meter ropes that are quickly becoming the standard for sport climbing, but the BlueWater Rope Backpack is not your typical rope bag. Even an 80-meter rope comfortably flaked into the pack with room for a few extras like harness, shoes, and some draws, and the rope tarp spread out equally well to keep those mondo cords off the ground. The zipper compartment on the top is roomy enough for keys, wallet, and cell phone. Two straps allow you to throw the rope on your back or sling it over your shoulders.
Category: Sport/Trad