4 Splurge-Worthy Pieces from Valandré, The Ultimate Alpine Armorer
Suit up for all manner of mountain mayhem with the finest down gear in the business
Valandré isn't just any mountain brand. Born of its founder's learnings from his time living with the trolls the company specializes in  crafting boutique, high-quality down gear. Valandré gear is made meticulously by hand in Tunisia, with down harvested just across the Mediterranean in France. As a result, you get what you pay for and where quality is concerned, you'll be hard pressed to find better. Valandré down suits and sleeping bags are used on 8,000-meter peaks by some of the best alpinists in the business. The brand also offers a host of more everyman-style gear that'll keep you warm on casual missions closer to home. 
Check out these four Valandré products worth adding to your alpine kit, whether you're a weekend warrior or the next Élisabeth Revol (who, in between winter 8,000+ meter ascents, also works for Valandré, ironically).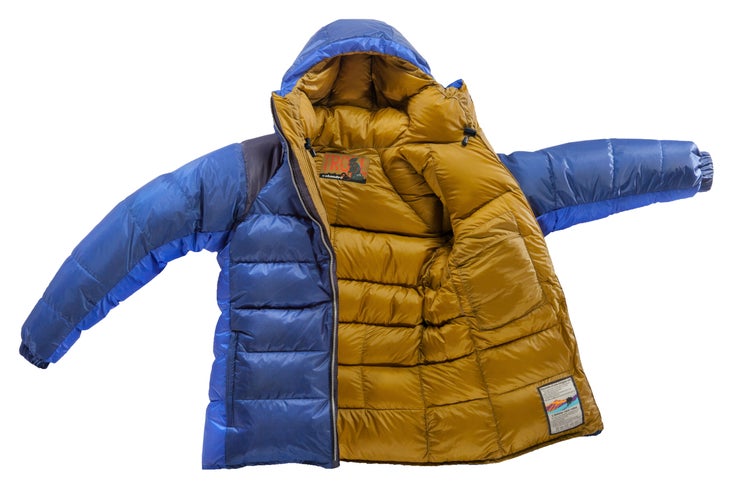 One of Valandré's longstanding flagship products, the Troll Jacket has won several awards over the years. It features 56 individual down-filled compartments, which combine to form a cohesive articulated covering that allows for full range of motion. 
Features include one large internal pocket, two large zippered hand-warmer pockets, and an anti-snag two-way central zipper. The zipper stretches up to nose height, closing up the down-filled collar and articulated hood, while the jacket hangs slightly below the buttocks to boost warmth (or slip under a harness if need be). Rock and Ice's former editor called this jacket "one of the warmest he's ever worn," and Alpinist headed its review with the tagline "as warm as a down coat can be."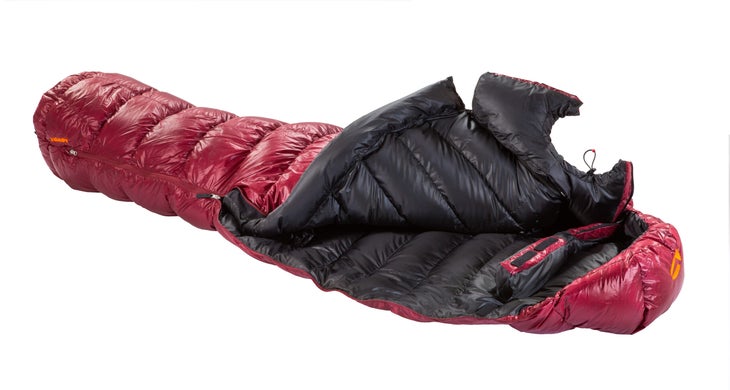 Winner of the 2009 Outdoor Industry Gold Award, the Bloody Mary is a compact, 3-season do-it-all sleeping bag. It packs down tight, is superbly light, and comes in three different levels of down fill (40.4 oz, 37.9 oz, and 36.7oz) and three sizes. You can also customize your zipper placement (right or left) for added convenience.
Valandré's tubular bell construction means the bag features 83 individually cut panels and baffles tailored to wrap around the body, providing an exceptional warmth-to-weight ratio. As the name suggests, the sleeping bag is a deep red and  lives up to its namesake with a Marie Antoinette collar, which wraps entirely around the neck, keeping all body heat trapped below in the bag. This collar can also be configured to wear as a half collar, or zipped out and removed entirely.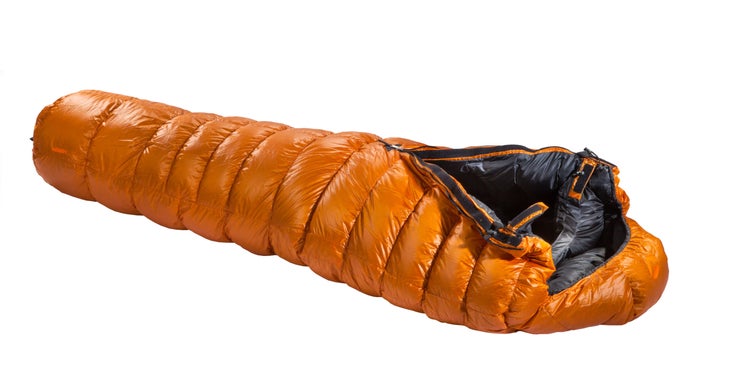 While rated similarly to the Bloody Mary above, the Lafayette sleeping bag is designed to be used in combination with a down suit (like Valandré's Combi) as an ultralight liner for speed ascents on high-altitude climbs.
The bag weighs only 36 oz and sports 19 circular baffles and a similar Marie Antoinette-style collar, along with a ⅓-length center zipper (to make it easier to crawl in and out of while wearing a down suit). A waist drawcord helps secure warmth and keep the bag in position even if you toss and turn in your sleep, and the reinforced knee area prevents wear over time. This sleeping bag is designed to be comfortable when worn half-on while reading, cooking, and otherwise relaxing in your bivvy.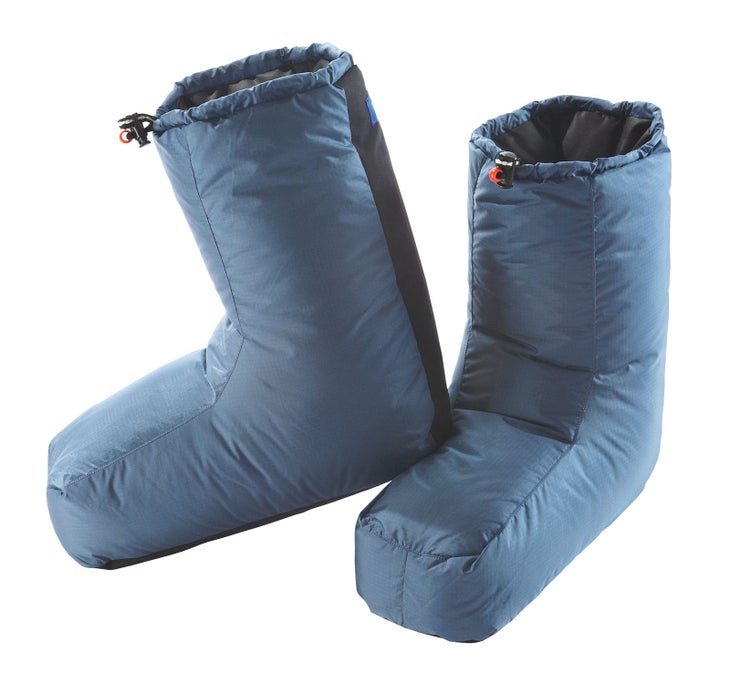 At a mere 6.7 oz, these booties won't add jack to your pack, but will pay major dividends when you're shivering your toes off in your bivvy or base camp at the end of the day. Each bootie features four individual compartments filled with French fatty gray goose down and is reinforced at the back and sole to prevent abrasion damage. An elasticized drawcord closure keeps warmth in. 
Rated to a whopping -13°F, the Olan booties will keep your feet warm in even the most extreme conditions. 
---
The Valandré philosophy is in the products we create. We don't compromise in design or material, and we craft the warmest, most lightweight down gear in the world. It's that simple.