Field Tested: Marmot Torreya 6-Person Tent
The large, rectangular footprint was perfect for Forest Service campsites across the Rocky Mountain West, as well as city-park camping and crashing in friends' backyards.
Basics
The Torreya 6-Person Tent is a large-footprint (93 square feet) dome tent meant for car camping in a large group or family or as a basecamp home in the backcountry. It has a full-coverage, vented fly and seam-taped floor to keep moisture out, as well as color-coded DAC DA17 poles and clips to expedite set-up. You can convert the front vestibule into an awning, and the tent has a rear door and windows for views and airflow. The front door is billed as "extra high," to facilitate easy ingress and egress—key when you have small kids bumbling in and out. The tent stakes are oversized.
---
Pros
Huge space // Plenty of pockets and storage // Easy-access openings front and back // Durable, fast zippers (even for little fingers) // Quick deploy
Cons
Heavy (not for backpacking) // Venting could be improved (summer) // Just enough stakes—zero spares (for the price, Marmot could throw in a few more)
---
Our Thoughts
The Torreya 6P was overall a winner with our testing crew (a 10-person, outdoorsy family). The out-of-the-box experience of set-up and overall use was great! It was an easy-to-follow set-up, and there was plenty of room to move around when utilizing the Torreya. The tent kept our crew dry, and made our three-week road trip through the American West a success.
---
Size Reviewed
6-Person
Weight
20 lbs, 11 oz
Price
$809
Brand
Marmot
---
Heading out the door? Read this article on the new Outside+ app available now on iOS devices for members! Download the app.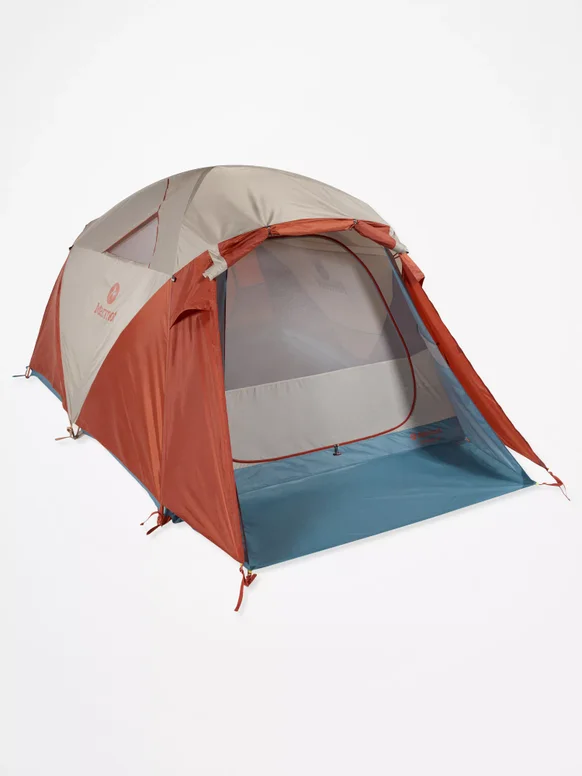 As a large family, it is often difficult to find a tent that works for us and will stand up to year after year of varying trips and adventures. Our testing of the Torreya revealed that Marmot has produced a winner with the Torreya 6-Person.
Appearance
The Torreya is a nice-looking rectangular-footprint X-frame dome tent. The aesthetics of the Torreya, both color and shape, are appealing and seem well thought-through. Plenty of height and floor space abound in the Torreya.
Design / Durability
The tent is well constructed. The double-wall design and poly-taffeta tent and fly material kept wind and moisture at bay throughout our crisscross travels in the Rocky Mountain West. Additionally, the floor design kept water out of the sleeping area as intended. Zippers and pulls were all good quality, sturdy construction, and the operation of all zippered areas was without issue. Even our kids' little hands were able to seamlessly open (and sometimes remember to close!) the zippers without the classic issues of getting the zipper stuck in the fabric. 
Usability / Feature Set
Our testing of the Torreya was conducted over a three-week trip across the country as a family of 10 (yes, you read that correctly!). The 93-square-foot, rectangular footprint was perfect for Forest Service campsites across the Rocky Mountain West, as well as city-park camping and crashing in friends' backyards. Entry through the hobbit-hole-style door (nearly a full zip-around) worked well both fully and partially unzipped. The Torreya provided ample room for standing up while dressing and organizing kids and gear. Plenty of inside stash pockets provided storage for essential items, while the front porch vestibule combination was able to keep shoes for 10 dry and in check.
Weight
As expected, six-plus-person tents will be heavier than their smaller counterparts. At 20-plus pounds, the Torreya is a bit on the hefty size for the rating of six people—it would be a bear to lug into the backcountry, unless you have a designated "tent porter" for your trip—but this is made up for by the tent's copious size when in use.
Set-up
The Torreya was a cinch to set-up. The color-coding on the tent and poles was intuitive from the start. The X-frame design, with its supporting front and back arching poles, was easily guided into place with nearly three-quarter-length sleeves leading the way. The average time for a solo setup was 18 minutes in low-light conditions.
Recommendations
For a recommendation, adding additional guyline points on the side below the window zip would add to the Torreya's rain-shedding capabilities in heavy, wet conditions. The addition of zippable- / removable-material door panels would be a nice feature as well, letting you stretch out the three seasons a bit more on either end of the calendar. 
Free Gear Upcycling
When it's time to upgrade your gear, don't let the old stuff go to waste–donate it for a good cause and divert it from the landfill. Our partner, Gear Fix, will repair and resell your stuff for free! Just box up your retired items, print a free shipping label, and send them off. We'll donate 100 percent of the proceeds to The Outdoorist Oath.
More Info About the Gear Up, Give Back upcycling program