Breaking in Tight Rock Shoes—Gradually and Au Naturel
Heading out the door? Read this article on the new Outside+ app available now on iOS devices for members! Download the app.
My shoes are too tight—now what?
When I was new to climbing, I made the mistake of sizing rock shoes so tightly I had to give them away or sell them. In the late 1980s, climbing shoes were not nearly as high-tech or specialized as they are now. The best way—or so it was thought—to milk performance out of the few different rock shoes on offer was to size down as far as humanly possible. I did this with a pair of Scarpa Rockmasters and a pair of La Sportiva Taos; both were so tight that, the few times I pulled them fully on, my feet immediately went numb and I could neither stand up nor weight them.
There was no way I was going to be able to climb in these puppies! With a tear in my eye, I bid adieu to my new rock-shoe friends, then went in search of some pairs that actually fit me.
Some folks still size down this radically, often relying on a handful of hacks to get the shoes to fit: wearing them in the shower so the leather will stretch, putting them in the oven, using a shoe-stretching spray, and so on. These tips can be effective, but there is also some risk of damaging your shoes: stretching them out too much (when they're wet), softening the glue holding the sole on (with heat) and risking delamination, and compromising the integrity of the uppers with the ingredients in a shoe spray.
Break-in, the natural, gradual way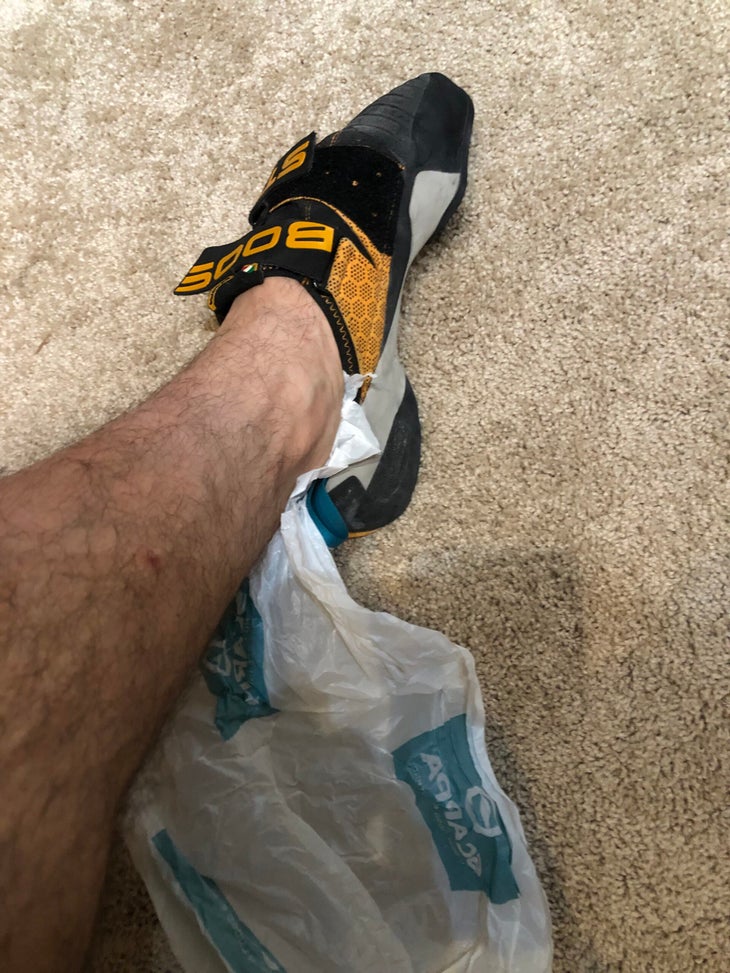 For me, who still likes to wear my shoes semi-tight—but not 1980s, "I can barely weight my feet" tight—I've developed a more cautious, gradual, au naturel approach to break-in that has served me well. I'm street shoe 10 (European 43/43.5), and don't usually come down more than 1.5–2 American sizes off that (ending up around European 40.5–42). But it  depends on the brand, model, and last. In some brands (e.g., Five Ten, Evolv, Black Diamond, Butora), I pretty much wear my exact street-shoe size.
Anyway, here's my time-tested process with breaking in tight shoes:
Begin by simply wearing them at home, sitting on the couch in front of the TV at night. Put both shoes on for 1–5 minutes at a time while seated. Don't weight your feee; don't walk around. They should gradually begin to stretch. On night one, do one session of this. Night two, two sessions. Night three and beyond, three sessions. It shouldn't take much more than 3–5 nights. If it takes longer than this or the shoes still won't go on, at least not without excruciating pain and numbness, they might  be too small.
If you're having trouble even getting the shoes on—usually my feet go all the way to the end of the toebox but I can't pull the heel up over my Achilles, creating a pocket in the back of the shoe—I'll do the first night or two of break-in with the shoes only partially on or the fastening system (laces, Velcro) undone.
If you're still having trouble getting the shoes up over your heel, use the enclosed plastic wrapper that came in the shoebox. Put your foot most of the way into the footbed, slide the plastic under just your heel (keep the sheet neat, smooth, and unfolded), then use the pulltabs to get the shoe all the way on, with your heel fully down.
Once you can get the shoes on and off without much strain or drama, take them to the rock gym. Begin by using them on overhanging or gently overhanging jug hauls. You have to weight your feet a bit here, but not too much—just enough to start spreading out the upper a bit more. Usually three to five routes like this get you to the next phase. You may still need the plastic sheet to get them on at this point.
Use them on vertical terrain at the gym. The auto-belay is good for this. You can do a couple laps back-to-back with the shoes on, to simulate a long pitch, then lower off and yank them off immediately ("Ow, my feet hurt, ow, ow, OW!"). Toe in hard to the jib feet to really spread out the toebox.
Take the shoes out to the cliff, but only toprope in them for the first pitch or two—or even day or two—as you gauge how well they've broken in and how they feel on real stone. If they still feel overly tight and unwieldy, do one more day of gym break-in.
Voila! You should be good to go for limit redpoint and onsight climbing. Your eventual goal is a tight—but not restrictive—fit, without cramping, pinching, hotspots, or nerve pain. Post-break-in, you also want to be able to get the shoes on without the aid of the plastic wrap.
Keep your shoes send-worthy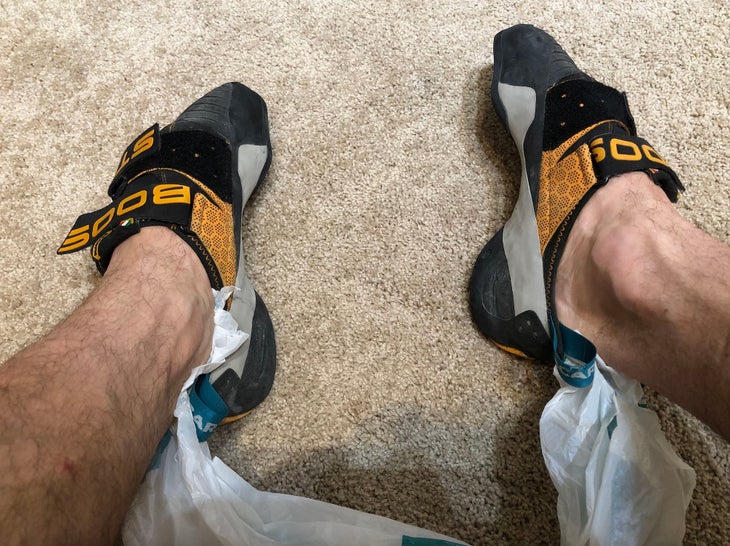 A few final tips, too, since I see people spending $180–200 on nice performance shoes, taking the time to break them in, then subjecting them to all manner of blockhead abuse that basically undoes their work or severely reduces their shoes' lifespan.
NEVER:
Store your shoes in a hot car; the heat compromises the glue and the outsole can delaminate.
Stand around belaying in your shoes. You're just unnecessarily stretching them out, especially if you take the shoes halfway off and stand on the heel, which deforms the heelcup.
Put your shoes away sweaty or wet. Air them out on your porch or in a laundry room so that the uppers and footbed can dry and return to their original shape.
Use weird things like talcum powder or drier sheets to get rid of odor. Instead, use products specifically designed for this—the fewer ingredients and the more natural these products are, the better.
I've had great success with this slow break-in process, bringing many a pair of beloved shoes from "No way is this going on" to "These bad boys are my redpoint shoes." By taking a slow, cautious, graduated approach to break-in, I've also gotten to know the shoes and just how they feel in various situations, building the trust I need for times when it really matters.
Matt Samet is the editor of Climbing. He has been climbing since the 1980s and living in the Boulder, Colorado, area since 1991.