Cassin/Climbaxe – Belay Device Review
Heading out the door? Read this article on the new Outside+ app available now on iOS devices for members! Download the app.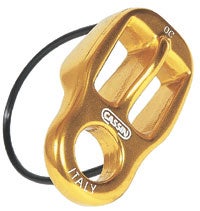 Cassin GTC, $20
Summary: While the Cassin GTC sits at the upper end of the belay-device price spectrum, it is a complete package, delivering solid performance in all categories. Additionally, it is an auto-blocker, meaning it can be rigged on your belay anchor to belay one or two followers and will automatically lock off should one or both of them fall. The one major drawback to the GTC is its stiff, thin keeper cable — once it got bent, there was no going back.
Pros: Doubles as an auto-blocker.
Cons: Stiff keeper cable.
Overall grade: B+
Cassin/Climb Axe: (503) 236-9552,www.climbaxe.com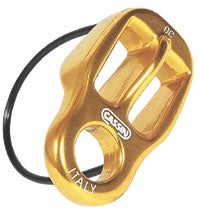 Climb Axe Big Air, $11 Kong/Advanced Basecamp Chuy, $15
Summary: For such a small device, the Big Air/Chuy (identical models available from different sources) delivers big performance, providing a solid balance between catching falls, feeding out rope, and rappelling. The tube is offset, with moderately deep high-friction grooves on one side, and shallow lower-friction grooves on the other. The flexible keeper cable withstood kinking better than most models with stiffer cables. The inner part of the tube has burly ribs for keeping rope strands separate, which helps reduce friction on your cord, but makes for more difficult feeding with 11mm ropes.
Pros: Versatile. Flexible keeper cable.
Cons: Difficult feeding with thick ropes.
Overall grade: B+
Kong/Advanced Basecamp: (888) 902-5462,www.advancedbasecamp.com
Climb Axe: (503) 236-9552,www.climbaxe.com