Benighted in Black Velvet Canyon
We rapped in the dark and clambered and stumbled out the long gully. We had headlamps, but the problem was keeping track of the trail when we got out of the scrub and crossed bare rock. We lost the trail and any visuals. These are big spaces.
Heading out the door? Read this article on the new Outside+ app available now on iOS devices for members! Download the app.
We should have gone down. It was October when days are short, the daylight was fading, Susan was below me, and we had a pitch to go. We not only had to get off this six-pitch route in Black Velvet Canyon, we had to walk the hour out, over and under rocks and obstacles in the twisty, vegetated gully.
The light flattened and dimmed. Susan arrived at my ledge, panting in haste, and we checked our watches again.
The only two other climbers in Black Velvet Canyon, crown jewel of Red Rocks, Nevada, had finished Fiddler on the Roof half an hour ago and hightailed out without a backward look.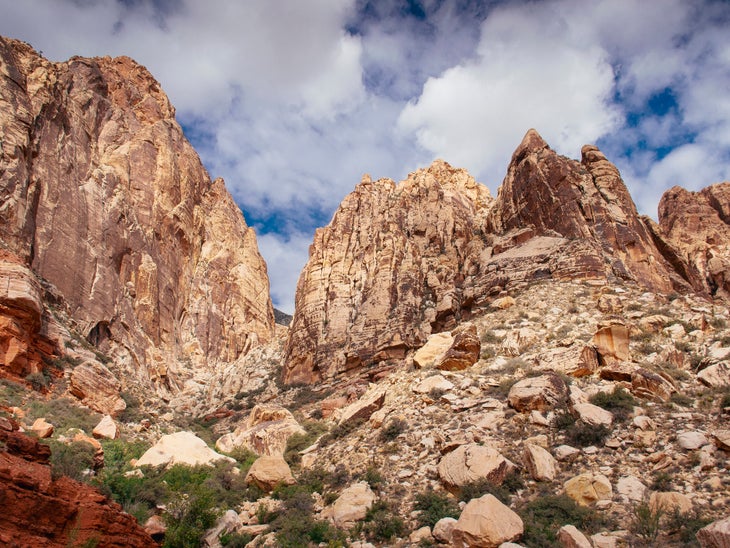 "I can see the belay up there," I said hesitantly. "This pitch is all bolts."
Susan was a physician and PhD, a deft, experienced and smart climber, the kind of solid climber and person you want to be with. Eyes widening with moxie, she said, "Let's do it!"
She motored up that last pitch, all face moves, and I followed; I remember intricate or inobvious moves out from under an overlap. At my behest Susan barked out instructions that I instantly obeyed.
We finished—why does it matter? it just does—and went zinging down, down, cautioning each other, "Check everything, check everything."
This was 12 years ago. Susan Price and I had started early from the campsite, the alarms probably going off at 5:00. Coffee, quick breakfast, the bumpy drive; the hike in. But Red Rocks is a vast place, and when neither person is a local (though we'd both visited before) it is easy to get off on the wrong trail or drainage or just to hesitate and walk back and forth, and all week we'd done all that, both going into climbs and struggling out at dusk. In this case, we hadn't been sure where our route, called Sour Mash, was, and at first started up the wrong line, burning daylight. The route was given 5.9, though it's now been upgraded to 5.10. We thought we'd be fast, but were rusty placing pro, or at least I was. Hence the mad dash at the top.
And now we were clambering and stumbling out. Sure, we had headlamps, but the real problem, again, was keeping track of the trail when we got out of the scrub and crossed bare rock. We lost the trail below our feet and the visuals in the bushes across the clearing.
We labored through the gully and into the wide spaces beyond.
What if we pass the car?
If Susan and I missed the lay-by where we'd left the rental car, where would we end up in the endless blackness, and for how many miles? The thought worried me more and more. I never ventured it.
We did have a phone. If we'd had Gaia GPS, we could have hit "Record" at the trailhead, then "Finish Track" at the base (never mind that we had trouble finding that, OK?), and then retraced our steps along a clear line, without the stress, and with the knowledge of the exact distance.
We didn't, luckily, walk past the car. We really shouldn't have gone to the top of that route, but as climbers we just wanted to, and have always been glad we did.
---
The Gaia GPS app comes with Outside+ membership.
---
This article is free. Sign up with a Climbing membership, now just $2 a month for a limited time, and you get unlimited access to thousands of stories and articles by world-class authors on climbing.com plus a print subscription to Climbing and our annual coffee-table edition of Ascent. Please join the Climbing team today.