Lost at Midnight Rock and Gaia GPS
I call these Boring Epics. Not that much happens, but they take forever, with not even a funny or good story afterwards. Nothing learned except, Don't be an idiot.
Heading out the door? Read this article on the new Outside+ app available now on iOS devices for members! Download the app.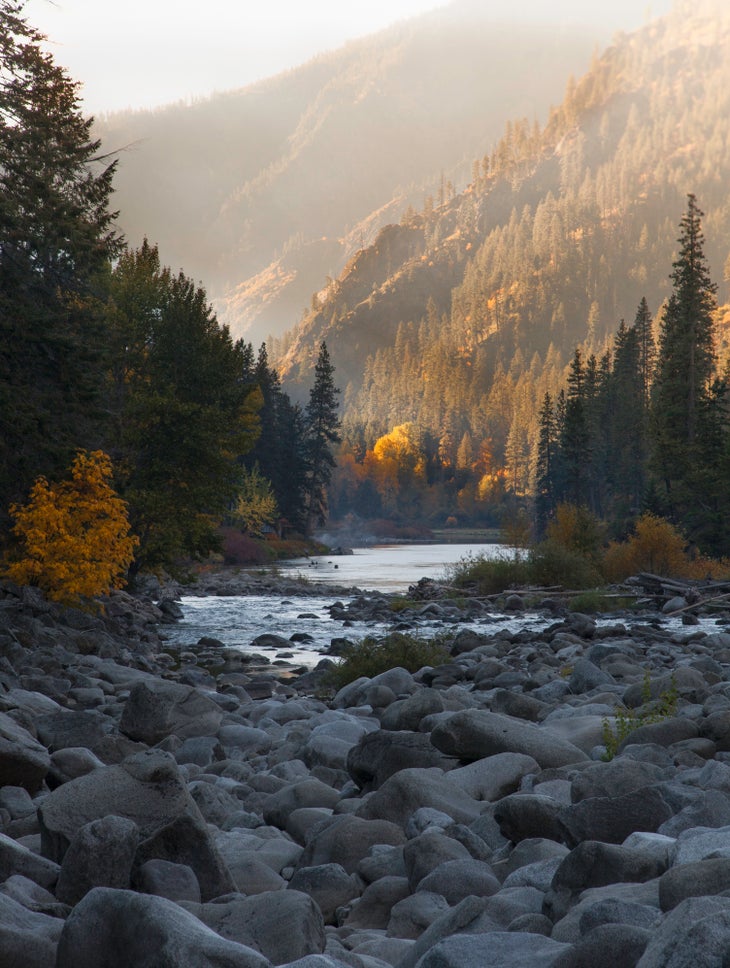 Guess there's a reason that buttress, located high on a mountainside in Leavenworth, Washington, is called Midnight Rock. Long ago, I spent a summer in the area, and one day two of us set out to reach this crag, known for a long approach—but we had great insider scoop, or so we thought. Go around up the back side of the mountain, park on the ridge, and drop down instead of slogging an hour-plus in the summer sun up from Tumwater Canyon. I did, now that I think about it, hear some ghost of a tale of how the drop-down way could be hard to find.
Midnight Rock, a 300-foot granite wall laced with crack climbs, was probably not hard to find from the top; the reverse was the problem. My friend Neil and I were delayed on some climb, maybe by a stuck rope, maybe stubborn effort. Multipitch trad is just involved. I think Midnight Rock houses the only 5.10 offwidth I've ever led, and that I got my head stuck in it (Don't fall now, or you'll hang yourself). The crag also hosts the brilliant R.O.T.C. (for "Rather Overhanging Thin Crack"), a 5.11 that had been soloed by Peter Croft, which still blows me away.
On our return that evening, darkness descended before we reached the ridge. The way was obscure, and then it was dark, dark. Without real trails or familiarity, we overshot the small lay-by parking spot, and then (no headlamps, doh) stumbled along the ridge, in the kind of deep darkness where you inch forward, knowing you could be about to fall off something, which we both did, with shrieks. Hot, discouraging hours passed; with stickers, clamminess, branches in the face and arms.
I call these Boring Epics. Not that much happens, they just take forever and are exhausting, with not even a funny or good story afterwards. Nothing learned except, Don't be an idiot.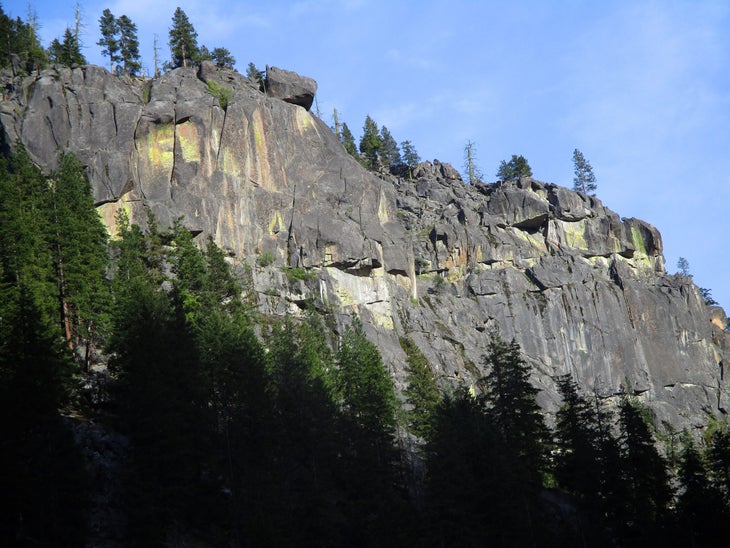 After an hour or two of creeping along in humidity and peril, still unsure, we turned around and struggled back. We found the vehicle; I can still see that welcome, sort of unbelievable, blur of white in the dirt lot. We drove down to the A-frame I shared with my friend Katie, pulling in at midnight. Neil's friend Ted had arrived five hours ago, was waiting there and probably fairly ticked off, or at least bewildered. He and Neil were leaving in the morning to climb in the Canadian Rockies.
If we'd had Gaia GPS, we could have hit "Record" at the start, then "Finish Track" upon reaching the crag. We'd have traced our line, followed our steps back, and gone directly … what a concept … to the truck. A glad reunion with Ted, a nice dinner even. No branches in the face or plummets off mossy rock. Everything would have been … different.
I'd use it going forward. It only takes cell phones, and does not require cell service. I have too many stories of stumbling out in the dark or fog, maybe worried about sliding down a slope or cliffing out.  It's safer; helps see you home.
---
The Gaia GPS app comes with Outside+ membership.
---
This article is free. Sign up with a Climbing membership, now just $2 a month for a limited time, and you get unlimited access to thousands of stories and articles by world-class authors on climbing.com plus a print subscription to Climbing and our annual coffee-table edition of Ascent. Please join the Climbing team today.