Climbing Holiday Gift Guide: Climbing Addicts Colored Chalks
Leave no tick marks.
Heading out the door? Read this article on the new Outside+ app available now on iOS devices for members! Download the app.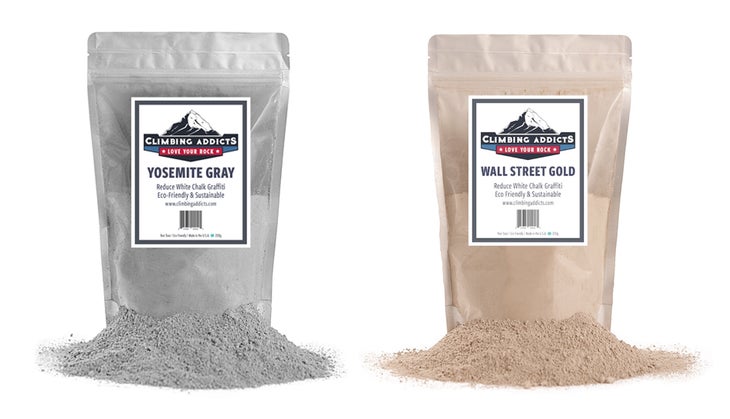 Need a gift for that special climber in your life? We're running new product recommendations every weekday until the holidays. Check out the rest of the list.
I was watching a Scandinavian movie the other night, Devil's Bride, about a witch hunt in a coastal Finnish village in 1666. Multiple scenes feature characters meeting in a small cave on the ocean; with featured red-brown rock and a flat landing, it looked like a perfect spot to go bouldering. And lo and behold, each and every hold in the cave was covered in telltale white blotches of chalk. Now, I'm pretty sure the Finns weren't bouldering—at least not with chalk—back in the 1600s, so one could surmise that the chalk has appeared more recently, introducing an anachronism into the film.
Chalk is in fact one of our most visible impacts, a problem climbers have tried to solve for decades, on and off (and with varying degrees of success), with colored chalks. The family-run Climbing Addicts has introduced two blends—the red-brown, sandstone-hued Wall Street Gold and the granite-toned Yosemite Gray—of high-end powdered chalk that do a great job of masking our tracks. With your standard white chalk as a base, these blends add in natural pigments (you can see the flecks in the mix) while keeping a silky, dry feel and reliable grip, unlike some of the greasier attempts of yore at the genre. I used the Yosemite Gray on Boulder Canyon granite, where it blended right in but still brushed off as well or better than standard block chalk, and the Wall Street Gold on Flatirons sandstone, where you could barely see evidence of my passage. A little goes a long way with this stuff, and/or you can even "dilute" it with any white chalk already in your bag while still getting good camouflage.
For urban or front-country climbing where our fetish with the white stuff is all too apparent, for sensitive or wild areas where you truly want to Leave No Trace, and for powdered-chalk enthusiasts in general, Climbing Addicts has come up with an exciting new take on the genre.
$16 for a 200g bag, climbingaddicts.com