Climbing Holiday Gift Guide: Metolius Upshot Belay Glasses
Heading out the door? Read this article on the new Outside+ app available now on iOS devices for members! Download the app.

Need a gift for that special climber in your life? We're running new product recommendations every weekday until the holidays. Check out the rest of the list.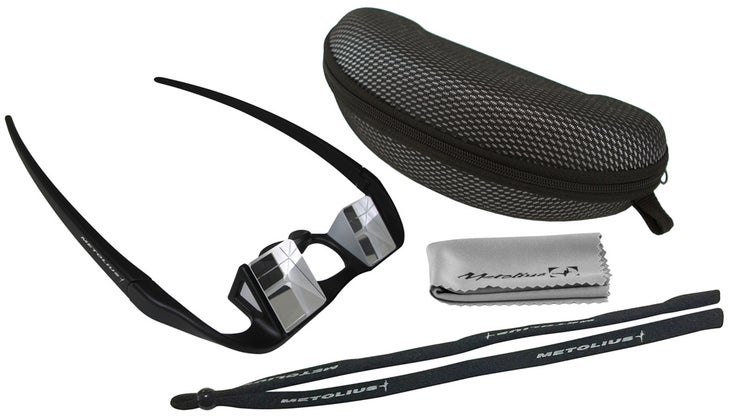 I loved the pair of Metolius Belay Glasses I tested last year, but alas all good things must come to an end. I was sad—like, "falling at the last move going to the chains" sad—when I inadvertently sat on them at the cliff and snapped one of the arms. Alas, these had been my favorite belay glasses to date, with a solid, well-anchored feel, killer upward-tilting angle, and wide field of vision that essentially eliminated the motion-sickness issues I'd experienced with other designs in the past. Something about having the field of vision be too narrow and the glasses be too light, with any movement of the head translating to rapid, major changes in your field of view, had caused me to have issues with other brands. So much so that I rarely used belay glasses—until the Metolius version came along.
Well, the good news is that Metolius has further improved on their original design and now offers the Upshot Belay Glasses, with a few welcome refinements and some extra sundries thrown in. The Upshot's field of vision is higher than the original design, with greater peripheral vision, and felt to my eye like it has also had more vertical range; I barely had to crane my neck to watch my climber, and could keep my head in a comfortable, neutral, natural forward orientation. This held true whether I was belaying steep swells in the gym, short, bouldery sport pitches on vertical granite, or 40-meter monster pitches (talk about a long-ass belay!) up in the Flatirons at a semi-hanging stance one pitch off the ground where the need for comfort is greater than ever. And to help make the glasses portable and long-lasting, also included are a hard-shell carrying case with clip-off loop, a lanyard for keeping the glasses around your neck when not in use (super-key), and a lens-cleaning cloth. The Upshots themselves weight 1.6 oz, or 3.1 oz with the case, making them plenty portable for the top lid of your pack or hauling up a multi-pitch line. Meanwhile, the nose pads have also been streamlined and made more ergo, to work with any existing eyewear (prescription glasses or sunglasses) you may have on.
I'm heading out tomorrow, back to that 40-meter monster pitch, where I need a rematch (sigh) after sewing-machine-legging off the crux like a chump the other day, while my buddy needs to suss the beta along its 18-bolt length. There is no doubt I'll have the Upshot Belay Glasses with me. If you're serious about your neck and spine health, and you're a serious climber, then consider them a mandatory piece of equipment. These well-crafted beauties may very well be the best design on the market.
$60, metoliusclimbing.com