Climbing Holiday Gift Guide: Y&Y Classic Belay Glasses
Save your neck
Heading out the door? Read this article on the new Outside+ app available now on iOS devices for members! Download the app.

Need a gift for that special climber in your life? We're running new product recommendations every weekday until the holidays. Check out the rest of the list.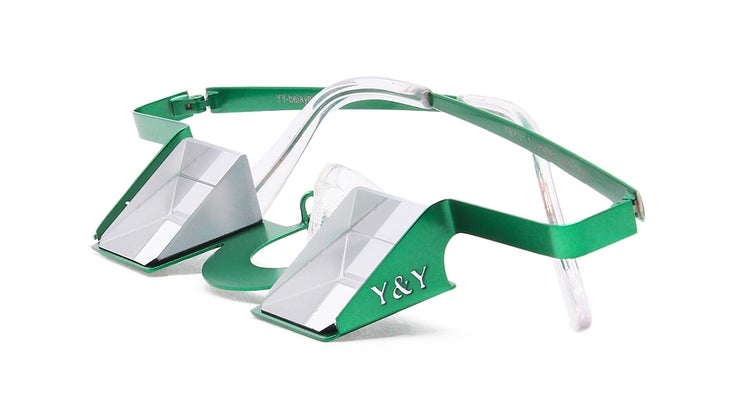 Belay glasses are no longer a choice for me. The stress of sitting at a desk all day combined with staring straight up at the gym and crag is too much for my feeble office-worker neck. After countless physical therapy sessions, I am all in on belay glasses. They are both cheaper and less painful than physical therapy—not once have my belay glasses shoved "dry needles" into me, squeezed my tender, locked-up trapezius muscles, or asked for a copay. Win, win, win.
I've been wearing the Y&Y Classic Belay Glasses for two years now, since the plastic frames of my previous pair, by a different brand, became brittle and snapped due to cold at the Ouray Ice Park. The Y&Y Classics are the best belay glasses I've used, by far. First, the metal frames are light (only 36 grams), and the arms grip your head slightly, holding them in place, while the silicon nose pad is soft and easy on the schnoz. The arms apply just the right amount of tension that the glasses aren't uncomfortable, but won't fall off. In all the time I've used them, they have not become loose or lost tension. The minimalist frames also make it easy to see around the prisms when you need to look at what's in front of you instead of above you. Bonus: The metal doesn't become fragile when used at the Ouray Ice Park.
[Y&Y also makes plastic frame belay glasses and belay glasses that clip onto other glasses. I only tested the metal Classic version for this review.]
My favorite feature of the Y&Y Classics is the angle of the prisms. They tilt my vision up more than any other belay glasses I've tried. This allows me to belay in close to the wall without craning my neck for longer as my climber gets high off the deck on long routes, resulting in both less neck strain and a safer belay. The Y&Y's can also be used in front of another pair of glasses—necessary when belaying into the sun or using prescription glasses—but this does comes at the sacrifice of some viewing angle as the Y&Y's sit lower on the nose.
The package also includes a nice cushioned case with a not-for-climbing carabiner attachment. I personally would have preferred a more reliable carabiner and loop on the case for multipitch climbing, as I've broken similar sunglass case attachments in the past, but so far my Y&Y case has held strong.
If you're tired of rolling around on a lacross ball at night after staring at your computer all day (aren't we all?), then belay glasses can help alleviate some of your pain, and if you're going to get belay glasses, you can't go wrong with the Y&Y Classics.
$80 (gray), $90 (other colors); yyvertical.com