Two Layers of Carpet and Some Foam: the First Crashpad Design Changed Bouldering Forever
The first real crash pads came out of Hueco Tanks, right? But that is not where the light bulb first went off.
Heading out the door? Read this article on the new Outside+ app available now on iOS devices for members! Download the app.
The first bouldering crashpads are associated with Hueco Tanks, starting with the area's early sage and chronicler, John "Vermin (Verm)" Sherman. But as with anything, the tale is hydra-headed. Actually, it starts with feet—and shins and knees.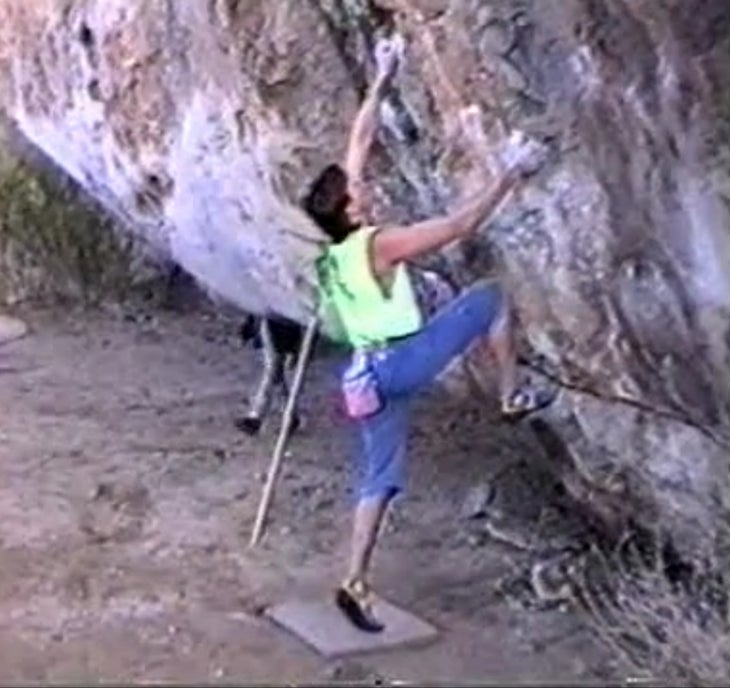 Sherman, co-author of the 1991 guidebook, credits two longtime El Paso locals, Donny Hardin and Fred Nakovic, as coming up with the idea "after a heel-bruising session not at Hueco, but City of Rocks, New Mexico."
Granted, pretty much any bouldering session back then was injurious in that way. Climbers would sometimes bring small swaths of carpet to clean their shoes on or a couch cushion to soften their landings, but otherwise, when you fell, you pounded the ground. Or your spotter. (One of the best names ever for a boulder was Sherman's highball See Spot Run, V6, originally a Bob Murray toprope).
Hardin, reached in Boulder City, Nevada, where he works as a rigger for a theatrical unit, laughs in affirmation.
"I did have a hand in inventing them," he says, though he in turn calls Nakovic the main creator. It was fall of 1987. The two were climbing and developing problems often at City of Rocks, which was largely empty of climbers, though they'd sometimes round a corner to find the now mythical Bob Murray working a problem alone.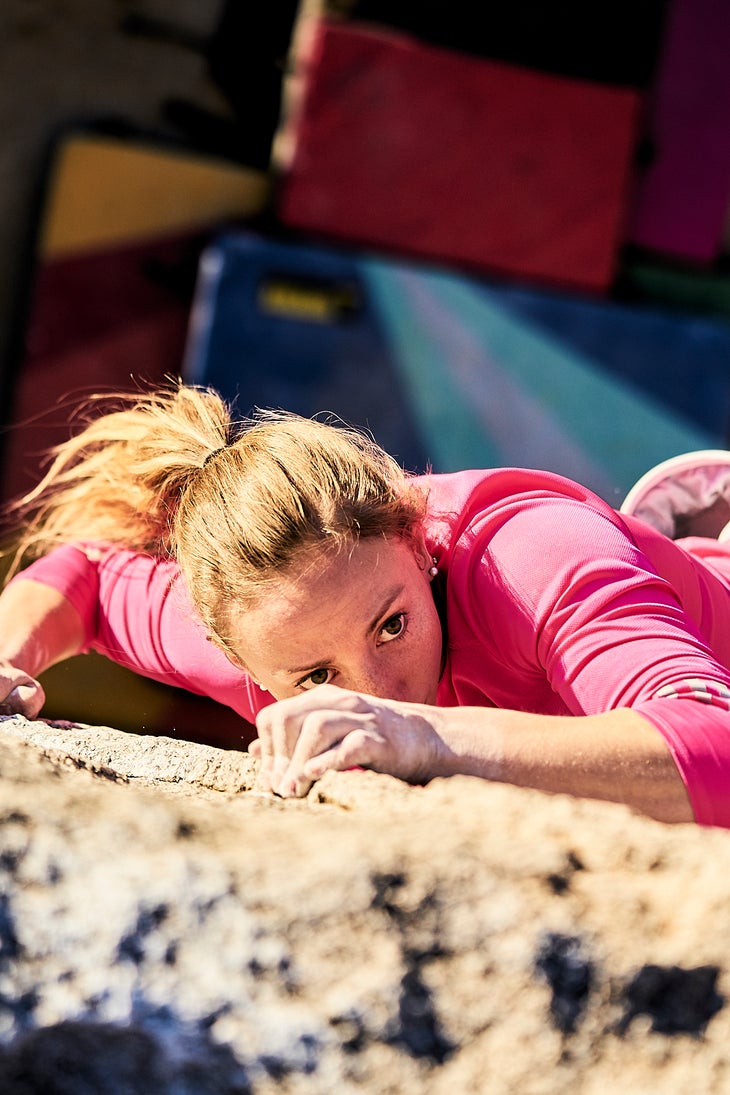 The freestanding rhyolite boulders at the area, which is near Deming, are tall and undercut, eliciting difficult downclimbs or jumps onto hard, gravelly landings. One morning Hardin found himself at park headquarters emerging from his car with a stiff cowboy gait, "like John Wayne," he says. "Fred got out of his car and looked the same way, like we were ready to draw on each other. We both said, 'Man did that happen to you, too?'
"City of Rocks gave us shin splints and bruised heels from constantly falling. Our shins were sore all the way up to the kneecaps; our knees were sore. All we had were these little pieces of carpet" to land on, Hardin continues. "That was when Fred had his brainchild."
Nakovic fashioned a welcome-mat-sized pad comprised of carpet foam sandwiched between two layers of carpet. Then Hardin made one, too—and of course everyone else in their crew of eight or 10 right away had ideas about how to fold or split the design. Their friend Greg Burns took off with the whole notion, constructing what at the time seemed like a king-sized pad: roughly 30 inches by 30 inches square, consisting of two layers of shag carpet around an inch of high-quality carpet-padding foam, split to fold.
He showed it to Hardin, who took one look and said, "That is brilliant."
Burns gave Sherman one of these early designs to check out. Says Sherman in an email, "I would later come to call this the 'cocktail napkin.' You had to fall very precisely to hit such a small target."He says, "It was amazing to jump off these boulders and have that inch and a half on the landing."
Sherman and the other regulars camped there and hanging out at the famous Pete's Quonset Hut started making bigger versions of crashpads, trying things out, and giving them to friends. A writer and photographer, Sherman traveled with his pad all over the country, including to the East Side of the Sierra, where he often hung out with Bruce Pottenger of Kinnaloa, a Bishop-based outfit that made artistic and humorous chalk bags, sweatshirts, and shirts, including the famous "This Ain't No ***** Wienie Roast" design from an ad in Climbing magazine.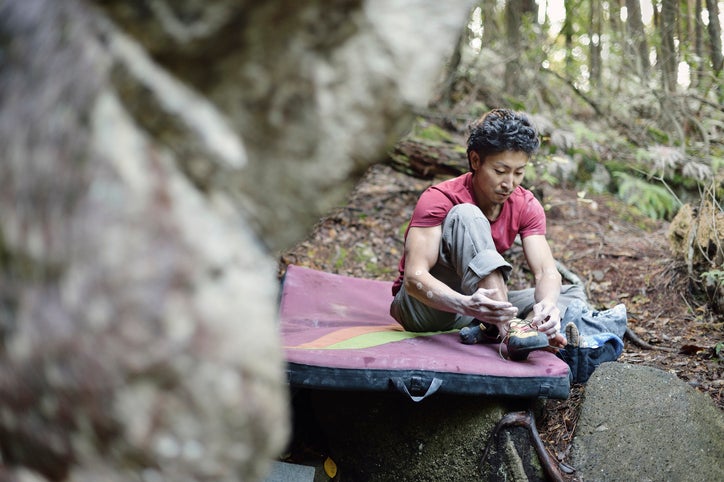 Sherman recalls that Pottenger "thought people would buy a pre-made version, and together we came up with what would become the standard design used ever since—nylon sleeve, carrying straps, dual-density replaceable foam."
They brought the product out for sale in 1992. The Kinnaloa Sketchpad was the first commercially available bouldering pad, and part of the development of the sport of modern bouldering. Other companies took up the cause, with Metolius, Cordless and Black Diamond coming out with crashpads, and more since. Pads have of course since become bigger and better, with backpack straps, straps to hold two pads together, pockets, hinges, and more hinges.
Americans were among the early world leaders in bouldering, thanks to leading lights such as Murray and John Gill, who, like the Bleausards of Fontainebleau, valued the activity for itself alone. Hueco Tanks became an international bouldering destination, early on attracting the luminaries like Patrick Edlinger (FRA) and Elie Chevieux (SWI), and the V scale for bouldering was invented there. (By guess who? Try V for Verm.) Pads helped propel standards by enabling people to climb harder and higher problems, and those with complex, previously unthinkable landings.
Hardin laughs. "Once we came out with them, they just took off like wildfire. We were a tight-knit group; we were making 'em for friends. I still think I have one of the old ones," he says. He still boulders, too, and pads are probably why.
---
"Best and only crashpad I ever had was my spotter." – Jim Donini, Mountain Project, History of Crash Pads.
---