Field Tested: Five Ten Crawe
A no-frills all-arounder that does well across disciplines, especially in the gym.
Basics
Five Ten's modern all-arounder is moderately downturned and slightly asymmetrical with a sensitive toe box, stiff supportive sole, soft midsole, and beefy heel.
---
Pros
Performs wells on smears and volumes. // Great toe-hooking performance. // Comfortable out of the box. // Sock-like feel with minimal stretching over time. // Excellent pull-tabs: big, beefy, comfortable on the fingers. // Wide toebox is best for wide-footed climbers.
Cons
Less good at toeing in on steep walls—particularly on big holds since the shoe is flat and the sole is stiff. // Not a good fit for climbers with higher arches. // Thick rubber heel and stiff sole feel somewhat clunky. // Not great for the narrow-footed. // A bit pricey for a mid-tier shoe.
---
Our Thoughts
Designed for bouldering and sport climbing, the Crawes will be most attractive to gym climbers who want a shoe that can perform equally well on sub-vertical volumes, steep board climbs, and the occasional end-of-day romp up the autobelays. For more specialized climbers, or climbers who care to invest in a quiver of shoes, the Crawe can play a solid role as a training shoe, but it is unlikely to be your go-to. Outdoors, it performs adequately, but does better on high-volume days at the Red River Gorge than on precise granite boulders.
---
Size Reviewed
8
Price
$190
---
Heading out the door? Read this article on the new Outside+ app available now on iOS devices for members! Download the app.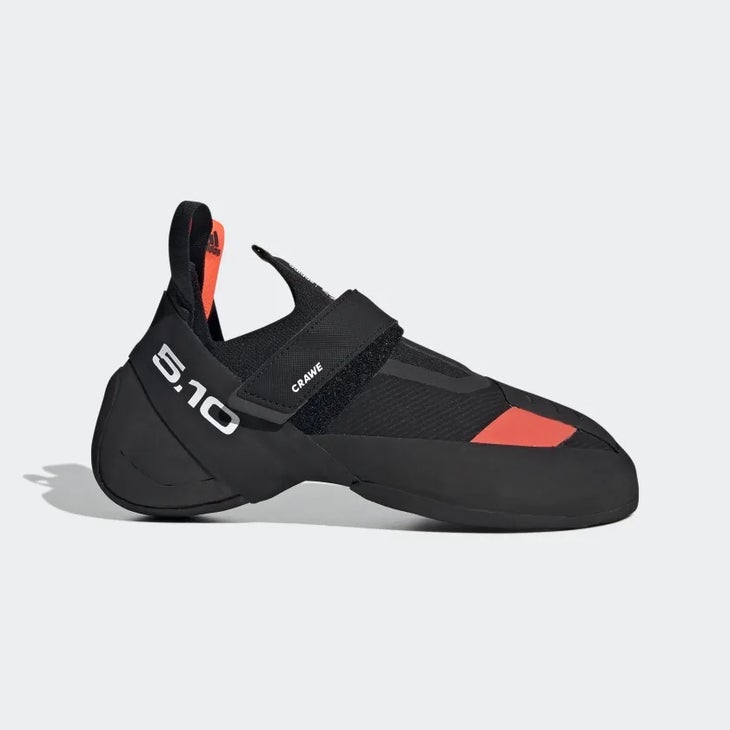 Some backstory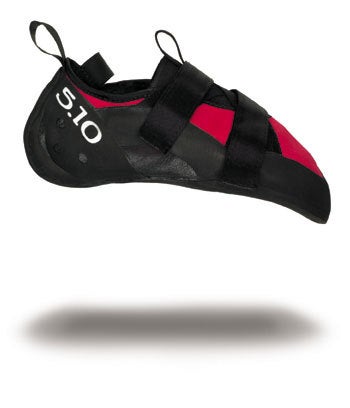 I have a conflicted history with Five Ten shoes. My third pair of climbing shoes (ever) were first generation Dragons, and I loved them. Though the original line had been retired by the time I started climbing, several of my friends still swore that the Dragons were the single best sport shoe ever made, so I hunted the gyms and gear stores up and down the East Coast until, finally, in the early summer of 2005, I found a single unused pair behind the desk at a now-defunct gym called Boulder Morty's in Nashua, New Hampshire. My Dragons were a size too small and thirty percent off and, after a short but heinous break-in period, they got me up my first 5.12c redpoint, a four-bolt runt of the route called Shock Therapy that some cruel people consider 5.12b.
Though they don't compare to modern shoes, I remember the Dragons fondly: how they at first crushed my toes and cut off circulation to my Achilles but then broke in to be veritably comfortable; how their ultra-soft toe-box felt at once supportive and sensitive on Rumney's technical schist. But the Dragons—like all the Five Ten shoes I've ever owned, which included a hand-me-down pair of V10s and some Jet7s—simply did not fit my heels. I loved the company's minimalist toe-box; their dedication to thin rubber and aggressive lasts back when most other climbing shoe brands were still rolling out stiff edging shoes; but none of their shoes worked for my heels. So when La Sportiva released the Solution in 2007, I gave up on Five Ten and became a Sportiva man—an accidental decision that became more intentional when the company sold to Adidas and acquired a reputation (earned or not) for declining quality.
So how did I like the Crawe?
I liked them quite a bit. They're good for what they are. By which I mean:
Performance
The Crawe billed as a "semi-aggressive" shoe, and I agree with that phrasing. The Crawe doesn't have the extreme downturn of a Scarpa Mago or Solution Comp, nor does it have the hyper-soft last of a Hiangle or the Furia—but the shoe's relatively flat shape is made more aggressive by its combination of sensitive toe box and thick sole. The result is a shoe that's at once sensitive and supportive, good at edging, great at smearing, and very comfortable.
Smearing, edging, and toeing in
The Crawe feels very soft under the big toe, which allows it to conform to whatever surface you're standing on. This is why the shoe is great on volumes and smears—"If you're running around on volumes, they're going to feel really nice," said one of my fellow testers—and decent at "dragoning in" on smaller footholds on steeper walls (think MoonBoard).
However, the rubber on the rest of the shoe—the sole, the heel, and the top of the foot—is rather stiff, which makes the Crawe feel a little clunky. Interestingly, the shoe feels very insensitive when using bigger feet on steep walls, since the stiffness and lack of downturn makes it hard to grab with your whole foot. (Other stiff performance shoes like the Solution get around this problem thanks to their radical downturn; their highly concave, almost spoon-shaped sole; and their aggressive asymmetry.)
The benefit of the stiffness? The Crawe edges about as well as you'd ever need to edge in a modern gym. And the one time that I took the Crawes up long vertical moderates (it was an accident: I forgot my TC Pros) they performed admirably at sustained edging on basaltic 5.10s, though my dogs were barking a bit by the end of each 40-meter pitch.
Heel hooks & Toe hooks
The Crawe's heel—like all those older Five Ten shoes—doesn't fit me well. It's at once too small and too big: there's a dead spot under my heel yet the shoe doesn't ride high enough up my ankle. As a result, I feel like I'm on the edge of tugging my shoe off whenever I'm properly yanking on a heel hook. (The high Velcro closure does help to keep this from actually happening.)
My fellow tester, however, has always loved the Five Ten heel and loves this one. Indeed, he thinks it is the shoe's best attribute. Not only does it fit him well, but the thicker rubber, which encases the entire shoe, adds comfort on sharper heel hooks, and the nylon band to which the pull tabs are connected help protect his Achilles.
Thanks to its relatively flat last and the thick swathe of toe rubber over the big toe, the Crawe is excellent at toe hooks.
Sizing & Shape
I've read elsewhere that some people size the Crawe exactly to their street shoe—or even size up a half size. My fellow tester and I did the exact opposite. I wear a size 9 or 9.5 running shoe, depending on the brand. I tested the Crawe in size 8 and size 8.5; both worked for me, but, with my history of too-tight shoes, I felt more secure in the smaller of the two sizes. The other tester wears a 9.5 or 10 running shoe (again depending on the brand) and he says he wouldn't go bigger than the 8.5. Indeed, since he has narrow feet, he says he would be tempted to go even smaller.
That's another thing about the Crawe: It has a relatively wide toe box. If you've got a narrow forefoot, you're probably best sizing down or looking for a different shoe. Those with wide feet, on the other hand, might be able to size more toward their street shoe.
Conclusion
In the end, like most all-arounders, the Crawe is basically an intermediate shoe. Designed for bouldering and sport climbing, its most devoted wearers will be primarily gym climbers who want a shoe that can perform equally well on sub-vertical volumes, steep board climbs, and those end-of-day romps up the autobelays. For more specialized climbers, or climbers who care to invest in a quiver of shoes, the Crawe can play a solid role as a training shoe, but it is unlikely to be your go-to.
As my fellow tester put it, "For modern gym climbing, they'll be quite nice on all but the steepest things. And I think they're going to serve me well on my mileage days in the gym. But I wouldn't buy them if all I did was climb outside."