Field Tested: Men's Argon Down Pant
Created for winter expeditions and camping, they are a game-changer for belaying at the crag. They immediately warm your lower core, and that jacks up your comfort overall.
Basics
The Rab Argon is a lightweight down-filled pant intended for winter missions and expeditions, for basecamp or a campsite, as part of a bivy system, or to help with warmth in a sleeping bag. It crosses over as a great belay pant for ice and rock.
---
Pros
Light and very packable // Comes with its own 7-inch stuff sack // Super warm: really warms your lower core when you are belaying. Even people who do well in cold temps have been surprised by how much these pants raise their warmth and comfort levels at the cliff.
Cons
No women's model // Elasticized leg hems but no zippers, a concern for those in cold weather who may not want to take off mountain boots when changing layers, less so for cragging, when we swap off trail/climbing shoes anyway all day. // No pockets.
---
Our Thoughts
Some people use the down pants to belay while ice climbing. After seeing down pants around a little at fall-winter rock-climbing areas over a few years and wondering if they made much difference, I tried the Rab Argon. I am all over them as belay pants for cool-weather rock cragging.
---
Size Reviewed
Men's Medium
Weight
13.2 ounces
Price
$200
Brand
Rab (https://rab.equipment/us)
---
Heading out the door? Read this article on the new Outside+ app available now on iOS devices for members! Download the app.
This article is free. Sign up with an Outside+ membership and you get unlimited access to thousands of stories and articles on climbing.com and rockandice.com, plus you'll enjoy a print subscription to Climbing and receive our annual coffee-table edition of Ascent. Outside+ members also receive a Gaia GPS Premium membership, and more. Please join the Climbing team today. 
Whoa. Plush. Put them on and you can't believe the difference.
These down pants came my way by chance, when last year my husband accidentally bought two pairs online. They are men's, and the pants don't come in a women's size, but OK. They aren't exactly form fitting, which means they seem unisex.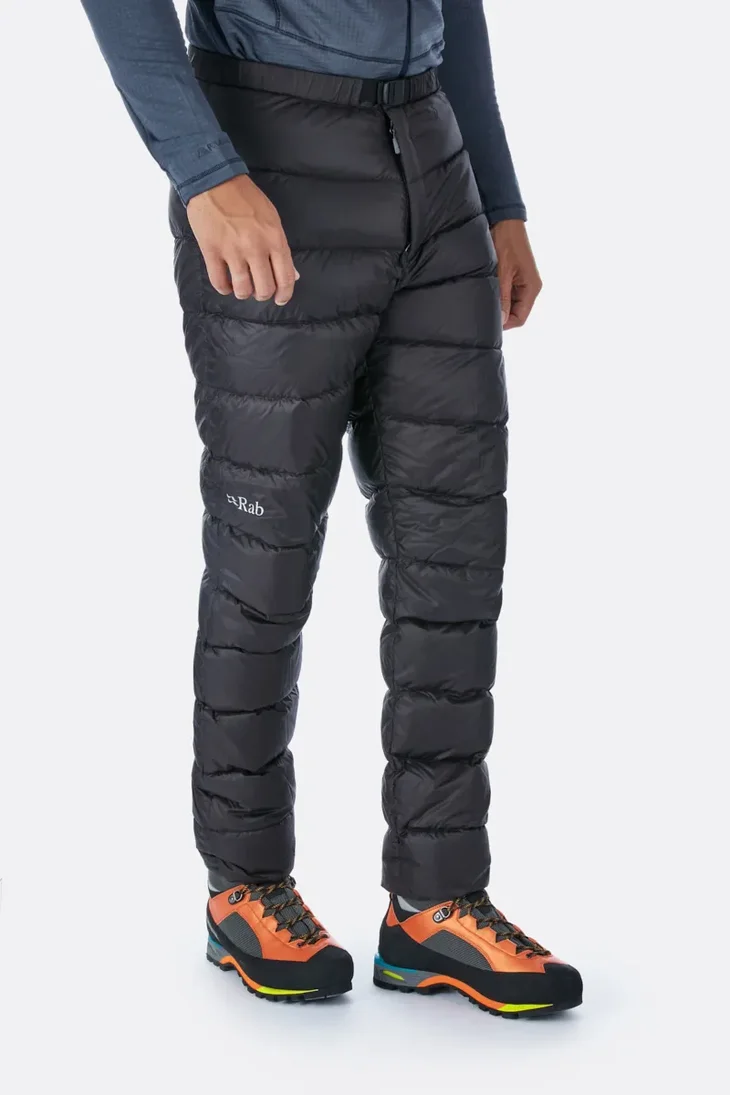 "You look like you're climbing Mount Everest," he said last Saturday. I did have on a down jacket, with hood up and zipper cranked to my nose, as well as the well-padded belay pants. This was at a bolted sport crag—a south-facing one. That was OK, too, I can look like an astronaut, because as soon as I tried the pants, I switched to whatever. They are a game-changer. They immediately warm your lower core, and that jacks up your comfort overall.
Created for winter camping and expeditions, the pants are not made for belaying, so have no specific features designed for it; they just work. A snap closure is backed by a belt with a buckle; I skipped the snap and used the belt at a wide setting to pull the pants together over a belay loop. The pants also have elasticized leg closures, with no zippers, meaning you have to take your shoes off to take the pants on and off. I could see this being an issue in ice climbing if you want to keep warm boots on, but for rock I have to take my trail shoes off anyway before and after each pitch.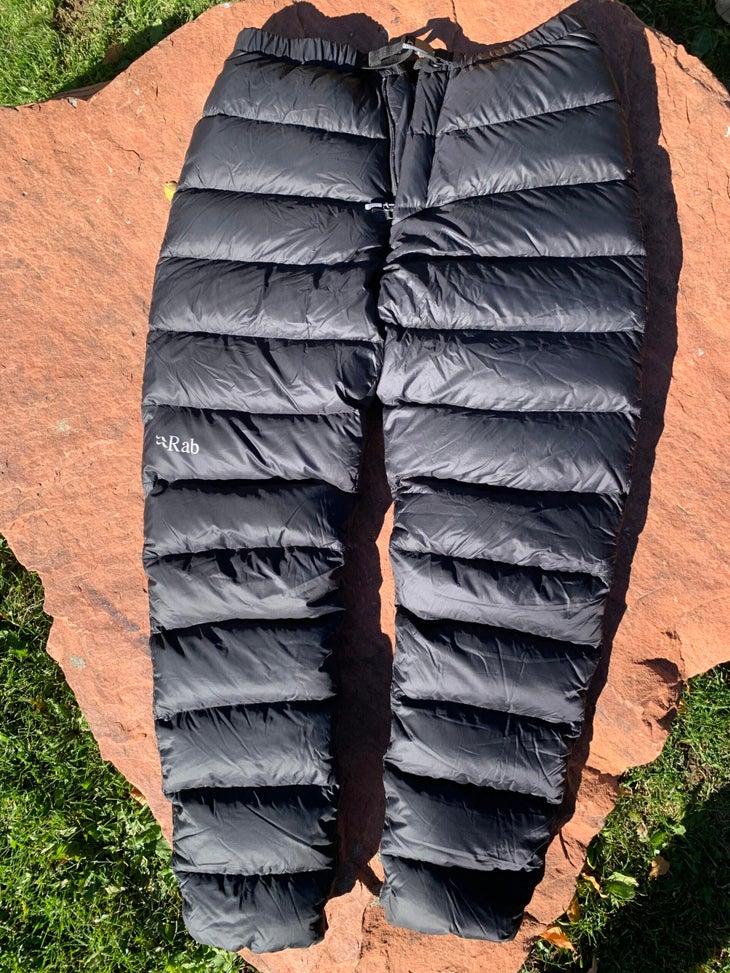 Rab is a great company, born in the UK, which knows cold and crappy conditions. It was started in 1981 by Rab Carrington, of Scotland, which tells you something right there (beautiful place, worst weather ever), a leading climber at home and in travels to the Alps, Andes, and Himalaya. The Argon contains a mighty 160 grams of 800-fill ethically sourced European goose down. Called "hydrophobic down," it is treated with Nikwax in case you are out in the rain; the Pertex outer fabric is also DWR.
Patagonia, Montbell, TNF, Feathered Friends, Eddie Bauer, and Mountain Hardwear, among others, also make puffy pants. The genre is slowly but surely catching on for wider purposes than earlier used and perhaps envisioned. I had tried wearing two pairs of pants for winter cragging, and that system helps a lot, but if the sun comes out, it's harder to shuck an under-harness layer.
These pants are just awesomely warm. They cost a pretty penny, but the price is in line with others in the genre and a little on the lower side.