Field Tested: Do the Metolius Basalt Holds have the best texture ever?
Basics
Metolius Basalt holds are a new line of black resin holds for indoor climbing, made for rock-gym or home-wall use. They come in a 5 Pack, Super 7, or Bouldering Set configurations. The handholds mount with T-nuts, while the foot jibs are screw-on.
---
Our Thoughts
The Basalt Holds feature some of the best resin-hold texture I've ever grabbed, one that's held up well over months and months of climbing and testing. If you have slick skin, these holds are a godsend. For the home-wall user, the Mini Jugs tested here would make for great moderate to middling-hard bouldering options on a 45-degree spray wall, yielding problems roughly in the V1 to V7 range. For circuits and routes, they fall into the 5.10 to 5.13 range, depending on your wall's angle.
---
Size Reviewed
Mini Jugs (5 pack)
Weight
n/a
Price
$0
Brand
Metolius Climbing
---
Heading out the door? Read this article on the new Outside+ app available now on iOS devices for members! Download the app.
Texture Snobbery
I'm what's known as a "texture snob"—OK, this is a term I just made up, but hopefully you feel me. I get horrible, scaly, slick skin in winter, which also just so happens to be peak indoor season here in snowy Colorado, with months and months in a row of plastic-pulling. Since comp-style coordination setting, massive volumes, and giant sloping blobs are all the rage at gyms these days (BARF!!!), I often find myself challenged. And not in a good way; I just dry-fire off the grips before I even have a chance to engage my muscles, limiting their training value. And don't get me started on those greasy-ass pinches, way past their expiration date, that gyms seem to keep using for whatever reason—maybe sentimental value?
As a result, on my home wall, I have carefully curated holds that bite back, ones with a rougher texture that works well with my skin . I use them to warm up, via circuits, and to work power-endurance after a bouldering session on the MoonBoard, when my skin has thinned out and gotten even glossier. These holds are my friends, and I'm happy to pay them back with a little skin left behind if it means I can actually adhere.
I'm always on the hunt for good, grippy holds, ideally ones that have a sticky texture but that aren't so aggressive they can cut a session short. For me, holds in this sweet spot usually have a sandpapery feel—they're grippy but also tight-grained, so they don't shred your skin.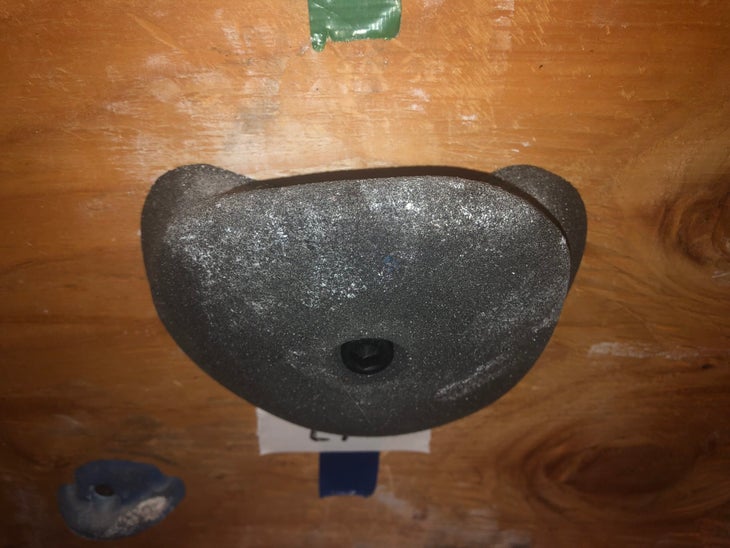 Metolius Basalt Holds
New for spring 2022, the Metolius Basalt Holds have completely nailed that sweet spot—they're grippy and grainy without being gnarly. I tested the Mini Jugs, which came in a 5 Pack. I put them on the two main spray/circuit walls in my garage, one a 10-degree overhang, the other at 20 degrees past vertical, swapping them out for older holds on existing circuits.
My first impression was that I pretty much loved the Mini Jugs. Not only were they grippy as hell; they were comfortably rounded and ergonomic, easily accommodating my big mitts, with an ample grabbing surface that also gives unlimited options for your thumb, whatever your hand size—no weird, morpho, small-person-hands crap here. The holds seasoned quickly, with just an initial chalking or two: It was a very rapid break-in,
Which gets me to the main point: the texture. I've been testing for months, and that initial grittiness has remained, even after lap upon lap on the circuits. The Basalt Holds haven't slicked out, or gotten gunked up with chalk due to being too porous or having too-large of pores. They've stayed grippy, and brush clean nicely as well. The advantages to holds this sticky are twofold: 1) You can crank harder and farther off of them, which expands movement/sequencing possibilities, and 2) They help you climb well, since you don't have to worry about dry-firing and can thus move with confidence and authority.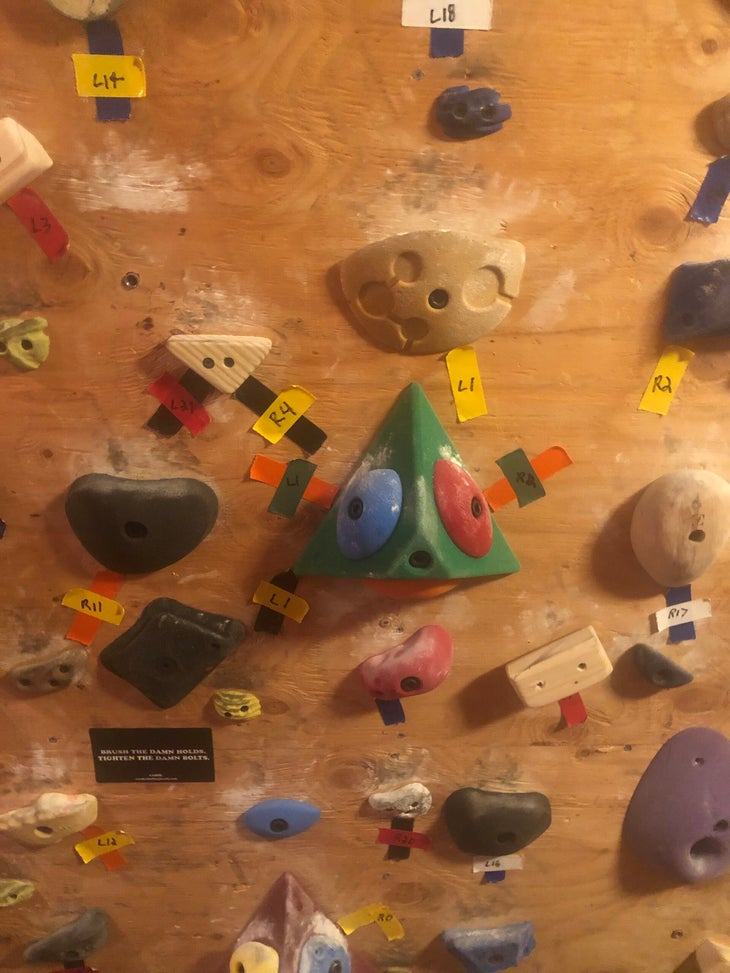 Where I'd Use Them
The Mini Jugs I tested could certainly go on steeper walls, even up to a roof angle with good setting. On the 10-degree wall, they have made for 5.10–5.11 sequencing, and 5.11–5.12 sequencing on the 20-degree wall. Right now I have them all as downpulls, but they'd certainly also work great as underclings and sidepulls, given their incut lips. If you were, say, to put the Basalt Holds Mini Jugs on a 45-degree spray wall, you'd likely be doing problems in the V1–V7 range, and they'd also make for great finishing holds—perfect to dyno to with that amazing texture.
While I didn't test the other sets in the Basalt Holds line, I'm confident they'd be a great addition to my spray/circuit walls—and I'm sure I'll be upgrading soon. The prices for each option are below.
Pricing
| | |
| --- | --- |
| Super 7 | $39.95 |
| Boulder 12 | $49.95 |
| Micro | $29.95 |
| Modular | $39.95 |
| Mini Jug | $39.95 |
| Macro | $29.95 |
| Roof Jug | $29.95 |
This article is free. Please support us with a membership. Join the Climbing team and you'll not only receive Climbing in print, plus our annual special edition of Ascent, but you'll enjoy unlimited online access to thousands of stories, news and safety articles.