Field Tested: The MoonShade Awning
The MoonShade is a portable awning for car camping that's compatible with a wide range of vehicle types, including vans, trucks, and cars
Basics
The MoonShade is a portable 9' x 7' awning for car camping that's compatible with a wide range of vehicle types and has multiple attachment options.
---
Pros
Highly customizable, with different setup options for hard or soft ground, windy or non-windy days. // Compatible with vans, SUVs, larger hatchbacks, and pick-up trucks. // Has a variety of attachment systems. Does not require any permanent attachments on your vehicle, though has that option. // Easy to set up. // Packs down into a small (28" x 6" x 6") bag, roughly the same size as a standard camp chair. // The underside of the awning is reflective, so it'll catch and reflect your lanternlight at night.
Cons
When extended to the full height of 96 inches, the support poles get flimsy. // The superlight guyline stakes are, like typical tent-poles, quite easy to break. // Like all awnings, the MoonShade doesn't get along super well with the wind, and if you're using the impermanent magnetic or suction anchors, these can get yanked off the roof of your car if the wind gets strong enough, taking your MoonShade with it.
---
Our Thoughts
A highly functional, durable, and easy-to-use awning, the MoonShade is a great fit for car camping. For vans and RVs, it won't be a substitute for a semi-permanent (and very expensive) retractable awning, but it's a good interim step for the price-conscious.
---
Size Reviewed
9' x 7'
Weight
8 lbs.
Price
$350
Brand
Moon Fabrications
---
Heading out the door? Read this article on the new Outside+ app available now on iOS devices for members! Download the app.
Like many climbers, I spent a not-insignificant percentage of my teens and early twenties living in my car—an era of my life that, now that it's over, I still feel almost constant nostalgia for. So I was pretty psyched when, in late 2019, my work went remote and my partner, dog, and I bought a van and hit the road, aiming to sidle from climbing area to climbing area in one endless workcation.
But even used vans with dented doors are expensive. And building out the interior—which requires wood, solar panels, a battery, a mattress, plumbing, a stove, a butcherblock, a fridge, windows, and lots of time—guzzled up our savings and maxed out our credit cards. So we skimped on a few of the luxuries that your Instafamous #vanlifer wouldn't be caught dead without—things like a heater, a bug net, a fan that actually works, and (my topic here) an awning.
For two years, we lived with whatever the elements threw at us. In the winter we froze. In the summer we baked. When the sun was low in the sky, we blinked through the glare of our computer screens. When it rained, we shut the windows and steamed ourselves inside the van. When there were mosquitos, we drowned ourselves in DEET. It was still infinitely cushier than my first road-tripping vehicle, a Honda Element with a plywood bed in the back, but we humans grow rapidly accustomed to what we have and are easily covetous of what we lack: namely, in my case, one of those big mechanical awnings you see on the sides of $100,000 Sprinter vans that effectively double your livable square footage.
That's why I was particularly excited by the opportunity to test out the MoonShade—a well-built, reasonably affordable, and highly versatile vehicular awning meant for both vans and cars.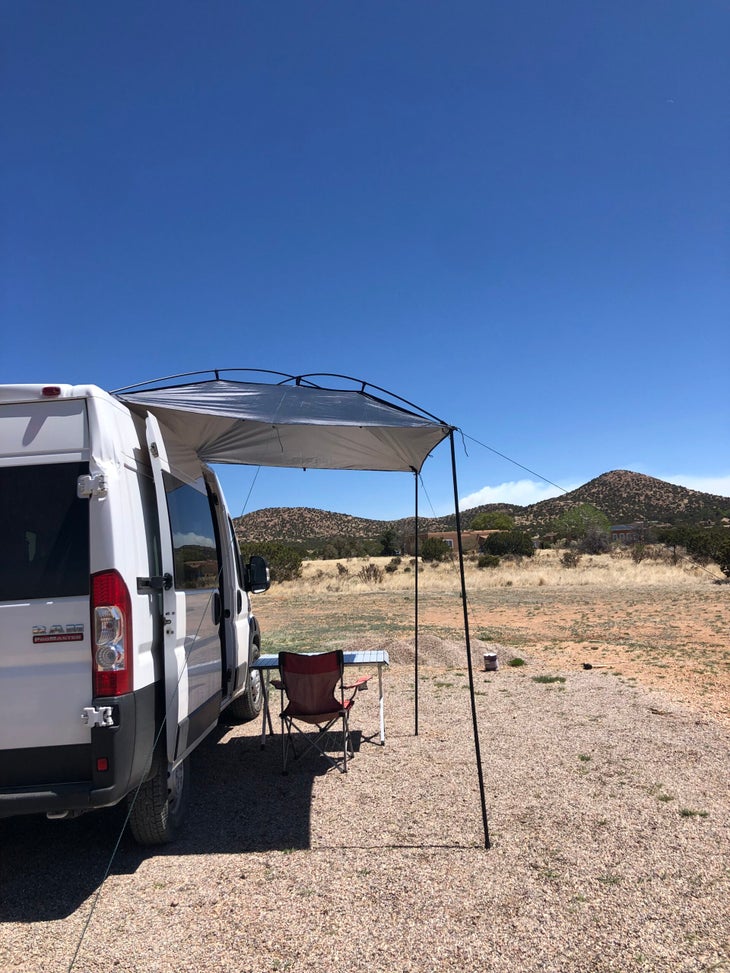 Basics
One of the best things about the MoonShade is that it's not just designed to work on different parts of the car, in different environments—it's also compatible with a wide array of vehicle types. The MoonShade's awning is 7' x 9'. It can be erected with either side attached to the vehicle: i.e., you can connect the 7' side to your car or the 9' side. You can also mount it on the side of your vehicle or the rear.
The awning is held in place by two anchor points (see detailed options below) mounted to your vehicle and supported by two vertical aluminum poles (they adjust from 78in to 96in). In windy conditions, it can also be staked down—just as you would a tent.
Setting up the MoonShade was easy and intuitive—but if you find yourself confused, Moon has thorough setup tutorials on their website.
Attachment options
The MoonShade comes with multiple attachment options—some permanent, some not, which is convenient because I wasn't personally enthused about the idea of affixing a semi-permanent anchor to my vehicle when I wasn't yet sure how much I was going to like (and therefore use) the product. But more importantly, the fact that there are multiple attachment options means that you can attach it to myriad vehicles.
Here are the options:
The large suction cups. The larger suction cups are the strongest non-permanent anchors made by Moon, but they didn't fit anywhere on the corrugated roof of my ProMaster van. (They did work great, however, on the smooth roof of my Subaru Forester.)
The small suction cups. These two attachments, for me, were the workhorses. The strong suction system proved far more solid than the magnets (see below) and were small enough to fit on raised corrugations on my van's roof. My only complaint is that MoonShades don't come with four of these (a second pair is a $15 add-on) because when I want to use them to attach the top (i.e., when it's at all windy), I couldn't also use them for their secondary purpose: attaching the support poles to the side of the vehicle when parked on footing that's too hard to drive guyline stakes into, like pavement or hard gravel.
The magnets. Because I knew that the larger suction cups would not fit on my van, I also ordered the magnets, a $45 add-on. The magnets are versatile and easy to use, but they're far less secure than the smaller suction cups. Several times, in 15+ mph gusts (which in New Mexico, in spring, we call a "light breeze"), I had the magnets lift off the car, which resulted in a predictable collapse (and wind-born departure) of the whole MoonShade apparatus. This is a little disconcerting because the magnets, unlike the suction cups, actually weigh something—and could inflict real damage on a car window. Also, during the second collapse, one of the vertical support poles was bent, and I'm not sure if the fact that I was able to easily bend it back to shape by hand is a plus or a minus. The lesson: Awnings are not great friends of the wind, and don't buy the magnets unless you have to.
Roof-rack attachments. I didn't test any of these since I don't have a roof rack on either of my vehicles, but you can buy various MoonShade-specific attachments for roof racks of different sizes, and will be my go-to attachment once I get a rack for the Subaru.
Semi-permanent adhesive. For users who plan on using the MoonShade often, the semi-permanent adhesive attachments are designed (per Moon's website) to "Securely mount to any reasonably flat surface, even textured fiberglass, such as those found on many pop-up campers, trailers, conversion vans, and Jeep Wranglers." I did not test these.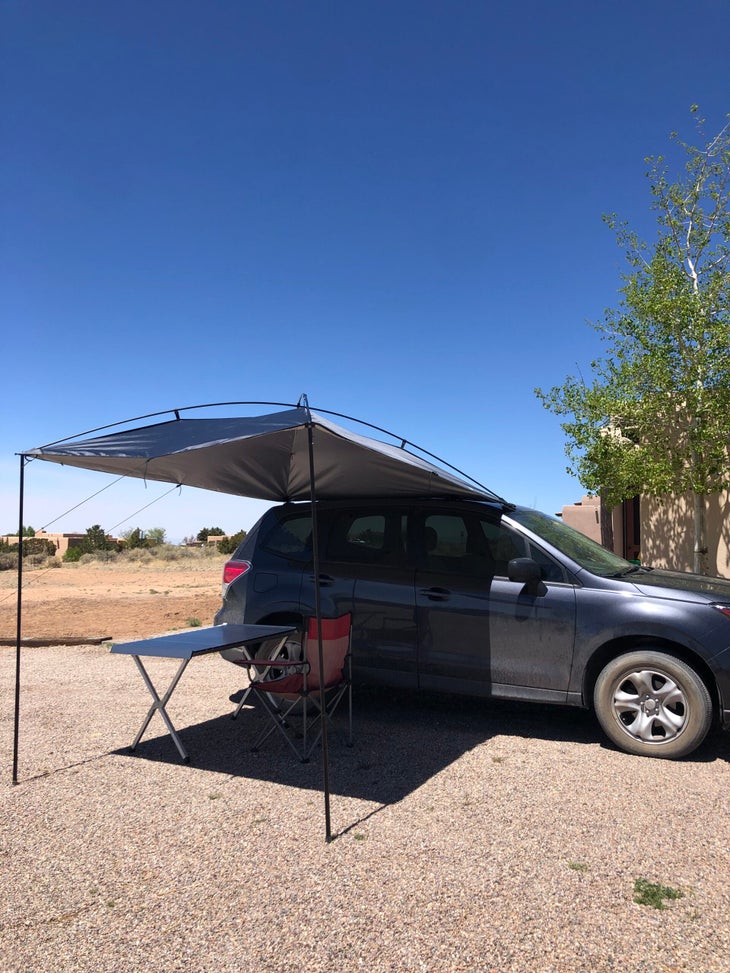 Customizable & Adaptable
Because it's designed for use on multiple vehicles, the MoonShade's support poles extend vertically, allowing you to customize how high the shade actually sits. This is great if you've got both a low-slung hatchback and a high-roof ProMaster, as I do, since I can use the same shade on both. But I did find that when extended to their maximum height of 96 inches (8 feet), the poles lost some of their rigidity and tended to rattle distractingly in the wind. I also found it somewhat annoying that you couldn't stake down the vertical poles themselves, since they tended to wander and bounce when the wind lifted the dome-shaped awning. (The poles have rubber feet, a bit like you'd find on a cane, rather than a sharp tip that can penetrate the soil.)
Ingeniously, however, if you're parked on rocky ground (or in a parking lot) and can't stake down your awning, you can affix the small suction cups (the ones I typically use to attach the awning to the roof of my van) to the vertical support poles, which you then mount to the side of your vehicle.
Picture from Moonshade
The only problem with this system is that, if it's at all windy, I really need the suction cups top of my van—which means I can't attach them to its sides. This grievance is easily solved, however: You could install one of the more permanent attachments or simply buy a second pair of small suction cups ($15).
Durability
All in all, I'm impressed with the MoonShade's durability. The 420D ripstop polyester (with UV protective treatment) withstood the rippling wind during several long and blustery weekends of testing, and all the connection points held up admirably. No rips. No fraying. But Moon's emphasis on lightweight materials comes at a cost: As noted above, I did have one of my vertical support poles bend when the magnet released during what was honestly a pretty mild gust. And I broke one of my guyline stakes when it hit a rock while I was pounding it into some otherwise only mildly firm ground.
All in all
A dang solid product. I wish I had a MoonShade in my youth and am glad I have one now.