Field Tested: Sterling Pickle Bucket
Basics
The Sterling Pickle Bucket is an open-topped, freestanding nylon bucket for rock-gym use or roadside cragging or general storage/toting use. It has two big grab handles along the sides, two smaller drag handles inside, a shoulder strap that you can use as backpack straps, a small interior zipper pocket, and an exterior pocket with a lanyard for clipping off keys, nail clippers, etc.
---
Pros
Extremely well-built, with a thick nylon exterior and a smooth, easy-wash nylon interior, and lots of and lots of stitches holding the straps on // Consistently freestanding—didn't tip or spill // Mondo grab/drag handles make for a reliable carry, even when the bag is loaded up // Lanyard in the outer pocket is a great place to clip—and not lose!—your keys while at the gym
Cons
Could be a little larger—at 13.5″ tall by 14″ in diameter, the Pickle Bucket is plenty big to fit a standard gym kit plus gym rope. But if you're a rock-shoe hoarder like me and always travel with multiple pairs, things can get a bit tight // Interior zipper pocket could be bigger/deeper for stashing wallet and phone in addition to snacks
---
Our Thoughts
With roughly 35 liters of carrying space and an open mouth that's 14 inches in diameter, the Pickle Bucket makes packing, finding, unpacking, and repacking your gym or roadside bouldering/cragging kit easier than easy. It's made of very tough nylon, doesn't tip over, and has big, burly handles tacked on with double stitching that gave me mad confidence in picking up the bag, even when it's full. The multiple carry options—four grab handles, a shoulder strap that also works as backpack straps—have been nice too, adding versatility depending on your usage. It's become my go-to gym bag, and will remain so.
---
Size Reviewed
13.5" tall x 14" diameter
Weight
2 lbs, 2 oz (empty)
Price
$70
Brand
Sterling
---
Heading out the door? Read this article on the new Outside+ app available now on iOS devices for members! Download the app.
I was at my local gym a couple months ago doing routes with a buddy when my friend Mike, who's long worked there, came out on the floor to say hello. Though I was using one of the gym's provided ropes, I'd brought a little rope tarp along with me, so we wouldn't have to flake, re-flake, coil, and re-coil the rope each time we switched locations.
"That's a good idea," Mike said, pointing to the tarp.
"I know," I said. "And it only took me 14 years of coming here to figure it out!" We both had a laugh at this, but the sentiment rang true: How come none of us had thought of this hack earlier?
The same might be said of Sterling's Pickle Bucket—and of rock-gym-ready totes in general: Why have we been bringing backpacks or duffel bags to the gym when a tote bucket would be so much faster and simpler?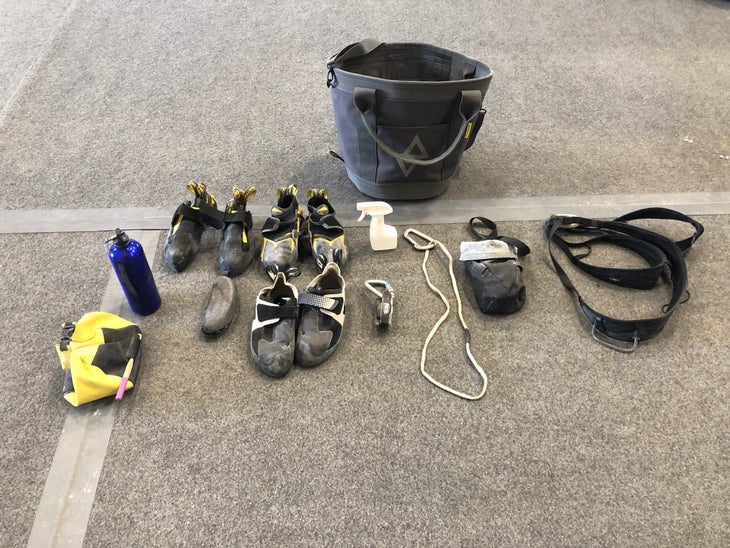 The Pickle Bucket
The Pickle Bucket is one of those basic-seeming but actually well-thought-out pieces of gear I'm not sure how I did without, till I owned one. Thanks to its open mouth, reliably freestanding design, and portability, it's made finding, schlepping, unpacking, and repacking my gym kit so much easier, compared to the small backpack I'd been using for trips to the rock gym.
The Pickle Bucket clocks in at 13.5″ tall by 14″ in diameter, giving it, per my calculations, 34 liters of volume—comparable in size to your average crag pack. It weighed 2 pounds, 2 ounces on our scale at home—so fairly light for the amount of storage. The bucket is freestanding, has a bomber nylon exterior with loads of stitching holding it all together and the straps on, and has a shoulder strap that you can thread your arms through to create an impromptu backpack (the bucket remains upright) for short-distance carries—the strap is fairly thin and not made for long-haul comfort.
What does this all mean in terms of what you can fit and carry, you're probably wondering? Here's my breakdown:
• Exterior pocket: Car keys, phone, a nail clipper clipped to the key lanyard, wallet, energy bar, toothbrush
• Interior zippered pocket: Two small tins of skin salve, a small bag of Goldfish crackers, gym-membership card, tape
• Main body: Harness, sling and carabiner (for weighted max hangs), belay glasses in their case, chalk pot, chalk bag, belay device on a locker, small spray bottle (water for my dry hands!), water bottle, basketball shorts, three pairs of rock shoes
So, pretty much a full gym kit. And if I'm willing to cram things in and top the main body off, I can also fit a short gym rope (~30 meters)—or could easily fit a longer rope if I pared my kit down to one pair of rock shoes. But I'm a "two pairs minimum"-kind of guy for all climbing outings, so this probably won't happen. Ever.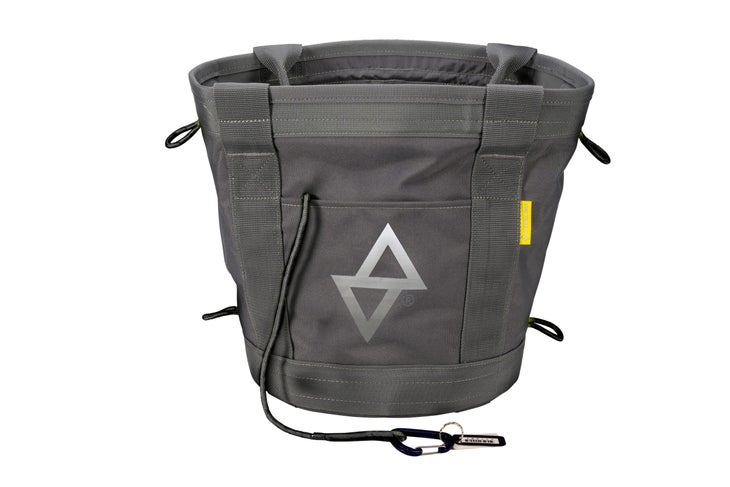 Testing, Testing…
I've tested the Pickle Bucket all winter, making it my exclusive gym bag, and the long and short of it is that I love it. It looks good, with a stylish dark-gray hue; it works perfectly for my rock-gym needs (usually some bouldering, some routes, some hangboard); it doesn't tip over; you can empty it out and use it as a rope bag if you want; and I can find my stuff without a lot of rifling through pockets, fumbling with zippers, and related drama. It's just a great little gym bag, and, like all of Sterling's offerings, has been incredibly durable, with no dinging to the body, strap separation, etc.—the company knows its ropes and it knows its nylon.
My main lament would be that even five more liters of extra space would be nice for shoe hoarders like me, to also comfortably fit a rope, but I realize not all climbers are as insane about rock shoes as I am and usually only bring a single pair. It might also be nice to have the interior zippered pocket be larger, as I'd feel better stashing my wallet and phone there than in an exterior pocket that can more easily be accessed by thieving fingers—though, I suppose, most thieves know how to use a zipper.
Finally, and quite usefully, the bag also has a smooth interior that's easy-wash: Just empty your kit, wipe or spray down the interior, let it dry, and you're ready for your next session.