Heading out the door? Read this article on the new Outside+ app available now on iOS devices for members! Download the app.
Holiday 2005
Ah, the holiday season, when well-meaning friends and relatives try to get you what they think is hot, but typically is not. Or, the time of the year when you're trying to figure out that special Festivus gift for your partner who patiently belayed you on countless routes. Fear not, whether you're giving or receiving we have you covered with everything from stocking stuffers to the big tickets.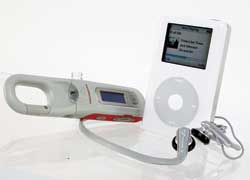 Music gets us through endless approaches and tedious traverses in the
climbing gym
. If you're going on a long trip or just can't stand the thought of not toting your full collection from ABBA to Zappa, go with the hard-drive-based Apple
iPod
($299 to $399) — six people in the
Climbing
office have. If light and fast is your gig and you've perfected your high-energy playlist, perhaps you should sport High Gear's
TrailAudio unit
($140 for the 512mb capacity). The TrailAudio's well-protected flash drive will stand up to more abuse than a hard-drive player and the unit comes with a unique
carabiner
-style clip for convenience.
www.apple.com, www.highgear.com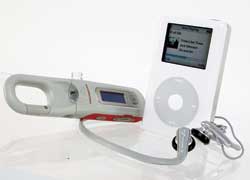 If your chalkbag is looking tattered and crusty, and you're looking to get wild and funky, put Krieg on your list this year. Most bags out there are meant to be marketing pieces for whatever gear or clothing company produced them. Not Krieg. Sam and crew do their
Special-K bags
($21) in small batches, using short runs of unique, sometimes downright outrageous fabrics. Strap one on and be the talk of the crag.
www.kriegclimbing.com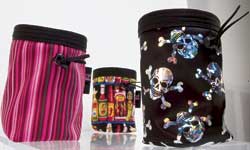 Mmm … beer. The staff of many a climber's life. Speaking of staff, our picks around the office often tend toward New Belgium and Avery Brewing, partly because they're quite tasty, but also because these breweries support the climbing community. If you're looking for some holiday cheer this season, try New Belgium's
Frambozen
($7 a six pack) and Avery Brewing's
Old Jubilation
($7 for the six).
www.newbelgium.com, www.averybrewing.com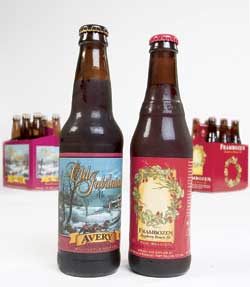 Weekend roadtrips mean stuffing all your gear in a duffel and sorting it out later? Not if you've got Mountainsmith's
Road Trippin'
modular bag system
. You'll be able to organize your necessities and a few luxuries an array of specialized cubes from boot bags to insulated coolers ($13 to $40) that slide just-so into any of several hauling totes ($25 to $99).
www.mountainsmith.com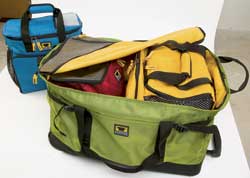 Okay, socks are never anyone's favorite present. Your attitude might change, however, if you got a pair of Teko
Eco-Merino Hiking Socks
($15) in your stocking. Teko sources their merino from a single Tasmanian ranch dedicated to sustainable agriculture. The merino is so soft and cushy, you may find yourself reserving a pair for padding around the house on cold mornings.
www.tekosocks.com
Click here to buy now from MountainGear.com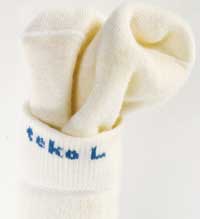 Caffeine, the fuel of our existance, the ignition for those mornings after all-night campfire BS sessions. If you're as serious about your java as we are, start with D&M Coffee's
Organic/Fair-Trade Hi-Octane blend
($11 a pound), ground with Clipper International's
Traveler II hand grinder
($24). When you're ready to brew, go with GSI Outdoor's one-liter
stainless-steel
JavaPress
($40). Mmm … now you're ready to fire.
www.dmcoffee.com, www.rei.com,
www.gsioutdoors.com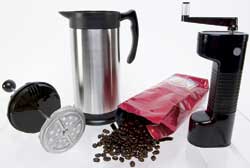 Glacier glasses needn't be chunky and clunky. Take Julbo's
Nomad glacier
shields ($100), for instance. The lenses are the equal of any traditional glacier specs, but the styling is decidedly modern. The sleek, swept-back side shields are detachable, making the Nomad as comfortable at your local crag as they are on the Kahiltna.
www.julbousa.com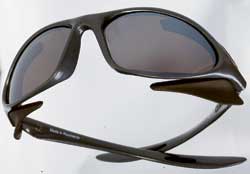 While not quite enough to bust the World of Warcraft habit of a few folks in the office, Asana Packwork's
Gunther's Big Day
bouldering video game ($20) is still a hoot. The controls are simple, but piloting Gunther up the 30 problems from V1 to V14 can be quite a challenge. As bonus, you can even do some virtual slacklining. Gunther's Big Day game is PC and Mac compatible.
www.asanapackworks.com
Click here to buy now from MountainGear.com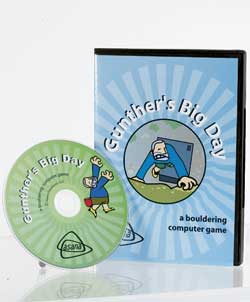 When you hear the words, "altimeter watch," you'll likely imagine a monster chunk of plastic dwarfing someone's wrist. Not so with the St. Moritz
Momentum Topograph altimeter watch
($325), which offers plenty of style without sacrificing quality features. The built-in barometric altimeter measures from
300 meters below sea level to 5000 meters above.
www.st-moritz.com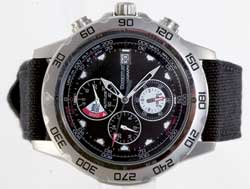 Being deskbound in winter needn't be a training tragedy. If you have a
Gripmaster
($15) or Metolius
Gripsaver
($19) handy, you can bust out some quick finger strengthening in between putting coversheets on your TPS reports. Just make sure you don't get too pumped to start hammering the keyboard when your boss pokes her head in.
www.gripmaster.net, www.metoliusclimbing.com
Click here to buy now from MountainGear.com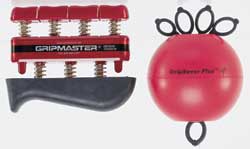 If someone is intent upon hooking you up with gear, hook them up with this list of standout basics. For quickdraws, you can't go wrong with Petzl's keylock Spirit Express combo ($21.50). Click here to buy now from MountainGear.com
If they're concerned you're not being safely belayed (or belaying!), then have them stuff our Editor's Choice belay device, Black Diamond's ATC XP ($22.50), in your stocking. Click here to buy now from MountainGear.com
If alpine is your gig, have them set you up with Mammut's 8mm shoulder-length slings ($7.50). Click here to buy now from MountainGear.com www.petzl.com, www.bdel.com, www.mammutusa.com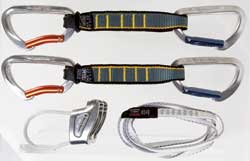 Looking to break into the GPS game? Trimble Outdoors'
GPS/cell-phone software
may be the ticket. A Motorola GPS-enabled phone with Nextel cell service and a $10 monthly Trimble Outdoors plan give you trip-planning software for your PC; the ability to download topographic, street, and aerial maps to your phone; and let youupload trip information and photos to Trimble Outdoors' community website. You'll be dialed into lat-long before you know it.
www.trimbleoutdoors.com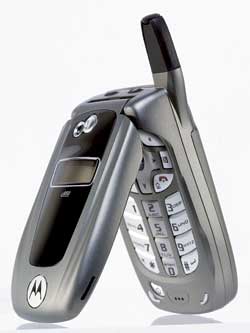 If your significant other is tired of your chapped, gobied paws, tell him or her to get you the
Climb On Bar
($8.50 for the one-ounce size), an all-natural balm for all sorts of skin abrasion and irritation. Of course, if you want to actually prevent some of that abuse, go for the
Climb On Crème
($13 for the two-ounce size).
www.climbonproducts.com
Forget the astronaut pen you saw on "Seinfeld." If you need a writing instrument that can handle abuse and write in any conditions, go with the
Inka Pen
($25). This stainless-steel writing wonder carries as a compact two-and-a-half-inch package, but extends into a five-inch pen for extended writing sessions. Perfect for your en-route topo notes or writing your post-holiday thank-you cards parked by the Buttermilks …
www.inkacorp.com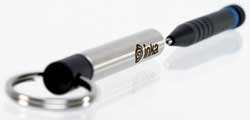 Okay, shameless plug time here. Zach Reynolds, our photo editor, spends hundreds of hours a year poring over his light table in search of the world's best and most unique climbing photos. Some end up in Gallery, some in our Photo Annual, but ZR saves the finest for our
Wall
($16) and
Weekly
Engagement
($16)
calendars
. Planning your life never looked so good.
climbing.local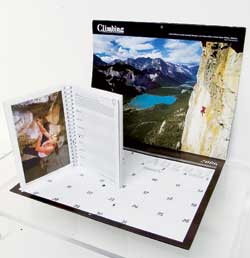 When fire is of the essence, don't mess around with a convenience-store Bic. Essential Gear's Windmill stormproof, refillable
butane lighter
($50) will ease your relatives' fears about your adventures in the big open and keep you torching it up for years to come. The Windmill has been tested in winds up to 70 mph, with an igniter that sparks upwards of 30,000 lights.
www.essentialgear.com