Home-Starter Kits Gripped and Grabbed – No. 236 – January 2005
Heading out the door? Read this article on the new Outside+ app available now on iOS devices for members! Download the app.
Grip'n'grab: It's home woody season and time to find the right kit to trick out your wall in style.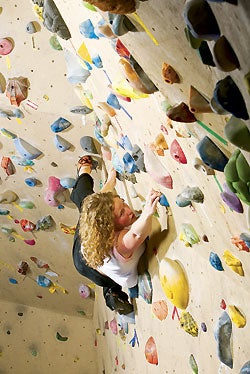 It's snowing as I write this and nighttime temps are dipping into the teens. Colorado's winter seems to be starting in mid-October this year. Ice climbing and skiing loom on the horizon, but what happened to autumn
cragging
? While one of my more demented co-workers insists that 32 degrees is the optimal redpoint temperature, most of us aren't so sold on the idea. So, how to keep in shape? Time to hit the home woody.
For those living in communities without large gyms, or who prefer their own tunes and bros to the strutting and jostling of pay-to-play facilities, home woodies are a godsend. You can crank your music, swear with impunity, and shred until the cows cry for mercy. You'll also be setting your own problems, which has cons as well as pros. Spend too much time dithering with route creation and you'll wonder where your time went; spend too little and you'll find yourself bored and back on the couch, channel-surfing. What, then, is the key to home-woody route setting? Good grips, of course, and if you're just getting started with your garage, basement, or spare-room climbing masterpiece, you'll want to take a good look at investing in a startup kit.
Almost every hold manufacturer offers some kind of boxed set to swiftly get you up and climbing on your home wall. While each company has a slightly different spin on exactly what kind of holds a kit should contain, the basic package is consistent: a selection of 30 to 50 shapes that provide a wide variety of route-setting possibilities within a minimum amount of space. Along with the holds, many manufacturers also conveniently include mounting hardware (T-nuts and bolts) and wrenches. Over the past eight months we tested kits from 24 manufacturers, well over 750 holds in total. As none of us had a home woody large enough to contain all these holds, the Colorado Rocky Mountain School, a local Carbondale high school, graciously allowed us to use their new wall. Just as important for our testing, with the wall came a ravenous student test crew who helped us put the grips through their paces. All told, over 40 people participated in the review, pawing, crimping, and yarding, leaving the holds buried in a thick coating of chalk and boot rubber. At the end of it all, we came through with a firm idea of what did and didn't work when it comes to home starter kits.
What shapes?
First of all, stay away from the big stuff. Unless you're outfitting horizontal ceiling panels, bulbous jugs and fat roof features are for commercial gyms, not home rigs. They take up valuable wall surface and make for elbow-smashing, head-crushing obstacles when you're chucking the heinous dyno on
Pinky and the Brain
. The occasional mid-size jug here and there is okay, but you should focus on holds that challenge you and maximize your available space. A panel packed with 30 small holds (up to two or three inches in size), ranging from ultra-positive edges to grim-but-grippable slopers, is infinitely more stimulating than the same square footage adorned with five monotonous jugs. All the manufacturers in this review were keenly aware of that fact and assembled their kits accordingly.
When picking shapes, consider the main outdoor areas you hit, and also any weaknesses you're looking to train. This will steer you toward pockets, edges, slopers, rails, or some combination thereof. Manufacturers delight in simulating the rock of famous areas, from Fontainebleau sandstone to Eldorado edges; many of these area-specific shapes find their way into home-wall kits. If you don't have any specific requirements based on those criteria, go for a good mix of everything, with emphasis on all-purpose edges and slopers. You probably don't want a kit that is shotgunned with 40 clashing hold designs, nor a monolithic combo that limits your route-setting possibilities.
You'll also want to look at the grips' individual versatility. Do they offer singular gripping positions or multiple options? Do they tend to favor one hand over another? Versatility works both ways. Simple shapes can induce boredom, but they help you set precise, technical problems. More complex shapes make it easy to spice things up, but they can often provide ways to cheat that you didn't notice when you initially set a problem. We especially liked the simple shapes that still provided very different gripping options or difficulties when rotated.
Shape options go beyond just the simple choices of knob, edge, or pocket. Holds with varying textures and subtle, multi-faceted features help beat the route-setting doldrums, and also help you practice the tricky, unusual finger positions found on real rock. Color also plays a role in a hold's function. The holds we reviewed varied from garish neons to subtle shades of gray. Wild colors assist games such as add-on, where you need to quickly identify holds; subtly colored grips that blend into your wall are better for setting difficult-to-onsight problems.
Test Results
Cost.
The starter kits we tested ranged from $55 to $230. "Ah hah," you think. "That's a no-brainer — I'll go for the $55 set." Before you make a purchase based simply on price, however, consider what you're getting for the price and how that fits in with your wall concept. The $55 set might work well enough, but the $230 set could have exactly what you're looking for. Or vice versa. Keep an eye on your wallet, but also keep an open mind for what's best for your training needs.
Materials.
A few years ago, most manufacturers were making holds out of various resin blends — toxic mixtures great for forming climbing holds, but not at all environmentally friendly. Today there is a much greater diversity of materials in use. More than a third of the hold manufacturers in this review use materials other than resins. Polyurethane, a more environmentally benign substance (commonly found in skateboard wheels and bowling balls), has caught on in a big way. A few companies take a more individualized approach; Synrock uses a proprietary ceramic formula, while Fellerstone uses real rhyolite stone.
Both resins and polyurethane yield great results in terms of texture and complexity of shape — which is better for climbing really comes down to your preference. Try before you buy if you can, by hitting a commercial gym that isn't hidebound to a few particular hold brands. If you're concerned about environmental issues, fire up your web browser and educate yourself further on the pros and cons of each material.
Comfort.
I can't emphasize enough the importance of comfort — if a hold fires an electrical jolt from your fingers to your elbow when you latch it, you're going to unbolt it from your wall and hurl it into the corner dustbin faster than a Russian speed climber. A good hold needs to provide comfortable gripping so you can concentrate on getting stronger, not on avoiding pain. That's not to say all your grips should be easy to grab — far from it. Mindless yarding on positive holds is a low-yield proposition. Just make sure your new holds are ergonomically adept and won't consign you to the sidelines.
Texture.
Up until a few years ago there was wide variance from brand to brand in terms of general hold texture. Some left you feeling as though you'd run a 30-grit belt sander over your fingertips, while others were annoyingly slick right out of the box. These days it's hard to find truly abusive texture. There are a few brands that are quite friendly right out of the box, but most require a moderate amount of break-in time. Avoid the temptation to hasten the break-in process with sandpaper or files; you can always take texture off, but with the exception of Synrock, it's pretty much impossible to add it back once a hold is too slick.
Dual-texture holds are all the rage these days and justifiably so. While you can sustain your creativity for quite a while setting with full-texture holds, grips with specific texture areas
offset by slick, smooth surrounding surfaces force you to be very precise in where you grab, and even more so in how you place your feet. A few dual-texture holds in a kit are a nice bonus. Manufacturers increasingly are also creating shapes with variable texture as well, shaping hold surfaces that blend from a "normal" texture to a rougher, but still skin-friendly, surface.
Bolt-on vs. screw-on.
Ah, the great debate. Some swear by standard bolt-on holds: they're beefy, and easy to rotate and re-orient. On the other hand, your hold-placement options are limited to the density and location of the T-nuts you placed when you first put up your wall, since getting behind panels to add more T-nuts can be difficult. Screw-on holds are great because you can place them anywhere on your wall, filling in gaps between T-nuts. Once you put them on, however, you'll tend to leave them in place longer than bolt-ons. Taking out all those screws can be a pain, and if you follow an aggressive route-updating schedule, you'll Swiss-cheese your wall with screw holes over time. Consider how often you'll update your routes and how precisely you want to be able to create specific moves, then decide what mix of bolt-ons and screw-ons makes the most sense.
Jibs.
Jibs are small, screw-on footholds that provide for challenging, technical footwork. They're especially good for the lower reaches of your wall where handholds would be wasted. Some companies include a few jibs in their kits, others don't. Plan on purchasing a pack or two of these in addition to what you might get in a kit; you'll want to have at least five to 10 per four-by-eight panel. We prefer polyurethane jibs to resin, as they're much less prone to breakage, a common problem with jibs.
Essentials.
Make sure your holds come with mounting bolts or screws, preferably more than you need for mounting the entire hold kit. Most kits come with T-nuts, but they may or may not be beefy enough for your standards and you probably won't get enough to create a sufficient placement density on your wall. Plan on ordering extra, either from the hold company or at your local hardware store. Wrenches are a nice bonus, especially if the manufacturer uses bolts with different or odd-sized Allen heads.
Make sure you fully understand the manufacturer's breakage and return policy. They're generally pretty liberal, but you should know what is or isn't covered.
Keep in mind that these kits are only a starting point for your new wall. You'll definitely be adding more and more holds as you go, both out of necessity and desire.
Test Results