La Sportiva Barracuda Rock Shoe Review
Heading out the door? Read this article on the new Outside+ app available now on iOS devices for members! Download the app.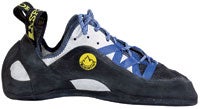 La Sportiva Barracuda, $125
Overall grade:
A
Target climbs:
All-around
sport climbing
,
bouldering
, and single-pitch thin cracks
Fit:
Moderately asymmetric; narrow width and low volume throughout
Summary:
La Sportiva's unlined leather lace-up Barracuda was a universal favorite with testers. While Velcros and slippers are all the rage these days, lace-ups still rule for dialed-in fit. Unlike most sport lace-ups, however, the Barracuda's lacing system does not extend down over the toe box. While we'd normally consider this a liability, it's not — the Barracuda's sticky-rubber-mesh toe covering (first introduced on Sportiva's Venom slipper last year) does an amazing job of wrapping the toe box around your foot. That mesh also increases support to the shoe's toe box, giving it solid edging performance without adding a thick, sensitivity-robbing midsole. It also avoids the thin-crack-jamming problems of down-the-toe lacing.
The lacing system itself is top notch. Its asymmetric design better mimics your foot shape that straight-up lacing, and the multiple lacing points around the front of the ankle give you a number of options for dialing in your fit.
The Barracuda's mesh is also wicked good for toe hooking and scumming. "The grid-like structure is super grippy on rough rock surfaces and latches onto little imperfections in the rock texture," says Colin Lantz, the shoe's co-designer. We agree.
Our only complaint concerns the lack of heel rubber. On an otherwise brilliant design, the lack of rubber coverage there is a noticeable shortcoming. Still, this shoe is a standout for the year.
It's interesting to note that while the Barracuda is lasted for a C-width foot, several testers with beefier appendages found a good fit and loved the shoe for steep sport climbing and bouldering. Those of D width or wider will experience some edging-power loss from over-expanding the toe box. If you're looking to use the Barracuda primarily for thin cracks, size em' up a bit so that your toes are flat, not curled.
La Sportiva: 303.443.8710,
www.sportiva.com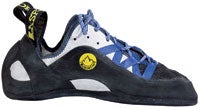 The Test ResultsAcopaBorealEMSEvolvFive TenLa SportivaMad RockMammutMontrailRed ChiliScarpa