2004 Leashless Tool Guide
Heading out the door? Read this article on the new Outside+ app available now on iOS devices for members! Download the app.
Summer dry-tooling, summer not. Climbing production coordinator Luke Laeser enjoying 70-degree temps on Vail's Amphibian.Photo by Mike Brumbaugh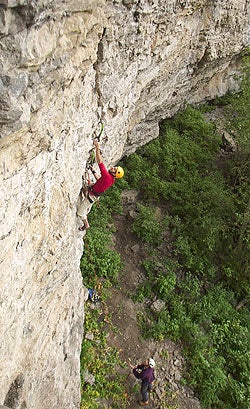 Leashless Tool Guide
Six or seven years ago, if someone had told me I'd be climbing ice without my wrists being securely tethered to my tools, I'd have closely examined that person's face for signs of dementia. Now, I would probably just respond with a curt, "Roger that." In the span of those few years, we've moved from equipment that restricted ice climbing and dry tooling to a clumsy country two-step, to gear that enables a level of gymnastic movement that rivals sport climbing.
While a few free-thinking ice and alpine climbers have toyed with leashless ideas for years, we primarily owe these new tools to a few devious folks who were trying to make ice climbing
harder
. The organizers of the nascent Ice Climbing World Cup series decided that leashed tools made it too easy for competitors to hang out and rest forever on routes, resulting in slow movement and few, if any, falls, which made for very boring spectating. While the rulemakers attempted to disguise their chicanery under the guise of safety (they said they didn't want competitors left dangling by a single leash, unable to move up or down), it was obvious what they were up to — they wanted competitors to pump out and plummet.
Competitors responded by bolting on a plethora of handles and knobs to their now-leashless tools in attempts to create less-tiring grips. After all, there were no rules against
that
. Everyone soon realized, however, that climbing this way seemed easier than with leashes. New techniques rapidly developed, standards on ice and mixed routes skyrocketed, and manufacturers began to refine the jury-rigged tools into commercially viable products. The first and, in some cases second, generation of those axes are now available to the general public.
There are certainly more folks out there who are still using leashed tools, but my bet is that their next tool purchase will likely be leashless. In the last two years at the Ouray Ice Festival, fights have nearly broken out over demo tools of the leashless variety, while their leashed cousins languish in vendors' booths. Beginning ice climbers, especially those coming from rock-climbing backgrounds, are typically very attracted to leashless because of the freedom of movement and can quickly become quite adept at the techniques. In fact, experienced leashed-tool climbers may have
more
difficulty adapting to leashless climbing than a beginning ice climber due to the ingrained behaviors of years of leashed climbing.
But what about the elephant in the living room about which we haven't talked? I'm speaking, of course, about dropping tools. Okay, I do have to confess that we dropped tools in the course of our testing, but these incidents were few and far between, and primarily on butt-kicking bolted mixed routes. Nobody dropped a tool leading on a pure-ice route. We put the tools to the test on the mixed routes and manmade ice of Ouray, on the pillars and mixed gullies in the Crystal River valley just south of our offices, and on the storied amphitheaters of Vail, where we climbed in both winter and summer. Yes, you read that right,
summer
. We went full-on dry-tooling in 70-degree late-summer luxury, experimenting with both boots and crampons, and rock shoes. It was fun, gave us a lot of feedback about the tools, and we considered it harmless — we stayed off summertime rock routes. That said, the application of dry-tooling techniques to rock climbing, specifically big walls and aid climbing, is not to be taken lightly; it's a subject that will occupy climbing ethicists, both active and armchair, for some time.
So, what's the ideal leashless tool? Well, it hasn't been made yet. There are several fine tools in the batch we reviewed, but they are placeholders for what is to come — in a few years we may well be using tools that bear little resemblance to what is currently available, let alone to the standard leashed designs of just a few years ago. Still, you're certain to find a tool in this crop that will be to your leashless liking. Take a look at our design and evaluation information below, read the review, then get thee to an ice festival this winter. Demo, demo, demo. Take the time to learn to get the basics of leashless movement before making your purchase. Remember, you're going to be plunking down upwards of $550 for a pair of these pups.
Handles.
At the heart of leashless-tool design is, of course, the handle. If you're going
sans dragonnes
, as the French would say, you'd better have a tool that provides the equivalent of fat jugs. While a few high-level climbers are able to grip a standard tool sans leash and never let go (Tomaz Humar comes to mind), the rest of us will want every possible position on which to hold for dear life. Leashless tool handles currently come in two varieties: those with an upper pistol grip combined with a lower grip that angles sharply back from the shaft to form a jug handlebar, and those that stack two pistol grips on top of each other.
It was our conclusion after the test that the stacked-pistol-grip style was overall more effective both in ice climbing and especially mixed climbing. The stacked-grip tools performed better on steep ice and were much less prone to shifting when moving back and forth from lower to upper grip on technical drytooling sections. Switching hand positions on the handlebar tools on overhanging rock often caused unnerving pick shifting, especially alarming on slick or sloping holds. On lower-angle ice, however, the handlebar tools did quite well thanks to their juggy midsections.
Grip materials vary from bare metal to sticky rubber to urethane-handhold plastic. How a tool feels in your hand is of utmost importance. If a tool feels hard to grip while you're standing on terra firma, imagine how it will feel on the route. If you're presented with bare metal, take the time to customize your grip with hockey-stick grip tape or a similar material.
Shafts.
While leashless-tool shafts may sport slightly different angles and curves than their leashed counterparts, they are still made of aluminum and they still must past CE certification. The CE rating system is two-tiered: B-rated and T-rated. The B test, which stands for Basic, ensures that the shaft can resist a 550-pound load, while the T test, which stands for Technical, ensures that the shaft can resist a 770-pound load. It's important to note that these loads are not dynamic; the test force is applied slowly and consistently. The two-tiered system may change in 2005, however, as the UIAA Safety Committee has proposed having a single standard for all shafts. All the tool shafts we reviewed are T-rated.
If you're serious about dry-tooling, you'll want to wrap at least the lower portion of the shaft in grip tape to maximize your gripping area. You'll be surprised at the difference over bare metal for choking up high on your tool.
Picks.
While changes in handle design may garner most of the attention when it comes to leashless tools, picks certainly haven't been neglected. While the points and lower teeth are the same as, or similar to, those on their leashed cousins, many leashless picks sport teeth on their top edges near where they attach to the tool. Those top teeth grip the rock and keep the tool from skating when "stein pulling," i.e., turning the tool upside down, inserting the pick into a crack or behind a block, and pulling backward, just as if you were pulling the tap to fill a beer stein.
Likes shafts, picks have B or T ratings, but in what might appear to be faulty design, all but one of the picks on our test tools were B-rated. This isn't a mistake, however; manufacturers must make T-rated picks very thick to withstand the T's side-to-side stress test. But thick picks don't penetrate ice as well, nor will they slot in the thinnest of cracks. So, most manufacturers opt for thinner picks that only past the B test. Trango's pick is currently unrated, but they expect it to pass the T test. While we certainly tweaked a few picks while testing, we didn't break any.