Petzl Charlet M10 – Crampon Review No 226
Heading out the door? Read this article on the new Outside+ app available now on iOS devices for members! Download the app.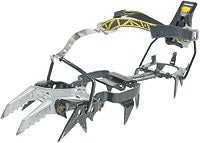 Petzl Charlet M10
, $189, 2 pounds 10 ounces
Summary: The semi-rigid M10 is the heaviest
crampon
we surveyed, though Petzl Charlet says that design changes made to the heel unit and binding for this season will trim another five ounces (a surprise because it is the forward unit which seems particularly big-boned). Nevertheless, other than being a bit weighty, this is a fine-performing crampon, with enough adjustable features — front points (two positions), monopoint, toe bail, frame, and heel lever — to adapt to a wide a range of conditions and terrain. Unlike the other semi-rigid models, however, a screw (which can be stripped or dropped) has to be removed in order to adjust the frame size. The other models have integrated spring pins. The various nooks and crannies in the vertical rails clogged up in sticky snow (anti-bots sold separately). The heel assembly for the Petzl Charlet Dart (a specialized sport mixed crampon with an aggressive heel spike) can be ordered as an accessory and mated with the M10.
The binding has an Achilles' heel: the flared top of the lever lock was a rope-snagger and the working end had to be micro-adjusted to perfection to keep it from popping out of some welts. A new, low profile heel lever (part of that ounce-trouncing redesign) appears to have solved the first problem. If it also grips like a bear, the M10s will be an even better set of claws.
Pros: Very adjustable. Offset monopoint hardware included.
Cons: Current design heavy. Expensive. Tools required
for nearly all adjustments, including frame. Heel lever is problematic with some welts. Front unit balls up.
Overall grade: B+
Petzl Charlet: (801) 926-1500, www.petzl.com