Review: Bertucci M-1S Women's Field Watch
Heading out the door? Read this article on the new Outside+ app available now on iOS devices for members! Download the app.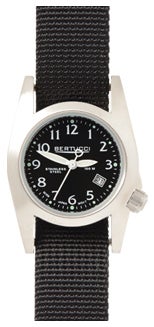 The M-1S is to the watch world what granite is to climbing world: sleek, beautiful, and hard as nails. Take the watch face, for example: elegant and accurate (the internal quartz timekeeper vibrates at an ultra-precise frequency) but also made of hardened mineral glass crystal that rebuffs scuffs and scratches. In my years on the rocks, I've abraded so many watch crystals that I could barely read them (Is that the minute hand or a scratch from that hand jam the other day?). Not so with the M-1S. After much banging about on rocks and plastic (and a 4-year-old whacking it about when he sneaks it off my wrist), the face has remained unmarred and crystal clear.
The bands are also a wonderful marriage of form and function. Made from heavy-duty nylon webbing, they resist fraying while still being soft, comfortable, and suited to your own style—everything from classic blacks, grays, and tans, to forest green, to top-grain leather. (Note: The leather bands cost a bit more, bringing the total price to $120. The dials also come in different colors.)
For nocturnal time checks, I've usually owned watches where you had to push a button to activate a glow feature (after finding said button in the dark). The M-1S is unique in that the hands and 5-minute increment markers (luminescent circles) glow automatically, thanks to a luminous material that charges via sunlight or indoor light. My only wish is that the markers were a bit larger and easier to see. After waking up at 2 a.m. and looking at my watch, my squinting eyes could easily make out the hands but had a hard time making out the circles, so I had to guesstimate the time. Sharper eyes than mine, though, might have no trouble.
Other features that outdoor lovers will appreciate: water resistance down to 100 meters; stainless-steel lug bars that are integrated into the band and won't break off; and as wonky as it seems, a crown that is thoughtfully positioned at 4 o'clock so your wrist can move freely without hitting it—no annoying "wrist bite," which you often see with crowns placed at 3 o'clock. And if you're like me and can never remember the date, the dial displays it at the 4 o'clock position as well.
Although the M-S1 is not the "Swiss Army knife" of watches (there's no compass, or altimeter, or other such nifty features you get with some outdoor watches), it is a high-end, aesthetic, streamlined watch that can go anywhere with you—to the crags, to work, to a nice restaurant—and climbs well. Sure, you don't get all the bells and whistles, but you also don't get all that bulk. It's also rare to find such performance in a watch that doesn't cost a fortune. Usually $90 gets you little more than a Mickey Mouse watch, never mind a well-built watch like the M-S1 that can stand up to most everything. And if not, the three-year warranty has you covered, though based on my experience, you're unlikely to need it.
$90, bertucciwatches.com