Review: Boreal Dharma Climbing Shoe
Heading out the door? Read this article on the new Outside+ app available now on iOS devices for members! Download the app.
This story originally appeared in the October 2014 issue of our print edition.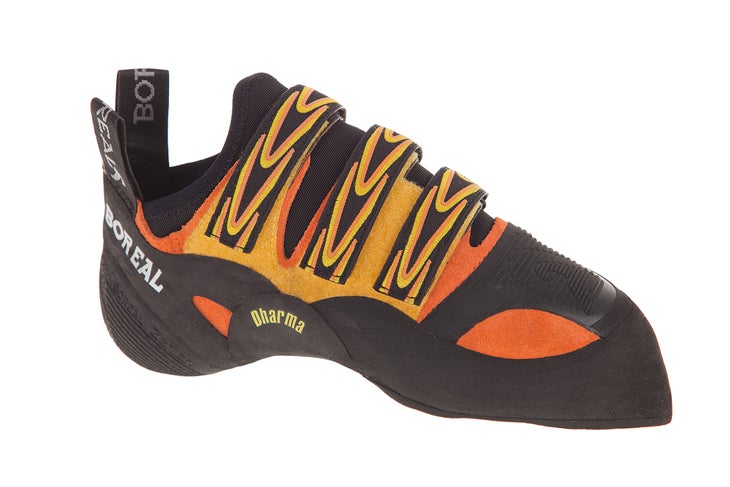 Performance
Not only are these shoes very burly and durable (proven after six months of bad footwork and four-times-a-week use), they have a specialized "anti-deformation" midsole designed to keep the toe curved down over the life of the shoe—perfect for steep bouldering and sport climbing. "Many of my high-performance kicks have flattened out over time," one tester complained, "but these have maintained their shape very well, especially in the toe, despite cramming into packs and walking around the gym floor." Zenith rubber was delightfully sticky on all types of rock—polished limestone, granite, sandstone—and generous application on top of the toe, up on the sides, and a one-piece heel cup meant testers could do virtually any type of foot movement and be touching sticky rubber to rock. The sock lining on top of the foot vacuum-sealed a snug but not overly tight fit, and then cranking down the three Velcro straps kept everything in place without restricting easy on–easy off usage. Testers also lauded the Rand Wrap that put tensioned rubber (meaning the rubber was stretched out before it was applied) under the arch and behind the heel, which hugs the foot and funnels strength into the toe. With 4 to 4.5mm of rubber (depending on shoe size) and relative stiffness in the toe and heel, these shoes weren't ideal for slabs, smearing, or any smedging moves that might require more sensitivity. 
Profile

Conclusion
If you want a high level of performance, enough comfort to wear for a few hours at a time, and an all-around shoe that edges all day, the Dharma will quickly turn into your go-to pair of high-performance but wearable kicks.
$159; e-boreal.com
Further Reading
Review: Our Top 11 Rock Climbing Shoes