2019 Climbing Shoe Review: Boreal Ninja
Soft n' Smeary
Heading out the door? Read this article on the new Outside+ app available now on iOS devices for members! Download the app.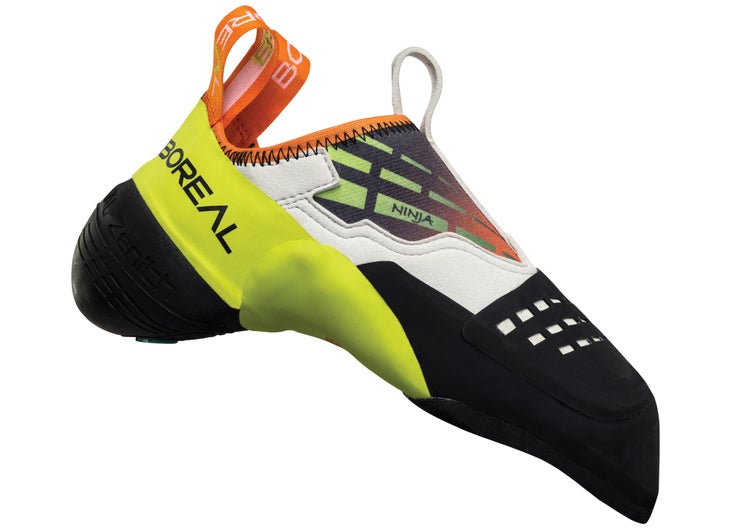 Fit
Given the original Ninja's narrow profile, the retooled Ninja has a surprisingly high-volume fit. With the elastic closure (no straps or laces), size small—like a full size down off your US street shoe.
Specs
Downturned, asymmetrical slipper. Microfiber uppers and elastic closure with integrated tongue; unlined footbed; anti-deformation half midsole; Wrap Rand and forefoot torsion band; 4–4.5 mm Zenith outsole.
Pros
Precise slipper that was great for smearing (according to one of two testers), heel hooking, and toe scumming.
Cons
Both testers expressed frustration with the on/off—the opening is narrow and, even using the pull tab on the elastic tongue, it's difficult to floss your foot in and out. One tester noted the Zenith sole as "slippery" despite its advertised stickiness.
Field Notes
If you were around in the 1980s, then you'll recall the Ninja, the world's first commercially sold climbing slipper, and perhaps the ads for it featuring action shots of icons like Jerry Moffatt, Peter Croft, and John Bachar. The beloved slipper is back in 2019, with an aggressive trim for steep climbing but some of the same strengths—smearing, sensitivity, a low profile—that gave the original version its cult following. The Ninja has a high-volume fit that was good for one tester's "big dogs," and he commented on its lack of bagginess while also providing plenty of room for the shoe to bend and smear. However, our other tester, with low-volume feet, sized tightly, and noted that while this gave her welcome control with toe scums and heel hooks—including locking her in on the crux of a V5 project on slick quartzite in the Colorado high country—she felt that the smearing suffered, but had trouble discerning whether it was the sizing or Zenith rubber at fault. Clearly these aren't edging shoes, but both testers felt edging performance was adequate for a slip-on boot—if you already have strong feet. All told, this is a precise bouldering slipper made for the steeps and/or sport climbers who like things soft.
Available at