2019 Climbing Shoe Review: Evolv Phantom
Boulder On!
Heading out the door? Read this article on the new Outside+ app available now on iOS devices for members! Download the app.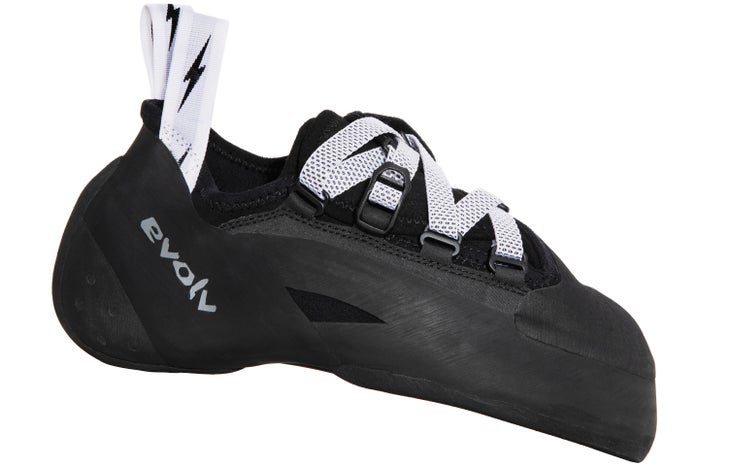 Fit
Aggressive with lots of rubber, meaning little stretch, especially in the toebox. Our tester noted a "snug fit without any hotspots," courtesy of the stretchy upper that let her toe knuckles flex while downturned. She came a half-size down off her street shoe.
Specs
Downturned, asymmetrical shoe. Synthratex VX synthetic upper; unlined footbed; Abridged Variable Thickness (1–2 mm) midsole; 6-point single-pull Compression Closure System; Dark Spine S heel; 4 mm Trax SAS outsole.
Pros
Nearly all-rubber construction makes the shoe a gym/bouldering powerhouse, for heel hooks, toe scums, heel-toe cams, etc. (the Phantom earned a 10 for jessery). Innovative six-point lace with Velcro strap made for easily customizable fit, with no baggy or hot spots. Major power and precision on steep edging.
Cons
Smearing is difficult. Shoe caused some foot cramping and is not meant for uninterrupted wear—this is a high-end shoe you'll be taking on and off a lot.
Field Notes
The Paul Robinson– and Daniel Woods–designed Phantom screams "Bouldering!"—from their near-ubiquitous rubber to the innovative Velcro/lace Compression Closure System, these puppies are meant for steep, aggressive boulder problems and rasslin' gym volumes. As such, our tester mostly used the shoes at the gym, as well as outside on sandstone and granite blocks. "At the cave in the gym, the shoes improved my ability to pull in with my feet, letting my legs do more work and keeping my body close to the wall," she said—the aggressive downturn scoops you into the rock. She also dug the snug-fitting heel, which with only 2 mm of rubber was responsive in hooks. The Phantoms, with a tight, performance fit, felt less secure on smears than our tester would have liked, so if smearing is important to you, size up accordingly. The Phantom is clearly an elite-level, specialist's shoe, and excelled at its intended use: steep climbing for advanced climbers.
Available at