Review: Five Ten Five Tennie Approach Shoes
Heading out the door? Read this article on the new Outside+ app available now on iOS devices for members! Download the app.
I'd been out in the Flatirons, sloshing through early-spring mud, carrying a rope, drill, draws, cams, and all the necessary, heinously heavy bolting tools up steep, talusy hillsides, then drilling a new climb, then slogging out. So my brand-new pair of Five Tennies had a coating of mud splotches and red dust, even though they were just a couple of days old. As I got in a pre-work hangboard session at the gym the next morning, the guy on the board next to me said, "Sweet shoes—how old are they?"
"Oh, I just got them," I said. "But they're a little dirty."
I'd forgotten that the Five Tennie hadn't been manufactured since the late 1980s, after it hit the market earlier that decade as the first-ever sticky-rubber-soled approach shoe: a climbing/hiking/scrambling hybrid that let you ditch the clunky hiking boots on gnarly approaches as well as climb moderate rock without having to put on rock shoes. The Five Tennies were game-changers, and helped launch Five Ten as a brand, with their "sticky-soled tennis shoes" quickly gaining a cult following among climbers and guides, who until that point had been asking resolers to slap rock-shoe rubber on regular tennis shoes to fill this niche.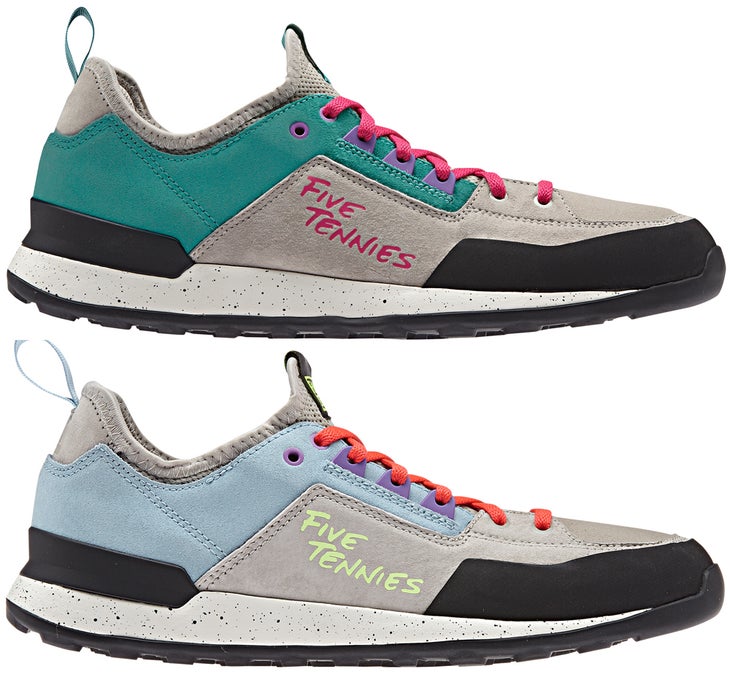 "Oh, cool," he said. "They look sweet!"
"Yeah, I'm digging them," I said. "They're a reissue of the original."
"OK, that makes sense now," he responded. "My older brother has a pair of the first ones, and that's what I thought you had too." With the retro turquoise panels on the leather uppers, pink laces, and purple eyelets—plus all that Flatirons dust—I could see how it seemed plausible that I'd had the shoes since the 1980s. (And also because I really am that old…sigh.)
It's great to see the Five Tennies back after a long hiatus—now in both men's and women's versions—and it's been a blast testing these very grippy, very comfortable, low-profile kicks.

First, to the fit: The 2019 version has supple leather uppers, a lace closure that comes back over the ankle (if you choose to lace through the final two holes), textile lining, an EVA midsole, and a gusseted, stretchy mesh tongue that forms a sock-like enclosure designed to keep debris out. The tongue was perhaps my favorite fit/comfort feature—even with the shoes fully laced, you can slide in and out like a slipper, which is great for cragging when swapping between approach and rock shoes, or when you need to slap on some shoes and get out the door quickly. And it did a wonderful job of keeping pebbles, twigs, etc. out of the footbed. And yet, despite this easy on/off and the shoes' soft, flexible feel, I haven't experienced any sliding—no slippage or blisters or anything of the like on the trail, including long hikes with a heavy pack on hot days. On the flip side, the EVA midsole is not the stiffest and these are more tennis shoes than semi-boot-style hybrid approachers, meaning they're flexible and low-cut without a ton of ankle support—better suited for front-country adventures, slab climbing, and moderate rock than for long, gnarly, talus-style approaches. But for the niche they fill in the approach-shoe quiver, the new Five Tennies, with an optimum blend of comfort and performance, have been amazing.
Which brings me to the second set of criteria: performance. The Five Tennies have a Stealth S1 outsole with a grid of thin, semi-dotted rectangular lugs, a smooth forefoot climbing zone, and a sticky rubber toecap/rand that wraps backward laterally about one-third the length of the shoe. The pair I've been testing, size 10, weighs 1lb, 12oz on our work scale, so the shoes are notably light. On the rock, these attributes have all combined to yield one of the best scrambling/moderate climbing performances I've experienced in an approach shoe, and I've been able to climb up to 5.11 in them. On a recent new-routing mission, I had to employ a mad combo of stick-clipping and free climbing on a 140-foot vertical face to reach the top of a formation. As I fifi'ed into each bolt, walked my feet up, and extended the stick, the shoes glommed onto the smooth sandstone with total reliability, and when I needed to make 5.10 and easy 5.11 free moves between the more widely spaced bolts, I was frankly shocked at just how well the Five Tennies were climbing, toeing into pockets, holding a stable edge laterally on horizontal mini-ledges, and smearing like nobody's business. On top of the formation, as I scrambled along the slabby ridge hunting for anchors with a 200-foot drop to either side, I was grateful for the Five Tennies' remarkable traction and extra grip on the licheny rock, thanks to the matrix tread.
The Five Tennies originally came to be in Southern California. When I put them on, I think of Joshua Tree, with its flat, mellow desert approaches that can quickly turn into boulder-hopping through jumbles of rock, or where you might just as quickly transition from hiking to technical climbing but not want to switch shoes. They would be perfect there. Really, they'd be perfect anywhere you want a light, highly technical, comfortable approach shoe for just about any climbing use under the sun. Welcome back, Five Tennies—it's good to make your acquaintance again! (Note: A handful of online reviews noted that the shoe tends to run a half-size bigger than people's standard street-shoe size, i.e., if you wear size 9, that 9 might feel more like a 9.5. With wide, high-volume feet, however, I did not notice this issue; the shoes have a medium-width—let's call it "standard"—last.)
$125, adidasoutdoor.com (men's | women's)