Review: Friction Labs Secret Stuff Chalk Cream
Heading out the door? Read this article on the new Outside+ app available now on iOS devices for members! Download the app.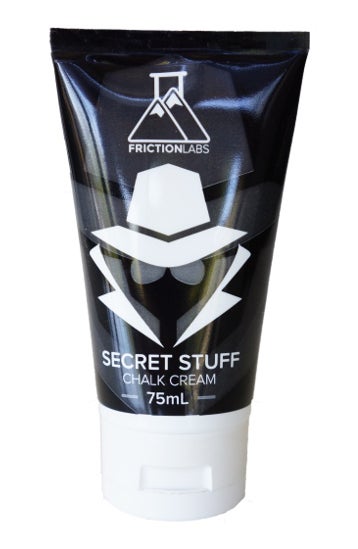 I relish the irony of the concept behind liquid chalk—that to really dry your hands, you have to first get them wet. Nowadays, this is a time-tested, athlete-approved paradox. Just glance at the mitts of every competitor before they grab the starting grips at a bouldering or sport-climbing comp and you'll see a thin white coating that often extends below their wrists like dainty, silk gloves. That's liquid chalk, people, and no doubt many of them are sporting Friction Labs' version: Secret Stuff.
Secret Stuff Chalk Cream (a more accurate description than "liquid") is a white paste you apply to fingers and hands as a base layer. Wring your hands to spread the lotiony love all over your skin, let it dry for about 30 seconds, and—voila! "White gloves on," you're ready to send. For a standard boulder problem, this may be all the chalk you need. Personally, I like to swirl my hands deep in a chalkbag for a second layer of regular chalk before climbing. Either way, you'll still want a chalkbag for longer problems and sport routes, as the base layer usually wears off before the chains, especially if it's hot or humid.
I don't use liquid chalk every climbing day. But when it's hot or particularly humid, or when I'm hungry for a specific boulder problem or short, bouldery sport route and feel prepared to perform my best, that's when I whip out the Secret Stuff—my favorite defense against greasing off holds. Most recently, I coated my hands with chalk cream for two onsight attempts (one successful, the other not so much) of 80-foot overhanging granite sport routes in Colorado's South Platte. I didn't dip my hands in my chalk bag until I'd climbed a quarter of the way up each route, and then it was more out of habit than necessity. [Ed note: Climbing's editorial staff recently took a few tubes to test in the dense, swarmy Caribbean heat on Cayman Brac, a limestone island south of Cuba. There, especially on windless days at the inland Dixon's Wall and while climbing on various sea cliffs doused in dry salt and sea slime, we found the Secret Stuff to be indispensable as a base layer. On 80-foot pitches, it provided a noticeable edge until about two-thirds height, when sweat began to overpower all chalk, powdered chalk included.]
Funny enough, Secret Stuff ain't so secret, as its three ingredients are listed on the tube: isopropyl alcohol, magnesium carbonate, and water. For years, penny-pinching climbers have concocted their own liquid chalk from these same ingredients—with mixed results, likely dependent on the ratio of ingredients. Friction Labs says a 75mL tube will last about 100 uses, which seemed about right. At $19 for 75 ml, Secret Stuff commands a premium price; still, there's no doubt it gives you an edge over dry chalk alone, which is why I've been seeing it on more and more climbers' hands. For short routes and boulders, it may eliminate the need to chalk at all, which, for limit climbs, can mean that precious, razor's-edge difference between sending and flailing.
$19 (75ml), frictionlabs.com