2019 Climbing Shoe Review: La Sportiva Testarossa
Power Tools
Heading out the door? Read this article on the new Outside+ app available now on iOS devices for members! Download the app.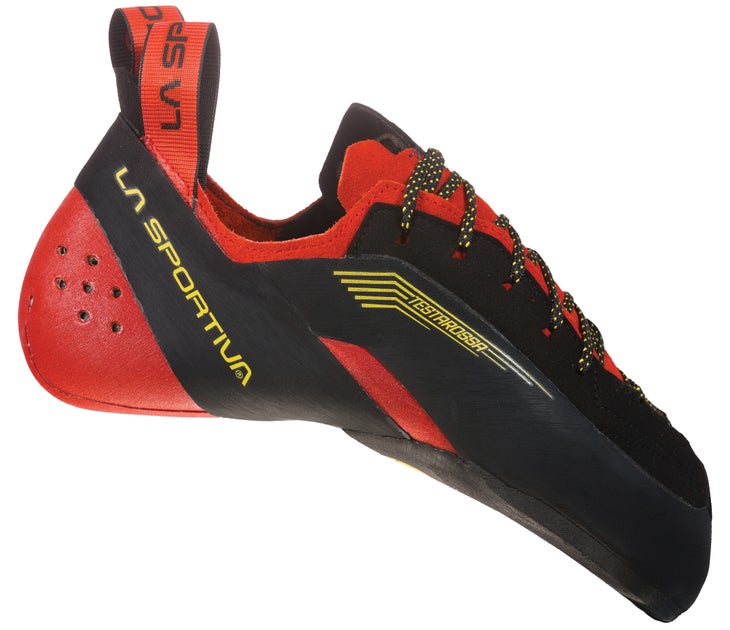 Fit
Almost universally, testers recommended coming down a half size from your previous Testarossa fit—size for zero dead space in the heel, as if the shoes were "painted on."
Specs
Downturned, asymmetrical shoe. Leather/Lorica uppers; Pacific lining in toe and heel, Dry-Best lining in tongue; P3 platform with 3D Hytrel Anatomical Insert midsole under toebox; 3.5 mm Vibram XS Grip 2 outsole.
Pros
Off-the-charts power and precision on edges, small pockets, divots, nubbins, and micro-holds on overhanging terrain. Long lacing system lets you customize fit. Heel is much improved, with a narrower, more ergo profile and greater sticking power. Very capable smearing given the stiff forefoot, as sole "flattens" under pressure. Shoe is overbuilt and should hold multiple resoles.
Cons
Laces low on forefoot interfere with toe scumming, and scumming patch is small—not a gym-volume shoe. Relaxed longitudinal torque leads to foot fatigue on long, slab/vertical pitches.
Field Notes
The Testarossas have long had a cult following, so it was no surprise that our testers greeted the 2019 update with both excitement and trepidation—"Hey, don't mess with perfection!" They need not have feared, because the new version makes a good thing even better, namely in the form of the more built-up heelcup with perforated, bright-red rubber. One tester compared both versions on an aggressive heel-hooking crux on his overhanging project: "On Big Poppa, the new heel made the crux much easier," he raved. "Way more responsive, sensitive, and reliable." They also toed down on the climb's micro-divots and drop-knee nubbins like a bawse. To consider is that the retooled heel slightly changes fit, giving the shoes a narrower-feeling last but also driving greater power into the stiffened toebox to help the shoe "laser in" on small holds. In fact, the "ninja-ballerina shoe dipped in rubber" precision can be frightening, and you may feel unworthy of the Testarossas. Time to up your footwork game!
Available at